POV Holder:
Danielle
Next POV:
Aug 11 (Saturday)
POV Used
YES
POV Ceremony
Aug 6 (Monday)
HOH Winner:
Danielle
Next HOH:
Aug 9 (Thursday)
Original Nominations:
Wil and Frank
Current Nominations:
Janelle AND Frank
Have Nots
No Have-Nots for the Week
Last Evicted Houseguest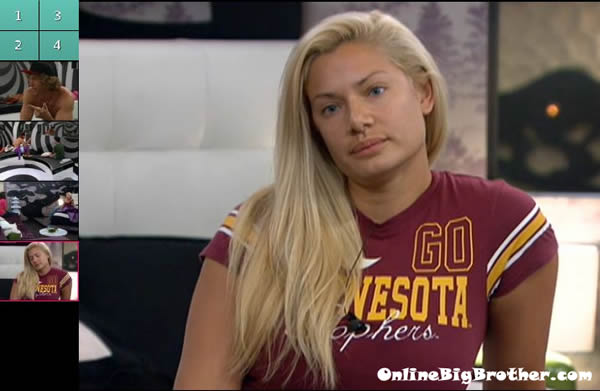 11:40am Janelle and Danielle are up in the HOH room talking. Janelle is really shocked that she is on the block. She continues to say that she is not coming after Danielle. Danielle says that other people have told her that you are coming after me and that you said I was going to float to the final 5. If other people have come to me and lied about you coming after me I am very sorry. I think they are pretty reliable people. Janelle asks if it was Boogie because he has ulterior motives. Janelle says you have been lied to. Danielle tells her that she will probably stay over Frank. Janelle asks do you really think you made the right decision? Danielle says I don't know. Janelle asks do you really think if I won HOH this week I would actually come after you and put you up? Danielle says I don't know, I just didn't know and I felt really hurt. Janelle says that she is really shocked and I never would have come after you. I thought we were friends and that's why we do make-up together. Janelle says that she talked to Dan yesterday and that I told him I really wanted to work with you. Danielle says that she thinks she is going to throw up. Janelle says don't worry about it. Janelle heads downs stairs.
Re-Watch ALL THE DRAMA on FlashBack: Big Brother 14 Live Feeds – 3 Day Trial!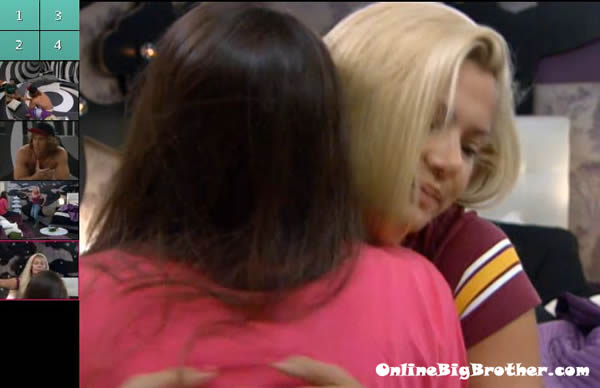 11:50am Dan comes up to the HOH room to talk to Danielle. Dan tells her that she did are really great job, that she kept it short and sweet. Danielle tells Dan about the conversation she just had with Janelle. Danielle says again that she felt like she was going to throw up. Danielle then tells Dan about her conversation with Wil. Danielle tells Dan that Wil is coming after you but that she tells him that Wil confirmed that he would not come after us for one week. She says it will be a 8 – 1 vote to get Janelle out. Danielle says that Janelle was glaring at her so hard during the ceremony. She says that Frank was playing it up so well he looked sad. Danielle says that she wanted to kill Boogie though because she looks at people in the eye and caught him smile. She says that luckily Janelle didn't see it. Danielle talks about how Dan tells her that she is about to get out one of the best players to ever play this game. Danielle says what she said in the diary room was that Janelle called her a floater but I won HOH, the POV and just got you a first class ticket home to see your husband and baby. Dan says that the whole time he was looking at Joe's face to see his reaction.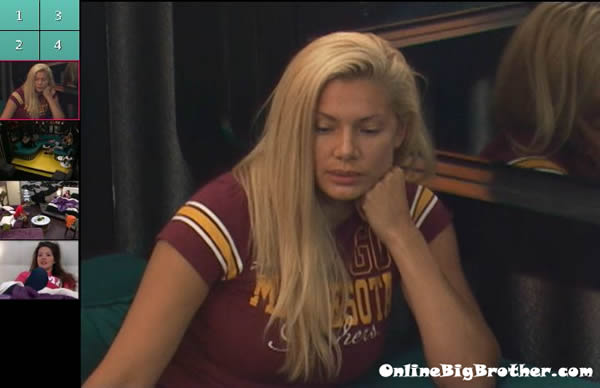 12pm Janelle, Ashley and Britney are down in the arcade room talking. Janelle tells them the conversation she just had with Danielle. Ashley says that she doesn't understand what just happened. Is this a punishment?! Janelle tells them that Danielle had said that she thinks I will stay over Frank. Britney and Janelle speculate on who would have said Janelle was coming after her. They wonder if it would be Joe. Janelle says I need 5 votes to stay …and at least I am up on the block against Frank. Britney heads outside.
12pm Dan and Janelle are in the storage room talking. Janelle asks him what the hell just happened?! Dan says remember when I said you needed to talk it out with her? He says that he talked her out of doing this. Janielle says I fell asleep. Dan says I know, but I talked her out of it and went to sleep. He says that he can't rationalize this, I just don't understand these girl feelings. Dan says that he thought he extinguished any plan to put her up. Janelle keeps saying I can't believe she did this, I am so embarrassed because I told them in the diary room that I didn't think she would put me up. Janelle asks do you think there is any other reason why she would put me up. Dan says I don't know I think it was just people saying stuff and she had a girl feeling about it. Janelle says do you think it was because I didn't work out with her? Janelle says I don't think Shane and them will vote to keep me if they are all trying to get a coach out. Dan says well you've got 3 days to get the votes. Janelle says at least I am on the block with Frank. Janelle says that Frank and Boogie are going to steam roll through everyone, you know that right!? Dan asks so what's your next move? Janelle says to get Joes vote. Janelle asks Dan if he would vote to keep her. Dan says that she needs to have the votes, I can't just throw you a vote. Janelle says that she thinks she has Britney, Ashley, You, and maybe Joe.
Re-Watch ALL THE DRAMA on FlashBack: Big Brother 14 Live Feeds – 3 Day Trial!
12pm – 12:40pm Frank is up in the HOH room talking to Danielle. Danielle tells Frank the conversation that she had just had with Janelle after the ceremony. Frank says that we are going to reciprocate it 10 fold going forward and you know that! Frank says that he dropped off his spirit-tard in the diary room and told them to fix it. He says that they asked him to explain what he wanted them to change on it. He says that he told them that the skirt is below my junk, I need it above my junk! Frank says that he told Janelle that at least she is up against her sworn enemy and not her best friend like in her previous seasons. Danielle says that she knows for a fact that Janelle spreading lies and then people came up here to tell me about it. She says that Janelle said Shane was coming after Dan and that I am a floater and should not even be in the game. Frank tells Danielle that Janelle sealed her fate with spreading lies. Danielle wonders why Janelle would sling her name through the mud and especially before the veto ceremony. She is attacking me personally! Frank says that is one think that I would not do, I would not attack someone personally. They hug and head downstairs.
Share it YO!!
Tweet