POV Holder:
Danielle
Next POV:
Aug 11 (Saturday)
POV Used
YES
POV Ceremony
Aug 6 (Monday)
HOH Winner:
Danielle
Next HOH:
Aug 9 (Thursday)
Original Nominations:
Wil and Frank
Current Nominations:
Janelle AND Frank
Have Nots
No Have-Nots for the Week
Last Evicted Houseguest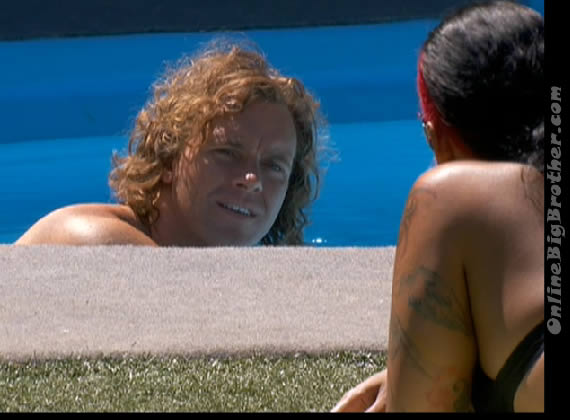 3:05pm Cam 3-4 Backyard
Ashley, Jenn, Ian and Wil talking about the lack of alcohol this season. Ashley thinks it's because there is so much drama in the house already.
Ian brings up the Head of Household competition being cornhole based. Ashley says she's never played that game before coming on Big Brother.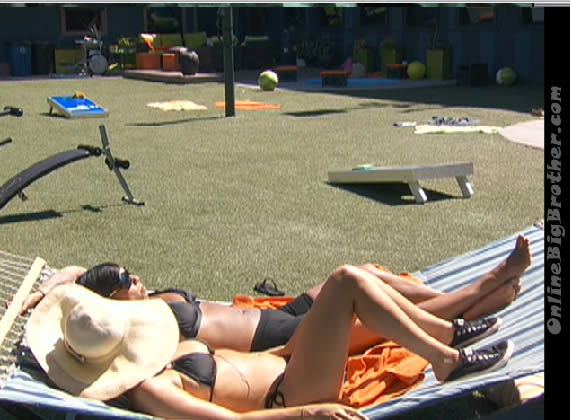 3:15pm Cam 3-4 Ashley and Jenn
Ashley asks her how many followers she has on twitter.. Jenn says 2K. Ashley: "Wow thats so much". Jenn says she use to tweet stuff when she was drunk and it was funny stuff but now she'll have to be a bit more responsible. Jenn goes on and on about twitter and instagram.
Jenn brings up that she did some charity work for cancer and they took a picture of her that showed her "Side Boob" AShley: "I love side boobs shots their my favorite"
Ashley says that Janelle talks so much shit about the other players "She's the typical mean girl". Jenn wonders how did she win fan favorite she's such a mean nasty person. Ashley wonders if maybe she was getting a really good edit. Jenn really doesn't know because from what Jenn sees Janelle is a mean spirited person. Ashley: "It sicks how everone thinks i'm her puppeteer "
Get The Live Feeds for your iPhone or Android Phone! Comes with a regular subscription to the Live Feeds
Subscription Link
3:22pm Cam 3-4 Frank, Ian and Wil
Frank saying he talked to Joe to see where his vote is at but Joe never repeated. They start talking about how weird Joe has gotten. Wil points out that Joe was all gung ho to get the coaches out then just yesterday he was saying they need to protect Janelle. Wil: "Don't trust Joe he will spread what you are saying to everyone" Frank brings up
3:27pm Cam 1-2 Janelle and Britney
Janelle saying she talked to Dan in the storage room and he said she can count on his vote as long that is where the majority is going. Janelle says she has Wil, Joe, Ashley and Britney. Brintey: "There you go you have 5 votes no worries" Britney gets called into the DR.
3:30 Cam 1-2 Head of Household Dan and Danielle Watch with FlashBack FREE TRIAL!
Dan tells her they are going to have to give Janelle the news Wednesday night or Thursday morning. Dan: "But if you want we can Blind Side her". Danielle will tell her when they get closer.
Dan points out Janelle is playing like Brian .. "so much stuff going around". Dan: "I honestly feel if she won she would put one of us up but if one of her people had won maybe not" Danielle thinks Janelle would put her up. Dan says no way Janelle underestimates her she would put Shane up for sure.
Danielle mentions that Janelle has been trying to get Britney and Shane arguing by telling stories but Britney called her out about it. Dan thinks she's going to throw all sorts of things at them these next couple days.
Dan brings up how Boogie could have knocked them out of this game and the fact they he didn't means something is there.
Danielle says no matter what Janelle says she was giving Danielle dirty looks and acting weird around her. Danielle: "She changes on me everyday .. Called me a floater and a waste of space to all her team"
Dan points out that it's only Monday and a lot can happen between now and Thursday, "Things get crazy now"
Dan: 'I wonder if she is going to snap… she's never been in this position before"
Danielle: "They told me it's the hottest day this year"
Dan: 'It's from her reading the bible
Dan: "Ians in the best spot of the house.. no one is going to touch him.. one of our group of 5 is going to get picked off.. I wonder who it's going to be"
Danielle thinks it's going to be Shane.
Danielle brings up that after the Power of Veto Ceremony Wil said WOW and AShley was beside him saying "What do you expect you can't go around being mean to people like she does"
4:05pm Cam 1-2 Pool Frank, Ian, Wil and Ashley
They ask him if he has the votes.. Frank thinks he has 5; Ian, Jenn, Boogie and Wil/Ashley
Ashley: "No offense I want to do what Danielle wants"
Frank understands he doesn't know where Shane or Britney are voting. Wil mentions how shocked he was seeing Janelle get nominated today.
Ashley: "I guess the trixie and PIxie thing is over" Both Ashley and Wil do not want Janelle to know they are voting for Frank to stay.
4:20pm Cam 3-4 Backyard Couch Britney and Janelle
Britney talking about being 25 years old in a couple weeks. Janelle mentions that when she was that age all she wanted to do was party. Janelle explains how she use to fly to Paris and London to party.
Britney asks Janelle about her big brother fame.. if it's going to start all over now that hse on another season. Janelle: "it only lasts a couple weeks"
Britney says 2 years after Big Brother 12 her Fame has really fizzled when she got off on her season she would tweet something and get 700 replies now she gets just a handful.
Britney: "I talked to Ragan a couple months ago and he said that his life was just getting back to normal.. I felt the same way but now it'll probably go back to how it was. "
4:24pm Cam 3-4 Bedroom Frank and Boogie
Frank telling him that it sounds like they have Wil and Ashley's vote.
Boogie: "I've started to blend into the background because everyone is scurrying right now" Boogie wants to make sure they are not such a big target for next week. Frank adds that Wil and Ashley were absolutely shocked about what happened this morning.
4:52pm Cam 1-2 Storage Room Jenn and Wil Wil tells her he made a deal with Danielle to keep her and Dan safe next week if they take him off the block. Wil thinks that Danielle had this planned all along but he's still going to honor the deal. Wil: "So Janelle is going home.. SWEET" Wil points out that AShley or Jenn can put Dan up.
Share it YO!!
Tweet