POV Holder:
?
Next POV
Aug 3rd
POV Used
?
POV Ceremony
Aug 5th
HOH Winner:
GM
Next HOH:
Aug 8th
MVP:
AMERICA
Original Nominations:
Current Nominations:
Last Evicted Houseguest
David, Nick, Jeremy, Kaitlin, Howard
Have Nots
no have nots this week
9:02pm Cockpit Aaryn and GM
Aaryn starts off by recommending Candice and Spencer be nominated. Aaryn says she wants Candice gone but is really threatened by Spencer.
GM: 'He voted F**** nick out he can kiss my a$$"
Aaryn: "We were going extinct .. I thought I lost you when Kaitlin and I were on the block"
They start going through scenarios. GM says if Spencer wins POV she could put Jessie up as the replacement. GM says if Spencer says anything about going up she going to call him out for lying to her face about Nick, "I don't like lies and I don't like rats.. same thing for Candice.. I don't like fricken rats".
GM: "Bye Bye good parting gift the 5 grand go to candy land b!tch"
Aaryn is saying it's time for GM to make some deals for keep her safe next week. Aaryn says there were rumours of GM flipping the house so GM has to use her HOH to get in good with the house (UGH so much pain to type these words out). Aaryn proposes she tells them that she was only playing nice with Howard and Spencer just in case they win HOH.
GM mentions how very late last night at 4am Candice and Howard tried to get her to flip the vote to get Amanda out
Aaryn is certain both of them are going up if Candice is HOH so they have plenty of reason to put her up.
Aaryn: 'The people that would rock the boat the least are spencer and Candice"
GM Agrees 100%
Aaryn: "More people in the house are against Jess now.. She's been telling people she wants us out.. Jessie doesn't know everyone is turning on her"
Aaryn mentions how going to Helen's BBQ is going to put a huge target on her back with Jessie. Aaryn adds that Jessie is getting jealous of them.
GM wants Candice out this week that is her target she's voted the way with the house many times now she wants them to vote her way.
GM says that Candice told GM that Helen and Elissa are gunning for Aaryn to leave. GM scoffs at this, "Umm no you don't know what you are talking about so mind your f**** business.. I fu***** hate her" .
Aaryn instructs her to use this opportunity to get information from Helen and Elissa. Mention to them that Candice told her they are gunning for Aaryn. This will make Helen and Elissa want Candice out.
Aaryn says GM has to tell Candice that the things she says about Aaryn are not true.
Andy joins them.. (Drink)
Aaryn says if they put Candice and Spencer Candice might win the POV because they think Spencer is poor at competitions. Aaryn proposes they put up Candice and Jessie that way Jessie would probably win the POV over Candice and Spencer can go up as the pawn
GM seems receptive to this, Aaryn proposes that she tells Spencer he's not going up and in return Spencer does not put GM and Aaryn up next week.
9:20pm Andy Ginamarie Cockpit
GM: 'you are such a cool guy and have such a wonderful personality.. obviously i'm not going to put you up"
They hug
9:40pm Cockpit Andy and Helen
Andy tells her everything about the conversation he had with Gm and Aaryn. Andy: 'It might just be a week we lose Candice, Spencer or Jessie"
Helen: "I want Jessie out"
Andy: "That's not what GM and Aaryn want they want Candice"
Helen: "Well we're the ones voting"
9:50pm GM and JEssie
JEssie asks if GM is going to Backd**r Candice
GM: "I don't really like that back door technique" (Gm stop lying ;) )
GM says that both Spencer and Candice suck at competition so she not too worried those two nominees will win the POV and take themselves off the block. GM: "That is who she is focusing on right now"
Jessie: "I think a lot of people would do that" (Put up Spencer and Candice)
GM says it's a easy nomination she isn't going to get much blood on her hands.
GM starts talking about her and Nick have a connection. She usually doesn't meet guys like Nick and when she did she really liked him.
GM: 'Hopefully if things worked out after then great but if they don't.. what can I do.. that means I'm not meant for him"
She adds that Nick is cute and they are about the same age they laugh and have fun, "What more can I ask in a guy.. I gotta a lot of love and i ain't that ugly"
Jessie asks her to do the "Swimsuit model face"
10:02pm Spencer and GM Spencer saying he has to keep using the Megaphone until the Nomination ceremony.
GM: 'What happens if you don't talk out of that"
Spencer: "They didn't tell me any penalties.. it's more of a good sport thing
GM asks him about the Pandora's box when do the HOH's usually get it because Amanda and McCrae are going to be in there tonight
Spencer doesn't think they would put the Pandora's box in there tonight.
GM says she was in the groove during the HOH competition she felt like she had another hour in her.
10:09pm McCrae and Amanda Amanda thinks GM will be putting up Candice. She hopes they can get JEssie up and maybe get JUDD backd**red
A: "Not one vote.. we did something right this week"
MC: 'The fights worked out for us"
Aaryn joins them (Drink) and reports Candice is going up with either Spencer or Jessie. Gm joins them. Aaryn starts saying that Jessie is going to float to whoever has the power.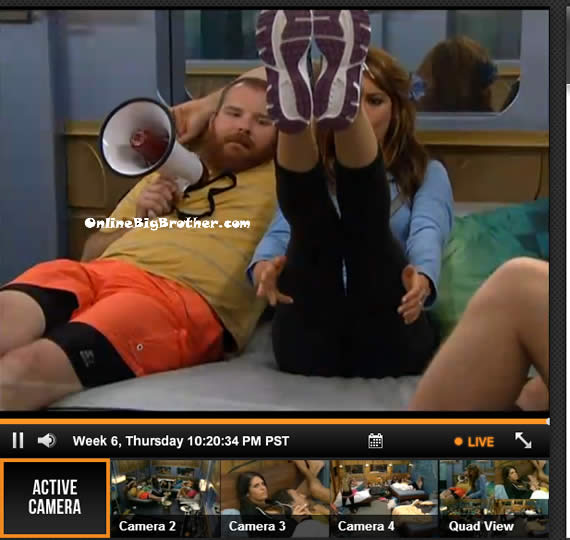 10:25pm Cockpit Chit chat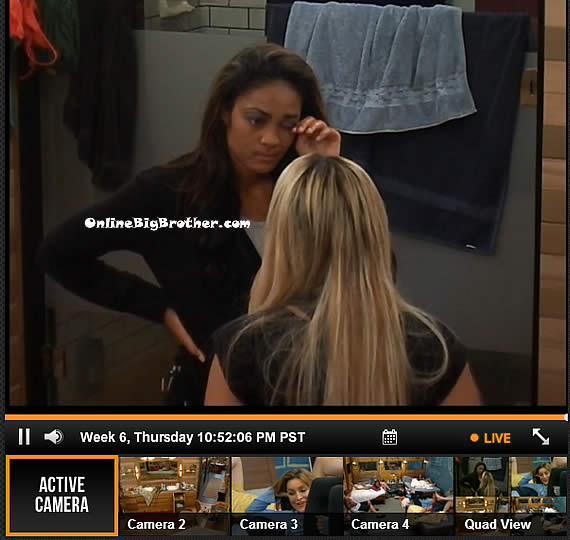 10:53pm GM and Candice Gm says she knows how Candice feels losing Howard in the game she felt the same way losing Nick. GM says she's happy Candice got the money and she wants Candice to know it's ok to be sad and it's OK to just let it go and got with the flow. GM thinks Howard was a fantastic guy she's sad to see him go she wishes everyone could stay. GM adds if Candice doesn't feel like staying long in her HOH she'll understand
Candice thanks her for the kind words they hug it out
11:20pm Bedroom Chit chat
Elissa is alone in the kitchen cleaning up
They are talking about some of the news Julie gave them about the outside world. Kim Kardashian's baby's name and the Royal Baby's gender.
Spencer says he's happy to get any news about the outside world but in his regular life who gives a f*** about the royal baby
(it's funny because Spencer has to talk threw the megaphone … it doesn't seem to hold him back)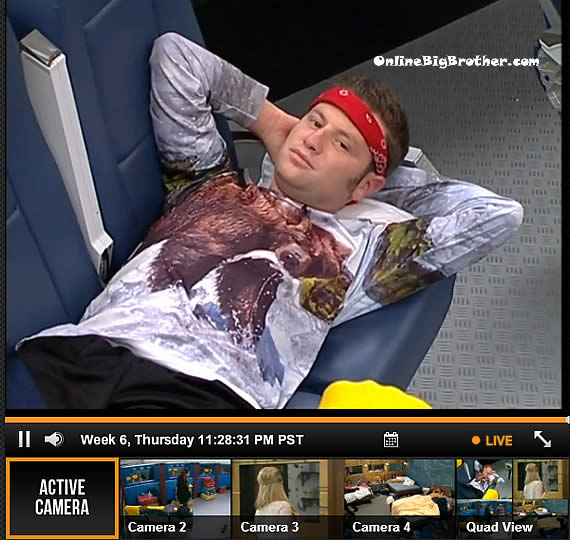 11:30pm Have nots JUDD and Amanda
Amanda is looking for her black sweat pants: "Crazy how things can change in here"
JUDD: "KJHJK HKJAHFDOOOIOIYUYELLHJSJLF" (mumbles)
JUDD mention how Andy and Jessie are sleeping in the same bed.
JUDD thinks Jessie doesn't want to sleep in the same bed as him.
JUDD is worried that maybe Candice is telling Jessie that he would put her up if he got HOH. Amanda doesn't think so she tells him that Jessie was flirty with him upstairs.
11:36pm JUDD asks Andy if he can sleep in his bed
Andy: 'NO I want this bed.. oh my god"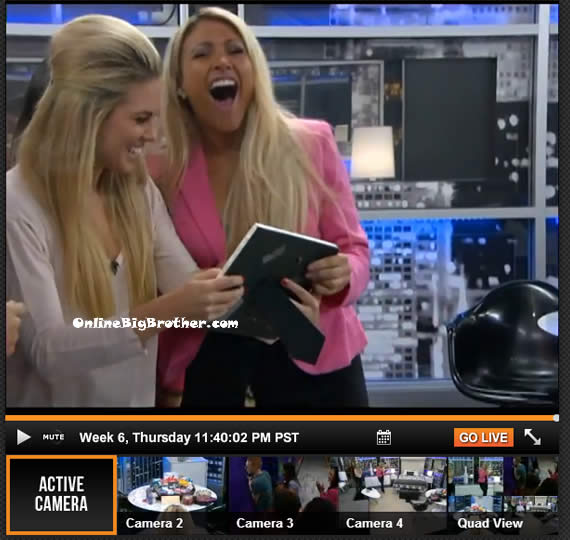 11:42PM HOH Reveal
GM gets a picture of Nick she's freaks out..
She has a pageant crown that's important to her Gina: "I use to be fat I use to have braces .. it took me 7 years to get this crown"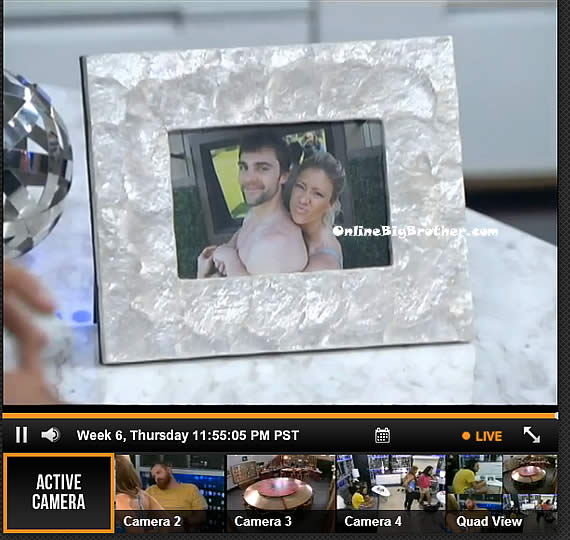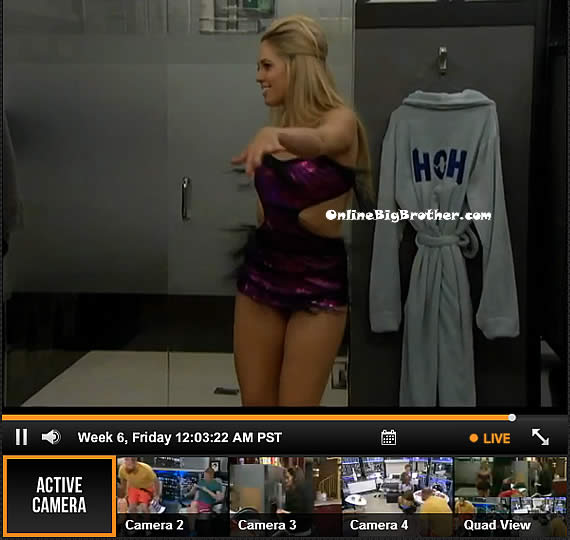 You can re-watch ever second on the feeds using their flashback feature.. It's just like a DVR and is super easy to use. click this link for a Free Trial —> Subscribe to the Big Brother Live Feeds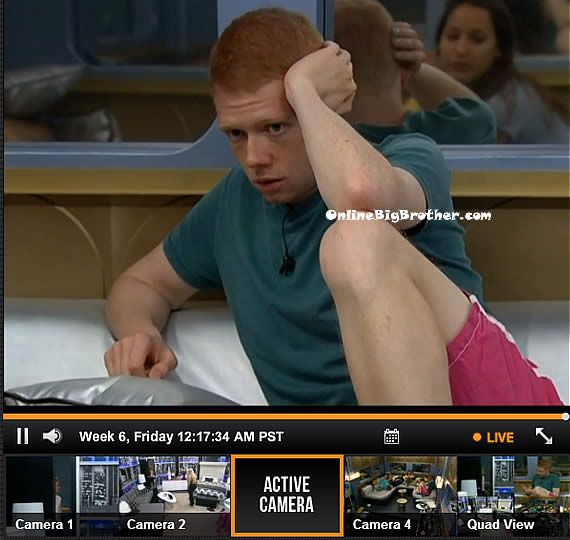 12:13AM Cockpit Jessie, MC and Amanda
Jessie saying she finds it extremely annoying that Helen invited Aaryn to the BBQ
Amanda: "I'm not sure how that came about"
Andy joins them (Drink)
Jessie is upset about this says what about her loyalty doesn't that deserve a BBQ party.
Jessie is worried that she is becoming a target because Aaryn is getting close to Helen.
Amanda: "Maybe you should go talk to Helen"
Anady: 'Ya Helen is a straight shooter she'll tell you what's up"
Amanada and Andy leave to check out the alcohol. Andy says he gives his share of the booze to the have nots because he felt like he had enough last night. Jessie is left in the room with MC she starts to cry..
12:23AM HOH Aaryn and GM
Aaryn saying they have to put Jessie up. She told Spencer if he doesn't put them up next week they will keep him off the block.
Aaryn: '"Jss is down there pitching a fit"
GM says Jessie is welcome to come up here but she doesn't want her up here kisses a$$
Aaryn explains that Candice cannot win the veto if candice wins veto they are f****.
Aaryn says if the Veto is played and Candice is taken off the block they will have to blindside Jess.
They got over things to say to Jessie. Of course They mention Jessie turning on Nick.
Aaryn says the most important thing
Aaryn: "Helen, McCrae and Amanda all want Jessie and Candice up"
GM: 'Ok i'll put them up"
Aaryn says there is a chance she will go up as MVP but it's OK they still have the votes to get Candice out.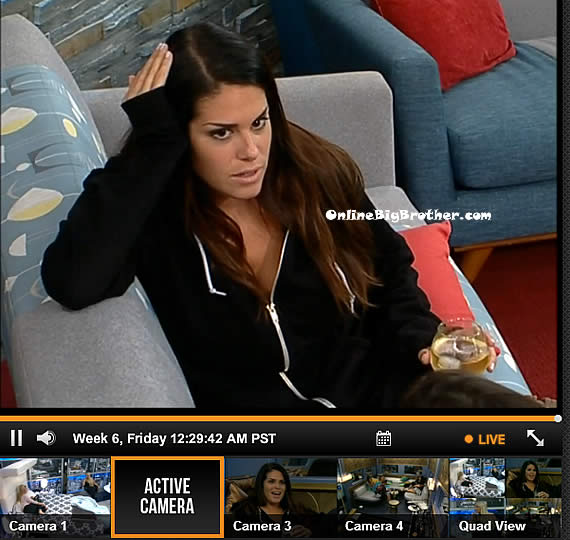 12:30AM Couch Amanda and Jessie
Amanda is calling Jessie out for trying to flip the house. Jessie denies it all she said twas there are people in this house that have all the power in the game.
Amanda: "So you are going to sit there and liue to my face"
Amanda: "Don't sit there and be a little girl crying when she isn't inviting you to a BBQ because you tried to flip the house"
Jessie: 'I never did that"
Amanda storms off "Some people beg to differ doll.. why don't you go cry in the corner have a little sh!t fit … go cry in your sheets. "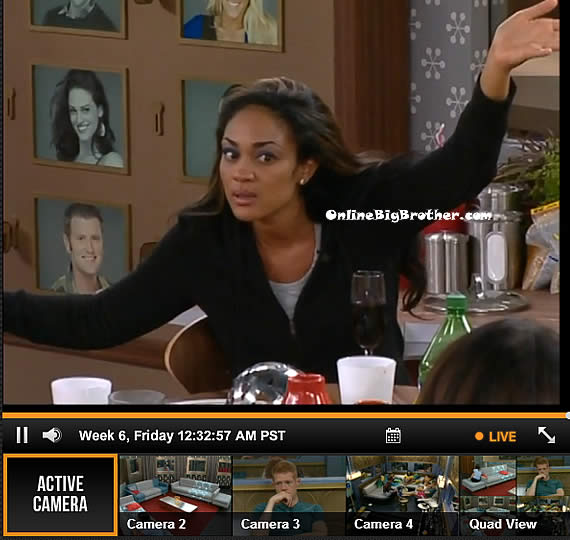 12:36am Amanda now heads to the kitchen to fight with Candice.
Candice says she wanted to protect Howard and he was her person. Amanda starts telling her why they wanted Howard gone. They start to yell at each other.. Amanda tells her about what Howard told her in the kitchen the other day.
Candice: "I didn't know the dude said that to you"
Amanda: "What he said to me freaked me out.. I sat in the DR for an hour cause I didn't know what to do"
Helen jumps in start to cry "I thought we were friends Candice.. we cared about you"
Candice: 'To be honest you guys are running this sh!t every week you guys run up there every week and makes a deal with the HOH"
Amanda: "You are really going to look dumb after you go home and see there was no final 4 deal"
Helen says she's free to go up to the HOH and make deals.
12:44AM Kitchen Candice, GM and Andy
Candice is saying that Elissa, Amanda, MCrae and Helen are running the house and taking out all the pairs.
Candice: "She said that Howie said I Want to f*** the Sh!t our of you"
GM is confused, "Oh I never heard that"
Andy says he didn't hear what Howard said to Amanda but he saw the body language and it was "Super Weird". Andy explains that he was very very close to her and look very uncomfortable. Andy doesn't know if that is what he said, "I can verify that there was an odd encounter going on"
GM leaves
Andy recommends she try and stay away from the drama. Candice says she didn't start it Amanda came after her. Candice: "The truth of the matter is everyone on the board they are responsible for"
[polldaddy poll=7293412]