POV Holder:
?
Next POV
Aug 3rd
POV Used
?
POV Ceremony
Aug 5th
HOH Winner:
GM
Next HOH:
Aug 8th
MVP:
AMERICA
Original Nominations:
Current Nominations:
Last Evicted Houseguest
David, Nick, Jeremy, Kaitlin, Howard
Have Nots
no have nots this week
1am Up in the HOH room – Aaryn, Helen, Elissa, Amanda and McCrae are talking. Amanda says that is was Jessie who went to Candice with latest plan, it wasn't Candice approaching Jessie. Judd brings up how last week Jessie came up to him and told him things she had told people. Judd says that he was surprised. He says that Jessie suddenly thought she was a mastermind. Aaryn tells Judd that Jessie had said Judd should sleeping in the bed with Aaryn tonight, and that Jessie was in the bed with Spencer under the covers. Helen says don't worry, we will get her out. Judd leaves the HOH room and says that Jessie should go this week. Judd asks Ginamarie if she would consider putting up Jessie. Gina says that's an option. Judd says that if Jessie doesn't want to be here. He says that Candice and Spencer do. Amanda tells Gina that she wouldn't even put Spencer up, if he isn't coming after you. Judd says would or wouldn't? Amanda said would not. Judd tells Gina that he would support whatever she did 100%. Judd tells Gina that if she put Jessie up, he would appreciate it and owe her. Gina says that she will consider putting up Jessie. Judd says that he hopes he is close enough with people up here for them to know that any partnership he had with Jessie is over. Gina brings up how Jessie went from guy to guy. Amanda says that Jessie thinks McCrae is the cutest guy. Amanda says that she is going to tell Jessie that she is gone. Aaryn tells her not to and to at least wait until she is evicted.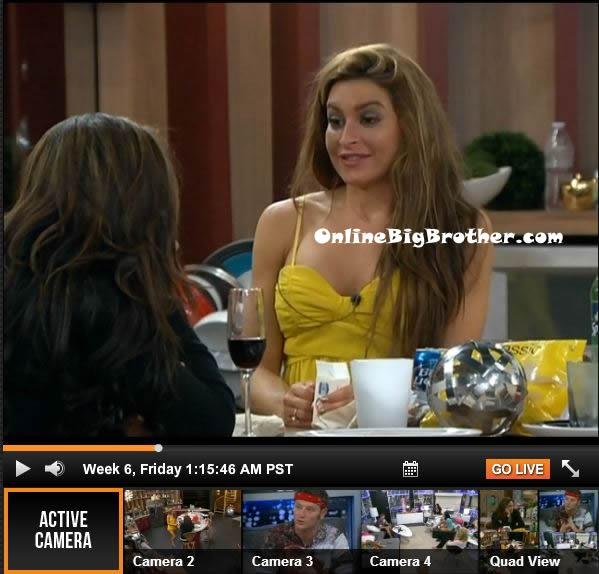 Meanwhile in the kitchen – Andy and Judd are talking to Candice. Candice says that what comes up must come down. Andy tells her that the best thing for her is to just not freak out. Judd tells Candice no have not's this week. Candice starts crying. Judd says aw, don't cry. Candice asks I wonder if in diary room they'll tell me, if Howard really said that. (If he whispered to Amanda that he wanted to f**k the sh*t out of her.) Andy says I wonder if they would. Candice says I can't imagine someone toting around their bible and praying 4 times a day saying something like that. Big Brother cuts the feeds. When they return, Elissa is talking to Candice. Elissa says that every time she tried to get Howard to talk game he wouldn't. Candice says well maybe because he didn't trust you. Elissa says that's not it. Elissa says that she thinks Howard didn't talk to her because she has moral and values. Like that I saw right through him. Candice says But I have morals and values. Elissa says I know you do too. I am a mom and I feel like whenever I would talk to him he would get weird. I didn't put him on the block because you were close to him. Helen comes down and tells and tries to tell Candice and her and Elissa have tried to work with Candice but that Candice keeps saying that we have a final 4 deal with Amanda and McCrae. Helen says we don't and it hurts our game for you to say that. Candice starts going off about how she doesn't like Amanda. She says that Amanda is the female version of Jeremy. She tries to manipulate and run the house and I don't like that. Helen says we have stuck up for you and the comments you have made hurt out game. Amanda comes down and apologizes to Candice for getting into it with her. Amanda heads to the bedroom and tells Spencer that he is so smart for keeping quiet. You are not going up on the block this week. I could learn a thing or two from you. Amanda tells Spencer that Jessie told Aaryn that she thinks McCrae is the hottest guy and that she checks him out all the time. Amanda says probably shouldn't tell me that when I am a little buzzed. Back in the kitchen – Helen and Elissa continue to talk to Candice. Candice says that if Howard did say that to Amanda then damn him all to hell for saying some like that. Helen says we didn't tell you because we didn't know if it was true and he would just deny it.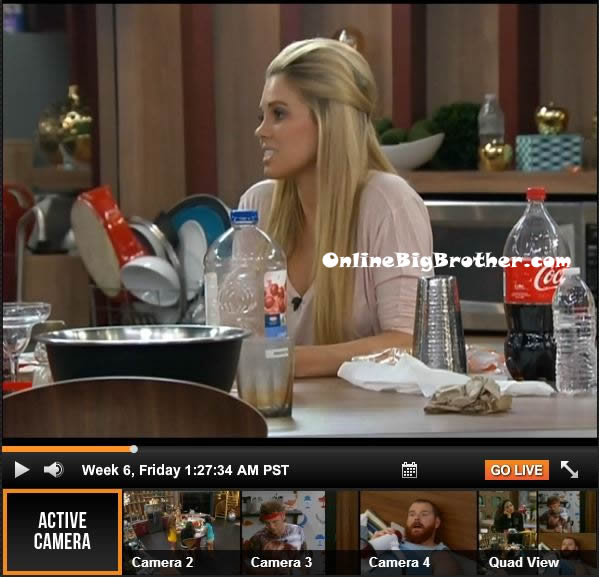 1:10am Aaryn comes down to the kitchen and talks to Candice. Aaryn tells Candice that she feels threatened by Candice because you said I was saying racist things. Aaryn says that she is sorry if she felt that way because she didn't mean it that way. When I head you called me a racist it freaking scared me because it is on national tv and I just never meant to say anything derogatory like that. I did what people to have that bug in their ear. Aaryn says that she thought you were coming after her so I had to put her up. I really am sorry if you felt that I was coming after you in a derogatory way because that is unacceptable and disgusting. If I ever say anything that upsets you please tell me. I have respect for you and hope that you do for me also. I would like to talk to you and if you would want to I am here. Aaryn says that she is sorry that Candice lost Howard and says that it upset her to see him walk out the door too. Aaryn heads back up stairs. Helen, Elissa and Candice continue to talk about Howard and he acted weird towards them. Elissa tells Candice that she felt Howard was praying on her. Candice says it wasn't smooth sailing with Howard. She says we never hooked up. I would call him on his sh*t all the time. Helen says even with all the racial slurs Howard was voting with Aaryn. Why would he do that if he was supposedly so mad at her. Elissa says that Aaryn would get uncomfortable when Howard would come up to the HOH room alone with her. Elissa says she wonders how Howard is being portrayed like showing him pray and then show him saying that to Amanda.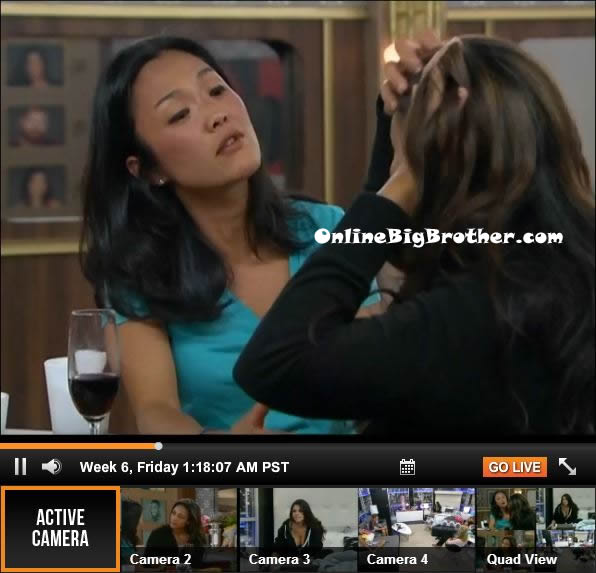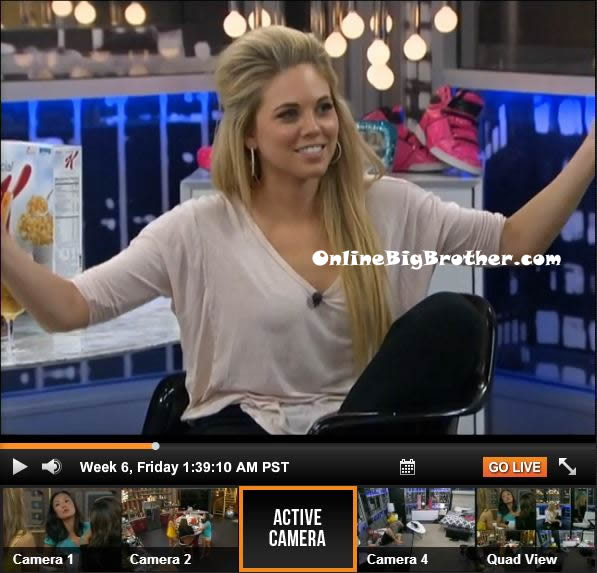 1:40am Up in the HOH room – Ginamarie, Amanda, McCrae and Aaryn. Are talking about the bachelor/bachelorette party that they will have for Amanda/McCrae getting maried. Aaryn comments that she has officially earned enough money to get breast implants. Can I get a round of applause?! They talk about how they are already at 6 grand and if they make it to jury then they are guaranteed 13 grand. Amanda and McCrae then play "Rock, Paper, Scissors" to decide if the bachelor or bachelorette party happens first and gets all the alcohol. McCrae wins so the bachelor party is first.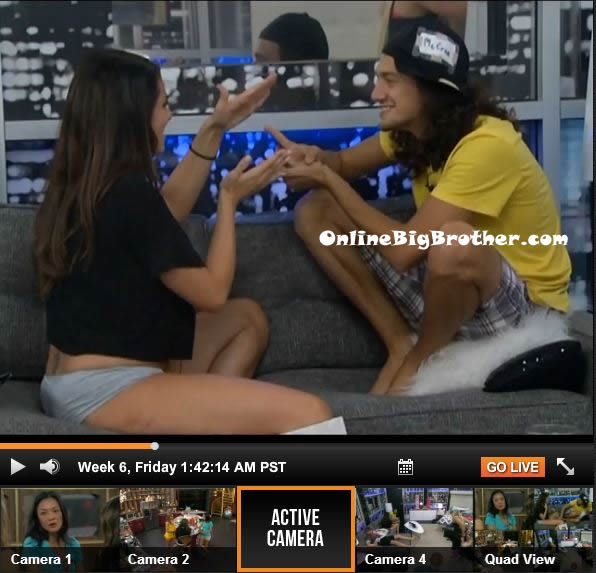 The following fight between Amanda and Jessie was blocked on the live feeds but the audio was running. Either production was trying to block the fight or someone fell asleep in the control room because the cameras show a one view of the backyard and then switch to the we'll be right back screen with the audio still on the backyard.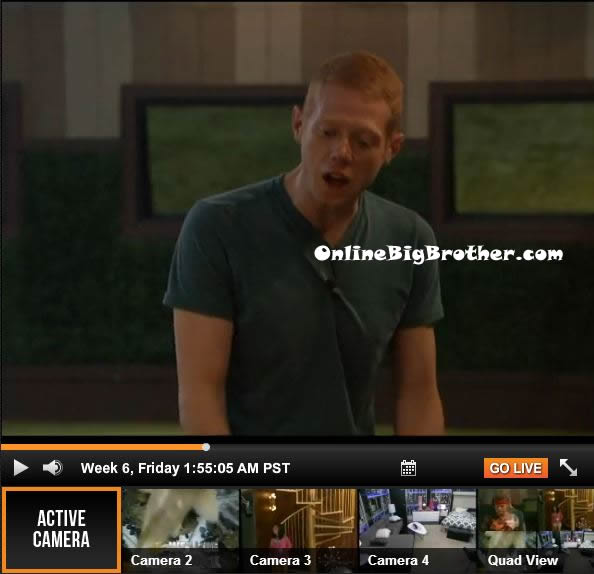 1:55am – 2am The house guests are in the backyard. They're talking about the HOH competition. Amanda says she just wants to let everyone know that he won and so the bachelor party comes first. Jessie says she doesn't want to go to the bachelor party by the way. Amanda says don't worry Jessie you weren't invited. (The camera isn't on the backyard but the audio is.) Jessie calls Amanda a bully and says that just because you have big t*ts doesn't mean you are any less of a bully. Amanda says I have been nice to you. Jessie says yeah you are so nice Amanda you have such a loving kind heart. Amanda says the only reason why I am angry is because you came up with a scheme to get me out of the house. Jessie asks why are you mad at me, so you both want to gang up on me. Amanda YELLS It's all you, don't play the VICTIM JESSIE! You played your card, I am going to make you a shirt. America please make Jessie I am a victim shirt with Jessie's fu*king face underneath it. Jessie says you're a bully. Amanda says it's so easy for you to say bully, I am a bully! Well you know I am pissed because you tried to flip the house on me TWICE! SO GO F**K YOURSELF JESSIE! THAT'S NOT ME BEING A BULLY THAT'S ME DEFENDING MYSELF! GO F**K YOURSELF! Amanda yells you think that McCrae is the sexiest guy in the house, and that you check him out all the time. Jessie says your insecurities speak for themselves Amanda. Amanda says I am insecure, I am so insecure! Go hit on someone else's guy. Jessie says I don't want McCrae. Amanda says all the women out there this woman wants to snatch up your husband. Hide your boyfriends, Hide your husbands because this BIT*H will try and steal it! Jessie says right I'm a man stealer. Jessie says it doesn't surprise me that everyone has my name in their mouth! Amanda asks what's not in your mouth Jessie! Jessie says you're the one to talk Amanda, like seriously. You had a boyfriend when you came here. Amanda says I had someone I was dating for 2 months. Jessie says you told everyone you were in love with him and that ya'll were soul mates when you met him.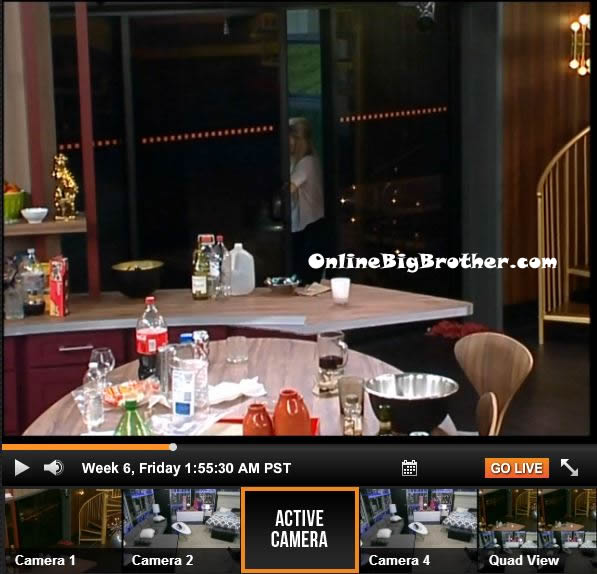 Amanda says you go after every girls guy, CLOSE YOUR F**KING LEGS YOU SL*T! Jessie says I am not sitting out here in my f**King underwear Amanda! You're in your underwear! Amanda says oh I am sure that offends you, please! Thank god you didn't come here with a f**king boyfriend! Jessie says and you did which is hilarious! Amanda says everyone thinks you are a man stealer! Jessie says that's why everyone is afraid to stand up to you because they are afraid that you are going to do the same sh*t to them. Amanda says afraid, is everyone afraid? Jessie says everyone in here said at one point or another that they wanted to get you out but they are afraid because you are in an alliance with Helen. Amanda says yes me and Helen are in our own alliance together. Jessie says yes you are. Amanda says BYE Jessie! Jessie says I am not afraid of you Amanda. Amanda says well you should be, that's why you will be f**King going home this week!
Jessie says alright, so everybody agrees with that because Amanda said it? Amanda says you dug your own grave. Jessie asks yeah with you? Or the whole house? Amanda says everyone! Jessie says the only reason I would want to go home is because I could not stand living with you for another week. Amanda says then go home! The cameras now show the inside of the house. Andy laughs with Elissa about how Jessie and Amanda are going off on each other calling each other bit*hes and sl*ts! Helen comes in and says that she tried to be nice to Jessie and she is trying to do all this stuff and I never yelled at her or anything. Helen heads upstairs. Andy says yeah go be with yourself for a bit. Helen says I never said one bad thing about you.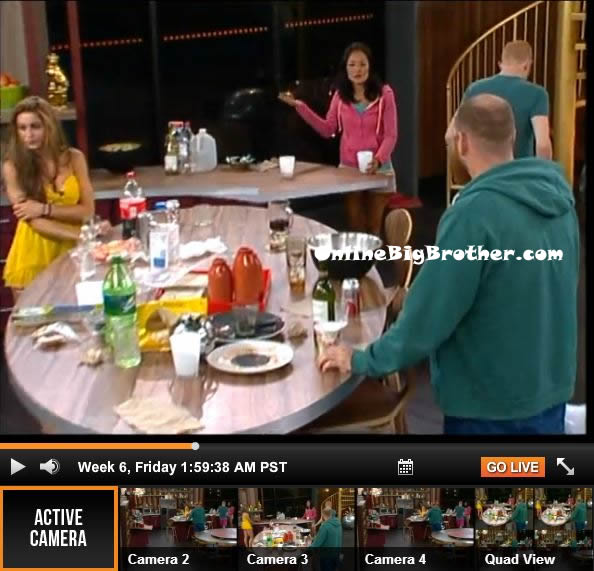 2:03am – 2:35am In the bedroom – Candice, Aaryn and Andy are talking. Candice is upset still about the things Amanda has said about Howard. Andy says he understands and says that it's been an emotional day. Candice starts to say that she doesn't understand why Amanda wouldn't say that things while Howard was still in the house. Big Brother cuts the feeds. When the feeds come back – Gina, Helen and Elissa are up in the HOH room. The feeds switch back down to the kitchen where you can hear the backyard fight still going on. Amanda says that Jessie is acting like a psychopath. Big Brother then switches all for cameras to the HOH where Candice is talking to Helen and Elissa. Candice is talking about Jessie and how weird she has been acting. Aaryn comes up and talks about how Amanda and Jessie are still screaming in the backyard. Candice talks about how Jessie was plotting to get out Amanda and then woke up and she was a different person. She didn't say anything about the plan, it was like she was a different person. Candice says that Jessie said that I wasn't giving her enough attention. I didn't know we were bumping pu$$ies!? I am strictly di*kly! I was confused. Candice says it's like she has multiple personalities or something. Helen says yeah she is schizophrenic! Spencer and Gina join them and they talk about random things.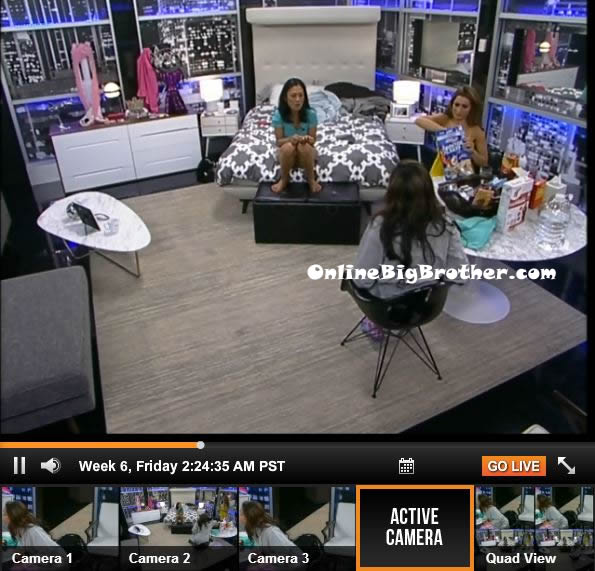 3:20am – Candice, Elissa, Andy and Spencer head to the bathroom to get ready for bed. Meanwhile up in the HOH room. Aaryn says now I have to kiss Jessie's a$$ to say I am so sorry that happened. I just don't want Jessie to put me up together with you Amanda if she wins HOH next week. Aaryn, Amanda, McCrae, Judd are talking in the HOH room. Judd asks who Gina is putting up. Gina says Candice for sure and then either Jessie or Spencer. Aaryn says that she doesn't think Spencer deserves to go up at this point. Judd thinks Jessie needs to go up to get scared a little. They talk about how if the veto has prizes Jessie will take them even if she is on the block. Gina says that Jessie just wants money and di*k! If you just want that be a prostitute! Aaryn tells Gina to get Helen to help get Candice out this week by telling her you will vote how she wants next week. Aaryn says Jessie isn't dangerous because she is stupid! Candice needs to go because she is smart. Gina tells Amanda that Jessie saying Amanda had a boyfriend outside the house was a low blow. Amanda says it was only a 2 month relationship and I only said I had a boyfriend to seem less threatening to the girls.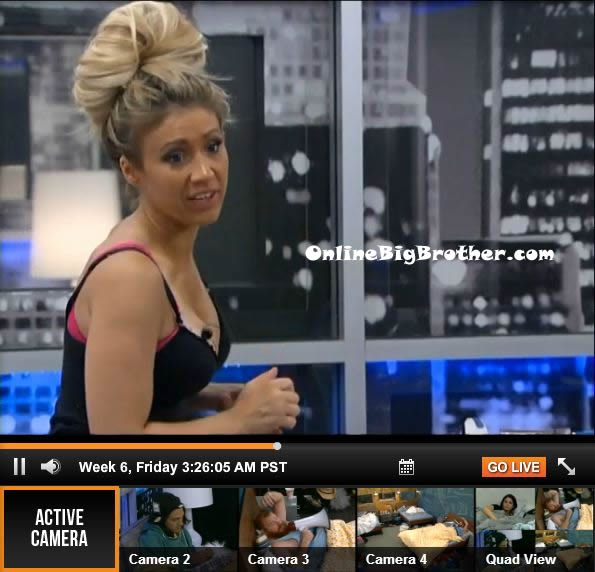 3:35am – 4am Aaryn jumps on Amanda in bed and then Gina jumps on top of Aaryn. Gina then starts humping Aaryn. They all laugh. Gina gets off and asks is that your microphone or are you just happy to see me? Amanda then gets up off the bed and humps Gina on the floor. The conversation turns to talking about Candice going home this week and Jessie next week. Aaryn tells Judd if he falls off another log thing she is going to cut him! I will leave you and form a new alliance. They think next weeks HOH will be the Knock out competition. They talk about Frank and Aaryn says that she is obsessed with him. McCrae says he is a good looking dude. Aaryn says he is so fine! I would marry him in a heartbeat! If Frank walked up to me and asked me to marry him I would say yes, and I will do anything that you want me to do for the rest of my life! Judd tells Aaryn that he will give her a hall pass on Frank if he can have one on JoJo! Aaryn says ew no because I don't want chlamydia! Judd says Jojo's not nasty! Aaryn says yes she is! Sorry but she is disgusting! You called me trash, that girl's trash! Sorry Jojo but you're tacky. Judd says no no, she's hot she's my dream girl. Gina says she's not hot, she's pretty. Aaryn says she looks like a gremlin. Judd says she's not. Judd asks McCrae what he thinks. McCrae says she's nice and good looking, shout out to Jojo. Aaryn says that McCrae just knows how brutal the live feeders are.. McCrae says she could be watching or if I say something bad about her it could go directly to her. Aaryn says well Jojo come at me girl. McCrae comments Jojo has a nice a$$. Aaryn says she looks like a rat! Judd says no, no, no. Aaryn says Ashley's hotter than jojo. She was a rat and talked sh*t about Danielle who was a sweet little girl. Aaryn says Jojo said Danielle was fat but I have news for you Jojo you have a belly. In the HOH bed Gina asks McCrae if he thinks Nick would be proud of her. McCrae says oh yeah you did good! Gina says you too. Aaryn heads down stairs. Judd comments on how it was another drama filled night. McCrae says yeah, I wish Amanda wouldn't get into that kind of sh*t with people because it doesn't make her look good.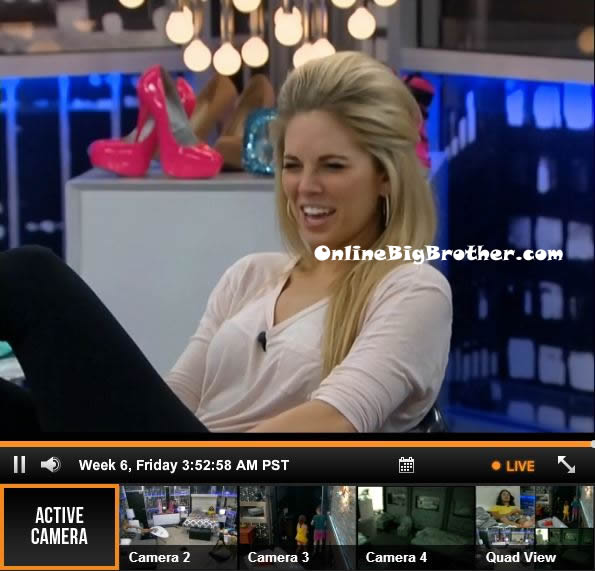 4:05am UP in the HOH room – Judd says that he is trying to distancing himself from Jessie. McCrae asks Judd to do damage control for Amanda. Judd tells him that there isn't much damage control to do. Judd says McCrae is over thinking it and being paranoid. Judd and McCrae talk about how misused the word bully is. Judd says that so many people use it when its not's what's happening. You're having a conversation you're not being bullied. Judd heads down stairs and McCrae and Gina talk about getting Candice out this week. Gina says that this week is a good week because putting she is putting up two people that most of the house wants out anyways. Gina says that Jessie was never my friend anyhow, she's an a$$ kisser. McCrae says that he is worried if Gina puts up Jessie then Amanda will be blamed for it. Gina tells McCrae that Jessie voted the wrong way. She is a flip flopper! Gina says and Candice, I don't like her attacking people about race and the bed flipping was a joke, I was in the room. Gina starts talking about he photo of Nick and says she is going to marry him.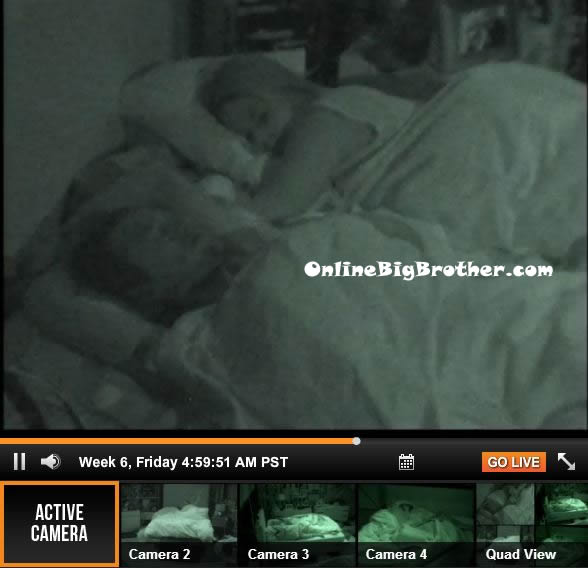 4:55am – 5:55am McCrae and Amanda are up in the HOH bed. Amanda talks about the fight with Jessie and how she lost her cool. McCrae is annoyed at her for going off on people because it makes her look bad. Amanda says that she is protective. McCrae says that he wants Candice to go. Amanda says that Jesse saying I am using you is not okay, and that you need to grow a pair. McCrae says it's no skin off my a$$. Amanda says how dare she say that. Amanda says it is hard for me to say some women come to my man talking sh*t about my man, that is very ballsy and do you expect me to take it? McCrae tells Amanda that this is Big Brother you should, pick your battles. McCrae tells Amanda if we are playing as a team, then I can't have you going off like that and getting into arguments. McCrae tells Amanda to forget all the personal stuff, there is no personal here. Amanda says it makes her and she sees red. I want to rip her f**king face off, maybe it will make people aware that they shouldn't scheme. Amanda says I am done with this conversation! McCrae asks do you really want me to say you did a good job out there? Amanda says I am not supposed to be upset about that? McCrae says pick your battles and pick the right time to strike. Amanda says she started it, she is getting the best of us and you turned it into an argument between us. I don't want to f**king talk about this. Big Brother cuts the feeds and when they come back start making out under the covers. They get all hot and heavy and then go to sleep.

6:30am – 7am Judd is up, he runs into Helen who is also up going to the washroom. He tells her he can't sleetp. Judd then takes a shower and then goes back to bed.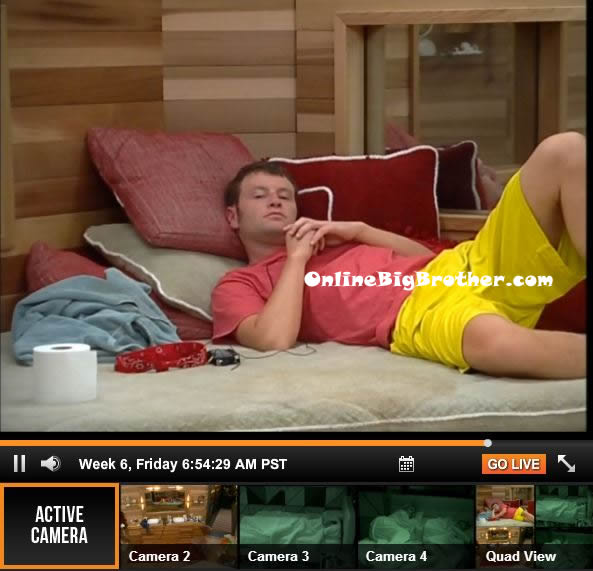 8:25am All the house guests are still sleeping.
Use the Big Brother Live Feeds to FLASHBACK to SEE what they can't show you on TV: BB15 N!p Sl!ps / N*des
[polldaddy poll=7293412]