POV Holder:
Elissa
Next POV
July 20th
POV Used
YES
POV Ceremony
July 22
HOH Winner:
JUDD
Next HOH:
July 25
MVP:
AMERICA
Original Nominations:
Aaryn, Kaitlin, ELISSA (MVP – America)
Current Nominations:
Aaryn, Kaitlin, GINAMARIE (MVP – America)
Last Evicted Houseguest
David, Nick, Jeremy
Have Nots
Jessie, Candice, Andy, Spencer
9:30am – 10:15am Big Brother switches to the we'll be right back screen to wakes up the house guests. When the feeds come back Helen and Jessie are in the bathroom. Jessie heads out to the backyard to put her feet in the hot tub. Candice and Elissa join Helen in the bathroom. Candice is wearing the pink onesie. Candice tells Helen how Gina downed two spoonfuls of cinnamon. Helen says that is disgusting. She is awesome. Helen heads out into the backyard and talks to Jessie about how she has been a havenot 3 weeks in a row. Helen says that Aaryn and Ginamarie have to be havenots next week. Maybe that is part of the deal that I make with Aaryn that she has to be a havenot. Helen says she we cant tell Spencer, Howard of Candice about the deal Aaryn is making with the house because they are the ones going up. What I don't want is that people know why we are taking her out, because she is so strong. Judd comes out and Jessie tells him to about not letting Howard/Spencer or Candice in on the deal made with Aaryn. Helen comes over and talks to Judd about the deal. She says that Aaryn has agreed if she wins HOH she will come to us (Judd, Helen, Jessie, Andy, Amanda and McCrae) for her nominations. Andy joins them. Helen says we can get Aaryn do what we want her to do for nominations. Helen says we will tell Aaryn Wednesday night or Thursday morning. Candice joins them.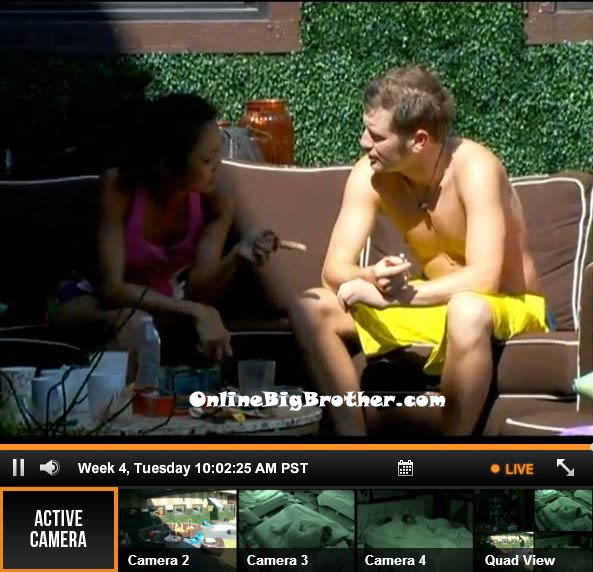 10:15am Up in the HOH room – Andy and Judd are talking. Judd says that Candice is so annoying. Andy says she is such a lingerer. Judd says he told Gina that he thinks Howard is MVP. He gets called to the diary room so often. Judd says that Ginamarie said and he put me up. Judd says that he isn't sure what to say to Howard and Spencer to convince them of why we need to keep Aaryn. Judd says I am so confused with all of the alliances. Andy wonders what he should tell Howard and Spencer to convince them to vote out Kaitlin. I will just plant the seed that the house is getting nervous. Judd figures Andy to tell them that Amanda wants Aaryn out so bad. Judd agrees because Howard and Spencer hate Amanda. Judd says that Howard needs to go. It will be hell if one of them got HOH. Judd tells Andy to really try and make friends with Ginamarie, we need her to trust you. Andy says she already likes me. Andy says I can't stand Howard and Spencer. I will put the two of them up in a second. Judd tells Andy to tell Howard/Spencer that Kaitlin is with Helen and Elissa. Andy says that Amanda and McCrae will be loyal to us till the end. Even though Elissa is a loose cannon I trust her more than them and Helen too. Judd says that he doesn't know how much he trusts Helen. Andy says that Helen doesn't know that I am with you, Amanda and McCrae over her. And if anything comes up about you I can warn you. Judd isn't sure he can trust Helen. He says when he came out into the backyard this morning Jessie and Helen were talking and then scattered. Judd says that its so annoying to have to go along with Howard/Spencer and Kaitlin. Andy says how is it possible that Howard and Spencer don't think we don't talk to each other. Judd says that Howard is the quiet one because he just sits there and listens. Me, You, McCrae, Amanda, Jessie, Helen. Judd says and hopefully Howard and Spencer. They laugh about how much Ginamarie hates Kaitlin. Andy heads down stairs and says that he will plant the seed that Amanda really wants Kaitlin to stay. Judd says that he will talk to them later too. Andy leaves and Judd goes back to sleep.
Big Brother 15 Live Feeds: FREE 2 DAY TRIAL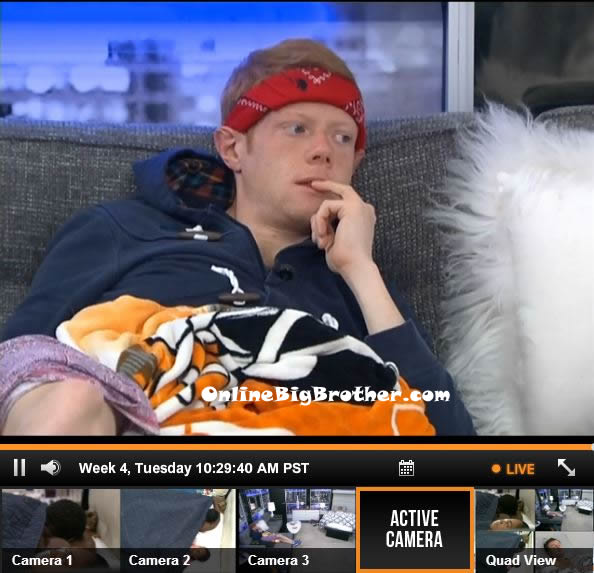 10:50am – 11:05am Out in the backyard – Andy, Helen and Jessie talk about Howard and Spencer. Helen says lets tell them that Kaitlin is coming after me and see where their loyalties lie. Helen asks where is Howard's loyalty to Candice? Andy says he has none. Helen says she is going to win HOH and put them up. Helen says the problem is with Candice is that you can't tell her anything. They continue to speculate on how next week will play out depending on who wins HOH/MVP next week. Jessie wonders why America would vote Howard asks the MVP. Helen say because the black vote is strong in America. They will want a minority to win. Andy and Helen agree that they would rather take Gina to jury than Howard/Spencer. Andy heads inside. Helen tells Jessie I need to go to confession after this show, I don't lie but I twist things.
11:10am – 11:15am Out in the backyard – Andy says that he will tell Spencer that Kaitlin has repeatedly told me that she is after you and Howard and I don't want her to come after you. Andy and Jessie talk to Helen about how she is so obvious they are talking game when someone walks in the room. They coach her on how to act and how to switch the subject so that it's not obvious.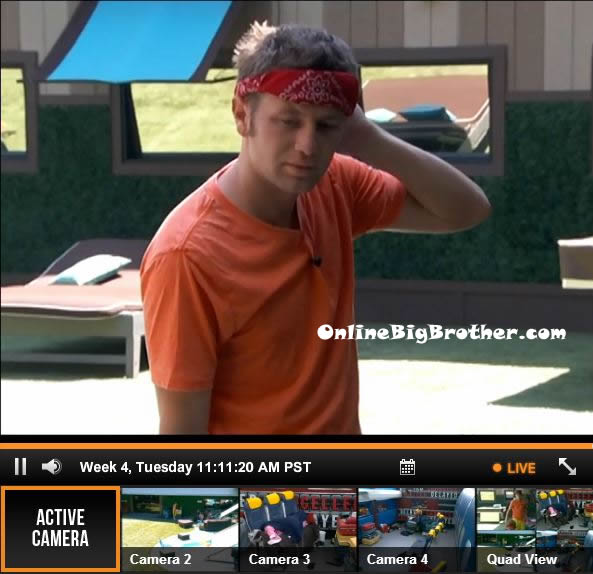 11:30am Andy, Helen and Jessie discuss how they think Howard is the MVP because of how he was treated by Aaryn. Helen says the African America vote is strong in America and not just them the other minorities too. Helen says if she was watching the show and saw people talk to Howard and Candice in a degrading way, she would be offended and would have sat there voting over and over again for them. Jessie says that she thinks Aaryn's comments make the whole cast look bad. Helen brings up how when she was young she was teased and called pancake face and other names that make her cry. The conversation turns to talking about how there aren't the opportunities for veterans that should be there when they come home. Helen heads inside and her and Andy stand in front of the memory wall and talk about the house guests. Who's photo looks best and who's doesn't look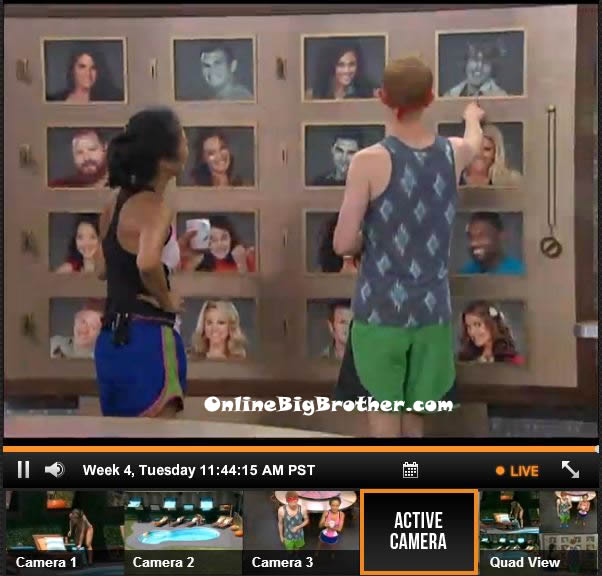 11:50am – 12:10pm Judd comes out into the backyard and tells Helen and Andy that he wants to vote out Ginamarie. Andy asks what?! Judd says that he thinks Gina is a family practitioner or a doctor. Helen and Andy are surprised. Judd then says just kidding. Helen and Andy laugh. Helen heads inside. Judd laughs at how shocked Helen was. Could you imagine that would be such a waste of an HOH. Andy says when we talk to Howard and Spencer we will name out alliance to make them think we are with them. Judd says just name it something really ignorant. Judd apologizes to Jessie for putting her in a bad position with Spencer and Howard last night. Judd says he needs to really work Gina before nominations and after because she has already told him sloppy nominations. He says that Gina said she would put up Candice and Amanda. But what she doesn't realize is that creates 4 enemies. She just gets wild ideas in her mind. Andy says congratulations Kaitlin you are going to be evicted having never been a havenot. Jessie says that will probably be a question in a competition later. Andy says everyone evicted hasn't been a havenot. McCrae joins them and tells him its about time he got that bed off his back.
12:15pm Helen takes McCrae into the storage room to bring him up to speed on what the plan is to try and get Howard and Spencer to vote out Kaitlin. McCrae agrees with the plan and says okay. McCrae then heads out into the backyard to talk to Andy and Judd. Andy says you missed dictator Helen talk about Spencer and Howard. Judd then fills McCrae in on how Gina is 100% loyal and how he just needs to get her away from them. Judd says that Howard was getting suspicious and so I just pretended like I hated Amanda. McCrae says okay. Andy asks McCrae who he would put up if he won HOH. McCrae says Spencer and Howard. We all have to be on that band wagon. McCrae says I think Gina likes Amanda and I. Judd and Andy tell him that she likes you but not really Amanda. Judd says he thinks it's a jealously thing. They talk about whether or not Howard has been throwing competitions. They wonder if he threw the Havenot inner tube comp. Judd says I hope not because if he did I would punch him in the face because he was on my team. Andy tells Judd you are going to see me being such a fake bit*h today. When really inside I am wanting to .. (He gestures punching his hand.) Jessie finds some H&M shirts and says she things they're Nicks. Judd takes them and says I don't have many shirts. Is it stealing, I'll turn them in at the end. Jessie says no it's fine.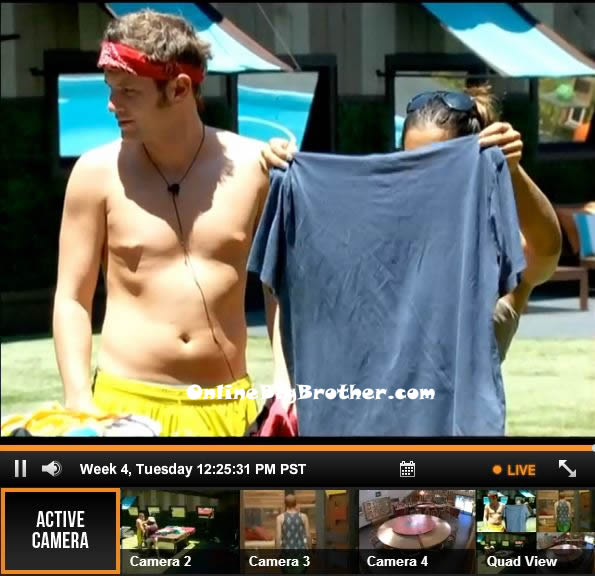 12:30pm – 12:35pm In the storage room Helen tells Elissa and Amanda that we need to take Aaryn's deal. Helen explains that Kaitlin is working with Howard and Spencer so she needs to go. Amanda and Elissa say okay. Helen tells them about the final 5 deal that Judd, Spencer, Howard, Gina and Kaitlin made. Amanda leaves. Helen tells Elissa that we can't let Candice go down in hell with Howard. We have to protect her but we can't tell her anything. Helen and Elissa leave the storage room. Elissa laughs to Amanada can you imagine an alliance with Ginamarie, Kaitlin, Howard and Spencer? They laugh. Elissa says that would be the worst alliance ever!!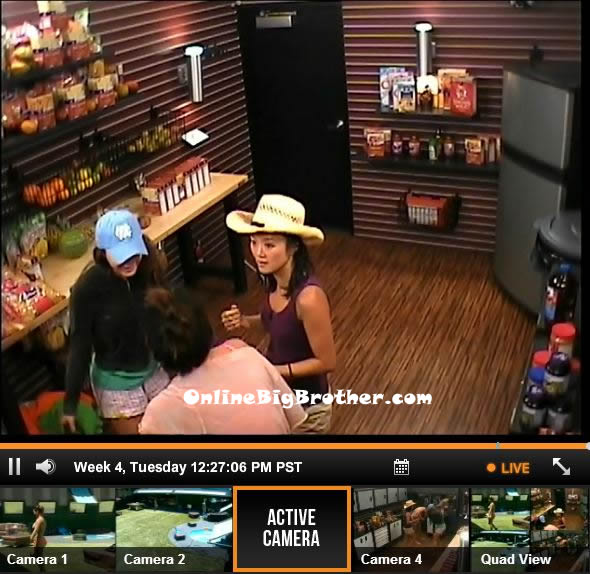 [polldaddy poll=7268963]