HOH = Cody
Megan – Self Evicted
Alex & Jillian are on the block
Havenots: Josh, Ramses, Jillian, ?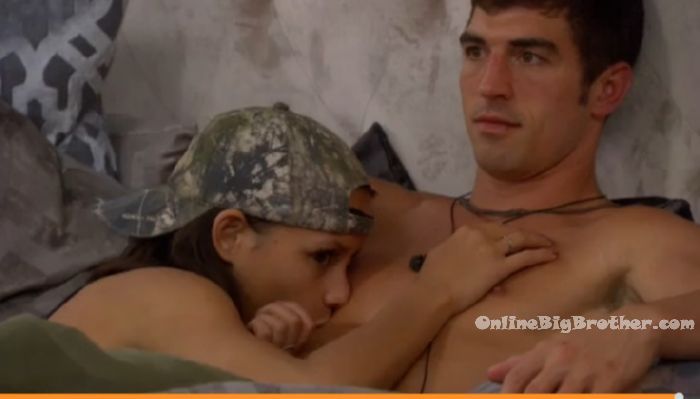 10pm HOH room – Cody, Jessica, Raven, Matt
Jessica is snuggling up next to Cody. Raven – did a fish actually die? Jessica – no, they took one. They'll probably take one every time someone leaves. Raven – ohhhh. Cody – do you think they'll take mine when I leave? Jessica – you mean at the end. Jessica then kisses his chest. Matt – how much do the live feeders pay? Jessica – 10 or 15? Raven – isn't it less or more without the commercials. I can't remember. Cody – I remember one of the years that this was out and I attempted to watch the live feeds and I was f**king bored out of my mind. Jessica – because if there wasn't any of this (she pretends to je*k o*f Cody)… If there was some of that you would have enjoyed it more. It hasn't started yet .. so that was my last one.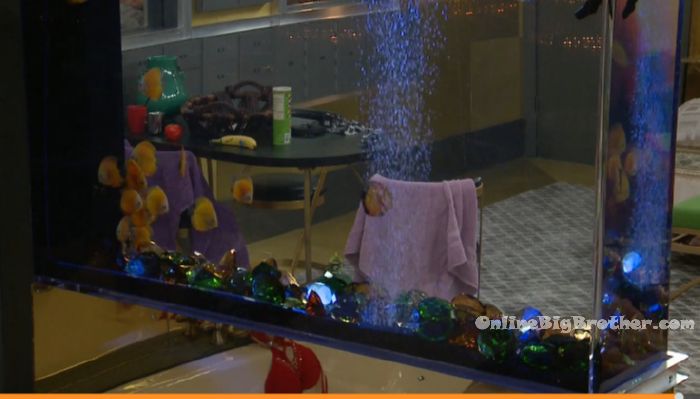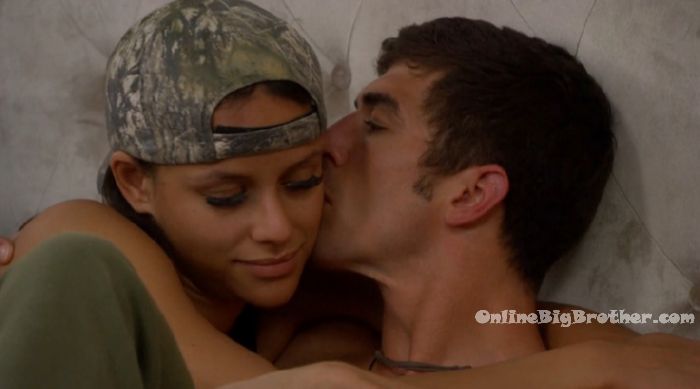 10pm – 10:15pm Lounge room – Alex and Jillian.
Alex – we're literally on the block. We'll go over that whole conversation again so that the live feeders can hear it and so they know where we're coming from and why we need their help. So there's another temptation and there's another bring back or something. Jillian – who do you think got it? I think Paul or Kevin. Alex – Kevin looked pretty stressed out. Jillian – if you go by faces. Maybe Elena got it. You know if Josh could have gotten picked.. he would have. Josh is too emotional to be in this game right now. I feel like he is going to snap any moment. Alex – he is trying to get it together but he is getting really close to Raven and Dom. And those people are very good with their words and very manipulative. Jillian – he is going to have another emotional breakdown again which would be good for us. Sorry, but it would send him packing next week. He came in the room when I was sleeping and said we should cuddle. Saying he's lonely and needs a showmance … that it would be good for him. Alex – He said he is worried about the showmances. He said he talked to Cody. That motherfu**er might out us. Josh came in this room and he didn't want to talk. His information is like jiZ* now … f**k off. Like honestly we're not going to show our t*ts and shower together just for votes … Like we're real people. We're not sk@nks and wh*res. Watch all these b*tcHes and then you'll understand all my stories.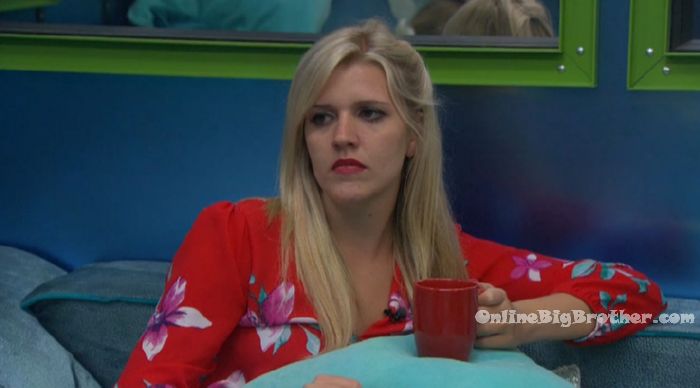 CBS All Access is your key to the Big Brother house! Stream the season 19 premiere on 6/28 @ 8/7c with a 1-week FREE trial.

10:50pm HOH room – Paul, Cody, Jessica, Mark, Raven
Paul – he (Josh) was like how do you go 3 months without… Like these girls are beautiful. I'm like dude you're making me uncomfortable. He was like weird. He was like I'm a good person yo! Cody – he said he talked sh*t about you? Raven – no he said he trashed me. Mark – he keeps asking about booze. Paul – I told him if you talk about it, they won't give us any. And right after he was like so do you think they will give us booze? He's asked me the same questions six times a day for the last four days .. and if he asks me again I'm going to loose it.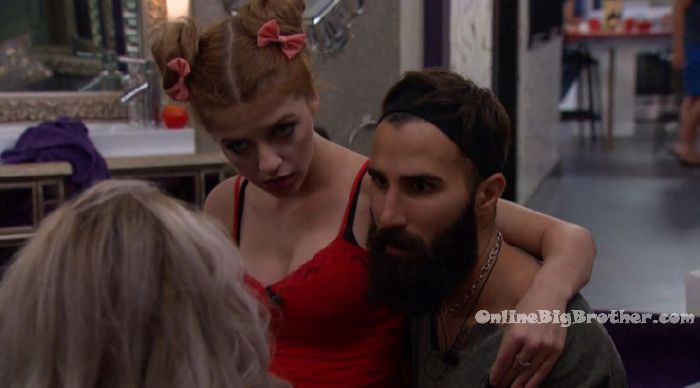 Kevin joins them. They continue talking about Josh. Paul – If I hear him say he is a good person and that he has a good heart one more time .. I am going to loose my mind. They watch Josh on the spy TV. Paul – look he's pointing at all the cameras.

Kevin heads down to the kitchen and asks Josh why he's yelling. Josh says that he was talking to the cameras telling his family that if they see him crying all week its because I shared with the house that my grandfather has cancer. Kevin – you just need to be cool. Josh – I am cool. This is my voice, no one is going to tell me who or what I am.
11:05pm HOH room – Paul, Raven, Christmas, Mark, Elena, Cody, Jessica, Dom.
Christmas shows the house guests how firm her butt is. They feel it. Paul – It's like a stress ball.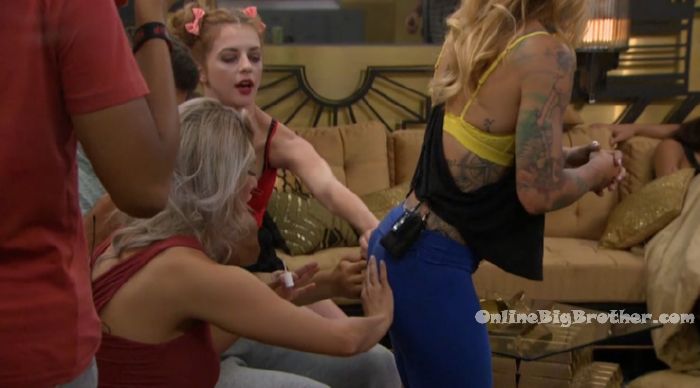 11:15pm Josh heads into the lounge room to talk to the cameras. Josh – so your boy has been in the dumps since I got in here. I have family problems back home. I just want my mom and family to hear that I am a strong person. Jillian comes into the room. Josh starts talking about his why he is explaining to the cameras about why he's been crying. My grandfather has cancer… why does it bother people if I talk about it. Jillian – they're mean. Josh – this is high school. I don't understand what I did to all of them. Jillian – they're in an alliance. Josh – I'm not in it. Jillian – I'm not either. Josh – I don't get why it bothers them that I'm talking to my family.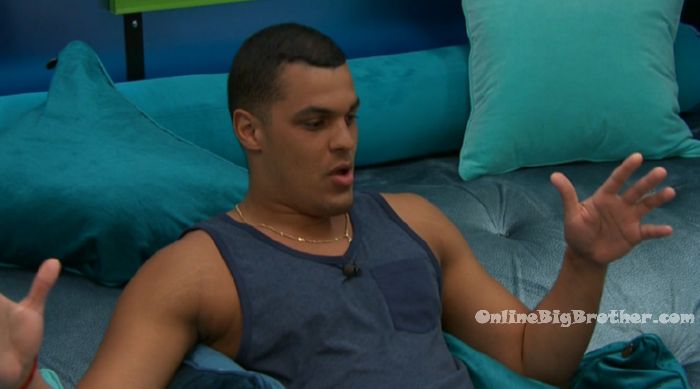 Jillian tells Alex – Rames was bit by the snake upstairs. Alex – oh no. Jillian – and he told me that he can't tell me the curse. But that we're going to know in time. But that the curse can backfire on somebody else … so he said to stay away from me. He said we can still be friends but give him space because he doesn't want the curse to affect me. That's what he said. Does it sound fake? Alex – I think its real because he remembered the words .. it will happen in due time. Jillian – what do you think the curse is?
Jillian – Jessica is a B***H .. she is a big B***H. Like she literally went after you. And she stares at us like .. Alex – like we're peasants. Jillian – like I'm going to kill you. Alex – she wants to be on the bachelor. At the end of the day we won and she has to live with herself. Jillian – to go after you because you're (Jessica) jealous is really stupid. Jillian – basically Megan quit because she (Jessica) made it like Megan was lying and then now they put you on the block.. which in turn makes me think that she (Jessica) was lying.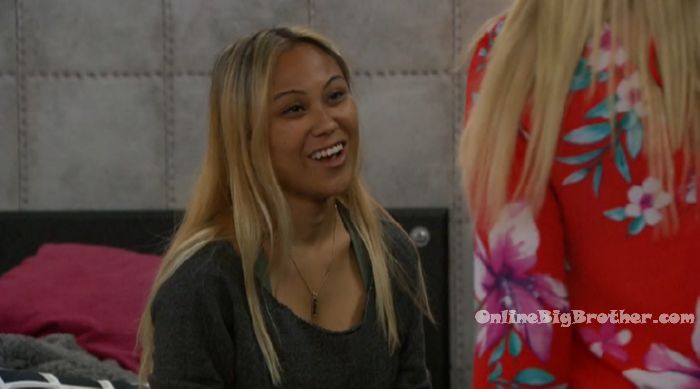 12:15am Jason stuffs Christmas into a suitcase.
See what they can't show you on TV Try the live feeds for FREE!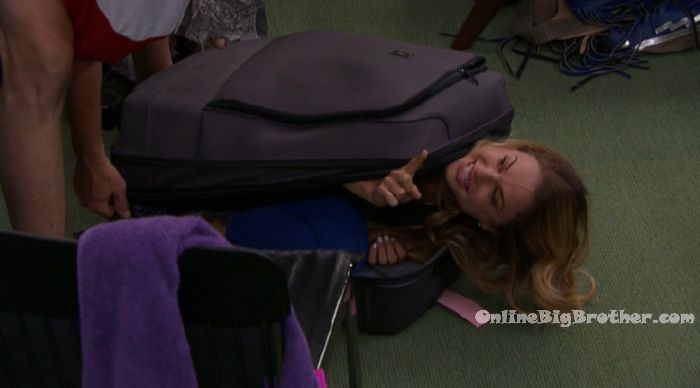 12:35am Lounge room – Paul and Matt are talking. Paul – I am telling you the girls are fiercer than the guys this season. Teddy bear, teddy bear and a marine. Ramses joins them. Paul – Megan is practically still here… her hair is all over here. Megan you blew it! Megan you botched it! Ramses – yeah that sucks. Paul – I hope she is over it now. You have to stay true to yourself or it will come out.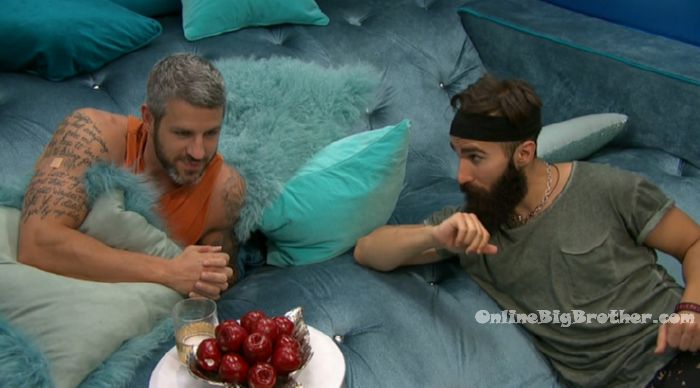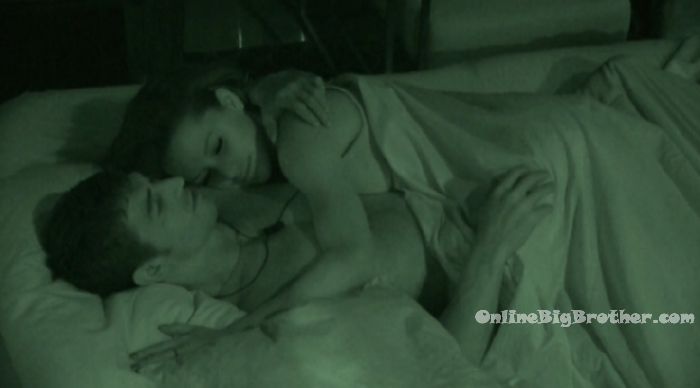 1:05am Bathroom – Raven, Matt, Paul, Mark, Christmas, Dom and Elena.
They're still talking about d**k size. Paul says he's a hard 4″. I have an acorn attached to my hip.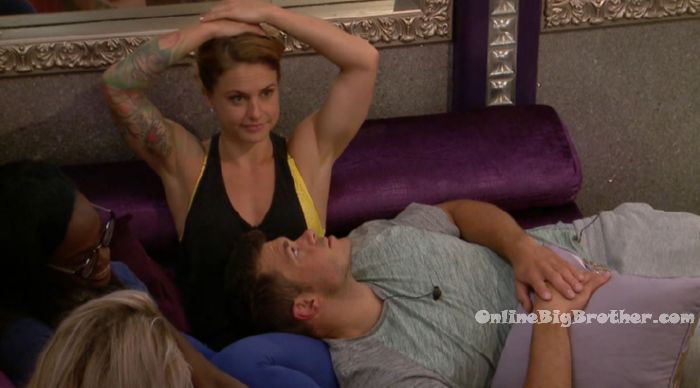 1:10am In the bedroom – Ramses, Kevin, Jillian and Alex.
Kevin – who do you see in the top 3? You don't see me there? Alex – They won't let you get there. I want to see you there. Kevin – I bet you I will be there. How much do you want to bet? Alex – $20. Kevin – $20? That's what you leave as a tip. How about $2000? When I take my girls for ice cream, it costs $62 and I give $80. I give a $18 tip. Josh – if she (Alex) saves herself, the game changes.
Links to the ranking system
For those of you that like Statistics here are some expanded reports.