POV Holder:
Emmett
Next POV
March 30th
POV Used
No
POV Ceremony
March 25th
HOH Winner:
Alec
Next HOH:
March 28th
Original Nominations:
Aj & Suzette
Current Nominations:
Aj & Suzette
Last Evicted Houseguest
Tom & Liza
Have Nots
No Havenots this week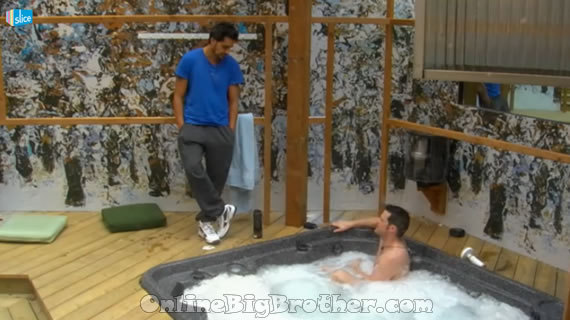 11:33AM Hot Tub AJ and Andrew
Discussing possible scenarios if they win HOH.
AJ suggests if Topaz and Gary go up and POV is played to save Gary then maybe they should put up Peter. Andrew thinks maybe Alec that way they can guarantee Topaz goes home. Aj says he'll have the support of the house if he tries to get Topaz out.
AJ jokes that Andrew can put him up as the pawn against Topaz, Andrew: "I would never do that AJ"
Aj doesn't think getting rid of Topaz right now might be a mistake there is stronger players in the house. AJ: "I would rather keep Topaz around because she's beautiful"
Andrew: "I hate that"
Andrew: "I'm going to take a page out of the glitter book.. I'm bringing everyone up to the HOH talking it out"
AJ thinks that is a good idea because it'll reveal everyones game. AJ tells him they need each other.. "You give me things like you can win Competitions.. I give you a vote.. I'm the Topaz in our relationship"
AJ says the 3stooges may be the strongest threeesome in the house
Andrew: "Lets just hope Suzette goes home tonight"
Aj jokes if Airsa says Canada you have voted he'll just walk out of the door… "Canada sucks bye"
Andrew proposes what if there was a twist and Suzette gets pulled off the block and Gary goes up "maybe that is better than Suzette leaving"
AJ: "You know what they could do.. Canada elects the HOH"
Andrew says they would give it to Gary.. AJ :"I think gary is more polarizing than we give him credit for"
Aj: "Talla is loved outside the house because of her randomness and quirkiness"
AJ still thinks gary is hugely popular he adds that production will never show Gary's annoying traits he will be edited as the hero and andrew and Aj will be the villains.
AJ: "If HOH is a question i'm winning it i'm telling you right now.. if it's physical you gotta win it"
They decide if Topaz and Gary win they will probably be put up on the block. Andrew thinks he'll be the one sent home. AJ: "Don't underestimate your relationships in the house"
AJ: F*** it I'm going balls to the walls tonight"
Andrew: "If it's endurance my fingernails are going to come out of my hands. "
They both agree that everyone is saying it's endurance but its not going to be.. ":Everyone is usually wrong"
AJ: "I'm certain Canada is going to get to vote for a HOH this season.. If they pick Emmett I swear to god I'm moving"
Andrew: "Moving where"
Aj: "Out of this country" (LOL)
Andrew: "If Canada is picking there are two people that are not going to get picked.. you and me"
They starts breaking down how on hell Suzette won the powershift. Aj thinks it's a combination of things. Dislike for Tom, Suzette having a huge following coming into the show, it being early in the game and nobody knew what they were like.
AJ says that the east indian community doesn't like Big Brother as much as the native community.
Andrew: "I have 11 followers on twitter and suzette has 5k" (I have 30.. oh 31 now )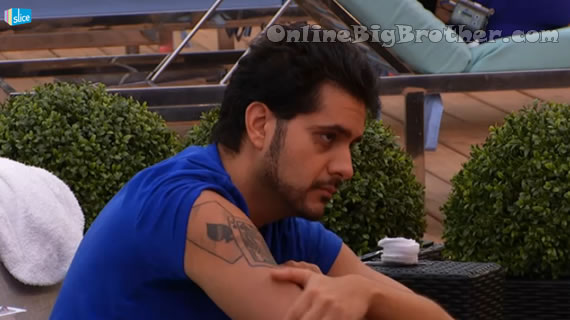 12:00pm 3stooges
They are trying to figure out if they will be getting any more double evictions. Talla: "Guys I've been trying to go over the math last night and ugh"
AJ: "This isn't about Math it's about counting"
Andrew tries to explain to "There was 15 people take away nine it's six.. Nine people left in 5 weeks.. remember last week 2 people went out"
They come top the conclusion that there will be another double eviction and 4 people going into the final week. Talla says they only have 4 weeks for everything to happen. AJ: "Look Talla we are going into week 6 with 9 people.. lets assume that week 7 is normal and we go into week 7 with 9 people… week 8 is double eviction going into week 9 we have 5 people left.. Week 10 there is 4 people and fast forward into final 3.. hmm.. maybe it's 11 weeks"
Talla: "No it's 10 weeks"
AJ wants to run the dates because he thinks there may be a week missing. After running the dates he says they have 5 remaining live evictions. Talla says that it game is only 10 weeks. AJ: "Then someone has to leave on a non live eviction night"
They agree that anything could happen and they are just basing their theories on the US version.
Aj brings up how him and Peter have seen every episode of Big Brother US and they have never done anything like the POWERPLAY before.
Talla: 'What's that"
AJ :"WHAT'S THAT it happened 2 weeks ago"
Andrew points out how his legs look like he's been canned, "Look at this I look like I've spit out some gum in Singapore. "
Talla says the only person that cannot win the HOH this week is Gary.
AJ: "If Gary wins it'll be the two of the three of us"
Talla : "Why"
AJ: "He's going to get all glittered up and tells us some reason"
Andrew tells her out of the 3 he's the target
AJ: 'There is a lot of people in this house if they win HOH I Have no clue what they are going to do"
Talla: 'AJ you really need to step it up in the HOH"
AJ: "Step it up? I almost won 2.. out of the three of us only Andrew has won something"
They briefly talk about if 2 of them are nominated how they will campaign..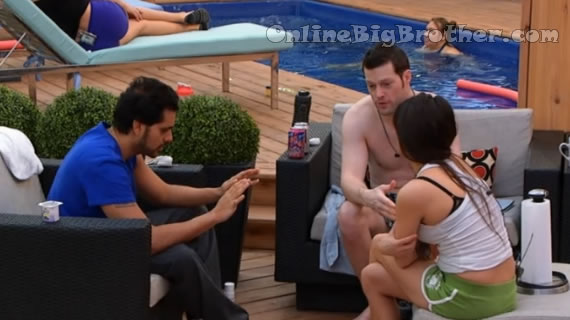 Trying to explain to Talla the numbers..
12:32pm Feeds have been hush hush for awhile
1:19pm HUSH HUSH yo
1:40pm HUSH HUSH yo
2:15pm HUSH HUSH
3:20pm HUSH HUSH
4:25pm HUSH HUSH
6:08pm HUSH HUSH
8:06pm HUSH HUSH
OnlineBigBrother.com
Stay connected and interact with other Big Brother Fans on our Facebook page.
And Follow: @BigBspoilers and @Dawgsbigbrother on Twitter for the most up to date spoilers.