POV Holder:
Emmett
Next POV
March 30th
POV Used
No
POV Ceremony
March 25th
HOH Winner:
Alec
Next HOH:
March 28th
Original Nominations:
Aj & Suzette
Current Nominations:
Aj & Suzette
Last Evicted Houseguest
Tom & Liza
Have Nots
No Havenots this week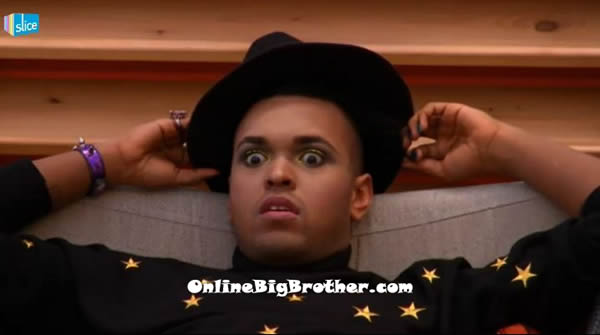 When the Big Brother Canada live feeds come back, we find out that Emmett did not use the Power of Veto to save Aj or Suzette from eviction.
6:25pm – 6:40pm Alec is talking to Gary out at the couches in the backyard. Alec says they aren't going to put Talla up .. some how she weaseled her way into that little group. Gary says that's why I want her gone… I don't even know how she did it. Alec says and now they are a strong trio ( Talla, Andrew, and Aj)…where as before they were just floaters. Gary says that he is going to weasel his way into Topaz again. Alec says he doesn't know either Alec says that he feels like Topaz has given up on the game. Alec says we have a really strong thing right now and if it breaks down .. you know?! He says that he likes her as a person but that it's just a bit awkward. They head inside the house. Inside the house, Aj and Topaz are sitting at the kitchen table. She is doing her nails and Aj is talking to her about places he will take her to eat. Emmett goes into the storage room to grab something and when he leaves he picks up the phone to listen and put it back and leaves the room. The house guests talk about the soccer game they are going to play tonight.

6:50pm – 7:10pm Gary is joking around and talking about if someone put him up on the block again he is going to go off. He says that he was nice the first couple times.. Topaz sees Talla drinking Mountain dew ..and so she yells at her why are you drinking mountain dew… only I do the dew b!tch! At the kitchen table Gary, Topaz, Emmett, Peter and Alec talk about the price of drinks and cover at bars in Toronto compared to Vancouver.
(Video is uploading)

7:15pm Aj, Talla and Emmett are out in the hot tub room. Aj is telling Talla that production can edit them is anyway they want because we signed a contract to say they could. Talla brings up how Gary said he would freak out if someone put him up on the block. Talla says that she told him anyone who gets put up would be upset. Aj tells Talla that Gary is just young and immature. He says that people will probably want to put him up now because he said that.

7:20pm – 7:35pm Emmett and ALec set up the goals for the soccer game they are going to play in the backyard. Alec says that Topaz won't play and Gary said he would play one round .. whatever that means. Meanwhile in the bedroom Suzette talks to Gary about what Emmett said to her in the Veto Ceremony. (Some time before or After the Veto Ceremony Emmett told Suzette that some people in house are annoyed at how she guilt trips people and how she continually talks about how hard her situation is and hard she has it at home.) Suzette says that she reps from where she is from just like he reps about coming from a farm. Gary tells her to not let them break who you are. Emmett joins them and tells them to come play soccer. Gary and Emmett leave the room. Gary says that Suzette said you told her everyone in the house hates her. Emmett says no I didn't. Emmett tells Gary what he told Suzette about how she guilt trips people. Gary tells Emmett that Suzette asked him if he's turned his back on her. He says that Suzette should be careful …saying that he is the only person in the house that has her back.
(Video is uploading)

7:35pm – 7:45pm The soccer game starts.. Aj, Peter, and Alec versus Gary, Jillian, and Emmett. They are playing until one side gets 8 goals. The score is 3-3 so far…
8pm Jillian, Gary and Emmett are now up 6 – 5.
8:05pm – 8:20pm Jillian, Emmett and Gary win with a score of 8 – 5. Emmett hurt his big toe because he played without shoes. Alec and Emmett collided during the game and his toe got busted up. Alec apologizes and Emmett says its okay don't worry about it. Alec says it happened half way through the game and that Emmett continued to play and score. Jillian grabs Emmett ice for his foot. Emmett tells her that it is really starting to hurt now.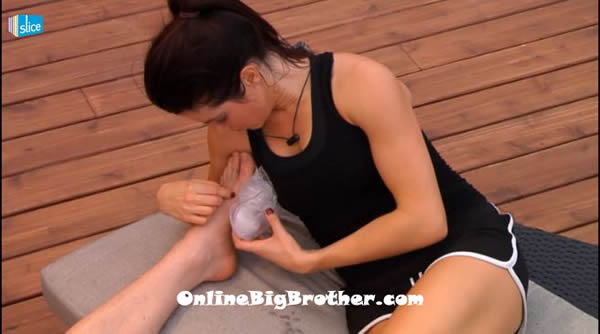 Video of the soccer game: (Video is uploading)

8:30pm Alec, Peter and Gary are in the pool talking. Peter is talking about his youtube channel. Gary talks about wanting to do his own Youtube channel. Aj and Emmett join them by the pool. Meanwhile inside Suzette is doing her nails at the kitchen table. Topza is sleeping in the bedroom.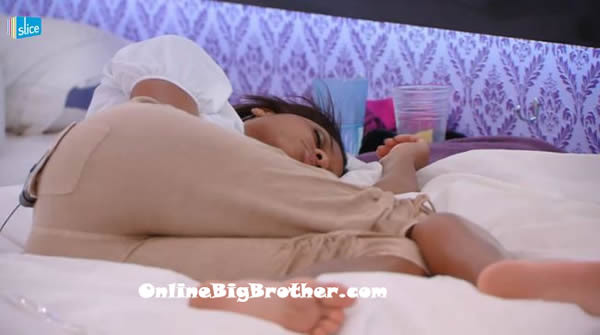 OnlineBigBrother.com
Stay connected and interact with other Big Brother Fans on our 
Facebook page
.
And Follow: 
@BigBspoilers
 and 
@Dawgsbigbrother
 on 
Twitter
 for the most up to date spoilers.
Share it YO!!
Tweet