POV Holder:
Hayden
Next POV
Aug 2nd
POV Used
?
POV Ceremony
July 28th
HOH Winner 1:
Frankie
HOH Winner 2:
 Zach
Battle of the Block Winner
 Nicole/Christine
Next HOH/ Next BOB
July 31/Aug 1
Original Nominations:
ZACH's Noms (Christine & Nicole) Frankie's Noms (JOcasta & Victoria)
Final Nominations:
?
Have Nots
Nicole, Caleb, Christine, Derrick
POV Players
Frankie, Victoria, Jocasta, Donny, Hayden & Christine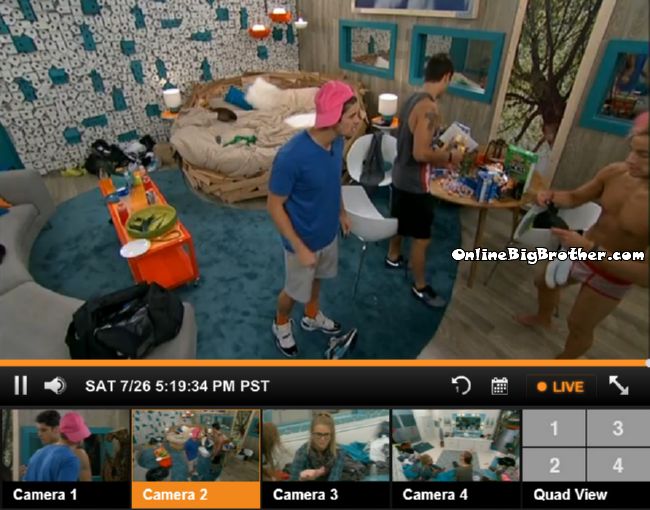 4:38pm HOH Cody, Frankie, HAyden and Zach
Hayden – 100% using it, THeres literally so many things to think about though
Cody says if caleb goes up there will be hell if Amber goes up less hell but still hell. Frankie is going to have a long conversation with Caleb and tell him the truth about Amber. After that he will be onboard to get Amber out.
Frankie points at Zach "You better be on your best f**ing behaviour, make up with Christian and Nicole"
Cody and Hayden agree says everyone downstairs is hating on Zach right now.
Zach – this makes me want to be a d!ck even more
Frankie says Christine, Caleb, Nicole and Amber are the players that want Zach out he needs to mend that rift.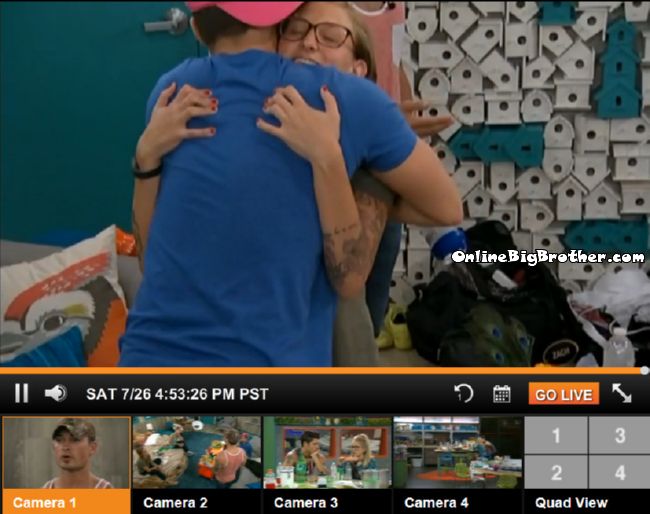 Nicole and Christine roll on, Frankie asks Zach, Nicole and Christine alone.
Zank tells them his nomination speech was all theatrical. He explains to them he didn't have any other option of pairs to put up.
frankie wants them to make peace but the girls are not accepting Zach's reason.
Zach – Did you want me to put Cody up
Nicole – NOOOOo
THey start getting heated
Nicole and Christine say they are OK with Zach just drop it
Zach leaves.
CHristine – He got so defensive
Nicole – I'm not mad at him at all.. I'm fine with him putting us up and letting us dominate in the competition now we're safe.
CHristine – I just don't like his reason
Zach comes back says there was only one plan that was to back door Caleb or Amber they know he didn't want them gone.
Zach – if you guys want to talk sh1t about me I can take it here is 30 seconds say whatever you want
Frankie – he's trying the whole Eval D1ck thing
Frankie wants to talk to Christine and Zach alone "I'm healing bridges"
Zach says nicole is extremely gullible I asked her who she trusts. Zach never told her to stop trusting Christine. Christine doesn't believe him says Zach told Nicole there is so many things I want to tell you right now maybe you should look at the people close to you .
Frankie – did you say that
Zach admits it might have
Christine "You run your damn mouth "
Christine – you got way too power hungry you threw everyone under the bus.. I don't want to work with you if you do that
Zach – fine one of us have got to go
Christine – Everyone down there hates you
Frankie – to blindly create havoc that's your MO #WildCard
Caleb comes in Frankie tells him they are having a Private talk
Caleb just rolls on in
Frankie OK
Zach says he was really awful in the meeting I need my TV time
Christine – Well I got my DR session in
They hug it out. Caleb and Zach decide to pretend to fight.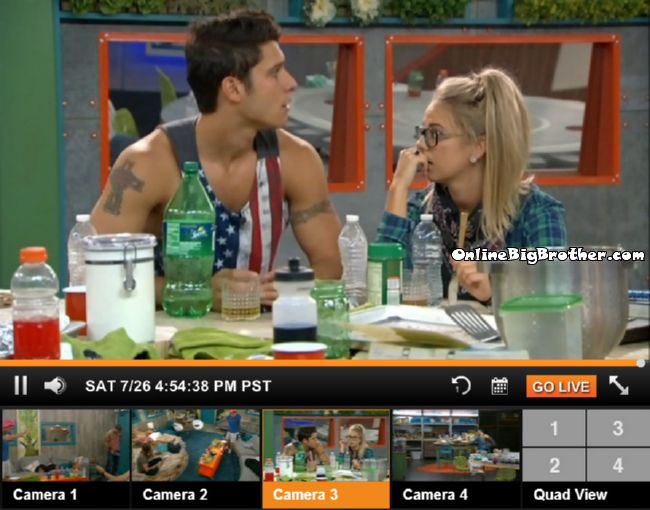 4:50pm Nicole and Cody
Nicole is upset that Frankie told her to leave to talk to Zach and Christine alone. She was nominated too. THey hear fighting up in the HOH room Cody bolts.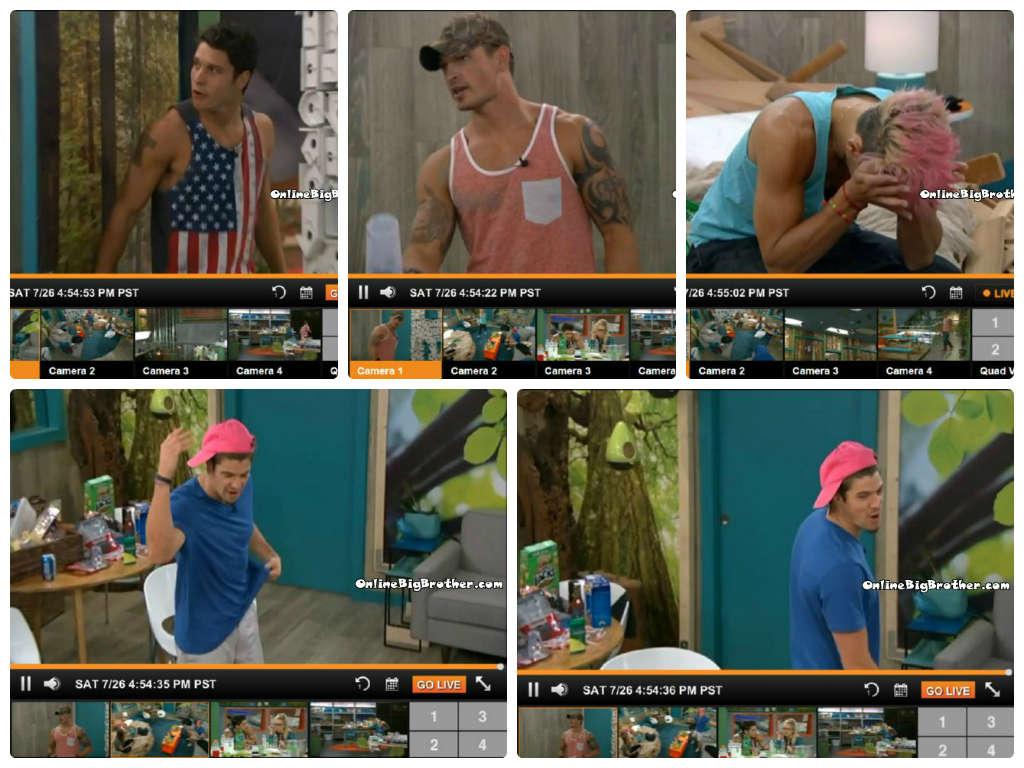 4:54pm HOH Christine, Frankie, Caleb and Zach
(THey are doing a fake fight)
Caleb – Backdoor me I don't care.. iit's hard for me to keep a straight face
Frankie – It's hard for me to keep a straight anything.
Zach screams I WANT YOU GONE .. I WANT YOU GONE.. Beast mode Cowboy myu f***ing A$$ .. For Real get the f*** out of here" BEat mode peaice of sh1t
BEast mode pu$$y.. for real what the f**
Caleb – try to back door me watch what happens
Zach laughs "I will "
Cody runs upstairs thinking there was an actual fight
Rewatch any moment on the live feeds with a subscription Try It Free! Get 24/7 access to the house PLUS more for 48hrs before you decide!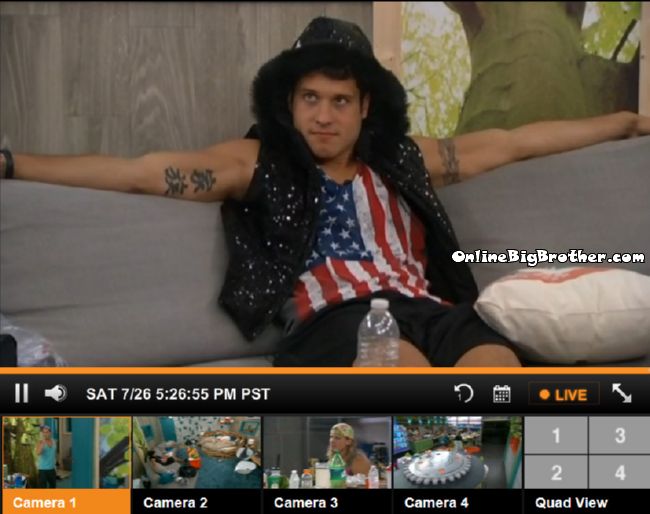 5:21pm HOH Nicole, Cody, Amber, Christine, Zach, Frankie
They are talking about Brittany taking Jocasta's life stories and using them for her game because they were so sad.
Zach – That is awful.. Brittany if you are watching this you're a idiot
Frankie – She drives a BMW 5 series that she just bought
Frankie mentions that Brittany had a nanny she doesn't work.
Christine brings up the first week when her and Brittany would talk. Brittany had no idea that she should play poor instead she was bragging about all her stuff, Large house, BMW etc..
Christine says Brittany got really defensive when Christine told her to downgrade her home to pay the bills. Brittany said she couldn't downgrade because it would be a 1 bedroom apartment. Christine told her "We'll that is life"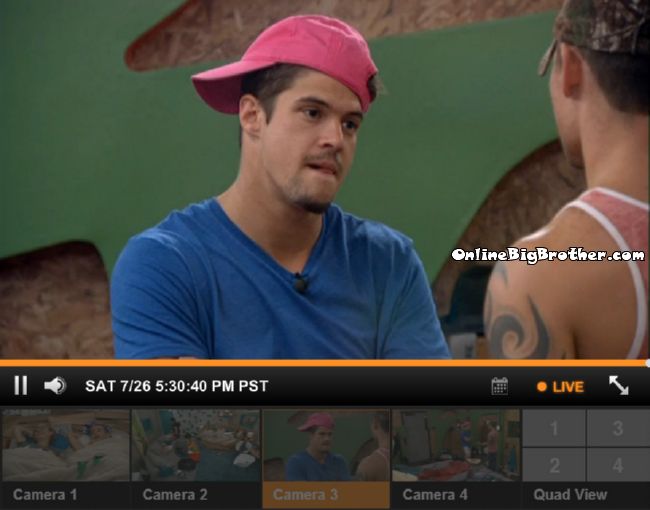 5:32pm Caleb and Zach ROCKROOM
Caleb is trying to get Zach to talk to Amber and let her know nobody has had her back more than Caleb. Zach says Caleb has done so much for Amber and the way she treats him is upsetting to watch.
Caleb – My game with her it's over If I win I won't hesitate to put her up..
Zach – bro you went over and back for her bro.
Caleb – I really have
Zach says he will talk to Amber but he's not making a case for Caleb she should see it for her self. Zach says Amber is so blind to what Caleb has done.
Caleb suggest he say – there's one man that has done everything that no one in this house will do and he's done it strictly for you .. for his game to but .. but the fact that he actually cares about you and if you cant see it all over his face that it's bothering him not talking to you you're blind as a bat.. With no d1ck,.. and quite frankly you need to grow some b@lls and talk to him(Caleb) "
Derrick comes in wearing his underwear, Zach tells him to put some pants on. Caleb "Your mushrooms is falling out"
Zach to Derrick – Amber is throwing him under the bus bro
Caleb says that Amber was up in the HOH Zach asked her what was up with her and Caleb and she told him he's blowing it out of proportion.
Zach adds that he told Amber she should go talk to Caleb and she said "I already did everything it OK i'm not going to back him up into a corner"
Derrick did hear Amber say Caleb wasn't talking to her.
Derrick tells him to pull Amber aside and be like you want to talk lets talk .
Caleb – "I'm always the one going up there talking to her
Derrick asks him if he's a sucker. Caleb says no. Derrick – Than don't be a sucker"
Caleb – That's why I'm not talking to her
Zach – she's making stupid move bros you can't keep carrying her on your fucking back bro
Caleb wants zach to tell Amber "Hey I just want you to know quite frankly you are making a stupid move because he is beast mode cowboy"
Zach sher's blind as a bat with no d1ck dude
Caleb says if he wins HOH he has other targets than Amber right now.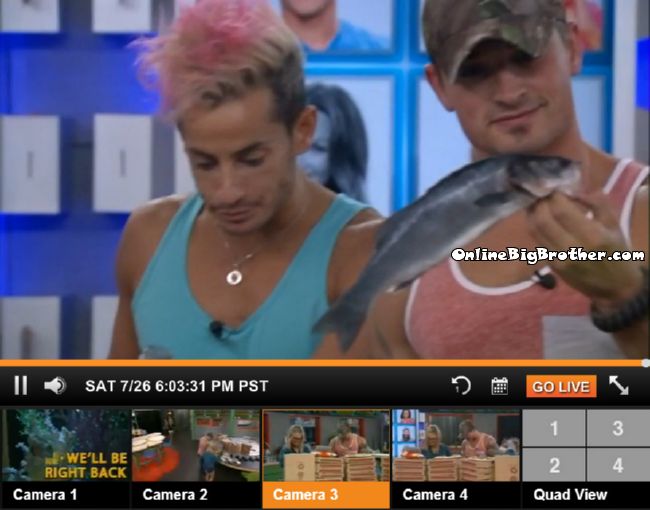 6:04pm Have nots food is delivered "DEEP FISH PIZZA"
Frankie – Congratulations have nots.. America has voted for a treat that you can enjoy anytime in addition to slop it's called deep fish pizza. This combination of Canned fish and pizza crust is yours to enjoy all week long bone apetite. Christine got gluten free pizza crust Derrick is really excited say they got a jackpot this year.
6:09pm have nots thanks America for a great food to eat
They got fish, Cans of Sardines, Cans of Clams and digiorno pizza crusts.
There's so many things we can do with this.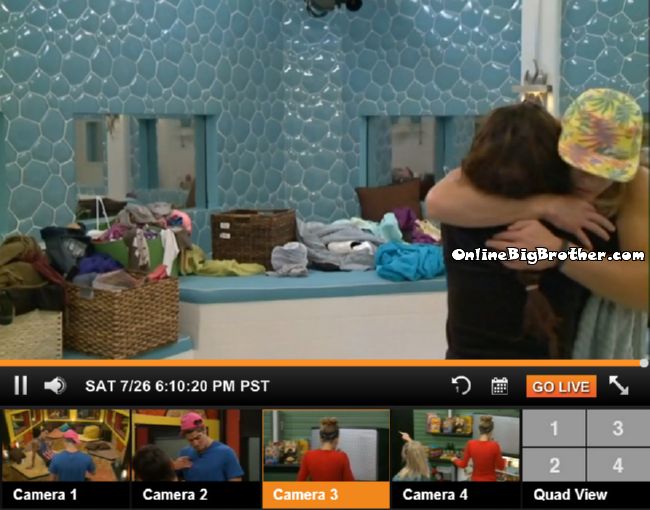 6:10pm bathroom HAyden tells victoria he's using the veto on her
hayden – 100% you're good"
Victoria – Thank you Thank you Thank you Thank you Thank you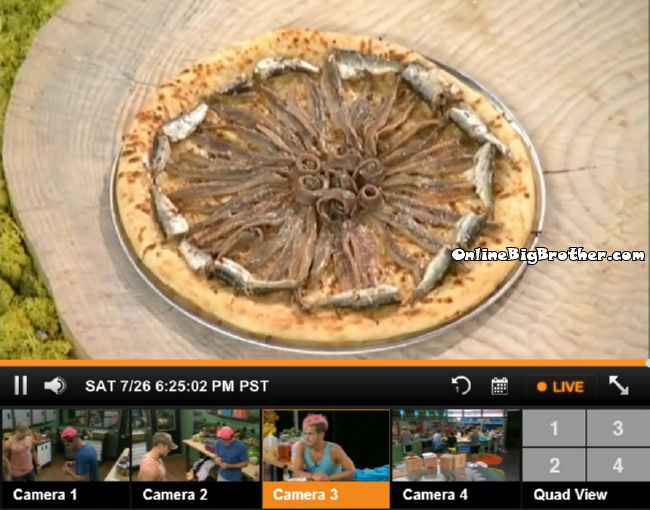 DEEP FISH PIZZA for the have nots
Alliances
Zankie = Frankie/Zach
The Detonators = Derrick, Frankie, Zach, Christine, Cody
Final 2 Deal "The HITMEN" – Cody & Derrick
Trilogy = Nicole, Christine & Hayden
Team America = Donny, Derrick, Frankie
Old timers = Jocasta/Donny
Nicotine = Christine/Nicole
(Defunct or unknown status)
Bomb squad = Caleb, Amber, Frankie, Derrick, Cody, Christine, Zach, Hayden
Not a showmance= Hayden/Nicole
Los Tres Amigos = Derrick, Cody, Zach
The bottom Feeders = Derrick/Nicole
We hate Devin = Christine and Zach
Outsiders = Brittany, Victoria, Jocasta, Donny
Stalker = Caleb/Amber
Quad Kings = Derrick, Zach, Cody and Hayden (still being built)
One way to support this site that doesn't cost you anything extra is making your Amazon purchases through the links below Amazon.com OnlineBigBrother Link
For Canada use link Amazon Canada OnlineBigBrother
More polls here https://www.onlinebigbrother.com/big-brother-compendium/big-brother-16-polls/
[polldaddy poll=8207784]