POV Holder:
Devin
Next POV
?
POV Used
?
POV Ceremony
?
HOH Winner 1:
Amber
HOH Winner 2:
Devin
Battle of the Block Winner
Hayden & Nicole
Next HOH/ Next BOB
July 10/July 4
Original Nominations:
Devin's Noms (Pow Pow & Brittany) Amber's Noms (Hayden & Nicole)
Final Nominations:
?
Have Nots
Victoria Brittany, Zach and Derrick
POV Players
Host Donny, Players Devin, Brittany, POWPOW, Derrick, Zach, Amber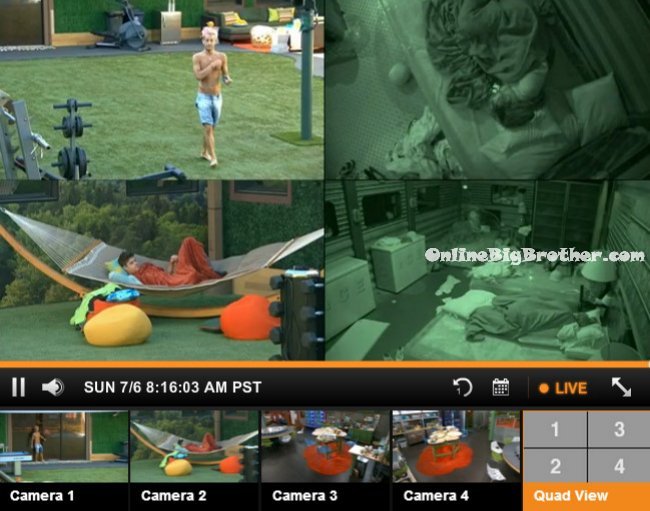 8:15am – 8:45am Frankie joins Zach out in the backyard. Zach says you look good in the morning dude! You tanned sexy beast. Zach says I had a make out session with Victoria. No Just kidding. Zach says but we were cuddling and I got a boner and had to get up. Frankie asks really? Zach says no not really. Frankie says whoever wins HOH next week will back door Devin. Zach asks who's going home this week. Frankie says Pow or Brittany. Zach says Brittany isn't going home. Frankie says then it will be Victoria or Pow. Frankie says I'll go up there and see how many deals he made last night. Frankie and Zach agree that they meeting yesterday before the veto was stupid. The stupidest thing ever done in the history of Big Brother. Zach says Devin is a F**King idiot! A f**king idiot! I hate him! I hate him. All I want to do today is tell him how much I hate him! Frankie says no! Zach says Devin is a bipolar schizophrenic psychopath. Frankie says whoever he leaves on the block .. is going home. Frankie says if Devin made a deal with Devin then we definitely need her gone. Zach says that Brittany didn't make a deal. Zach starts talking about how worthless Pow Pow is. Zach talks about his conversation with Pow Pow were he questioned her and she swore on her mothers grave that she didn't talk game / make any deals with Devin. Zach says the funny thing is that Pow Pow's mom isn't even dead. Frankie laughs and says I didn't think her mom was dead. Zach says that he is going to go off of Pow Pow today. Frankie says just wait until after the veto ceremony. Zach asks what the f**k is Caleb's problem? Frankie says Caleb is so confident which is wonderful because he wont see the knife in his back coming. Zach says after the veto meeting I am going to blow up every ones spot. Frankie asks who? Zach says I was going to say that I was in a bomb squad alliance with Pow Pow, Caleb, Devin.. Zach says I am going to say something to Devin to make him snap and hit me. Frankie says just say that he's a bad father, that will get him. Zach says yeah that's where I was going with it. Frankie says Victoria's strategy was to get Devin to hit her. I love that's the new strategy. Zach asks Frankie to give him "a little tap on the bottom" at the end of the veto meeting to get up and say things to Devin. Frankie comments on how Pow Pow was thrusting him and humping him after the POV. She told me she hadn't had sex in 4 months. Zach says she was just so happy because Devin won it. She is so stupid. Zach says I can't wait until after the veto meeting. SH*T IS GOING TO HIT THE FAN! That's what the fans want to see any ways. Zach tells Frankie make sure you win the money because you deserve it more than anyone!
Big Brother 16 Live Feed FREE TRIAL – Use the FLASHBACK feature to watch everything you've missed!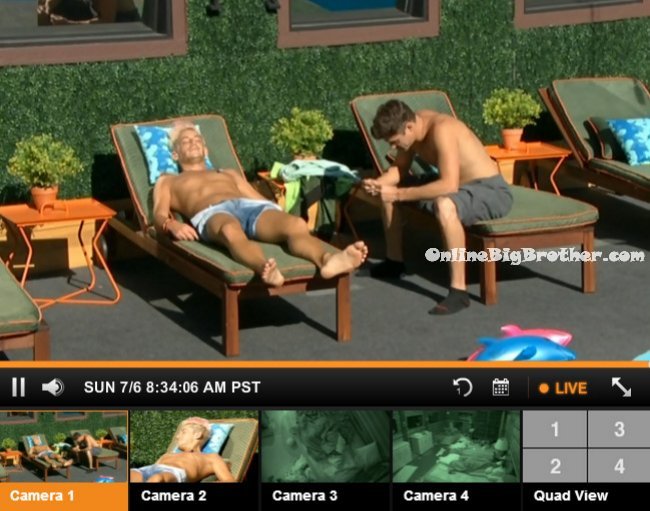 8:45am – 9:05am Zach asks what do you think Devin is going to do? Frankie says he's going to lose it! Zach says that guy goes back on what he says every single minute. Zach says he's a f**king joke dude! I want to earn my stripes. Zach says I'm doing it dude! Frankie asks what are you going to say. Zach says I am definitely going to tell him that he's a bad father. He is going to hit me for sure. Maybe I should go to the diary room before and tell them to get the tranquillizer gun ready. Frankie says yeah that's a good idea. Frankie says if he pull down Brittany you should say that he's stated that he is playing this game with honesty and integrity but what you've just proved is that you're a liar, bully and a coward makes you the worst father in the history of the world. If he takes Pow Pow off pretty much just say the same thing. IF he leaves the nominations then don't say anything. Zach tells Frankie how Devin made a deal that he is going vote to keep her in. Frankie says when?! Zach says so he's tricking you too. Zach says you can even ask Amber. Frankie says no I don't need to I understand why, I understand everyone's motives. Zach asks what if Caleb wins HOH? Frankie tells Zach how the other HOH could nominate two people that would just sit there in the BOB. They we back door Caleb since he won't be HOH any more. Frankie tells Zach that he will need to take a hit from Devin and then I will nurse you back to health. Frankie and Zach decide to play a game of pool. He's really like mentally insane. Frankie agrees.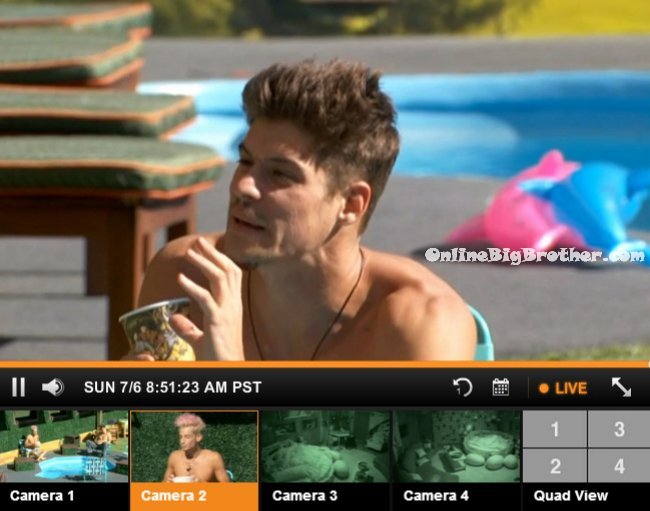 9:30am – 10am Frankie asks if Brittany knows about the bomb squad. Zach says no she definitely doesn't know about the bomb squad. And I really don't think she made a deal with Devin. They finish up two games of pool and go to lay down on the loungers / hammock. Frankie says this is all we have left to do for the rest of the week. Zach says this and trying to make sure Deivn doesn't kill me. Zach goes to the washroom and comes back. Zach says what a wonderful day to be a live and not an idiot. Frankie asks what if Devin back doors you. Zach says then I reveal the bomb squad (the fake one with Devin, Pow and Celeb). Frankie says don't reveal a fake bomb squad. They will just deny it any ways so where will that get you. You should say you found out two gigantic rats in the house: Devin and Pow and your going to make it your mission to get them out. Frankie heads to the kitchen and talks with Amber. She asks if Zach is okay and Frankie says no but I calmed him down this morning. Frankie tells her how Victoria told him during her talk with Devin he told her do not cry or it will look like I've been yelling at you. Frankie heads back out to join Zach. Zach reiterates how he's ready to blow sh*t up. Zach tells Frankie that people are calling you the ultimate flip flopper. Zach tells Frankie that he wants him to win the money. If I'm in jury I will be campaigning for you to win.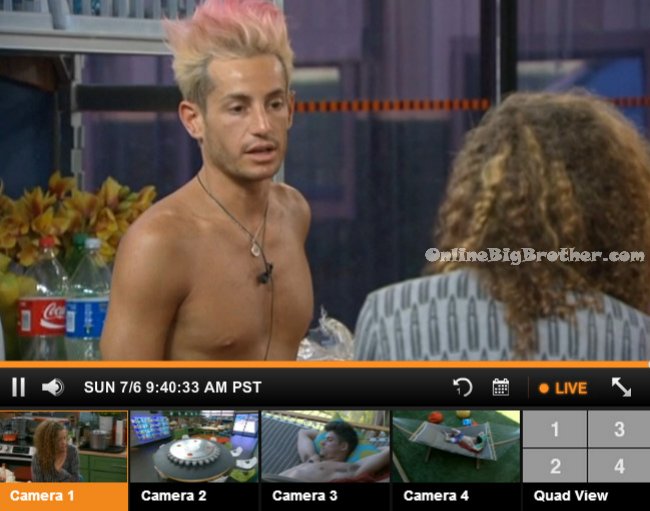 10am Big Brother wakes up the other house guests. Up in the HOH room Devin laughs and says its Sunday … On the 7th day he rested! Not in the big Brother house! Meanwhile in the downstairs bathrom – Victoria comments to Amber that its mean big brother woke her up before the music. Amber heads out side and talks to Zach. They talk about how Devin changes his mind all the time. Amber says that Devin called us all up there to tell us we all need to get on the same page …but its only his page he wants us all to get on. Zach says that meeting yesterday was ret@rted.. excuse me. Stupid. Zach tells Amber how he told Devin everyone talks sh*t about you. Zach says everything he does is reactive. Its always to save his a$$. That meeting was to save his a$$. Zach says I don't know what he's going to do .. he might even put me up. Amber says I was thinking he might put me up too. Zach says he won't put you up.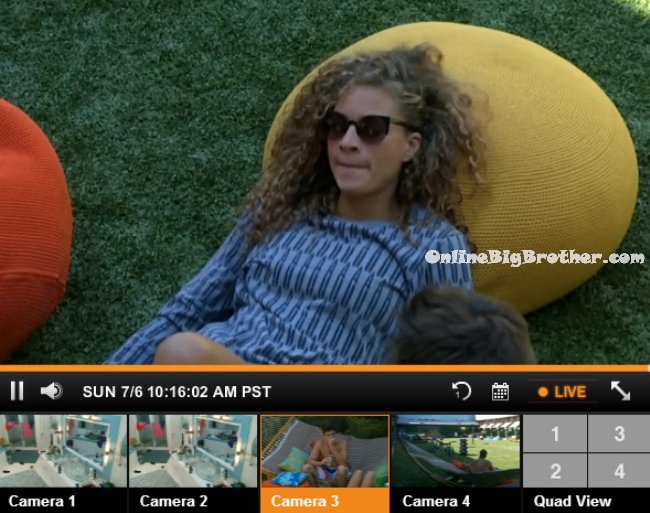 10:20pm In the kitchen Devin asks Donny – Who's more deserving to go home between you and I.. if you happen to see POW and Victoria up on the block? I'm just trying to get someone's opinion who has a level head. Donny says I think that Pow being here is a useful tool. Donny says I think that if Victoria was up there and didn't go home she would be vindictive, whereas Pow has been up there and is fine with it. And so many people have put her up, who would she go after. Devin says that its hard to talk with these young people. Devin tries to read Zach's lips. Devin opens the door and stares at Amber and Zach. Then Devin asks Zach can I talk to you? Zach says maybe in a little bit. Devin closes the door and says I know exactly what you're talking about you little d**k head! Zach tells Amber – I'm not f**king talking to him. Zach says I don't even care if he puts me up and I go home. Amber says that's exactly what Victoria said.. she said that its to the point that she can't take him any more and wants to go home.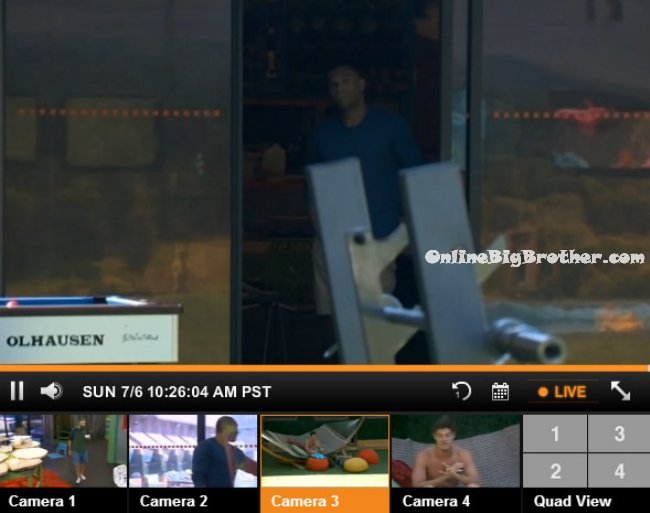 10:30am Big Brother blocks the live feeds.
Alliances  Bomb Squad = Frankie, Caleb, Devin, Cody, Derrick, Zach, Amber, Christine
Sub alliance of the Bomb Squad = Christine, Frankie, Cody, Derrick Zach
Sub alliance of the Bomb Squad = Derrick, Cody, Zach
Double Ds = Devin, Donny
Bed buddies/nicotine = Nicole, Christine
Final 2 Deal Zankie= Frankie, Zach
DC = Derrick and Cody
Where the vote is  ?


[polldaddy poll=8164185]