POV Holder:
Devin
Next POV
?
POV Used
?
POV Ceremony
?
HOH Winner 1:
Amber
HOH Winner 2:
Devin
Battle of the Block Winner
Hayden & Nicole
Next HOH/ Next BOB
July 10/July 4
Original Nominations:
Devin's Noms (Pow Pow & Brittany) Amber's Noms (Hayden & Nicole)
Final Nominations:
?
Have Nots
Victoria Brittany, Zach and Derrick
POV Players
Host Donny, Players Devin, Brittany, POWPOW, Derrick, Zach, Amber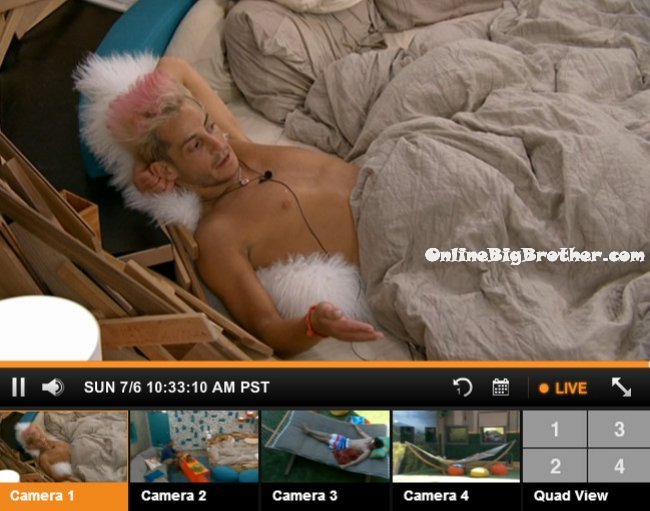 Big Brother 16 Live Feed FREE TRIAL – Use the FLASHBACK feature to watch everything you've missed!
10:35am Up in the HOH room – Frankie is talking to Devin about how Zach is the one going around trying to get me out. Frankie says honestly I am here with you and Caleb – I am trying to go around getting in everyone's ear. If I get HOH I am not putting you or Caleb up. Amber is emotional but we can work with her. Devin says honestly I'm thinking of calling Victoria up here and offer her a deal that if I don't put her up she has to keep me safe and not put me up. Devin says I think its time to dwindle down the alliance to 7 and get one out. Frankie asks who do you think? Devin says Zach because he is a lose cannon, you never know what he's going to do. Frankie says don't say anything until after the veto meeting. Frankie says putting up Zach would be the one that no one would have a problem with. He will explode. Frankie says that Derrick and Cody will run from him as fast as they ran to him. Frankie says that Cody is volatile. He is the next one to explode! Frankie says if Zach goes up then me, Caleb, Amber and Christine would need to win HOH next week. Caleb says all I need is 6 votes. Frankie, Caleb, Christine, Hopefully Amber, I would hope Donny would, Hayden and Nicole because I made sure they were safe. Frankie says Christine would get them to do it. Its a big move but it's necessary. Frankie tells Devin if you go out there to talk to Zach he will blow up in your face. Devin asks Frankie to not tell anyone. Frankie touches Devin and Devin says I hope you didn't go pee and not wash your hands! Frankie says no I didn't go pee. Frankie says I love you, I've got your back!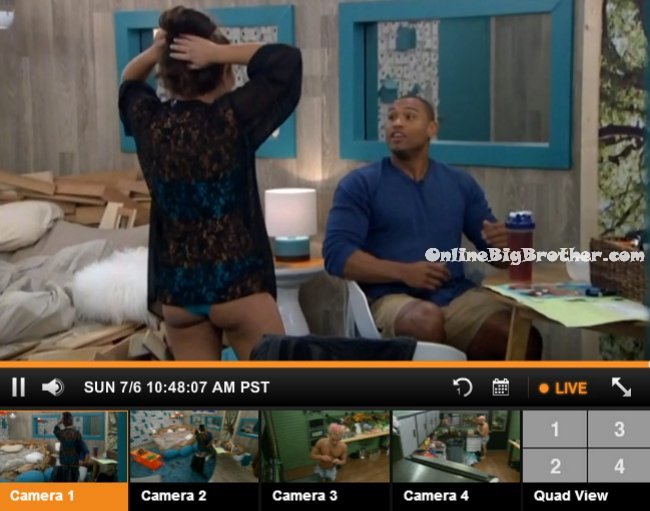 10:45am
Victoria heads up to the HOH room to talk to Devin. Devin says if someone comes up here I am going to need you to go in the bathroom. Devin says what I am about to tell you, you cant tell anyone. Devin asks what do you think about Zach? Victoria says we're good. Devin says well he wants me to put you up. If I don't put you up I need you to promise you wont come after me. Victoria promises she won't. Devin grabs her hand and kisses it. Devin says I am just tired of Zach. Devin talks about Zach using the B-word to describe Victoria. Devin says if anyone ever said the b-word to describe my daughter I would GO OFF! Dcvin asks who she would vote out if he put up Zach. Victoria says who ever you want. Devin says no what would you want. Victoria says she would vote out Zach. Devin tells her to just keep this quiet.
See what they can't show you on TV! -Try the Big Brother 16 live feeds for FREE!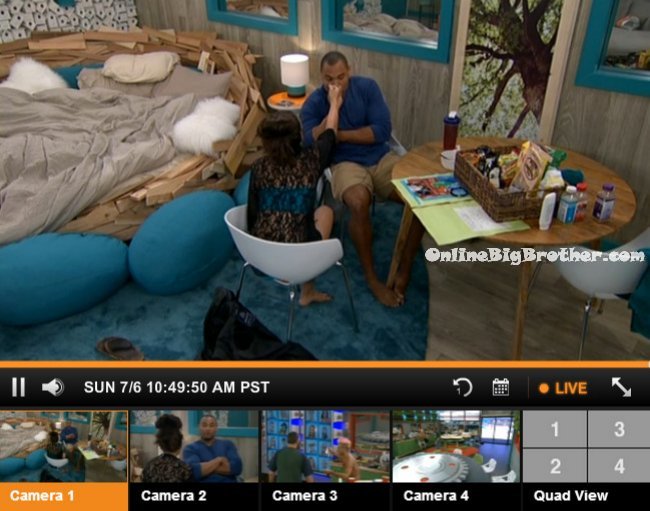 11am Out in the backyard – Zach tells Amber and Frankie that I am already planning my eviction speech. I am going to tell everyone to vote to keep Brittany. Amber tells him no don't say that. She doesn't want Zach to go. Zach reiterates his conversation with Devin when Devin said he didn't trust him.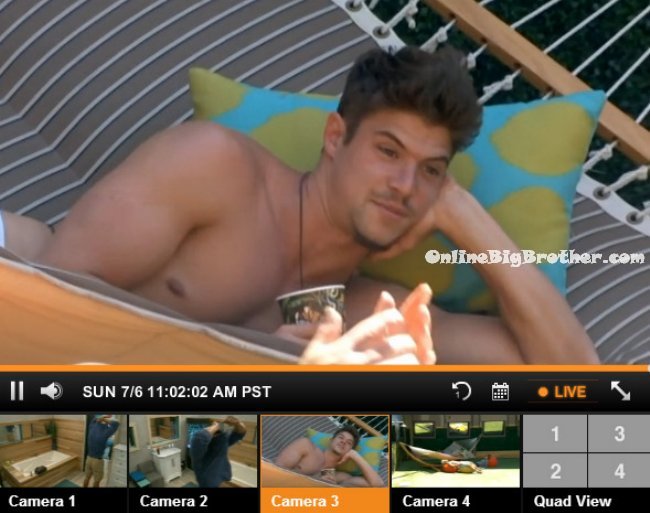 11:15am Zach and Frankie are talking over by the hammock about what he should say during the veto ceremony. Devin comes out and Zach warns Frankie that Devin is going to come ask him to talk and I'm going to tell him I don't feel like it. Frankie says Okay I'm going to work out. Over by the washing machine Devin is talking to Amber about the drama the last few days. Devin says of the 8 I trust five: You, Me, Frankie, Caleb and Christine. Devin says this is my redemption week and you'll find out soon enough. I know what's going on. Just please trust me. Devin heads to the diary room. Amber heads over to Frankie, Zach, and Donny by the hammock. She starts working out with Donny.
Up in the HOH room – Devin is talking to Christine. Devin tells her that he knows what's going on, just know that I trust you and will always have your back. I don't know what I'm going to do yet. Devin says we need 6 votes this week and next week we only need 5. Devin says right now with this 8 person alliance everyone has different friendships and its hard to trust people right now. I am looking at this as my redemption week. I might do somethings that people will be surprised about. In my heart I look at this as a 5 person alliance. You, me, Frankie, Caleb and Amber. I love Derrick but he makes me nervous. When Caleb started shooting bullets at me Derrick didn't say anything he just stood there. Frankie kind of had my back. Devin and Christine head downstairs.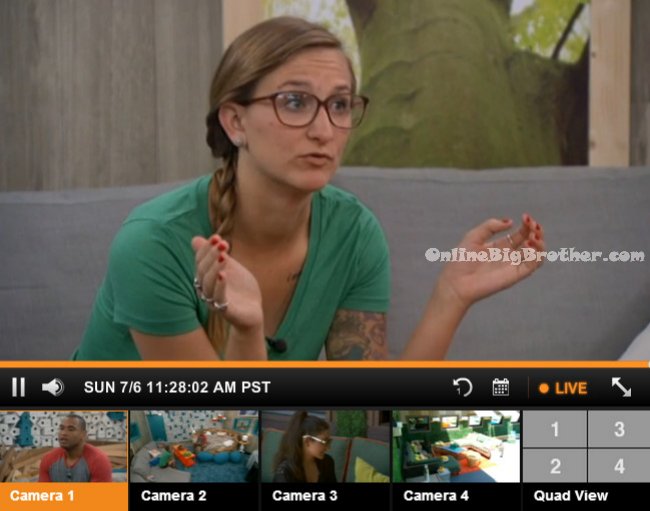 11:35am Devin asks Zach hey brother are we going to talk? Zach says no, not right now. Devin asks what's wrong? Zach says I just don't feel good.. I didn't sleep last night. Devin says all right brother. Devin walks away and says you're going right to that seat dude! F**ker!!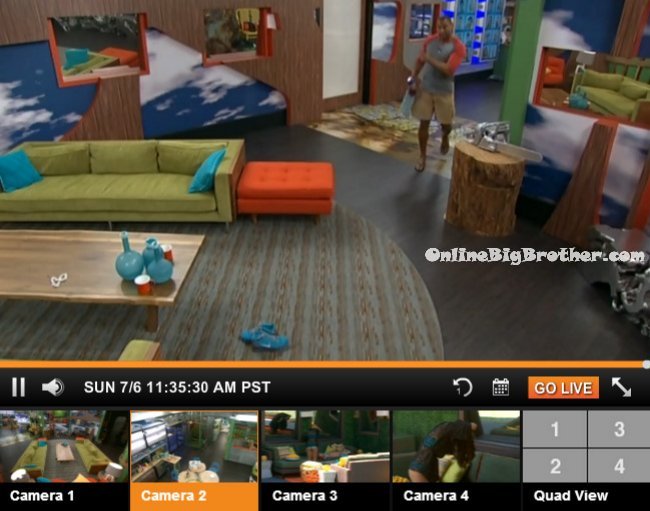 Out in the backyard – Christine asks Frankie what is going on right now. She tells Frankie that she talked with Devin and he said that he doesn't trust people in our alliance. He said he trusts the 5. Christine says I almost don't want to win HOH this week.
11:45am – 12:10pm Devin tells Amber in the hive room that he knows that Zach is freaking out right now. I can read lips and I could tell he was freaking out when he was talking to you in the backyard. Devin says if I have done anything to you we just need to talk about it. In this house you have to know where everyone stands. Devin tells her that the only thing I've said about you that's negative is that you're too emotional. Devin says if I really wanted to, I would throw you up there right now. But I'm not going to do that! Amber says but the whole house doesn't trust you now. Amber brings up how she allowed him to have a lot of power during the HOH. Devin tells Amber that he is sorry if he belittled her or made her feel like he didn't hear her out during the HOH decisions. Amber tells him that last week when Caleb was HOH all the decisions were made together but this week its different. Amber brings up how she doesn't like things he's said about Brittany. Devin explains that he and Brittany already talked about that and it didn't happen. I don't call women cows! I would never do that about a woman ever! I don't make gun gestures! I don't do that! Devin and Amber keep going around in circles and Devin goes to leave. Amber says she isn't done talking. Devin asks why can't we just agree to move on. Devin tells her to just not talk about him being mean or disrespectful to women because that's not me. I'm not like that! Thats a cord with me that I don't like. It sets me off. Amber says I just want to squash it and have the rest of the time that I'm here in the house to be good. Devin heads to the diary room.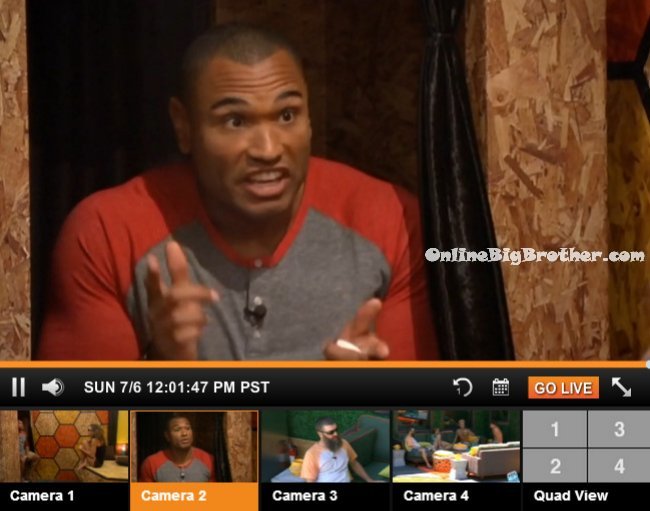 12:12pm Big Brother blocks the live feeds with the we'll be right back screen… When the live feeds return – Big Brother has given the house guests the corn hole game. Frankie, Nicole, Cody and Amber are playing in the backyard.
12:20pm – 12:40pm Up in the HOH room – Devin is talking to Caleb about how he talked with Amber. He says that he just wants to stay out of it. We can talk about hunting and fishing and stuff. Devin talks about how he never called Brittany a cow and never made gun gestures. Devin says I know exactly where its coming from and they keep denying it. Caleb says I am hoping after this week we have to get 2 … 3 more people out. Devin says we need to get out 3 – 5 people out before jury depending on how many people are in jury. Devin says between me and you.. this alliance is a 5 person alliance. Its you, me Frankie, Christine and Amber. They start talking about Zach. I don't know what I am going to do with the veto but whatever happens I just need your support. I am going to need your support and Ambers. Just remember with our alliance we always say deny deny deny all the way to the end. We just need to make it to jury. I would never ever float you up a river. I would never put up one of the 5. Its hard to control an 8 person alliance when one person gets really excited. Most likely I won't use the veto but if I do we just need to stick together. Cabel brings up how Pow Pow said you better use it on her or you've lied to her. Caleb says whatever you do .. I would try to do what the majority wants because that will help you. To help your situation – the majority of the house wants Victoria gone. But you do what you do and I will support you 110%. Devin says with each week we need 1 less person in our alliance. They hug and Caleb goes to the bathroom. Devin says to himself "I know exactly what I'm going to do with the veto!" 7