POV Holder:
Devin
Next POV
July 12th
POV Used
?
POV Ceremony
?
HOH Winner 1:
Amber
HOH Winner 2:
Devin
Battle of the Block Winner
Hayden & Nicole
Next HOH/ Next BOB
July 10/July 11
Original Nominations:
Devin's Noms (Pow Pow & Brittany) Amber's Noms (Hayden & Nicole)
Final Nominations:
?
Have Nots
Victoria Brittany, Zach and Derrick
POV Players
Host Donny, Players Devin, Brittany, POWPOW, Derrick, Zach, Amber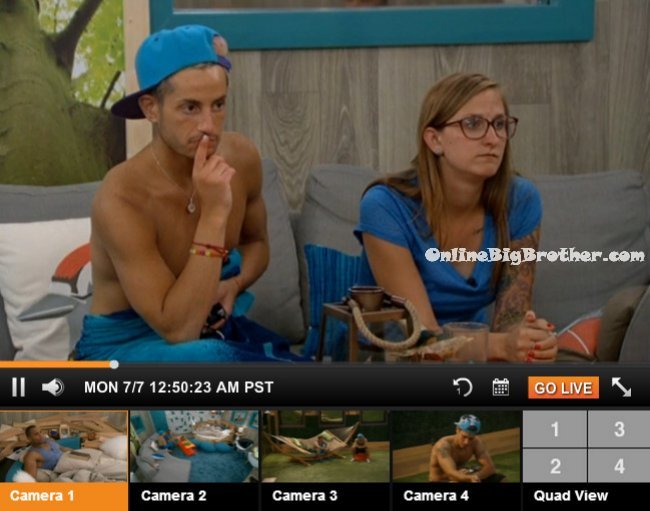 Big Brother 16 Live Feed FREE TRIAL – Use the FLASHBACK feature to watch everything you've missed!
12:40am Up in the HOH room – Devin, Frankie and Christine talking. Devin tells them that he has two options. Devin says that they are good with him. Devin comments on home one of the options he calls plan B could be one Bomb Squad member (Zahc). Devin says if the Bomb Squad is mentioned they need to deny, deny, deny. Devin says that if goes to Plan B, he will say that there are people in this house who want to be here and you want to go home to golf and play with your dog. Devin talks about (Zach) on the couch telling him to put me on the block, send me home, I don't even care. Devin says he hasn't told Caleb Plan B yet. Devin talks about how Zach has being disrespectful when talking about Victoria. Saying that Zach referred to her as B!t*h. Devin says that talked to Zach on day five about respecting women. Christine joins they. Devin says that all they needs are 6 votes. He say he has Victoria, Christine, Frankie, Donny, Brittany, Jocasta, Derrick. He says thats all he needs. Devin says not to talk to anyone outside of this room about this vote. Christine asks if he is taking down Brittany.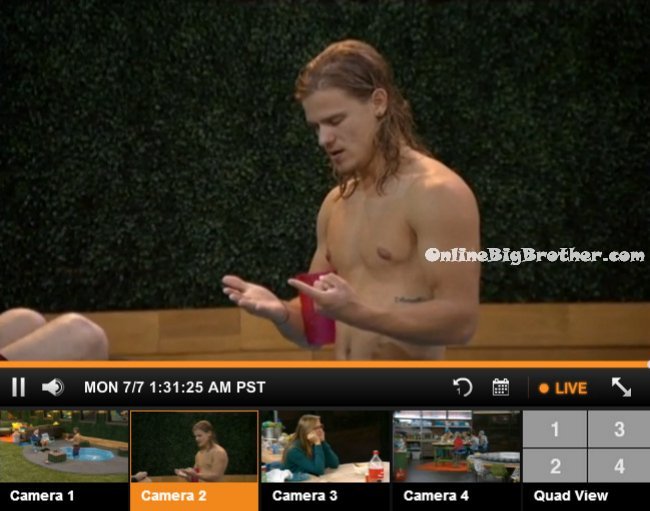 1:35am Out in the backyard Hayden and Derrick are talking about wanting to make it to at least jury. Hayden says it wouldn't really matter who goes home. I would rather it not be Zach though. Derrick agrees and says that its really Zach who decides that. Frankie joins them. Frankie says what I've been saying is that the target will present it's self each week. Hayden comments on how crazy of an experience this is. He explains how no where else do you run the gambit of emotions. Brittany comes out and starts playing the corn hole game by herself. Devin says you know how they have the intruder plan where if someone comes in here we're supposed to go to the diary room. I wonder if that's ever happened before? Caleb comments on how crazy it is that they set up these insane competitions in the backyard and then put everything back exactly where it was.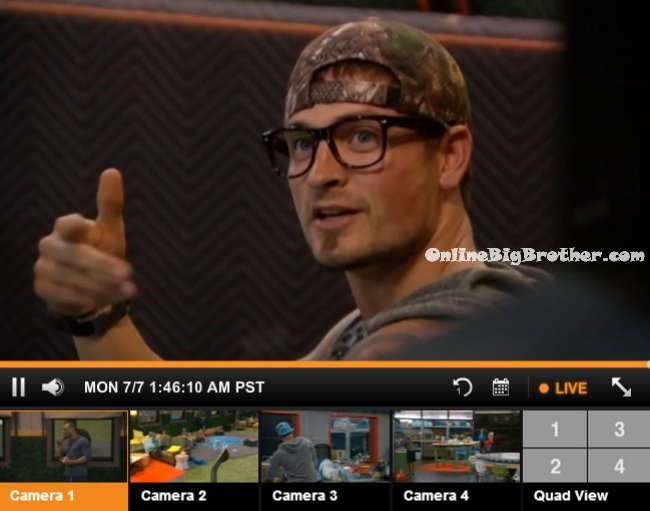 2am Derrick and Devin are playing the corn hole game. Devin out of no where says I like Brittany. Derrick comments on how he just blurted that out. Devin says I don't know why I just said that out loud. Devin says I already told Frankie. Deivn says I'm all sweaty now. Derrick says she's a cool chick. That's why everyone wanted her here. They finish their game and head inside.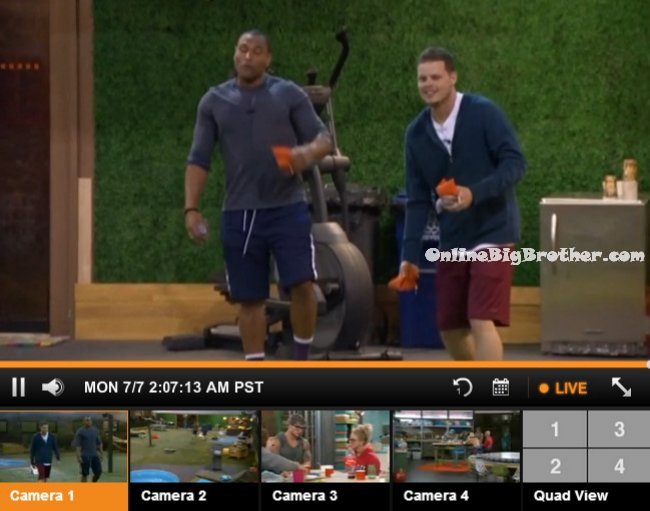 2:15am Derrick and Cody head outside to play pool. Cody comments on how Zach needs to eat something. Derrick says he's talking about wanting to be sent home. I think he's home sick. Caleb joins them. Derrick says its a totality of things.. Its the things with Devin, not eating, not sleeping. Derrick says if Zach is telling Devin to put me him up .. now you're giving him a reason to do it. And we need the numbers. Christine comes out and Caleb goes inside. Christine warns them that she would advise them to not talk game around people they don't trust. Christine says that Devin is starting to not trust other people ..other than just Zach. Christine says Devin is sharing a lot of information with me. She comments that Devin will likely be taking Brittany off the block. Christine says he can make all the deals he wants with Brittany, she is still going to put him up and try to evict him. Cody says if Devin puts up Zach I am done with it. Cody says I would love to know why Caleb doesn't trust me. Christine says Devin brought up both your names. He doesn't trust you Derrick but trusts Cody even less. Hayden joins them and goes back inside. Cody says I just don't understand why he doesn't trust me. Derrick says he is just paranoid. Cody says the second I have power I'm going to call Devin out. Number 1 he is full of sh*t. Hayden joins them again and the conversation ends. Nicole comes out And Cody says look at this girl she is the most beautiful girl in the whole entire world!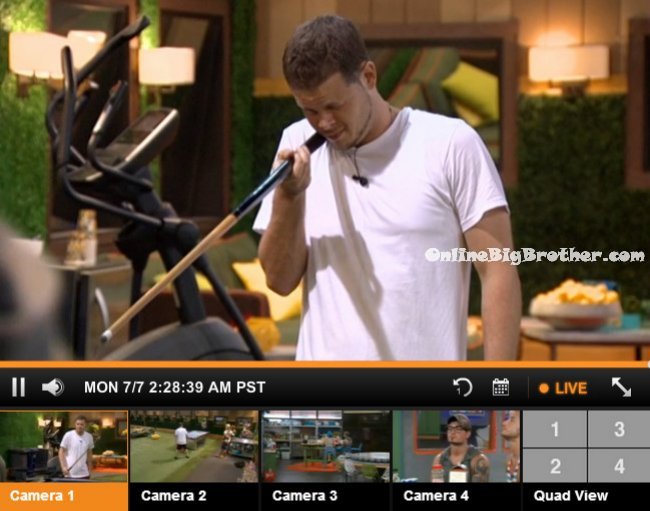 2:40am – 3:05am Frankie and Caleb head into the hive room. Frankie tells Caleb that Zach has been running, running, running his mouth that you are the reason why Devin doesn't trust him. He is saying that anything that is told to you is then told to Caleb. Frankie says you did tell Devin that someone in the alliance was untrustworthy. Caleb says I didn't say Zach's name and Devin deserves to know if people in his alliance don't trust him. Frankie says that Devin trusts you with his life and with his game. I don't want you to talk to Zach about it because he is really … You already talked to him about it. Frankie says that Zach is creating crazy. I want a straight shot to jury. Frankie says that Zach is telling me 4 times a day that we're backdooring Devin. Why are we talking about it when there's nothing we can do it about it. Frankie says I trust you and Devin with my life and my game. I trust Amber and Derrick implicitly. I am concerned about Cody if Zach goes. Caleb says Zach can cry my name as much as he wants but I never said I persons name. Caleb says it really pushed a button of mine that I would be untrustworthy to Amber. Frankie says I think if Zach wants to go we need to let him go. Caleb says that Zach won't just go he will go to the door and bust everyone out. Frankie says that Zach is proving to be more volatile than Devin. Amber definitely wants Devin gone and definitely wants Zach to stay. Caleb says that conflicts with me. He is clearly going around saying that he doesn't trust me. Frankie says I think because Devin would never throw us under the bus its better for him to stay. Caleb says I am going to talk to Amber tomorrow because that doesn't float with me. Caleb says its not right that Devin can do whatever he wants because he doesn't ask any of us what we want. He doesn't need to be in power any more. Frankie and Caleb agree that Devin should be the first to jury. Frankie says Devin is the king of unpredictability. Caleb says there is something wrong with me giving me all to her in the beginning and she not trusting me. Caleb says if Amber feels this way I will tell her I will carry her to the 8 and then she can hop off my back and walk herself to then end.
WATCH the next 48 hours for FREE – Big Brother 16 Live Feed TRIAL!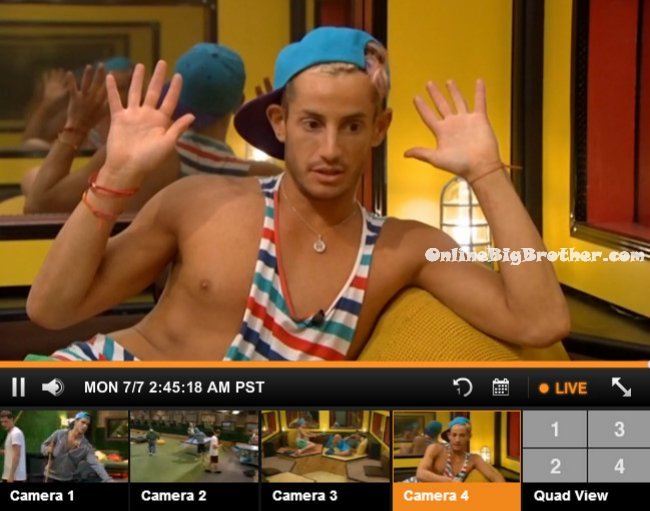 3:25am – 3:45am In the storage room – Frankie asks Zach what do you want? Do you want to stay or do you want to go? Zach says I want to stay but .. Frankie asks everyone wants you here. Zach says I want to keep playing. I have been true to the alliance. Zach says if he takes off Pow and puts me up then I stay. If he takes off Brittany and I go up then I stay. Frankie says why not just make things right with Devin. I am not just going to get on my knees and do whatever they want. Frankie asks are you going to blow things up. Zach says I said I wouldn't blow up peoples game but I will blow up Devins. Zach says I want to stay. Its another number for you guys. Frankie says that Caleb does want you to stay. He still denies he never said your name but whatever. The best thing to do if you want to stay then we stick to the alliance. Its not a guarantee to get Devin out. Its not a guarantee until its a guarantee. Frankie says that Devin said he has two options ..one that keeps protocol and one that stirs the pot. Zach says maybe me leaving the alliance and starting my own Bomb Squad. Zach says I'm not saying I'm going to do that, I'm just thinking whats better for my game. Is this better for their game or my game. If I go out I'm swinging HARD! I have to think about what's best for ZACH-ATTACK right now! I don't know what's best for me. Maybe its to disaffiliate and re-affiliate starting my own new bomb squad. I am not a push over.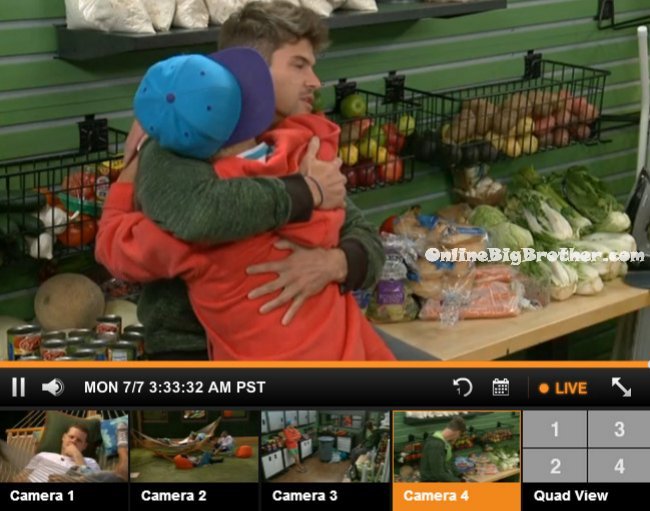 3:55am Zach heads outside to play pool by himself. Derrick and Devin are playing the corn hole game. Frankie joins Brittany and Cody on the hammock. Frankie heads to bed. Brittany tells Cody that Devin told her maybe when everyone goes to bed she can come up to the HOH and they can get to know each other better. I just don't trust him. Cody says what Devin is doing right now is disgusting. I am hoping / praying he takes you off the block. Cody says that Devin came to me and said that he has a crush on you. I wanted to tell him to go f**k himself. What ever meds they're giving him they need to up the dosage and find a new prescription. Brittany says I am going to have some announcement after the veto to shake him off his game. Cody says that stuff usually back fires. Derrick and Zach join them. Zach says its the 500mg of Adderall that makes him so bipolar! Victoria joins them.Cody jokes that he doesn't like that Zach was taking him place watching the sunrise with Brittany.
4am In the living room – Devin tells Frankie how hypocritical of me .. I put you (Brittany) on the block ..oh and I like you!