POV Holder:
Devin
Next POV
July 12th
POV Used
?
POV Ceremony
?
HOH Winner 1:
Amber
HOH Winner 2:
Devin
Battle of the Block Winner
Hayden & Nicole
Next HOH/ Next BOB
July 10/July 11
Original Nominations:
Devin's Noms (Pow Pow & Brittany) Amber's Noms (Hayden & Nicole)
Final Nominations:
?
Have Nots
Victoria Brittany, Zach and Derrick
POV Players
Host Donny, Players Devin, Brittany, POWPOW, Derrick, Zach, Amber
8:04 Brittany and Amber bathroom
Amber saying that she feels like she's walking on eggshells.
Brittany says Devin wanted to decapitate her he was planning her funeral now he's liking her "I think he knows he messed up and now he's trying to correct things"
Brittnay – Everything has changed so fast the people I trusted before I don't trust anymore
Amber – me to I hate to name names
Amber hopes that Donny goes up but she doesn't think it will be him.
Brittnay – "I kinda feel like I'm not going home but then I feel like I am.,. I just don't understand that someone who hated me so much is trying to be nice to me"
Brittany goes over her talk with Devin that changed his mind, says Devin explained his reasoning to but her up was 50% personal 50% game because he sees her as a threat.
Brittany told him a lot of people are targeting Devin. They agree nobody has gone up to the HOH Brittany feels bad for Devin.
Brittany says there's one person she can't trust any more, "I woke up with a knife in my back yesterday morning..I knew this person was different a couple days ago"
Brittnay points out how people act like they are the most loyal people when they are not.
Brittany mentions she told Devin everything he wanted to hear because she's in a tough situation.
Brittany wonders if Devin is going to put Victoria, "I want him to keep the nominations the same"
Amber does too they both agree they don't trust POWPOW at all
Amber – "I haven't talked to her in 2 days
Brittany – she sold herself to the devil.. I don't know how she got here she's just floating on by, she doesn't bring anything to the table.. she will do anything to save herself.
Amber told POWPOW from day one she will try her best to keep her here if she can trust her, they were close but now she's feel POWPOW is turning against he. Amber has to do what is best for her game.
Brittany is going to talk to Devin but will wait until after he's had his medicine. Amber – "thats probably the best thing to do"
See what they can't show you on TV! -Try the Big Brother 16 live feeds for FREE!
8:57pm Backyard Brittany and Amber
Brittany thinks Jocasta and Donny will vote for POWPOW, "Jocasta is hard to read"
Amber agrees, Brittany mentions Jocasta keeps her game to herself.
Brittany doesn't know about Hayden or Caleb. Amber says Caleb wants her here.
She thinks the rest of the house will vote for her.
Amber – Victoria?
Brittany she'll vote for me.
Brittnay – "These live feeders are wondering do we ever go to sleep"
They start talking about Joey and Frankie. they love them both. Brittany points out that Frankie loves everyone right now sooner or later he will have to pick an alliance.
They start talking about home and best friends. Amber has a best guy and girl friend. Her girlfriend has 2 kids. Amber – "I miss Tennessee"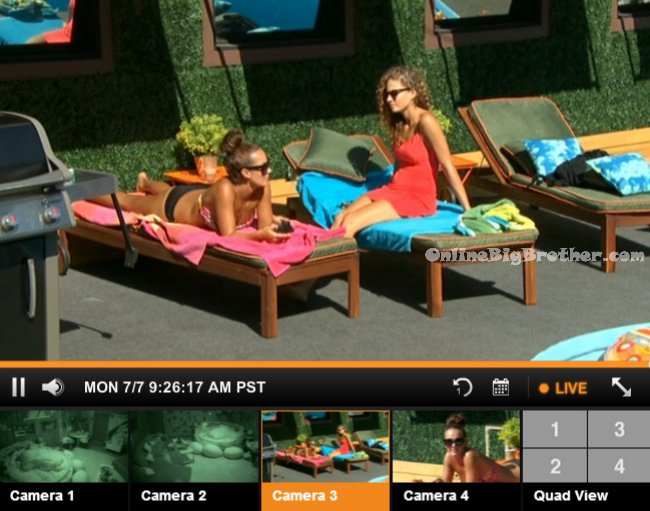 9:40am Over on the backyard couches –
Brittany continues to talk to Amber about how Devin brought her a pickle because he didn't have any flowers. I'm not going to eat that, what did you put that down your pants!? What did you put poison in it? He's just trying to right a wrong. Brittany says she feels like the stronger people deserve to be here? Brittany says that she came in here wanting to play an honest game. She says and there are other people who are here to lie cheat and steal. Amber says and the Battle of the Block has changed everything! Brittany says it only takes one person to stand up and for others to start standing up too. Amber says I trust talking to Caleb and Christine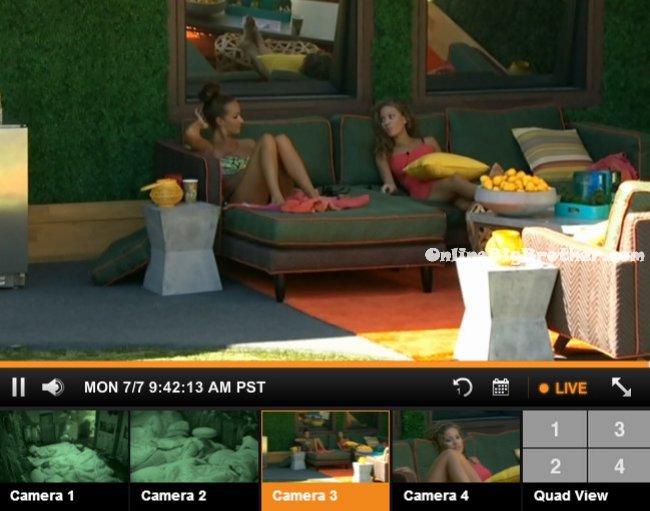 9:45am Big Brother wakes up the other house guests.. When the live feeds return – Out in the backyard – Donny and Brittany are talking. She says that she liked the game a little more last week. Donny asks oh because you weren't on the block then. Donny and Brittany both agree that they thought the veto meeting would have been yesterday. Brittany says yeah. Donny asks if she's going to get some sleep. Brittany says that she's beyond tired now and doesn't think she can sleep. Donny says yesterday there were a couple dead people in the house. Brittany asks him what he means? Donny says the people that slept all day.
10:15am Amber changes into her bathing suit and joins Brittany on the backyard hammock. Amber and Brittany talk about missing their families. Brittany says Devin said he missed his Ex. Amber says how am I missing people that I used to like or date, you know?!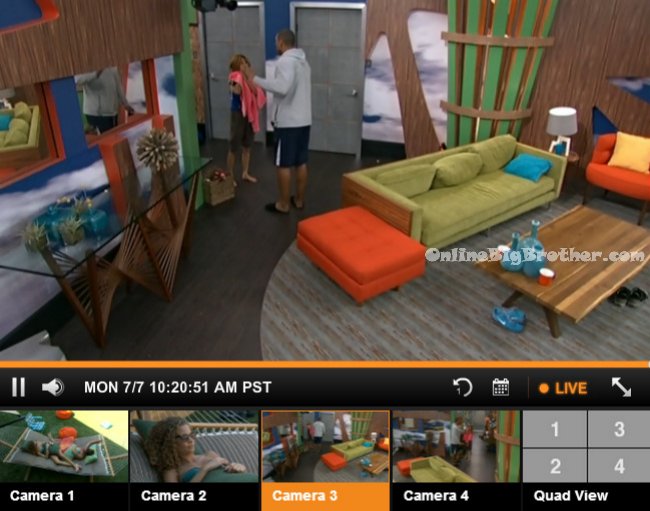 Devin goes to wake up Pow Pow because Big Brother has been calling her to the diary room. Devin tells her after the veto ceremony I want you to come up and talk to me. He tells her you don't say a word. You wait a couple minutes after I go upstairs and you come right up after. Don't say a word, Don't even show any emotion at all! Okay. Pow Pow comes out of the diary room and comes up to Devin in the kitchen. She starts to get emotional. Devin tells her not to get emotional. He tells her that some things
10:25am – 10:30am In the hive room – Pow Pow starts getting mad and says that wasn't the deal. Devin tells to stop getting emotional you're going to ruin things for yourself. Devin tells her that she doesn't even know what going on and you're getting upset. If you get up set you will go home. I can guarantee that you stay but you need to keep calm. Pow Pow storms out of the hive room. He goes to the bathroom and asks Hayden and Victoria to leave the bathroom so he can talk to Pow Pow. Devin tells her that even though things may have changed she is still safe. Pow Pow says that wasn't part of the deal. Pow Pow says something but you can't hear what it was because she's in the shower without a mic. Devin says don't threaten me right now! That's not a good way to go! You don't want to do that right now! I'm telling you you're safe. Pow Pow is still mad and Devin storms out of the bathroom.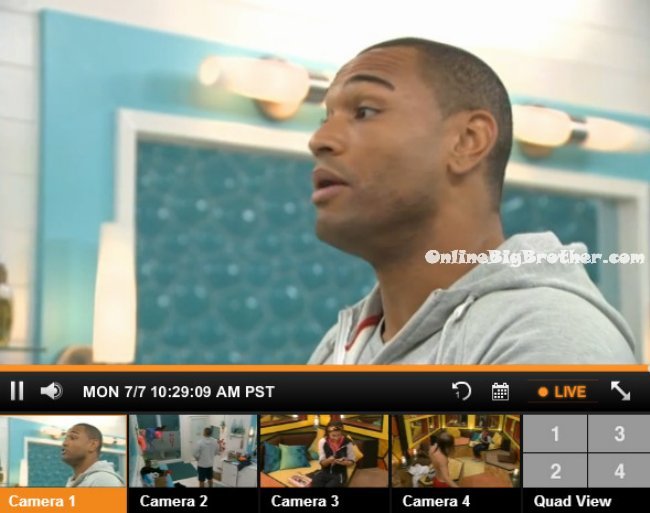 10:35am – 10:40am Devin asks Hayden to come up to the HOH room to talk with him. Devin says there's nothing going on with Pow Pow. Its just that deal I told Pow Pow. It might not go down that way but she is still safe. Devin tells Hayden that would just like him to keep everything quiet and don't say anything. I know its hard for you say but I would like you to vote for Pow to stay. I know its hard when you don't know who the other person is but you'll understand when you see. I will try and explain things as best as I can during the ceremony. Hayden says okay no problem. He shakes his hand and he leaves. Devin then counts the people on the memory wall and says 6! Campaign your heart out BUDDY (Zach)! It ain't going to work! You're going home! (During the Veto Ceremony Devin is going to use the veto on Brittany and nominate Zach as the replacement nominee.)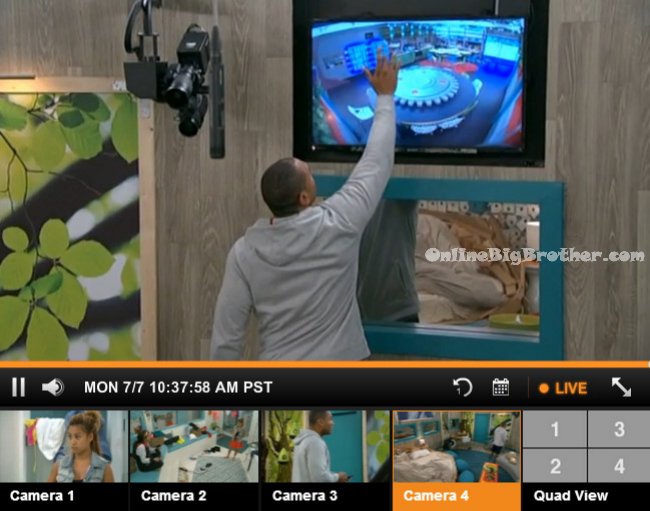 10:45am Pow Pow comes out to the backyard and tells Brittany how she just got in a fight with Devin. She says I just told him that I am not campaigning against Brittany. He came up to me and I told him to get the f**k away from me. I said don't f**king try and talk to me. Pow Pow tells her how she was in the shower and he came up to me again. He asked Victoria and Hayden to leave. I told him to get the f**K away from me. Just FYI if I explode its because of him! Pow Pow gets called to the diary room again. Donny joins Brittany and she says that she's going to try and sleep before the ceremony but asks him to wake her up before it happens.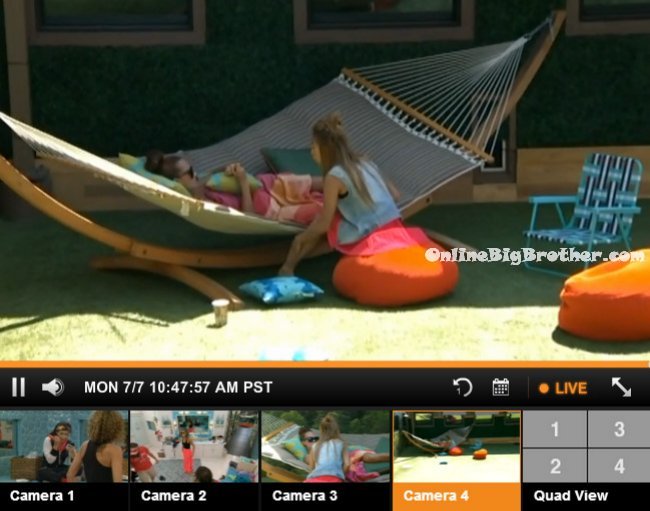 10:55am Brittany heads up to the HOH room and rings the door bell. The other camera shows the spy cam on the HOH door. Devin doesn't answer the door. Brittany walks away and the cameras show Devin sitting there watching the spy tv.
11am In the bathroom – Pow Pow says I think my veto speech is going to be very crucial! POW POW whispers her speech to Amber "I hope you don't use the veto on me because staying in this house with you would drive me F**King crazy and I'd rather go home. GOODBYE!" Poe Pow says I'm just going to do me I'm going to eat, poop and relax. Pow Pow tells them how Devin came up to her in the shower. I was ready to throw a shampoo bottle at him. I told him don't f**king talk to me while I'm showering! Amber says I can't believe he came up to you in the shower! Pow Pow says he just better stay the f**k away from me because I will explode! He's pissed that I told him that I don't give a f**k if I go home.
WATCH the next 2 DAYS for FREE – Big Brother 16 Live Feed TRIAL!
11:10am – 11:20am Devin's alone in the HOH practicing his Veto Ceremony speech – "I was raised on the foundation and principles that when I've wronged someone I need to make it right. Brittany I have put you on the block partially for personal reasons but also partially for game reasons. You're a fierce competitor. But also you're an even greater person, mother. To be here right now you've missed birthdays and all-star games for your children. You're doing this to make a better life for your children. So today I am sorry for passing judgement on you. I am choosing to use the veto on you. I hope that some day you forgive me. I have the option to right a wrong. I've gotten to know you and your struggles as a single mother. I was raised by a single mother and know how difficult it is. I refuse to leave a single mother up on the block and potentially send you out into the cold with nothing to show for it. Zach you've made it very clear the last couple days that you would rather be home with your dogs and golfing than be here…