POV Holder:
?
Next POV
July 19th
POV Used
?
POV Ceremony
July 21st
HOH Winner 1:
Frankie
HOH Winner 2:
 Cody
Battle of the Block Winner
Jocasta/Amber
Next HOH/ Next BOB
July 24/July 18
Original Nominations:
Brittany/Victoria(Cody) Jocasta/Amber (Frankie)
Final Nominations:
?
Have Nots
?
POV Players
?
7:55pm Outside the HOH room – Jocasta and Donny are playing chess. Jocasta asks so if I was to win the veto do you think I should use it on Brittany. Donny says she is good with us but I think you would need to talk to Cody about it because if he isn't okay with it he could put up me as the replacement. Jocasta says oh yeah. Donny says I thought the same thing. The thing is me saving you is was different because you were sick and didn't get a chance to play. Donny says she has been consistently been nice to me but it would be different if she had always been loyal but she has bounced around a lot.
Big Brother 16 Live Feed FREE TRIAL – Use the FLASHBACK feature to watch everything you've missed!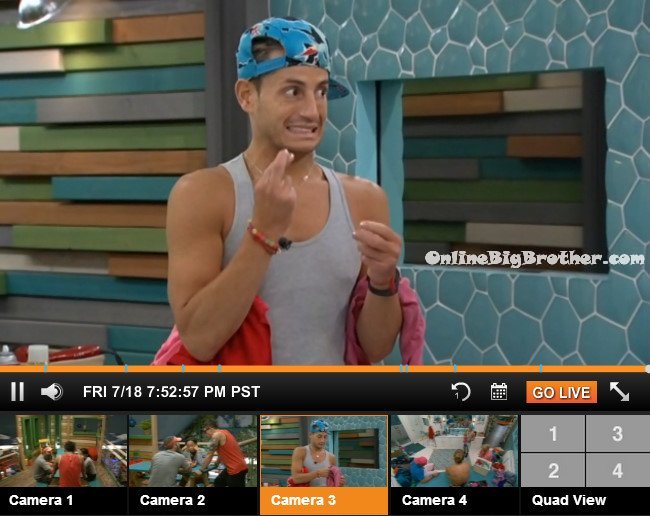 7:50pm In the bathroom –
Hayden, Nicole Zach and Frankie are talking. Frankie asks how is Victoria doing? Zach says she doesn't like being on the block that's for sure. Zach says but she isn't going home. Frankie crosses his fingers and smiles. Zach says I don't know what Cody would do if the veto was used. Zach says no one would send Victoria home, she thinks she's at summer camp. If Brittany wins the veto then we would send her home. Hayden says I can't wait for Amber to watch this back and see how much everyone hates her! Zach says I f**king hate her! What a f**king snake. I didn't know she was talking sh*t about me. Hayden and Zach talk about how they'll be so nice to Amber to her face. Hayden says its good how things worked out today but it would have been better if Amber was the one going because she is a better competitor. Hayden say Amber better not make it to jury, she doesn't deserve to be there. If she does and I go I will say not thanks send me home I don't need the stipend. They laugh about how Amber thinks we're in La la land. Zach asks what does that even mean? Hayden and Nicole explain it means she thinks we have no idea what going on. In Amber's eyes she's the only one playing the game. Zach says Amber's sucking Cody's d**k like no other. She's obsessed with him! She's an idiot! She f**king flip flops from everyone to someone else.. always! They leave the bathroom. Zach talks to Caleb in the kitchen. Caleb says I think whatever's best for the game we should do. If its best to send Brittany home we'll do that and if its better to send Victoria home we'll do that. Hayden, Nicole and Caleb go to lay down in the earth room.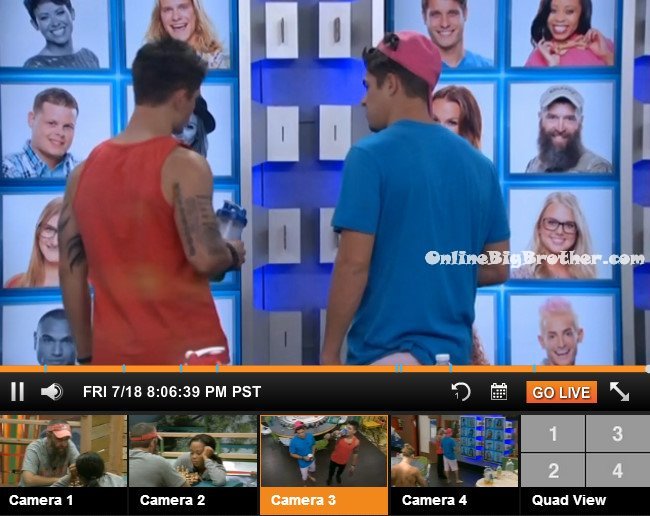 8:20pm The live feeds are getting intense, its hard to keep up with all four cameras..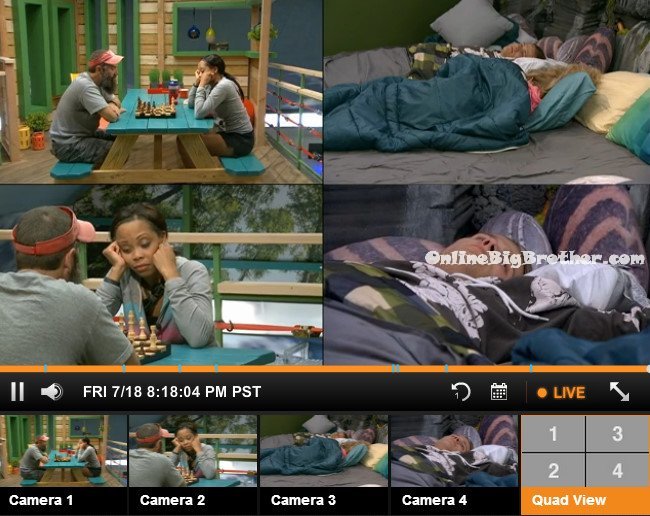 8:30pm Caleb snuggles up with Frankie. Amber says Caleb I'm jealous …you took Frankie from me! Big Brother tells them that the lock down is now over. You are now free to move about the house.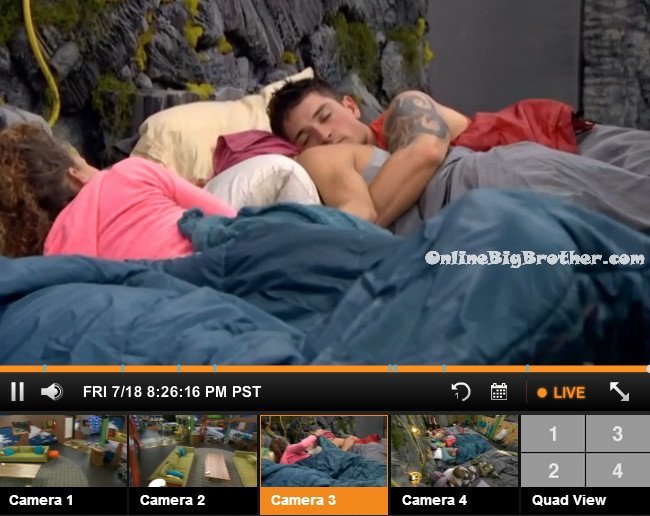 8:35pm – 9:15pm Donny and Zach head out to play a game of pool. Zach says that Amber is getting cocky. Donny says when you get good you get cocky. Zach says I am going to be honest with you Brittany is the target this week. Zach says I trust Brittany but.. Donny says well I don't know if I trust her but.. Jocasta comes out and the conversation ends. Donny comments can you believe everyone's asleep right now. It's crazy. Donny says if I beat you at pool I would never play again. I would start beasthillbilly.com. Zach says he likes that! Zach wins the game. Zach then plays Jocasta. They talk about taking fights. Donny says the flight here was the first one he had ever taken. Christine finishes her shower and comes outside to lay on the hammock. They can't believe everyone else is asleep right now. Donny asks Zach if he's hosted a competition yet? Zach says no. Donny says it's about your turn. Zach says I want to play though. Donny says its better to play when your back is up against the wall like it was for me last week. Donny convinces Victoira to come out and join them. She says going to change first. Zach says I like Victoria.
9:25pm – 9:45pm Nicole and Victoria are sitting on the backyard couch. Jocasta is going off with a rant to Zach about different positions in the house (Sleeper position, couch position, Hammock position, Bathroom position, etc.) Victoria heads inside and Christine joins Nicole on the couch. Nicole can't believe Victoria would talk crap about her to Hayden. Christine says she is just used to getting everything she wants. Zach joins them. Cody comes out soon after. Zach says that today has been an interesting day. Victoria is pissed. Cody asks about what? Zach says she's convinced everyone is talking crap about her. They talk about how last night they were all laughing about her crow & unicorn story. Zach says I don't know what I am going to do if the nominations stay the say. Zach tells Cody Amber is a snake bro!! I am getting pissed because today she was saying that Cody is my best friend in the house. And I was like in my head ..since when? Tuesday!? Victoria joins them. Soon after she FREAKS out because a stink bug is on her. She screams out for Donny to get it off.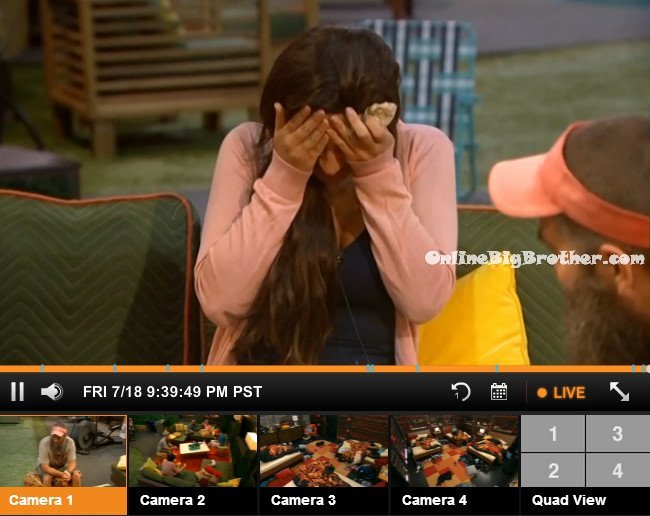 Donny showing how amazed they are at the competition sets when they walk out into the backyard.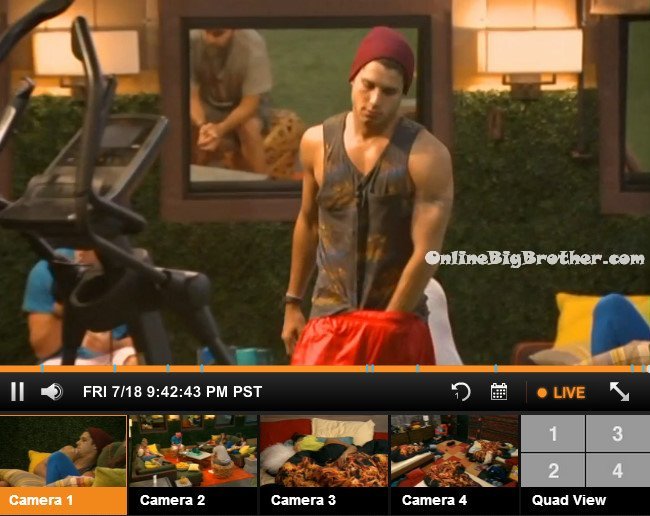 9:55pm In the kitchen – Victoria is talking to Zach about how she knows people are talking sh*t about her. She says that everything people are saying is so personal and it hurts. She says that she never finds out about it until a week later and then feels stupid. Victoria says that she wants to go back to the diary room and apologize to Matt because she feels so bad. I want to do that and then go back to bed. Zach says well do that. I'm sure if anything was wrong they would tell you. Victoria says they were just so nice. Zach says that he just found out that Amber is talking sh*t about him. He says that he is going to go into the diary room more often to just vent and talk sh*t about people. Victoria says she's going go back to bed soon.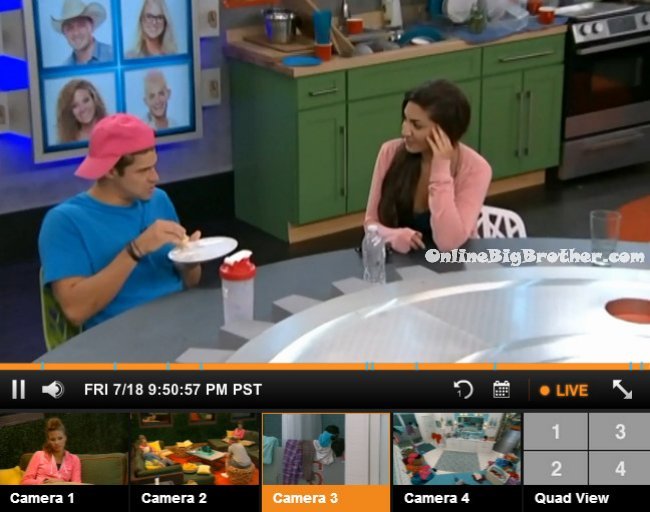 10:15pm Zach is sleeping on the living room couch. Big Brother tells them there is no sleeping other in the bedrooms. Zach says he doesn't want to take someone's bed or go up and use Cody's HOH bed. Big Brother tells him again there is no sleeping permitted in the living room. Out in the backyard – Donny and Christine are doing walking laps around the yard. Nicole is running laps. Christine says she can't wait to go on dates with her husband. Donny says it will be nice to smell my girlfriend and to hold her hand. And to ear my momma say my name. Christine agrees. Donny says we better change the subject.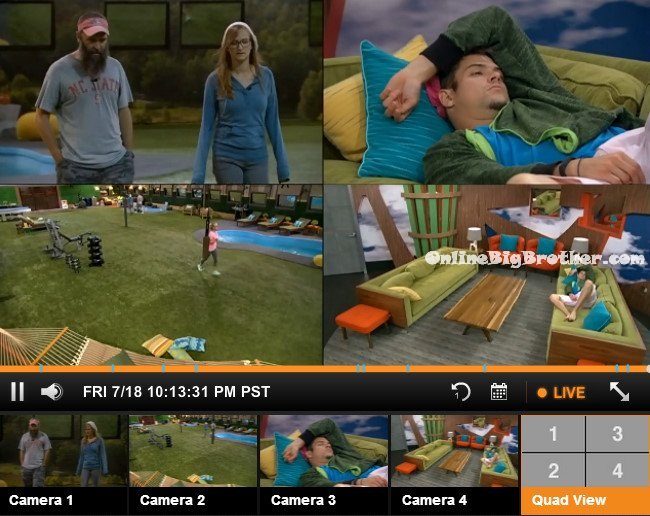 Alliances (Some Of these are dead)
Zankie = Frankie/Zach
Bomb squad = Caleb, Amber, Frankie, Derrick, Cody, Christine, Zach, Hayden
Team America = Donny, Derrick, Frankie
Nicotine = Christine/Nicole
Not a showmance= Hayden/Nicole
Los Tres Amigos = Derrick, Cody, Zach
Feed watchers = Derrick/Nicole
We hate Devin = Christine and Zach
Outsiders = Brittany, Victoria, Jocasta, Donny
Old timers = Jocasta/Donny
Stalker = Caleb/Amber
Quad Kings = Derrick, Zach, Cody and Hayden (still being built)
Trilogy = Nicole, Christine & Hayden
The Detonators = Derrick, Frankie, Zach, Christine, Cody
Final 2 Deal "The HITMEN" – Cody & Derrick
[polldaddy poll=8194643]
[polldaddy poll=8192326]