POV Holder:
Donny
Next POV
?
POV Used
YES
POV Ceremony
June 29th
HOH Winner Team 1:
Frankie
HOH Winner Team 2:
Caleb (current HOH)
Battle of the Block Winner
Brittany, Victoria
Next HOH/ Next BOB
?
Original Nominations:
Caleb noms (Donny, Paola) Frankie noms (Brittany, Victoria)
Current Nominations:
Joey, Paola
Have Nots
Cody, Hayden, Joey, Brittany
POV Players
Donny, Paola, Cody, Zach, Caleb, Victoria (HOST = Jocasta)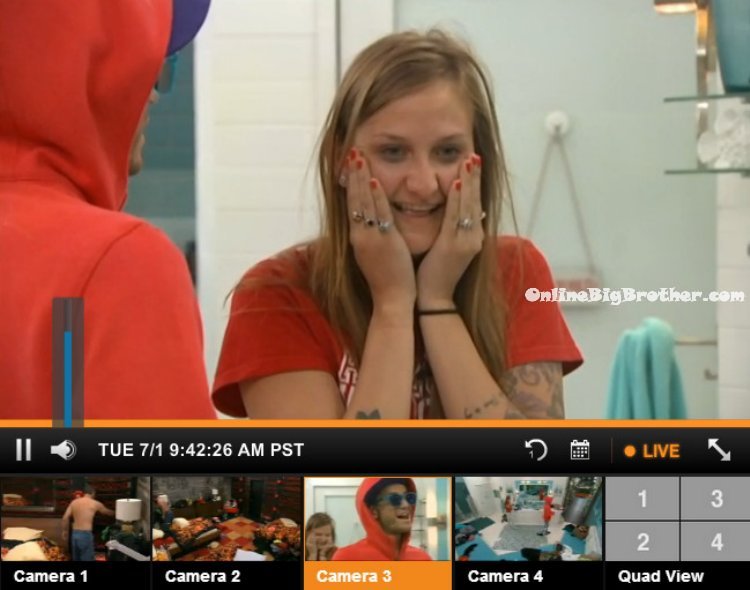 9:30am Big Brother wakes up the house guests. In the bathroom – Frankie and Christine are laughing / surprised. Frankie says I can't believe that happened. Frankie goes to the mirror and says why are you awake! Frankie and Christine head out into the backyard. Frankie says that last night the boys were out here conspiring. He says that they came to me and said we need to form a small alliance so we can get out Devin and Amber. Christine laughs and says this is beautiful. It's working out perfectly. Frankie says what's hilarious is that all of them have told me things that I could use to destroy them. Christine laughs. This is so hilarious. Frankie says I am trying so hard to not let it blow up yet. Frankie laughs at how Devin said Amber liked him better but that she's not a white girl so I probably wouldn't date her. Christine says what a d**k. Frankie says she's a great girl, I feel like she's in for a whole lot of pain and I don't know how to protect her. Frankie says Brittany totally showed all her cards last night. She showed that she has the ability to have all the guys manipulated. She is still on the Devin rampage. Now Caleb is on the Devin rampage. Every single person is on the Devin rampage. Frankie says and in Caleb's alliance of 5 he has Hayden. Christine asks Hayden.. where he come from. Frankie says the alliance is me, Hayden, Derick, Caleb and you. Christine asks oh I'm in it? Frankie says yeah I put you in it. Christine says oh thank you. Christine says she wants to win HOH. Frankie says now no matter who wins HOH we can put up Devin and no one would care. Frankie and Christine laughs at how they asked Caleb if there's anything he isn't good at and he said he hasn't played Tennis before. They both laugh. Frankie says I don't want Devin in jury. I don't want him anywhere near the jury. Christine agrees no one wants to live with Devin in the jury. Christine comments on how she used to be bullied in high school and the other day Devin looked at her and it made her feel the exact same way. Frankie agrees Devin makes him feel the same way. Frankie and Christine get up and say hi to Donny on the couches and then head inside to go back to bed.
WATCH the next 48 hours for FREE – Big Brother 16 Live Feed TRIAL!
10:20am – 10:55am Donny is working out on the elliptical. Victoria and Amber are getting ready for the day / eating. All the other house guests are back in bed. Amber joins Donny out in the backyard. They talk about the her and Caleb. She tells him that she just didn't come here for that (a showmance). Donny tell her that she could talk to the girls and they won't bring it up. Victoria joins them. They chit chat about random things and then Victoria and Amber head back to bed. Donny starts wandering around the house and then heads to the hammock to lay out.

11:15am Zach takes a "rub'n tug" shower and then goes back to bed.. Devin wakes up and heads to the bathroom to put on his mask.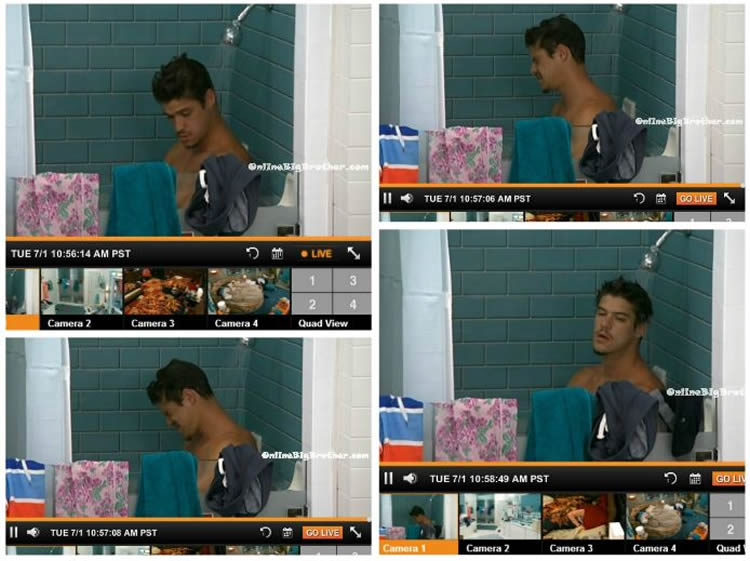 11:20am – 11:50am Brittany and Jocasta are awake and getting ready in the bathroom. Brittany comments that she was up till 8am and that she wants to get back on track by tomorrow. Out in the backyard – Amber joins Donny. He nicknames her cutie pie. She says she likes that nickname. Brittany joins them. Amber then teaches Donny how to use the washing machine.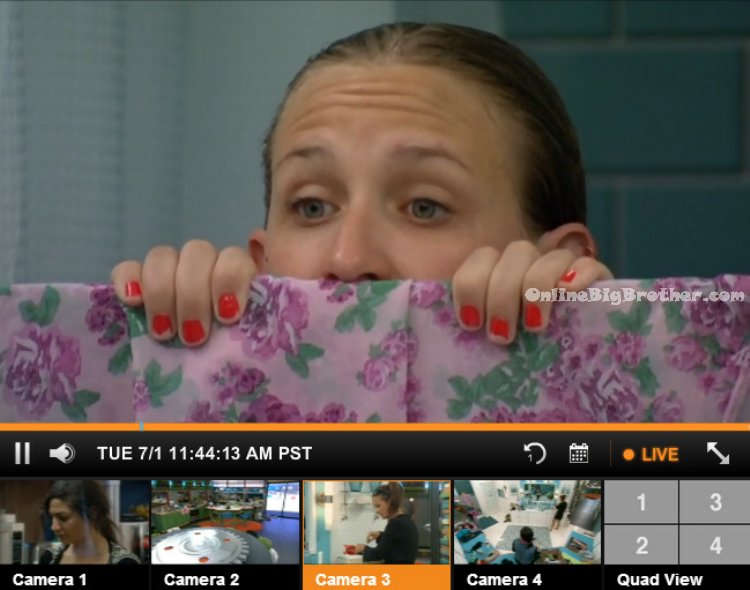 11:55am – 12:15pm In the kitchen – Devin asks Amber if you could be here at the end who would you pick? Amber says that's a tough question. Amber says probably Caleb or Christine. Devin says Caleb, Frankie, You, or Christine… or Derrick. Amber says my top 4 would be Caleb, you, Christine, Frankie .. and if I had to switch one it would be Derrick. Donny joins them. Devin comments that when he was younger he thought lime disease came from limes. Devin and Christine talk about tattoos. Devin says that he had an apprentice do his arm first and he had to have it all re-done it was so bad.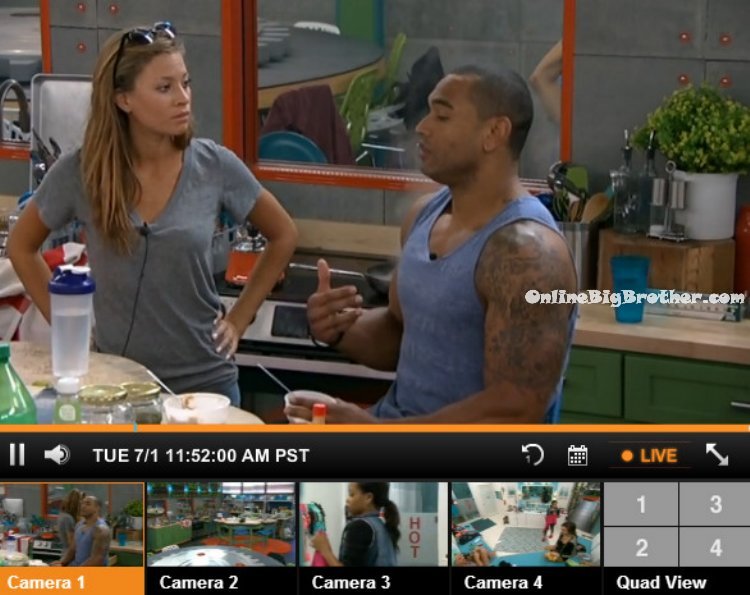 12:50pm – 1pm Out in the backyard – Donny tells Nicole that he think she will be America's sweetheart. Brittany comes out and lays out by the pool. Christine is reading the bible and talking to Brittany. Brittany says that she's been trying to pray in the house but that her prayers just aren't connecting. She says her mind is just so distracted. In the kitchen – Victoria and Devin are doing the dishes. She tells him about her photography business. Amber's sweeping the kitchen floor.
Stay connected and interact with other Big Brother Fans on our Facebook page.
And Follow: @BigBspoilers and @Dawgsbigbrother on Twitter for the most up to date spoilers.
Alliances 
Bomb Squad = Frankie, Caleb, Devin, Cody, Derrick, Zach, Amber, Christine
Fragment of bomb squad no name  = Christine, Frankie, Cody, Derrick Zach
Double Ds = Devin, Donny
Bed buddies = Nicole, Christine
Final 2 Deal Zankie= Frankie, Zach
Old defunct alliances
TheCrazy8s = Frankie, Donny, Joey, Paola, Devin, Amber, Nicole, Cody
El Cuatro = Paola, Amber, Joey, Nicole
Where the vote is 
As of now Joey is going home.. (Still early)
[polldaddy poll=8154372]