POV Holder:
?
Next POV
July 19th
POV Used
?
POV Ceremony
July 21st
HOH Winner 1:
Frankie
HOH Winner 2:
 Cody
Battle of the Block Winner
Jocasta/Amber
Next HOH/ Next BOB
July 24/July 18
Original Nominations:
Brittany/Victoria(Cody) Jocasta/Amber (Frankie)
Final Nominations:
?
Have Nots
?
POV Players
?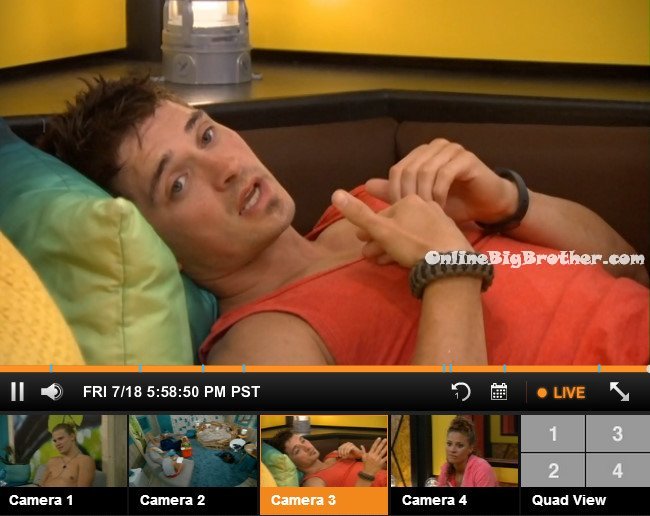 Watch the ENTIRE SEASON of Big Brother 16 for ONLY $26.99 – TRY it For FREE!
5:55pm – 6:25pm In the Bee Hive room – Amber is still talking to Caleb. He tells her that when someone has my trust they have my full trust. Amber says that she doesn't know why he doesn't trust her. She says if you want to come after me then we can do that, just be honest with me and let me know. Caleb says if I win HOH next week I don't care who goes up. I only trust Derrick. Amber says she does too. Caleb says last time I wrongfully accursed you and this time I decided to come talk to you. Amber says I don't even understand why this is coming out now because that was days ago when Pow talked to me. Caleb says yeah Frankie said it was back when he was mad. Caleb says I need to stop listening to Frankie. Amber says I don't understand why my name was even brought up. Was it a smart move for him to bring up my name because then it looks like we aren't working together ..but is it a smart move for him I don't know. Amber says it seems like me and Christine never know as much as you guys know. Caleb says all I know is that I'm safe. Caleb talks about how Jocasta hasn't talked game to one person. You can't come in here and read the bible all day. She never pushes forward to help anyone with their game or anyone else's. Amber asks do you think Brittany is the same way? Caleb say yes. Caleb says if you're not trying to make deal and alliances in week five people see it and wonder why that person should get any further without getting blood on their hands. If you think you can win at chess without moving anything .. no! Caleb says that Victoria is as dumb as a brick. Amber says Caleb! Caleb says okay, I'll go a little smaller she's as dumb as a rock. She's here because when we tell her how to vote she does it. Brittany will go home this week and maybe Victoria the next. Amber says that next week 2 girls might win HOH. Caleb says Not going to happen, 2 girls will not win HOH. Amber asks why not, two guys have. Amber says after today I could have blown you guys up but I didn't. If it had been Zach that had been nominated he would have blown all you guys up. I wouldn't do that. Caleb says next week one of the guys will have to go up. Amber says next week I'll put all the guys up. Caleb says I'll let them know. Amber says I'm joking. I just know if Brittany goes home she is going to be so upset. I think you know if Brittany goes home you know why. She sort of has an alliance in the house and we're going to break it up. Amber says I just don't want to be the last girl standing with all guys. Caleb says then I would be up next to you because we're the two biggest targets in the house. If they're coming after you, they would be coming after me. Amber says the people I can trust are you, Derrick Christine. Amber says that Brittany is playing the game it might not be the best game but she's playing the game. Caleb tells her to just keep playing your game and do what you do. Amber leaves to go eat.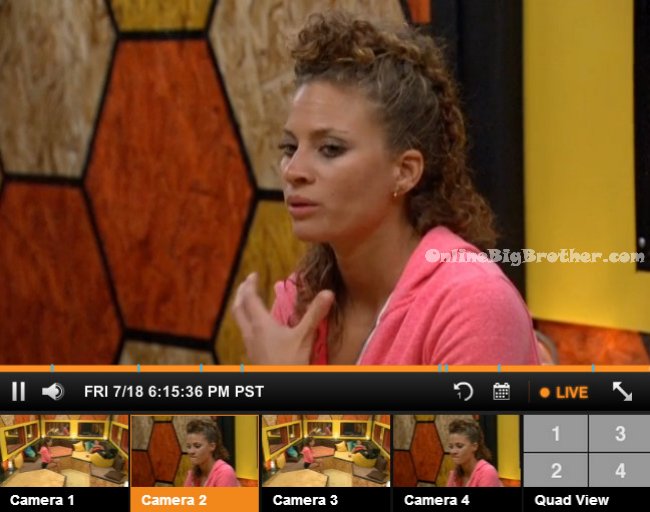 Up in the HOH room – Frankie, Cody, Nicole, Jocasta, Christine and Hayden.Frankie is eating smoked salmon. He says that when he was a vegetarian he missed eating salmon the most. And when I became a pescitarian I ate fish like crazy. The talk about taking a nap soon. The camera switch to Victoria crying on Zach. Zach asks her why she's crying? What's wrong? Victoria says lets go to the storage room. They head into the storage room and she asks him do you know why I just got called in? They asked me … Big Brother blocks the feeds. When the feeds return.. all four cameras are on the hive room with Amber and Caleb.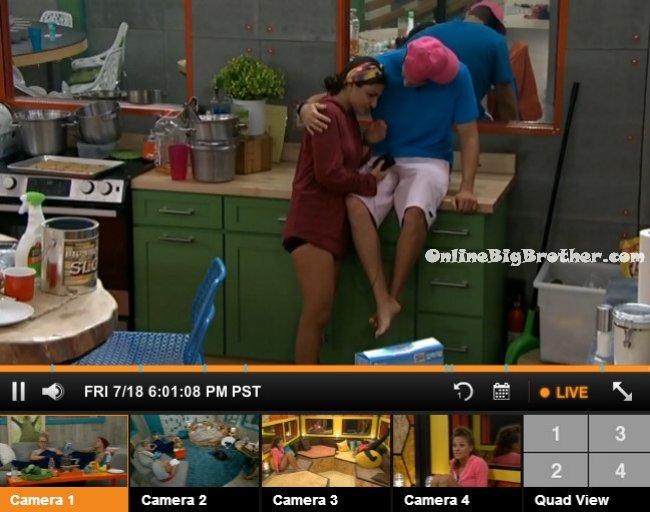 6:25pm Up in the HOH room – Jocasta, Christine, Hayden, Cody and Nicole are hanging out. Victoria gets called to the diary room. They comment that she's been called in a lot lately. Nicole says I don't think they even know I'm here any more. I haven't been called in, in a long time. Jocasta and Christine laugh. Jocasta leaves. Nicole asks Hayden on a scale of 1 – 10 how much does Victoria hate us? Hayden says an 11. Well she doesn't say anything about you Christine, just you Nicole. Hayden says that she doesn't like you because you didn't stick up for her about the bed situation. Hayden says that he talked to Victoria and told her that the reason why people don't want to sleep with you is because you cuddle too hard. Hayden says that she didn't believe me. Hayden says that he stuck up for Nicole and told Victoria that he wouldn't have stuck up for her either. Nicole says thanks you Hayden you're the best! Hayden says that Brittany and Amber were talking and said that me, you (Nicole) and Zach are in LaLa Land! Nicole and Hayden laugh that they think they're in LaLa land. Hayden says that Nicole is the best cuddler but that Victoria is for s*xual reasons. She give OTPAEBJ.. Over the pants accidental elbow blow j*bs. They talk about how Victoria dances. Hayden says that she was a great dancer. Christine disagrees and says it looked like she was trying to break Frankie's p*nis off. Hayden says MMMMHHHmmmm! Zach joins them. Hayden tells him that Amber and Brittany were talking and think we're in La La Land. Zach says Amber is the biggest liar ever!
In the kitchen – Caleb tells Amber I know you're tired of hearing it but we would be perfect together. Like we have a lot of similar things in common. He starts talking about a girl that he dated that broke up with him because his life was too complicated.
6:50pm – 7:10pm In the fire room – Brittany is talking to Victoria about being nominated. Victoria says I almost wish I was going. If you're gone it is going to be hell times 10! Brittany says I wish Devin was still here because he was at least telling the truth. Brittany tells Victoria if she stays she needs to take the game more serious because people think you screw around. It's not about winning competitions. To be honest its hard for me to think about me going when you don't take it serious being here. Victoria says me just being my happy go lucky self is just who I am. Brittany says I just want you to know that I feel guilty for saying it myself. I just never understood your game. One thing about you .. you never give up. Brittany says I feel like I am being bullied to be honest. I just feel so lost in here. Victoria says a lot of people enjoy it in here because of the people around them. Brittany says outside of the house I deal with a lot on a daily basis but in here you can't remove yourself from situations. Brittany says Christine I don't trust but I know she's a super fan. No one is putting her up. Victoria says oh she is for sure working with them, its so obvious. Brittany says I don't trust them. Victoria says I don't trust anyone. Victoria says if it comes down to you and me, I would want you to stay. Brittany says don't think I want to stay. Victoria says if it comes down to me and you I am going to campaign for you stay. Brittany says don't do that. I am not going to campaign against you either. Victoria says I don't want to stay, I can't do this any more! I feel like I'm in hell!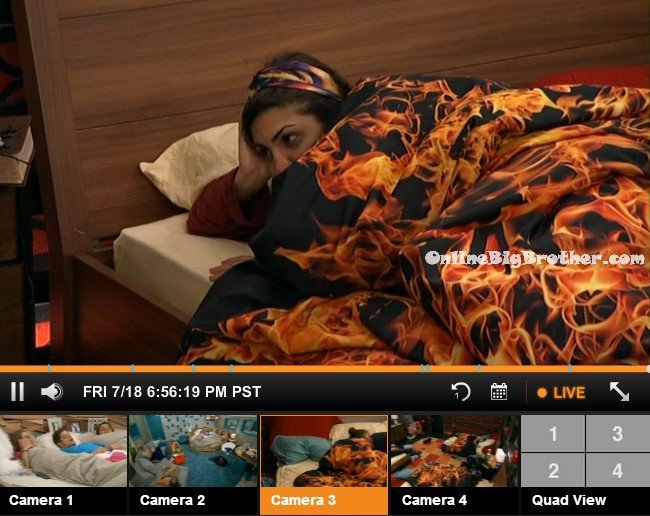 In the havenot room – Caleb talks to Frankie about his conversation with Amber. Big Brother blocks the feeds. When they come back – Caleb says its going to be a difficult decision. Frankie asks what is? Caleb says next week when it gets down to it and one of us has to go up. Caleb says at the end of the day we talked and there are a few people that she has in the house that are friends and she can trust. Frankie says she is truly conflicted. Her heart isn't 100% with the 8. I understand. Caleb says I see both sides of it she is protecting her game and remaining loyal to us. At the same time she has gone up as a pawn twice. Frankie says yeah she said it twice last night. Caleb says he said I feel that there is one person in the house that you trust and that is me. Caleb says he confronted her about Jocasta trying to flip her to the other side of the house. She said she has been nothing but loyal to me and us. Caleb says I told Amber she is thinking inside the box and she needs to take her afro-mohawk out and start to think straight. I told her she needs to un-tighten her hair and start playing a heartless game. Its cut throat in here.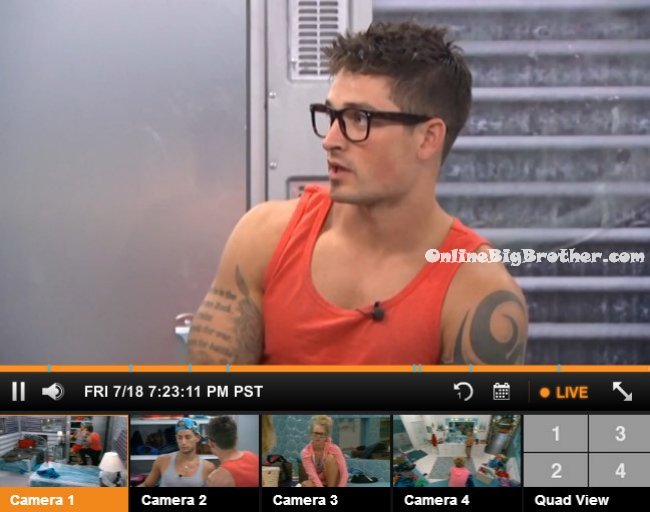 7:35pm – 7:45pm In the bathroom – Hayden and Nicole are talking. Hayden says the next to go are Brittany, Victoria, Amber & Jocasta. Zach joins them. Zach says that he wants to call Amber out for being such a liar. Hayden says we should but not until we are in a position of power. Zach says that Brittany is a f**king liar. She tried to start an alliance with Amber, Jocasta and … Victoria walks into the bathroom and asks what they're talking about. Zach asks if the nominations stay the same who would you vote out? Hayden and Nicole says they would probably vote with the house but that if Brittany stays she is coming after us. Whereas Victoria can't do anything. Zach says that he wants to go tell Amber that people are talking sh*t about her. Hayden says no don't do that, there's no reason to. Do it after the veto. Hayden says it hilarious how Zach lies and makes stuff up about people. Zach says the next people I want out are Brittany, Amber, Jocasta and Victoria. Zach comments on how he heard in jury you can make phone calls home. He says you get alcohol, it's like a party in there and you get paid to be there.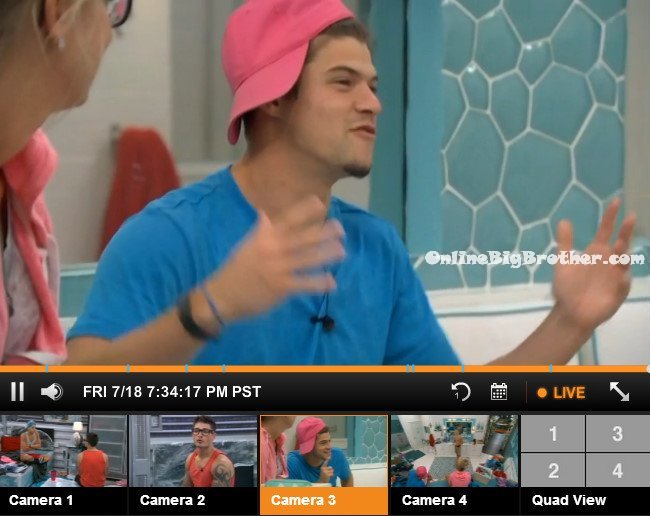 Alliances (Some Of these are dead)
Zankie = Frankie/Zach
Bomb squad = Caleb, Amber, Frankie, Derrick, Cody, Christine, Zach, Hayden
Team America = Donny, Derrick, Frankie
Nicotine = Christine/Nicole
Not a showmance= Hayden/Nicole
Los Tres Amigos = Derrick, Cody, Zach
Feed watchers = Derrick/Nicole
We hate Devin = Christine and Zach
Outsiders = Brittany, Victoria, Jocasta, Donny
Old timers = Jocasta/Donny
Stalker = Caleb/Amber
Quad Kings = Derrick, Zach, Cody and Hayden (still being built)
Trilogy = Nicole, Christine & Hayden
The Detonators = Derrick, Frankie, Zach, Christine, Cody
Final 2 Deal "The HITMEN" – Cody & Derrick
[polldaddy poll=8194643]
[polldaddy poll=8192326]