POV Holder:
?
Next POV
?
POV Used
?
POV Ceremony
?
HOH Winner 1:
Amber
HOH Winner 2:
Devin
Battle of the Block Winner
Hayden & Nicole
Next HOH/ Next BOB
July 10/July 4
Original Nominations:
Devin's Noms (Pow Pow & Brittany) Amber's Noms (Hayden & Nicole)
Final Nominations:
?
Have Nots
?
POV Players
?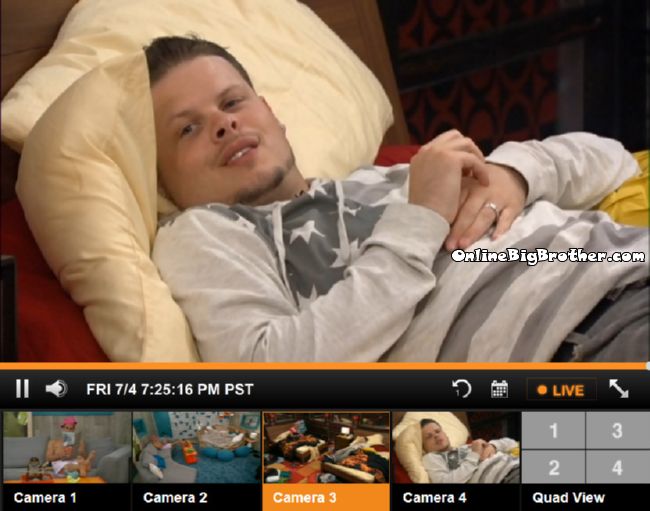 7:26pm Fireroom Derrick and Frankie
Talking about POWPOW being a "Sinker" not a floater. They know Devin has some side deals with Hayden, POWPOW and Donny.
Frankie – "He's bringing f***ing people in again.. now we can't put up Hayden, Donny and POWPOW.. we're going to have to put those people up soon"
Derrick thinks POW is going to blow it all up. Frankie has spoken to everyone in the house and they all say Devin is controlling everyone.
POWPOW comes in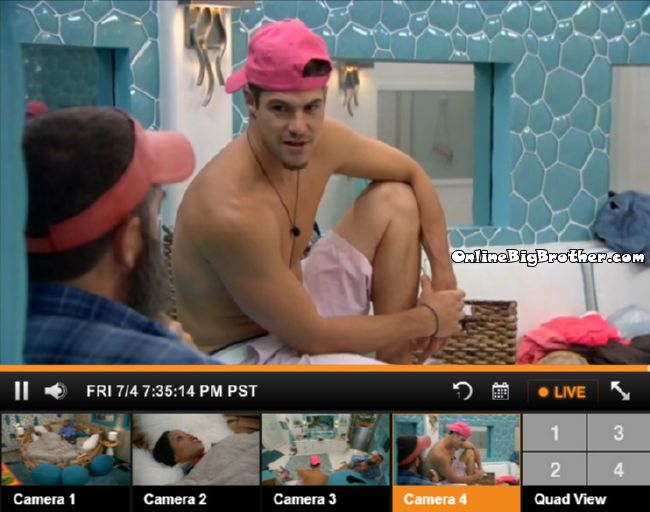 7:35pm Donny and Zach CAm 3/4
Zach says it's clear Brittany is the target and it's too early to go against the house.
Donny says if they can get 4 boys and they each have an extra person they can sawy .. (basically a brigade)
Zach thinks its too early to pull off something like that. Donny doesn't says the way it's going right now the powers that be will keep winning comps and the majority them will soon become the minority.
Donny – "You better get it while the getting's good you got to harvest the fields while their ready"
Donny isn't going to brown nose to Devin, Zach says one of his strengths is brown nosing. Donny's crew would be Cody, Donny, Zach and Hayden. Zach hears what he says and agrees with it but thinks it's early to be doing that. (Hmm heard a lot of that before)
Zach says he's good friends with Frankie but frankie is upstairs a lot and he's working the entire house.
Zach says he doesn't want to get bullied "I haven't yet and I don't plan on it"
Zach thinks Devin is going to stick to his word they are safe this week
8:06pm Donny and POWPWO
POWPOW says if she wins HOH and puts Devin on the block would it be the best thing to do
Donny thinks so
POWPOW thinks Amber is with Devin because it makes no sense for her to put up HAyden and Nicole.
POWPOW says she cannot stand Devin she wants to grab all his protein shakes and dump them down the toilet, "He thinks he's this big intimidating guy argh I just want to Argh"
Donny – Just grin and bear it
POWPOW says Caleb is also close to Devin.
POWPOW wants to say something to Devin. Donny advises her not to tells her to hold it on in. Donny says POWPOW is getting put up because they think she's going to lose the competition. If POWPOW gets put on the block next week she's going to call Devin out on this sh1t. She just hoipes someont other than Caleb and Devin wins HOH. Donny thinks it's going to be difficult, donnt suspect some of teh poeple are throwing the HOH. POWPOW only trusts Donny and jocasta, Ambers her friedn but POWPOW doesn't knwo where her head is at.
POWPOW mentions that Victoria Is rude at everybody.
POWPOW really treasures her friendship with Donny. Donny laughs asks her what her friends will think. POWPOW says they'll like it but they would probably have thought she was close to someone more upbeat like Zach.
Donny "with your brain.. henf it is written down it would jog your memory. I'm good at taking tests when I see A B C and D cause I can see the answers.. I can do them I can pass them without studying"
Donny "If the Big guys say you are safe you are probably safe"
Try the feeds for free.. help out OBB and get them using one of the links on this site. You can go back and watch everything we showed on this site. A live feed subscription comes with access to the Big Brother Archive letting you rewatch from day one. It's a pretty sweet setup!
FREE 2 Day TRIAL! The ONLY $26.99 to watch the ENTIRE Season of Big Brother 16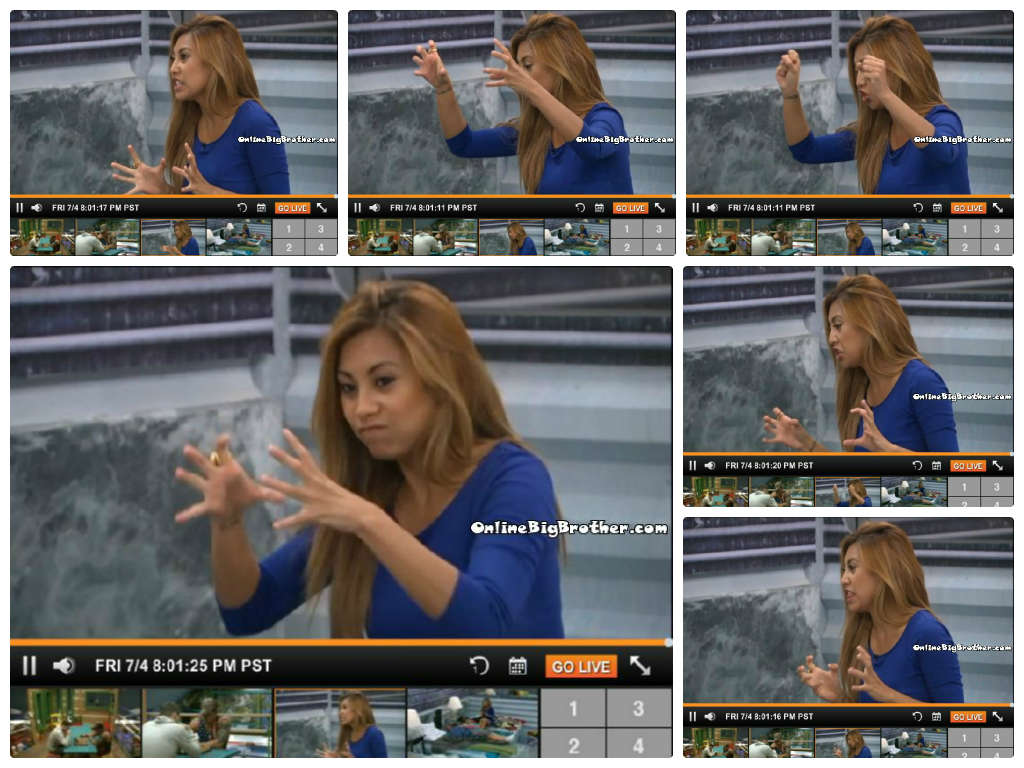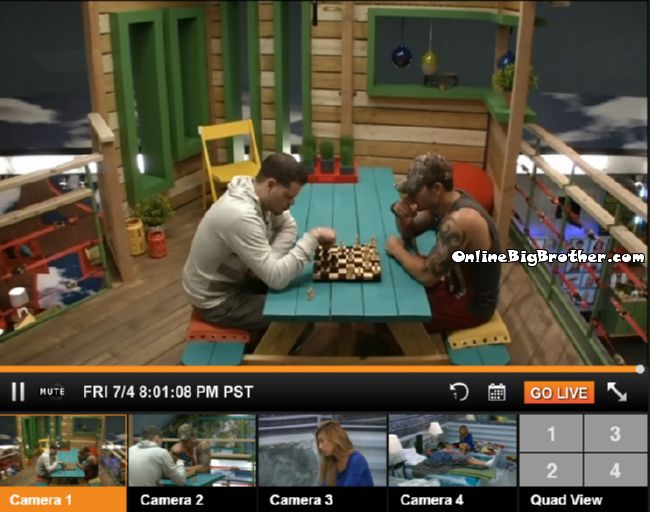 8:12pm Derrick and Caleb playing chess no game talk.. Feeds cut to Jeff interviews Have nots COmp?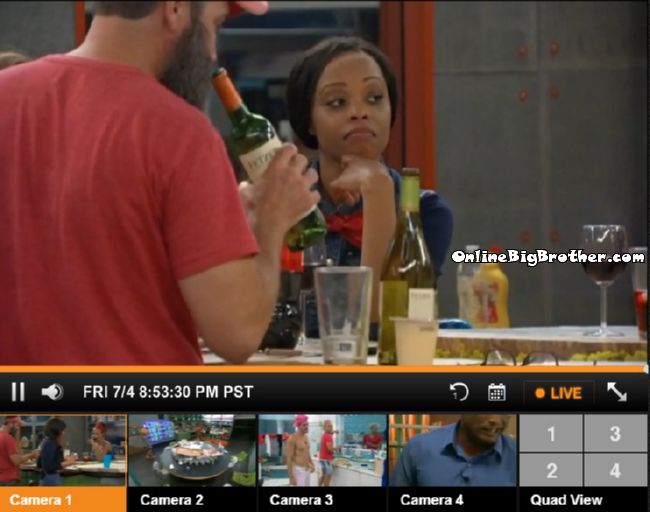 Feeds back Looks like they got some wine.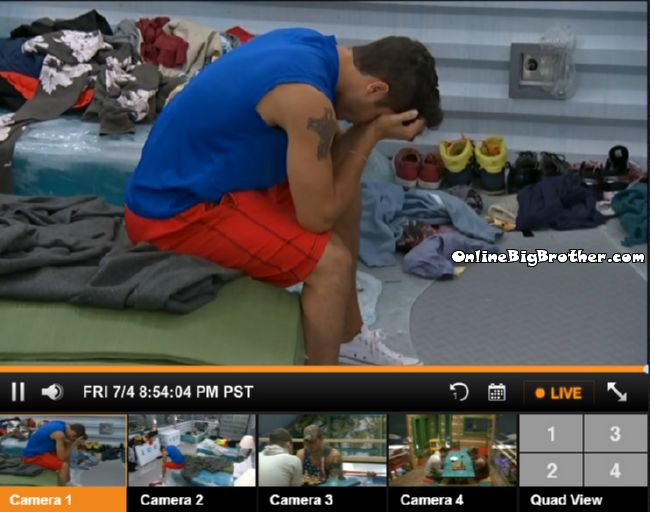 8:57pm Cody Crying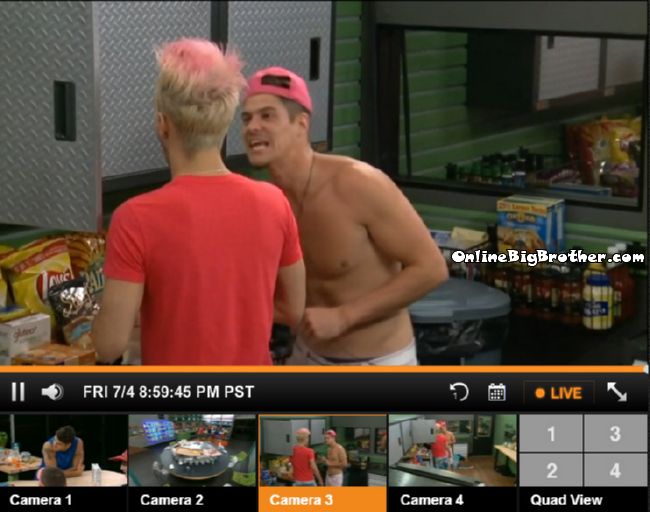 9:00pm *Zach and Frankie Storage room
Zach brings up Donny wanting to take out Devin and forming an alliance against him
Zach say Donny hates Devin "I was bullied and it pisses me off" Zacht thinks theres a good chance it's going to be Victoria and Brittnay up on the block.. If Devin wins POV Victoria goes up if Brittany wins POV Victoria goes up.
Zach – "Lets get rid of Victoria.. We reel in Brittany we reel in Donny and we take out Devin.. Am I thinking too fast we want him gone next right.." (Zach's getting really hyper)
Frankie – "No"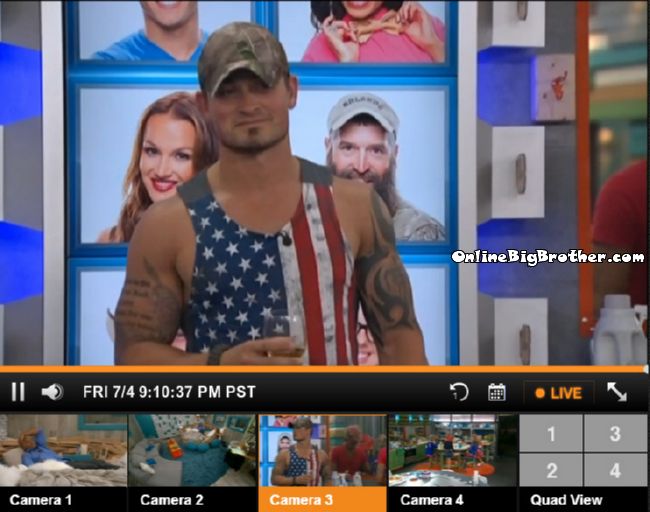 9:11pm They got a bit of booze
Caleb – "The last time I fought someone…."
Hayden jokes "They were dead"
Caleb says it's been a long time he never fights never he's more inclicned to buy a guy a drink and talk it over.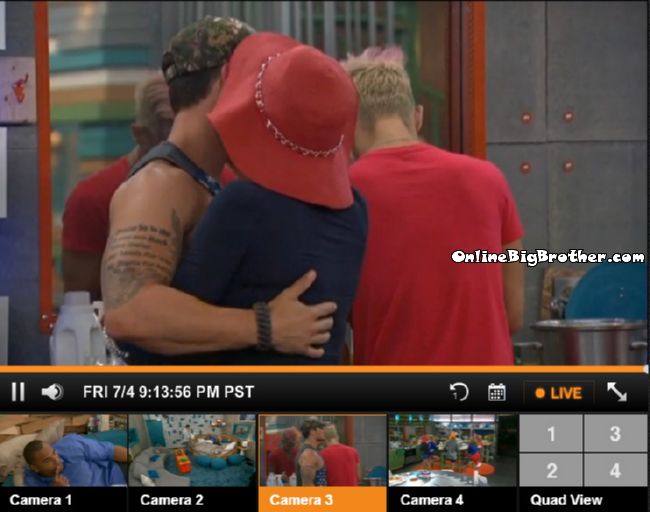 Victoria goes in give Caleb and hug and a kiss
Alliances 
Bomb Squad = Frankie, Caleb, Devin, Cody, Derrick, Zach, Amber, Christine
Sub alliance of the Bomb Squad = Christine, Frankie, Cody, Derrick Zach
Sub alliance of the Bomb Squad = Derrick, Cody, Zach
Double Ds = Devin, Donny
Bed buddies/nicotine = Nicole, Christine
Final 2 Deal Zankie= Frankie, Zach
Where the vote is 
?
[polldaddy poll=8164185]