POV Holder:
?
Next POV
?
POV Used
?
POV Ceremony
?
HOH Winner 1:
Amber
HOH Winner 2:
Devin
Battle of the Block Winner
Hayden & Nicole
Next HOH/ Next BOB
July 10/July 4
Original Nominations:
Devin's Noms (Pow Pow & Brittany) Amber's Noms (Hayden & Nicole)
Final Nominations:
?
Have Nots
?
POV Players
?


9:31pm All the houseguests in the living room. They got to see Fireworks on the TV Screen.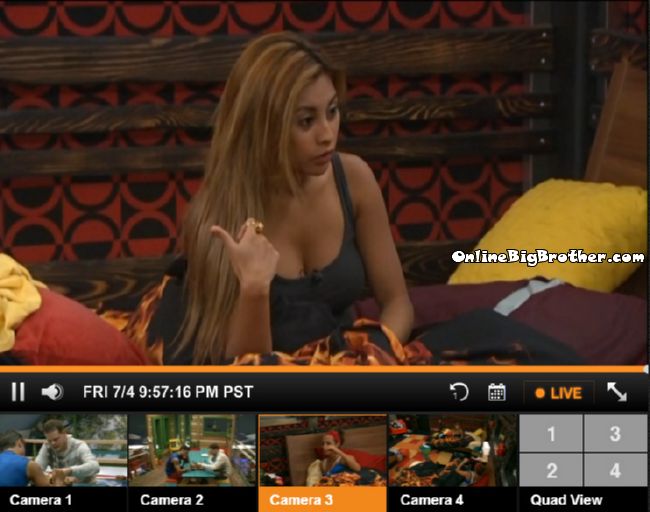 9:44pm Fireroom Brittany and POWPOW
Brittany brings up Amber telling her if she had more time to talk they could have picked Brittany and Cody so BOB would be won and they can backd**r Devin. Brittany – "But he got to pick first.. so I don't know how i'm going to get out of it unless I win POV"
POWPOW – "If it's mental I got it if it's physical you got it" POWPOW thinks POV are always Luck or mental you just need to focus. Brittany – 'I can't focus here"
Brittany regrets not being more quiet, POWPOW mentions telling her that.
POWPOW says everyone knows she hates Devin. Brittany brushes it off says everyone hates Devin. POWPOW – "But they don't talk about it"
POWPOW doesn't want Brittany to get evicted she needs her in this game because , "Everyone else is a pu$$ a$$ b1tch"
Brittany is sick of everyone saying she was best friends with Joey, She's starting to think Joey was 100% honest.
POWPOW – "I'm your closest friend here"
Brittany says most of the people in the house are letting Devin control their game. Donny rolls in to fold his laundry.
Brittany is hoping there is a twist she doesn't know how to get out of this one.
POWPOW starts a rant:
"ONE, Everyone acts like they are best friend, bullsh!t"
"TWO, Kissing everyone ones a$$ because they are puSSs aSS , bullsh!t"
"THREE, There bio polar $$ fi***er b!tch a$$ fu****rs they just suck at life ,. Bullsh!t"
POWPOW – "I'm telling you right now these other f***ing females have no F***ing b@lls .,.. go f*** yourself.. you are the only one in this whole house that has b@lls to say it to Devin"
POWPOW – "I don't have a strategy my plan is to be POWPOW"
POWPOW claims she will smoke everyone in the house in a mental competition. She's noticed people she thought were her friends are really not. Brittany has noticed it  as well says a lot of people are playing that game.
POWPOW tells her if Devin wins POV he will take her off the block and replace her with Victoria. Brittany doesn't think Devin doesn't gets to play POV he's the HOH. POWPOW corrects her.. Brittany doesn't believe it thinks Devin will put someone up that is liked by everyone so she goes home
POWPOW – "My social game is beast mode"
Try the feeds for free.. help out OBB and get them using one of the links on this site. You can go back and watch everything we showed on this site. A live feed subscription comes with access to the Big Brother Archive letting you rewatch from day one. It's a pretty sweet setup!
FREE 2 Day TRIAL! The ONLY $26.99 to watch the ENTIRE Season of Big Brother 16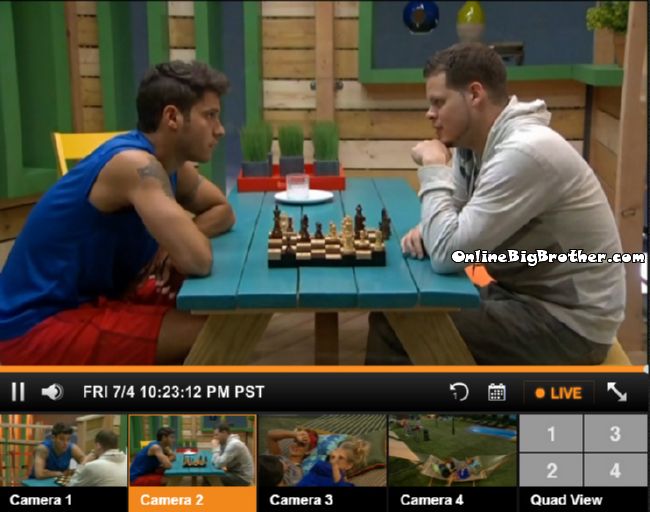 10:10pm Chess table Cody, Derrick and Christine
Cody is mad at Caleb for taking his button up shirt wrecking it. Sounds like it may have been stained and not folded up so Cody couldn't wear it today. It's his only shirt. (Is this why he was crying?)
Cody about Caleb – "Don't preach respect and you take my sh!t and not put it back and fold it"
"you can preach respect.. bro action speaks louder than words… I'm so f***ing tired of that sh!t"
Cody – "OH man.. it's just starting to get real tough.. I just need to vent it out .. I just want to start going f**ing" off
Derrick – don't do it too early
Cody – "Caleb Took my stuff didn't even ask".. Cody adds that the funny thing is he told Caleb he was going to wear that shirt and glasses the day before.
Cody – "HAte people that preach and don't act
Cody – "F***ing punch him in the mouth" (Didn't catch the context of this could have meant if that happened back home punch him in the house)
Christine leaves
Derrick – "Cody this information is between me and you only .. you have to be extremely careful what you tell Hayden.. HAyden was playing us in the beehive"
Derrick explains that after nominations Devin took POWPOW and got her to Throw the BOB, He told Hayden and Nicole they are safe because he wanted Brittany gone. Hayden Knew he was safe on the block when he was talking to them.
Derrick says as the host he knew POWPOW threw the BOB. "So when Hayden came in and told him he didn't know what happened he really did.. he knew POWPOW was going to throw it"
Derrick -"I'm telling you just be careful cause I dont give a sh!t about Hayden I care about you"
Derrick – our best move is to ride out the bomb squad as long as we can" Derrick thinks onse they get down to 8 they will be in a better position than other players. It will be their 5 against Caleb, Devin and Amber.
Cody – And frankie
Derric – 'I think we can get Frankie"
Derrick – "If I win HOHi'm putting POWPOW and Nicole up"
Derrick likes Nicole thinks she's a great girl but she's never given him a straight answer.
Cody and Derrick agree HAyden is super smart, Cody wants to get tight with him because he's a good competitor and they will need him on their side.
Derrick – I will not burn you there are people we have to burn but you are not one"
Cody says Christine he loves her but…
Derrick – One of us wins 1/2 a million the other 50 thousands.
Derrick says his name was mentioned by Amber it was quick,
Derick say Zach is all over the place he's at the bottom of the bomb squad
Derrick is certain Hayden is playing both sides.. Victoria rolls in
Girls hammock chit chat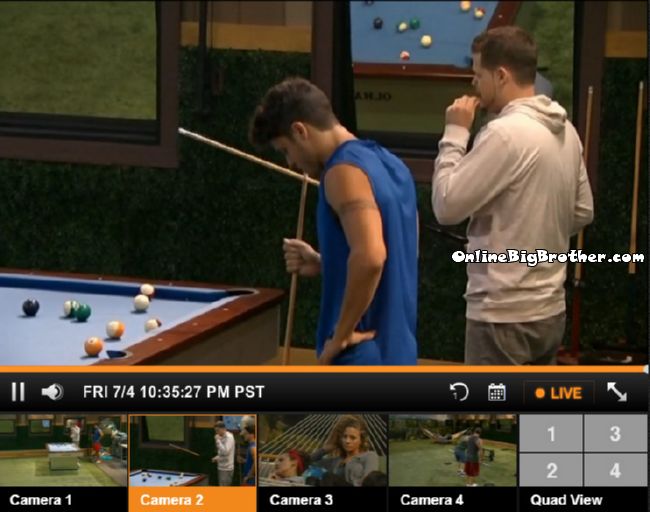 10:36pm Pool Table Cody and Derrick Cody says he doesn't want Brittany to go because she's an ally. Derrick agrees but points out she has to go sooner than later.
Cody – "He's literally pathological,.. it's f***ing incredible"
Derrick explains If they wanted to they could safe Brittany then the bomb squad is over.. "what does it give them because if next week you me or Brittany don't win HOH one of us is going home"
They start talking about a name for their final 2 alliance.. Derrick says about "DC" Derrick/cody , Dual City. Cody was thinking something like "Duo" All of a sudden you can hear fireworks.
Derrick – "Don't worry BB we can't see anything"
Feeds cut.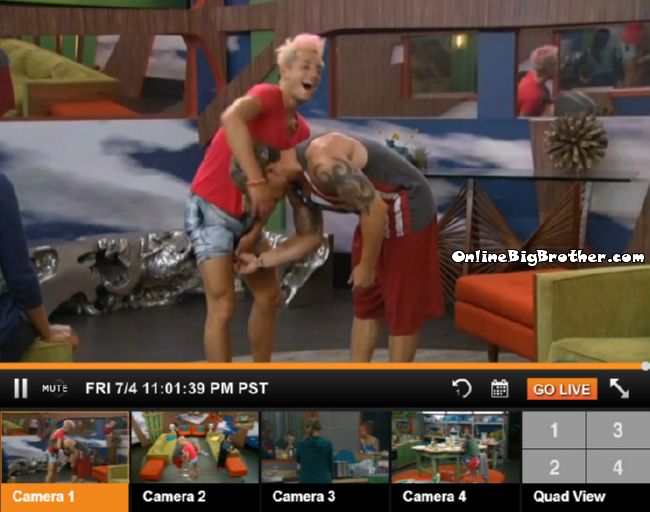 11:00pm Caleb showing Frankie some jiu jitsu and pressure points. JOcasta says she should teach the girls that. Her mode of protection is to scratch.
Caleb starts training Jocasta and Frankie in ground fighting . "You gotta build separation.. Fold her right in.. push off with your hips"
Caleb slaps him in a ankle lock says he can drag him around the house like this. Caleb moves into a knee lock says he could break him at the knee.
Jocasta and Frankie thank him for the self defense class.
Caleb stroll out says "Don't tell me I can't protect my girl"
Caleb rolls to the backyard pool table.
They start talking about fighting Caleb says he practices Brazilian Jui Jitsu He's a level three instructor.
Caleb "I Don't care how big you are you get ontop of me i'll get you off"
Cody – "Dude it always goes to the ground every fight i've ever been in has been on the ground"
Caleb walks away..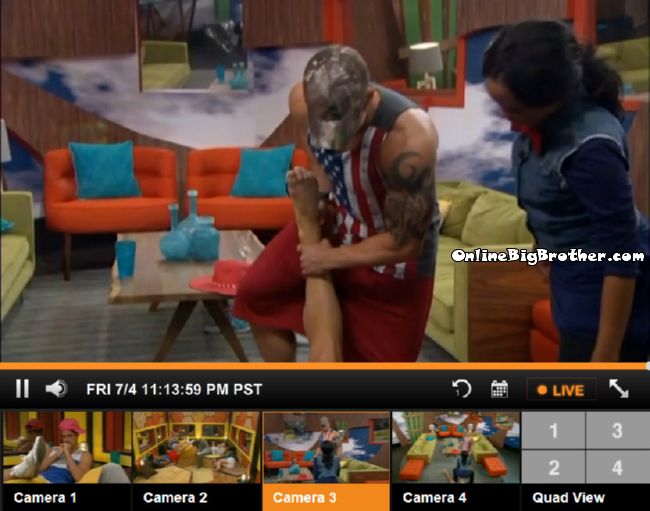 11:23pm Fireroom POWPOW "I can't cook.. I can't Clean.. I can't do dishes but i'm good in bed that's all that matters"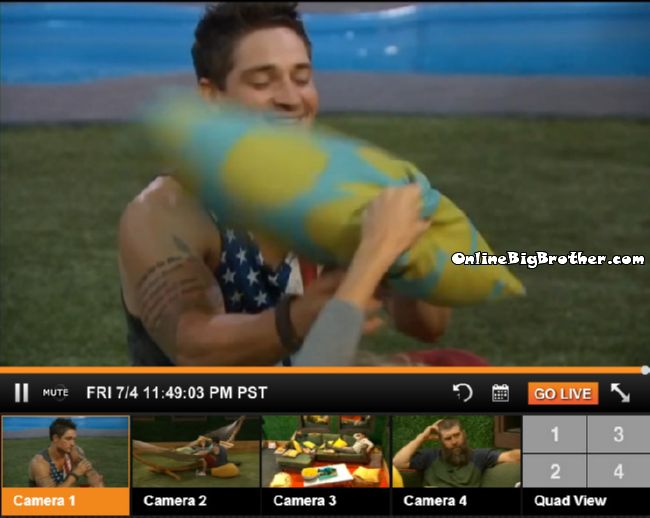 11:37pm Hammock Caleb, Christine and Amber
Amber complains it's hard to put people up on the block. AMber says Devin is ruining their games she knows he's in their alliance but what he did makes her look really bad. Amber – "He pulled my nominees aside and told them they were going up"
Amber also doesn't like how Devin talks to her.
Christine looks at Caleb "Caleb rocks"
Amber – "He's just soaking it all in.. ahh it's your best friend"
Caleb – "Its just game"
Amber wants Brittany to pull herself off the block, "I know she's going to fight her heart out for it"
They all agree Devin has the largest target on him. Amber wants the bombsquad to stick around but thinks it's better without Devin.
Amber says she wants Christine, Frankie and Caleb to go far together.
Christine suggest that the target on Caleb wouldn't be so large if he wasn't so close to Devin . Amber mentions she's also heard other people say Caleb was super nice but Devin wasn't
Caleb understands once they get to Jury it's game on and he's ready for people to start putting him up, "Yes I can be beat". His plan is to fight as hard as he can.
Caleb says at first he didn't want the girls in the alliance because it was already too big. Now Caleb see the advantage to having them, "your key people"
Clabe to Amber "I feel like I can trust you.. maybe as far as I can throw you"
Amber hits him with the pillow
Caleb to Christine – "I felt you were smart and genuine.. I felt I could trust you maybe"
Amber- 'Dang you got a better speech right there"
They start teasing Caleb and laughing he's got a smile on his face
after he got to know them he started to be glad they wer there.
Caleb – "Everything I just told her I've told you since day one so you can zip it"
Amber – "Caleb is this our first argument"