POV Holder:
?
Next POV
?
POV Used
?
POV Ceremony
?
HOH Winner 1:
Amber
HOH Winner 2:
Devin
Battle of the Block Winner
?
Next HOH/ Next BOB
?
Original Nominations:
?
Current Nominations:
?
Have Nots
?
POV Players
?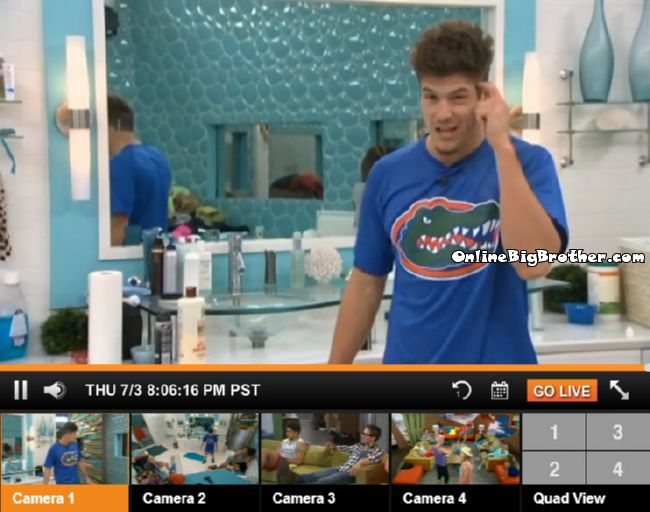 8:06pm Bathroom Zach, Brittany and Derrick
Zach – "I can't believe she said Julie.." (Amber)
Derrick I'm so f** mad.. I legit busted my f*** a$$
Brittany – how many did you have
Derrick – I had zero
Brittany – I fell off grabbing my fifth
Zach – you were about to win that comp was hard
Brittany – I should have slowed down
Derrick – That was my mistake
Zach – I Was having more fun throwing the frisbee I was launching them at Victoria's head
"pretentious little b1tch wham.. .. snotting little b1tch whamm .. I hate you.."
Zach – "She want's to be rude to me.. I'll be rude right back .. she's the rudes"
Zach says he's never heard the Victoria say please in the 14 days she's been in the Big Brother House.
Britney agree they go over some of the things Victoria does that pisses them off.
Zach – "I got 20 lines up in this dome right here that I can spit and each one will make her cry"
Brittany doesn't think she's that bad "Thats just the way she's used to behaving.. I don't think she has any manners"
Zach – well that's not how the world works
Derick leaves
Brittany is worried she's going home
Zach says Devin can still go home theres plenty of chances.
Brittany doesn't think so Zach says if her and POW go up they have to win the HOH.
Brittany – "He hates me because I see right through his sh1t.. I'm not going to go kiss his a$$ .. he can't manipulate me.. I'm not going to listen to what he says"
Zach – "You still have a chance to stay this week"
Brittany – "he's going to backdoor me .. I'm still going to fight just as hard.. it's not like its just me that doesn't like him it's everyone in this house and i've stuck up to him that's why he doesn't like me"
Brittany suspects Devin will do the same thing they did to Joey he's going to scare the entire house
Zach — "you have my vote.. I think he's going to put you pup and you'll win BOB and he gets backd**red
Zach says he heard that Devin told POW that she's going up with his target.
Zach – You gotta ewin BOB and if you don't everyone is going to vote out POW you are safe this week
brittany doesn't sound convinced.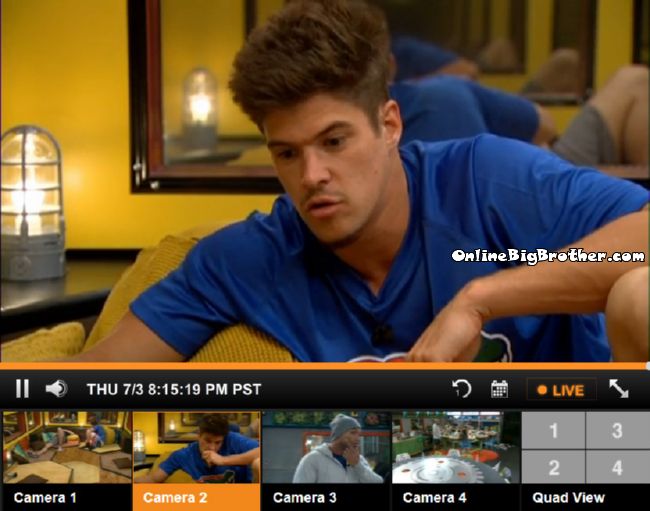 8:13pm Beehive Cam 1 Derrick and Zach
Derrick thinks he's going up, "I would rather Devin put me up because I'll throw the competition" Zach – "We can backd**r him" They agree if Devin goes up on the block he is going home.
Derrick – "I'm not going to ki$$ neither of their a$$es"
Zach – "I'm going to ki$$ their a$$es all week.. I'm just telling you that.. I'm going to be on my knees $***ing Devin's ***k all week.. you better believe that"
Zach tells him this whole bomb squad thing isn't a real alliance he thinks Amber is closer to the girls than with the bomb squad.
Zach telling him to not worry if he goes up he's got 2 chances to get off the block. Derrick thinks theres plenty to be worried about.
Derrick is worried because Caleb said he wants to be nominated beside Derrick. Derrick thinks this may have exposed himself and the bomb squad by volunteering. Zach isn't worried "If the bomb squad gets blown up we point the finger at Devin" Zach tells him not to do anything rash. Derrick – "I'm not Joey"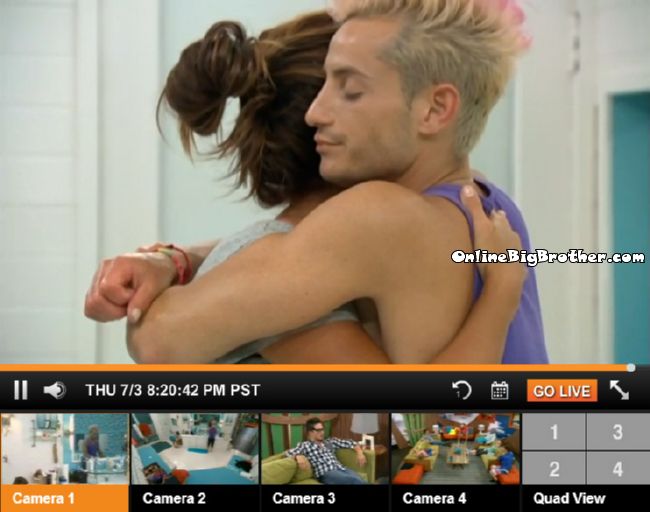 8:21pm
Brittany convinced she's going up and home.
Brittnay about Devin – "I f** hate him"
Frankie tells her so many things can happen in a week
frankie – "It's quite a flip I can't believe it happened"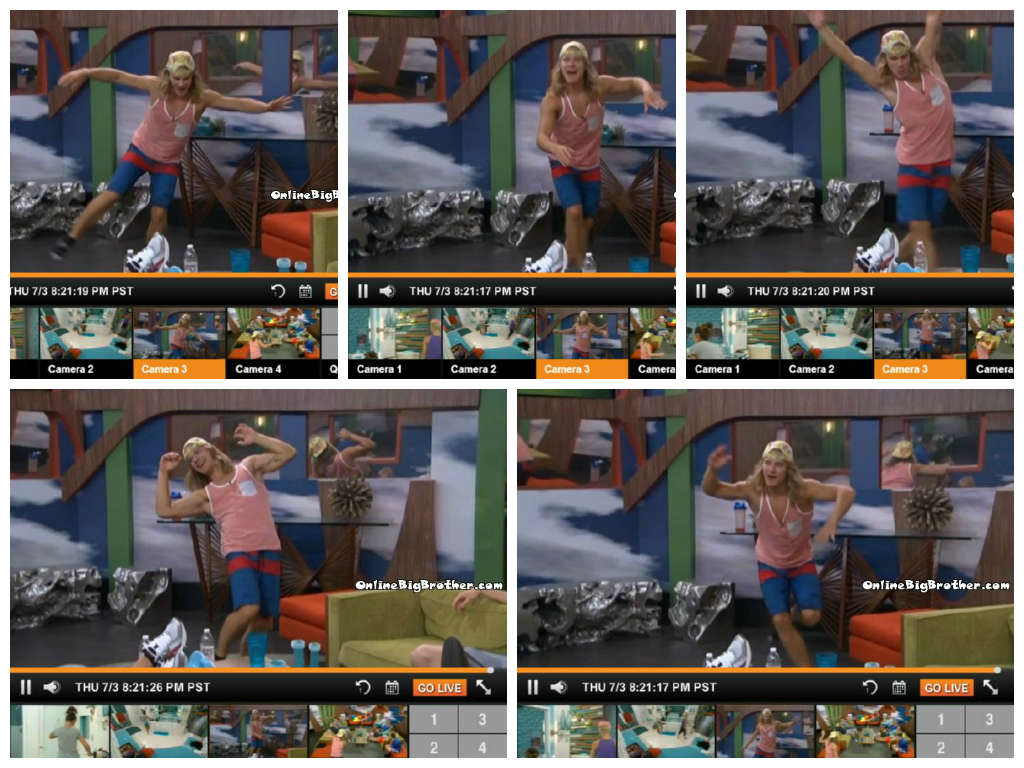 8:21pm Hayden shows them his fall during the HOH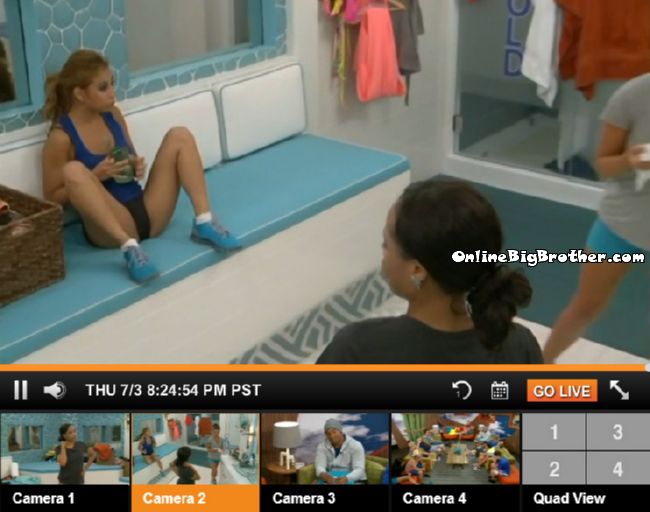 8:28pm Brittany sobbing to Jocasta and POWPOW
About Devin – "He's lying and acting like he's nice out there and he's not he's not a good person"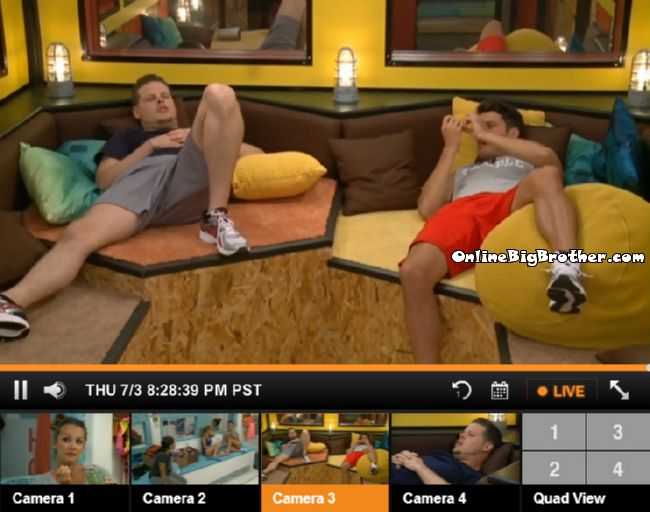 8:29pm Derrick and Cody Beehive
Cody says POWPOW and Brittney are going to stay on the block this week. They agree they want to keep Brittany to use her to take out Devin, Derrick – we fucked up not being able to keep Joey"
Derrick says if Devin puts him up he will throw the competition to give Amber the HOH
Cody he's not going to he's going after Brittney
Derrick says Amber is not going to put up two girls he thinks Hayden, Donny or him. Derrick adds Hayden is better at physical but if it's mental he will win it.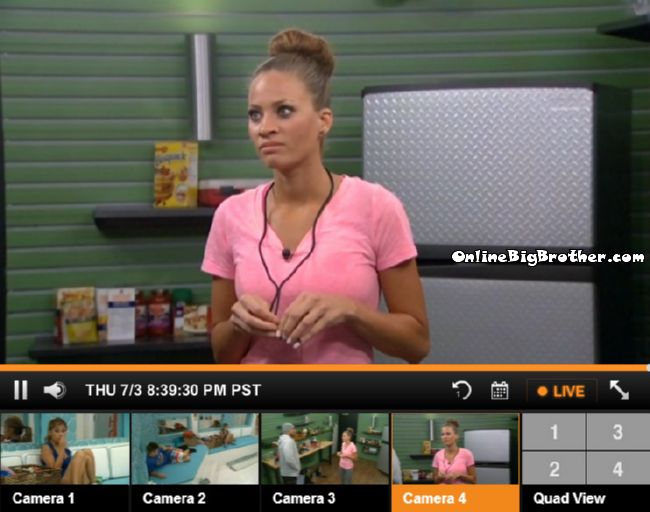 8:39pm Devin and Amber
Devin saying his noms are going to be game not personal nothing is personal for him. Amber feels the same way her move is going to be game. He tells her they want to put up the weakest players.
Try the feeds for free.. help out OBB and get them using one of the links on this site. You can go back and watch everything we showed on this site. A live feed subscription comes with access to the Big Brother Archive letting you rewatch from day one. It's a pretty sweet setup!
Live Feed subscription signup
FRANKIE LICE "Who wants to see my lice costume?" He then HUMPS HAYDEN @bigbspoilers #bb16 pic.twitter.com/DLLsyni5Ta

— Dawg (@DawgsBigBrother) July 4, 2014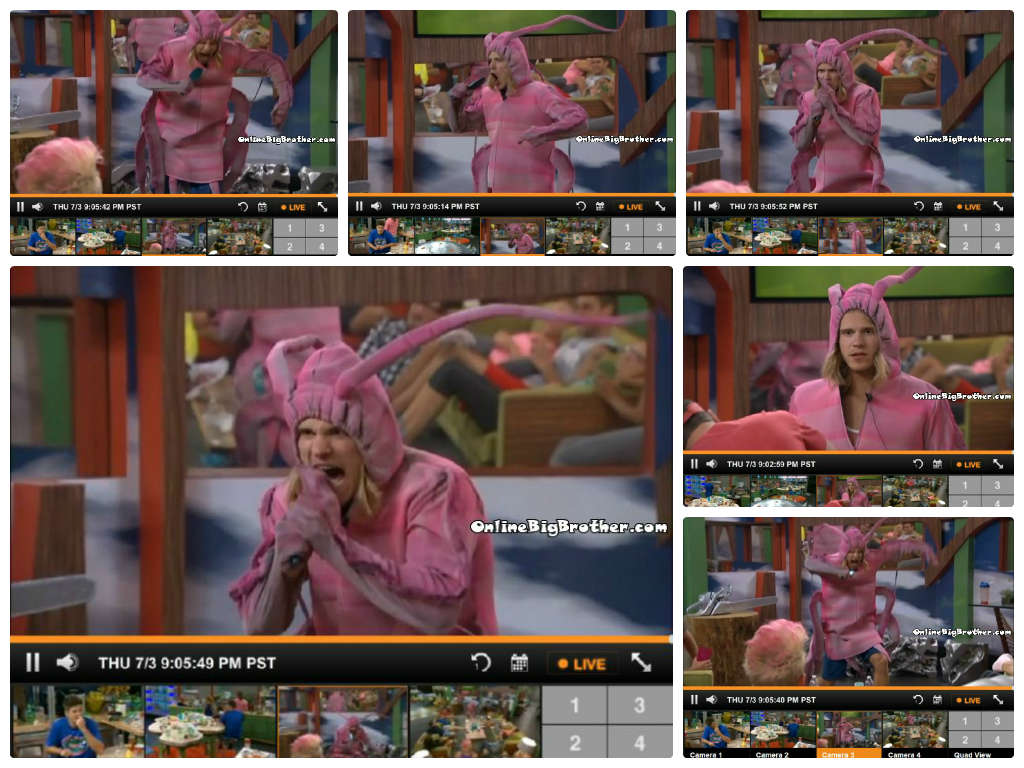 9:05pm The heavy metal louse
Hayden starts yelling and screaming like he a heavy metal singer. Guttural stuff
9:18pm Waiting around for the HOH rooms.
Devin is upset because he was swearing like crazy when he entered the house after winning the HOH. He thinks it was aired live on TV.
Apparently the microwave is broken.
Alliances 
Bomb Squad = Frankie, Caleb, Devin, Cody, Derrick, Zach, Amber, Christine
Sub alliance of the Bomb Squad = Christine, Frankie, Cody, Derrick Zach
Sub alliance of the Bomb Squad = Derrick, Cody, Zach
Double Ds = Devin, Donny
Bed buddies/nicotine = Nicole, Christine
Final 2 Deal Zankie= Frankie, Zach
Where the vote is 
?
[polldaddy poll=8164185]