POV Holder:
?
Next POV
?
POV Used
?
POV Ceremony
?
HOH Winner 1:
Amber
HOH Winner 2:
Devin
Battle of the Block Winner
?
Next HOH/ Next BOB
July 10/July 4
Original Nominations:
?
Current Nominations:
?
Have Nots
?
POV Players
?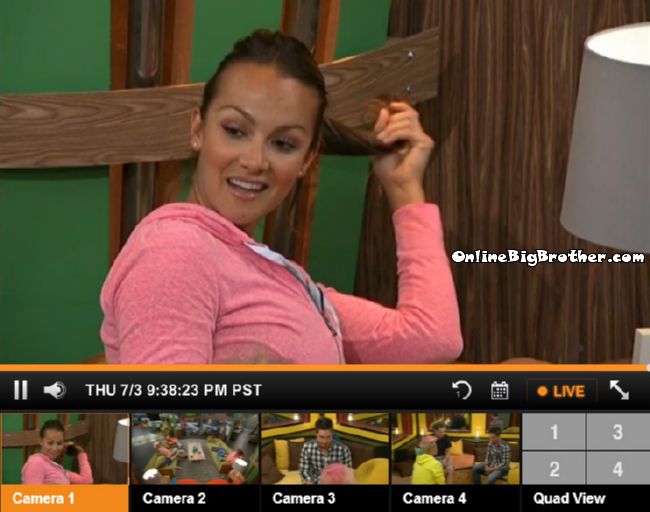 9:38pm LIving Room Brittany, Hayden, POWPOW, Donny, Jocasta and Nicole
Brittany says Devin is going to do what he did with Joey and push everyone to vote her out.. She guarantees she will not go out with 12 votes if they allow him to do this to her he's going to keep getting more and more power
She says they have to vote with their hearts "you've seen how he's been for the last 2 weeks and you've seen how i've been"
Brittany says she knows how JOEY feels no people are acting weird around her. Everyone starts piping up saying they haven't.
Brittany says it's not them it is the other players, "I get it they don't want the target on their back but iuf everyone was normal there would be no target"
Britany – "I'm not going to kiss his butt because he's not a good person"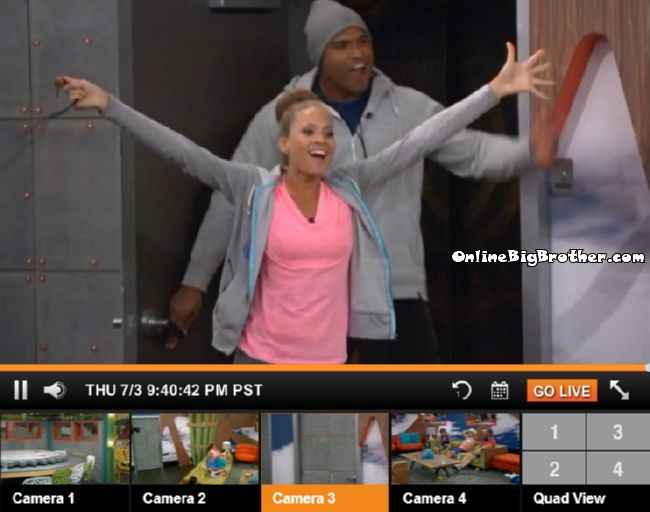 9:40pm Who wants to see my HOH room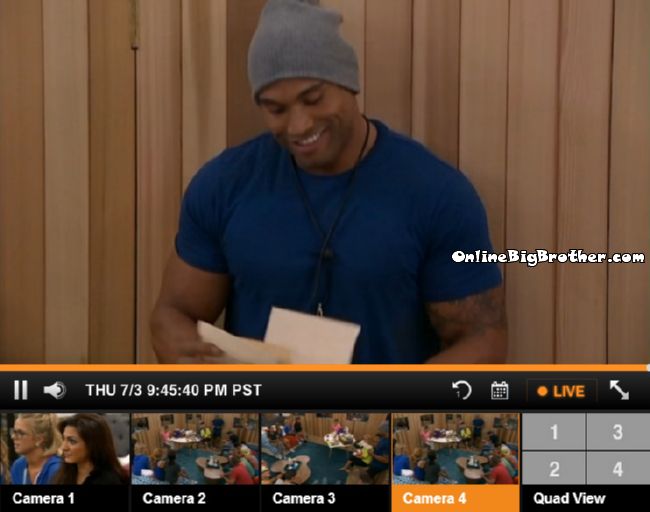 9:44pm HOH room
Both Amber's and Devin's letter aer from their moms..
Devin reads his first, Amber doesn't want to because she's going to get too emotional.
(I didn't get it all)
"Devin I want to tell you how much I love you I get tearful when I think I almost lost you at birth you are my baby… I prayed for 10 boys and got me me one boy with the energy of 10 boys.. you can light up any room you exude kindness with a generous heart.. we all pray for you .. I love you truly your mother"
"Hey Amby with you and your sister having adventures at the same time I truly wish the best for you I have no doubt in my mind that the two of you will achieve your goals.. I've lost 10lbs my curves haven't gone but thats OK they are all in the right places.. I've been looking after my four legged grandchild." Amber says her mom wants grandchildren
AMBER reads her HOH letter @bigbspoilers #BB16 https://t.co/usD2QoV3T5 pic.twitter.com/xfafQvz3Yr

— Dawg (@DawgsBigBrother) July 4, 2014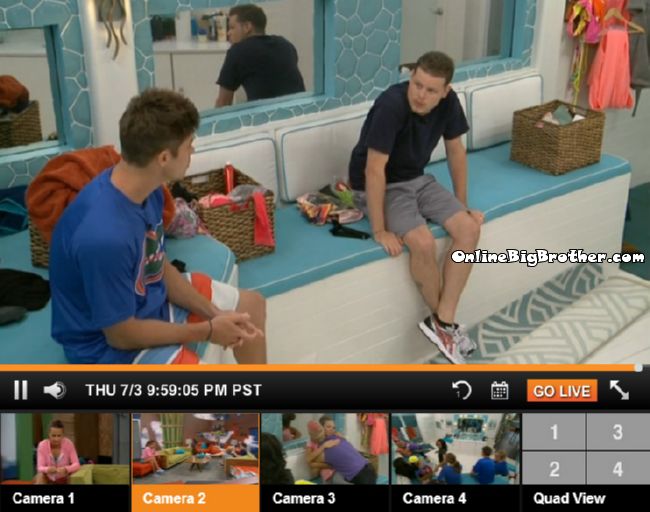 9:59pm Derrick and Zach
Derrick saying he talked to Caleb and he said Amber is not putting Derick up 100% because if Derrick is going up Caleb will go up.
Derrick says if Amber puts him up and he takes himself off next week and he's gunning for Amber the alliance is over. Derrick isn't going to blow the bomb squad up cause that will hurt other people. .
Derrick points out that Amber was brought in by Devin he never wanted her to be in the bombsquad.
Derrick says Zach coming to him and telling him he learnt major points
Derick – "I'm going home or i'm going final 3 with you 2"
Try the feeds for free.. help out OBB and get them using one of the links on this site. You can go back and watch everything we showed on this site. A live feed subscription comes with access to the Big Brother Archive letting you rewatch from day one. It's a pretty sweet setup!
Live Feed subscription signup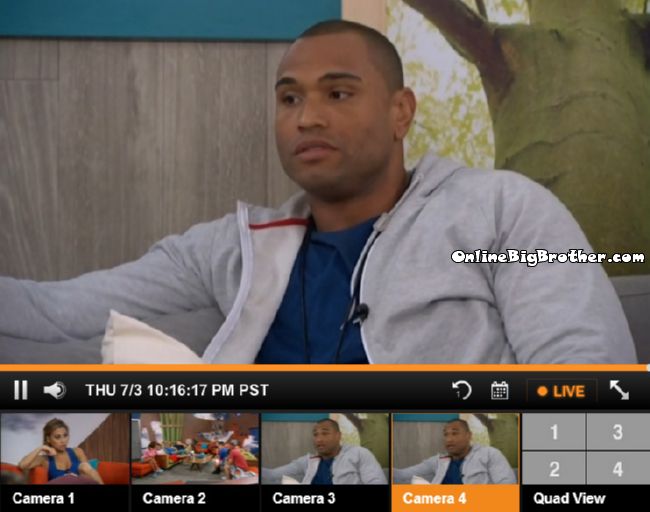 10:11pm HOH Amber and Devin
Amber says she's thinking about POWPOW and Hayden as her nominees.
Devin asks if that went thought about who would she be sending home POIWPOW?
Amber – "Ya I would rather POWPOW over Hayden"
Devin – "I was thinking POWPOW and Brittany.. I want Brittanyto go home"
Amber explains for her it looks better if she puts up a girl and a guy if she puts up two girls it won't look good for her game.
Devin understands what she's getting at, "I see Brittnay as a huge threat today.. I feel we go the head of the snake out now sweep out the body out with it"
Devin wants to think about it if he can't put POWPOW and Brittany he would put up maybe Victoria and Brittany.
Devine says Joey was a strong player she just didn't know how to go about it, Deivin thinks Brittany is th same as Joey. He wants to protect the alliance and that means Brittany needs to go.
Devin – "I understand you not putting up two girls cause it will look really really sketchy."
Amber – "I'm not putting up Donny"
Devin – "Hell no i'm not putting up Donny"
Devin I'm playing this in an honest fashion and i'm playing with loyalty and i'm not putting up a bomb squad member at all.
Devin says he respects her decision she can do whats best for her game.
Amber – "Why did I have to win today"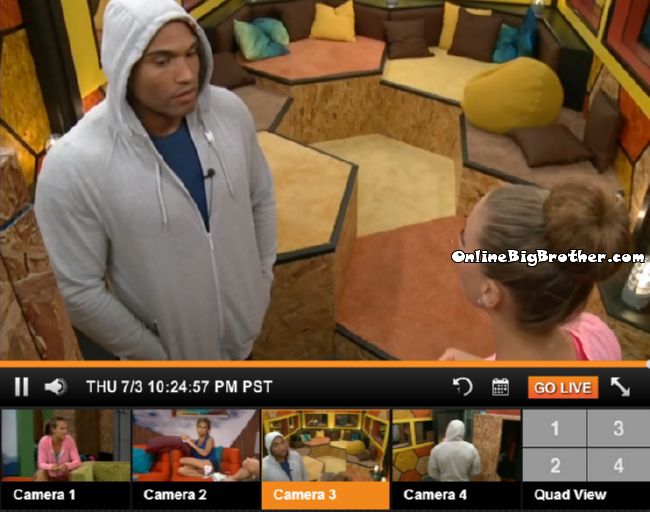 10:27pm Beehive Devin and Amber
Devine tells her they have 2 hours. "I want to pass on to you we have to make our decision and have someone in mind then bam bam"
Amber – really why did I have to win again"
10:24pm
Frankie starts to cry says he misses his sister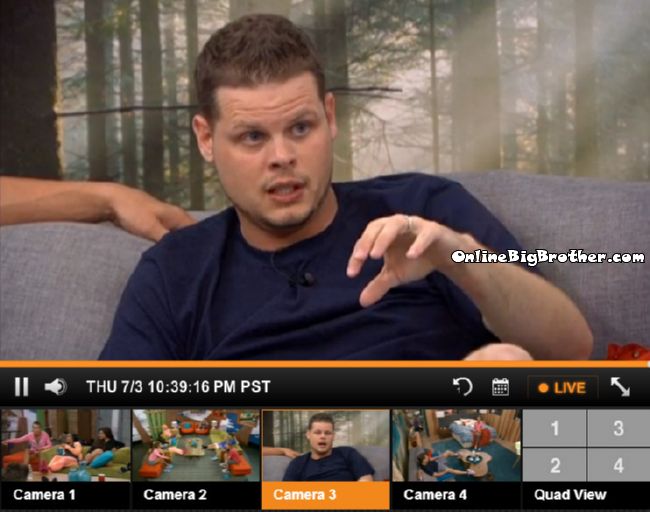 10:33pm HOH Derrick, Caleb, Frankie, Devin and Amber
Going through possible nominees. Ultimately they want Brittany gone they are just trying to figure out who to put up to piss the least amount of people off.
Derrick says Victoria is super close to Amber she will vote to keep Amber if she ever gets on the block. "She's literally your bum buddy.. She's obsessed about your body
Amber isn't sure Nicole would vote for her.
Derrick says Nicole is playing a floater game right now because she's not talking game with anybody.
Amber says Nicole will cry
Derrick – 'Nicole scares me she never talks game to me"
Derrick asks her who she's the closest with out of the girls.
Amber – "Jocasta
Caleb says Jocasta is the biggest floater in the game
Caleb and Derick suggest HAyden and Nicole go up and they win the Battle on the Block Caleb will go tell Hayden he had a hand in protecting her.
Amber – 'Now I'm thinking Nicole and Hayden"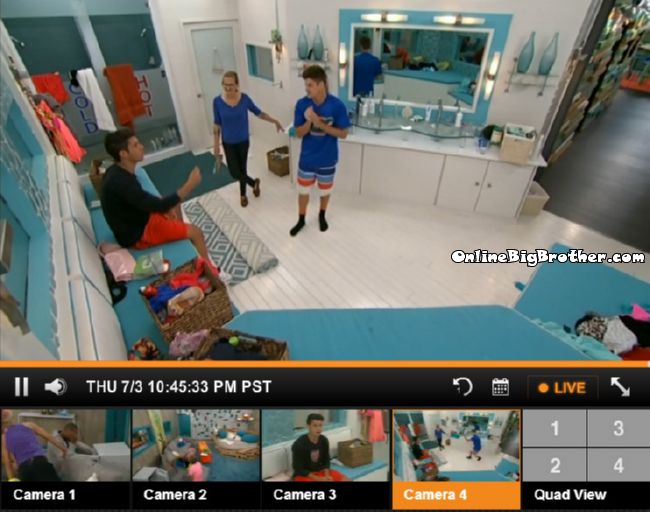 Share it YO!
Tweet