POV Holder:
?
Next POV
?
POV Used
?
POV Ceremony
June 29th
HOH Winner 1:
Amber
HOH Winner 2:
Devin
Battle of the Block Winner
?
Next HOH/ Next BOB
?
Original Nominations:
?
Current Nominations:
?
Have Nots
?
POV Players
?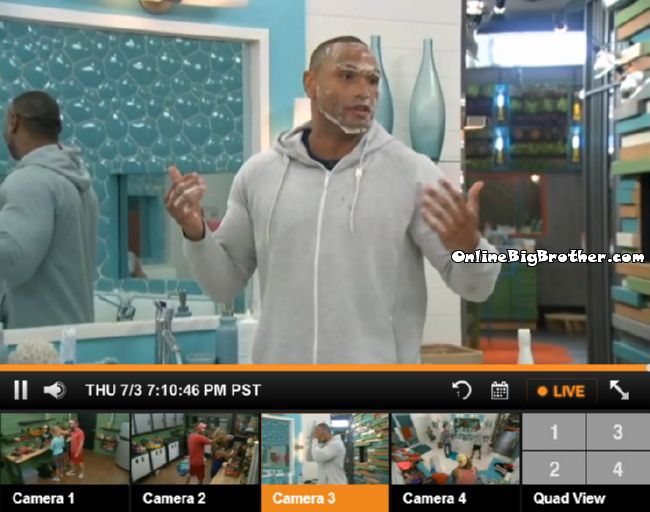 7:11pm Bathroom
Talking about the competition how you get distracted when Julie calls your name.
Devin "I just want to see my kid"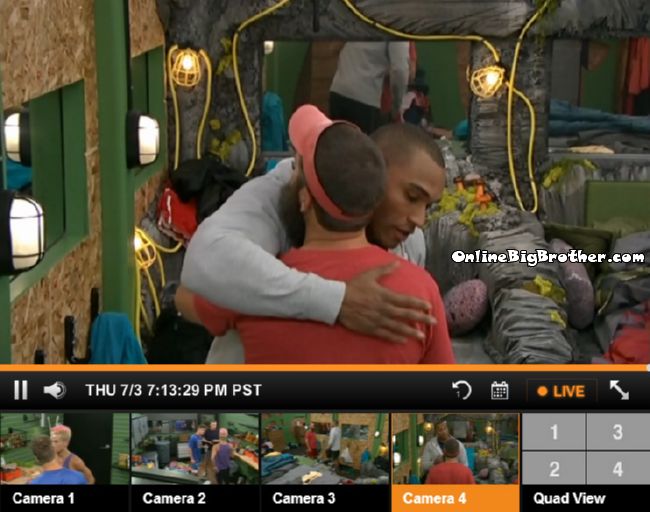 7:13pm Devin and Donny
Devin saying what he said last night is being misconstructed to make it sound like he tried to throw Caleb under the bus. Devin wants him to know he misjudged Donny at first because he was different but he feels different now.
Devin – "No matter what man i'm so sorry I will never never never ever put you up"
Donny points at the bed where they started the Double D'. He's still down with that alliance.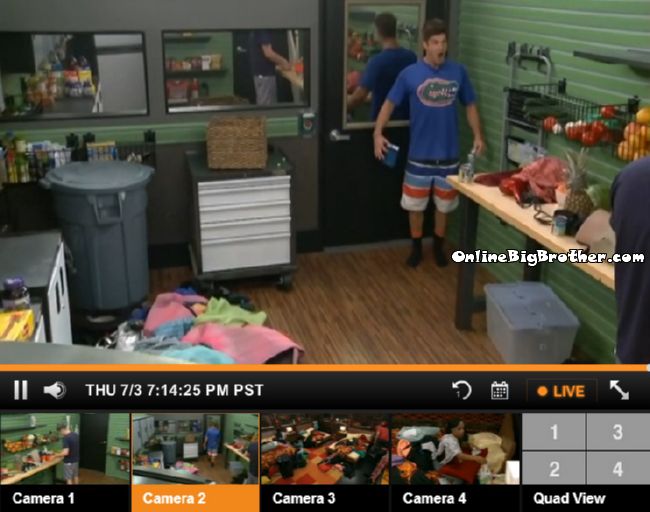 7:14pm Storage room Zach and Derrick
Zach – "Bomb squad WON HOH that's all that matter"
Derrick -"we'll see if he honors it"
Zach – "You should have seen brittany's face after he won" (See image)
Derrick – "because Brittany is going on the block and POWPOW .. I was the first one off so i'm probably going on the block"
Zach – "No he's putting up Hayden and Donny because we said no bomb squad until it's necessary"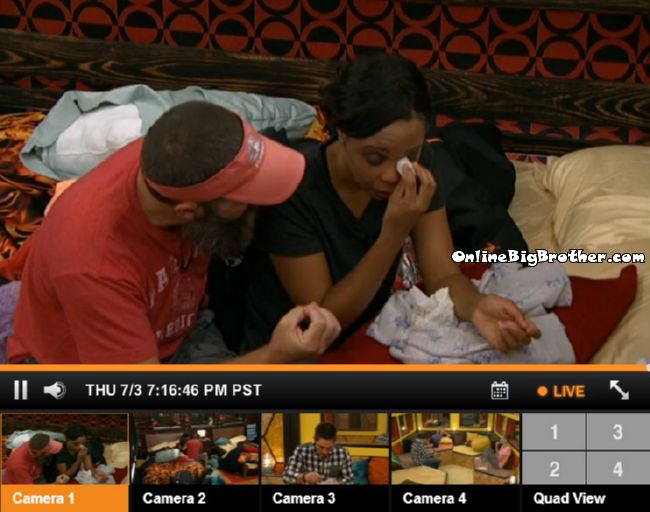 7:17pm Jocasta and Donny Fireroom crying thinks she's going up
Donny tries to make her feel better "Someone is going to win Veto and save you" Donny tells her last night Devin exposed himself and cracked under pressure he doesn't know what Devin is going to do now that he's HOH.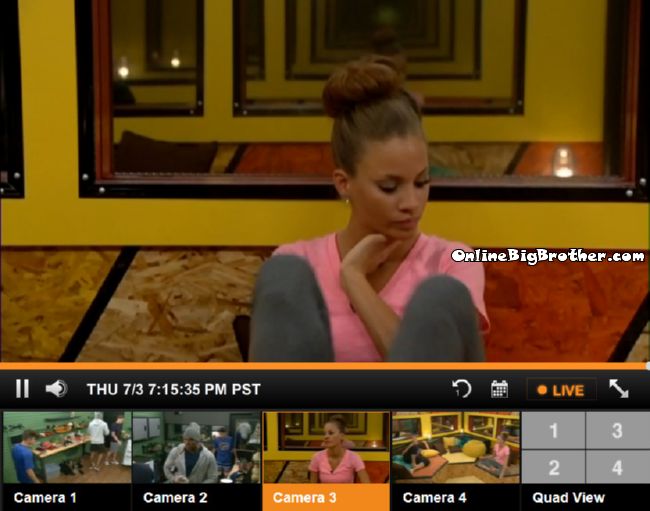 7:20pm beehive Amber and Caleb
Amber – Frankie said it's best for me to put up weak players
Caleb – you have to
Amber – the weak players are my best friend in this house.. Donny and POW
Caleb – at the end of the day on battle on the block you want your people to lose
Caleb – If you are going to put Derrick up put me up with him.. cause we'll win..
Amber asks why everyone is saying to put up weak players isn't the point to get rid of strong players.
Caleb – Derrick is't weak none of the guys are weak.
Caleb tries to explain shy she wants her people to lose the BOB. He tells her to talk to the people and they will understand.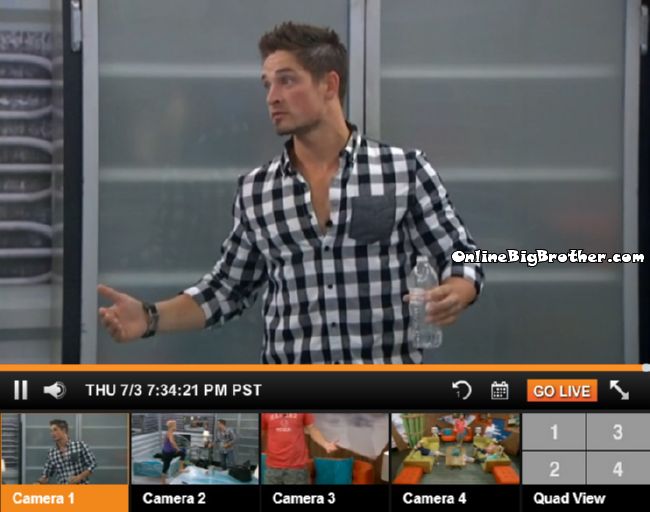 7:34pm have nots cam 2 caleb and frankie
Caleb goes over what he said to Amber about this is her time to play the game and he'll take her to the end with him. "I'm going to take you to the end but you gotta listen to what I say to.. I'm not going to tell you who to put up i'm telling you now you put up any guy in our alliance you put me up with them cause we are not going to lose "
Caleb adds he told her unless she puts up the weakest player she won't get the HOH picture.
Caleb – "Devine says he's putting up Brittany and POWPOW they are going to lose"
Frankie – "who the f** is she putting up"
Caleb – "She doesn't want to put up Donny and POWPOW"
Frankie – "she says she's not putting up any of the girls"
frankie – "I have to go to work .. you have to work.. "
Caleb "she's pissing me off now"
Frankie says at least Amber still talks to them
Caleb – "If she's going to put up two guys she better put up me"
caleb "Devin is going to pick two girls.. If she's going to put up two guys she better put up me"
Frankie – "Geez it's a real game now"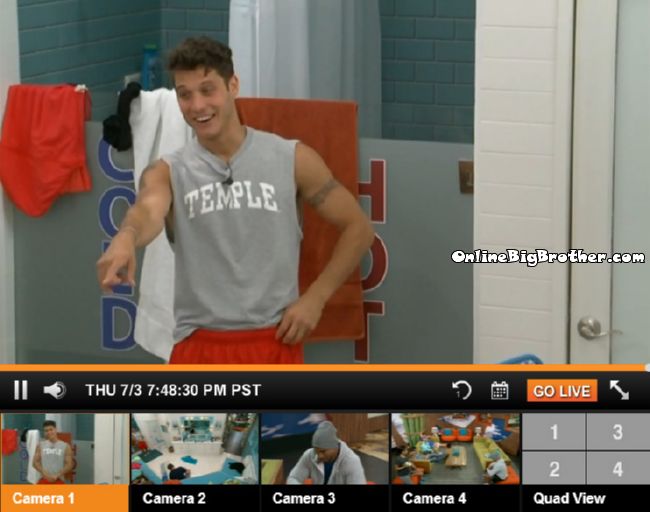 7:49pm bathroom Cody and Derrick
Cody says the Diary room told him no have nots for a couple days they suspect BOB is tomorrow.
Derick has a cut leg and a 'Shiner" "I'm so pissed off right now I literally embarrassed myself on national television"
Derrick "As I was walking down the stairs Devin kicked me in the face thats why I have this shiner.. "
Derick cut his leg when he fell. From what they've been saying the kick from Devine was an accident.
Cody – "Dude that's a nasty cut"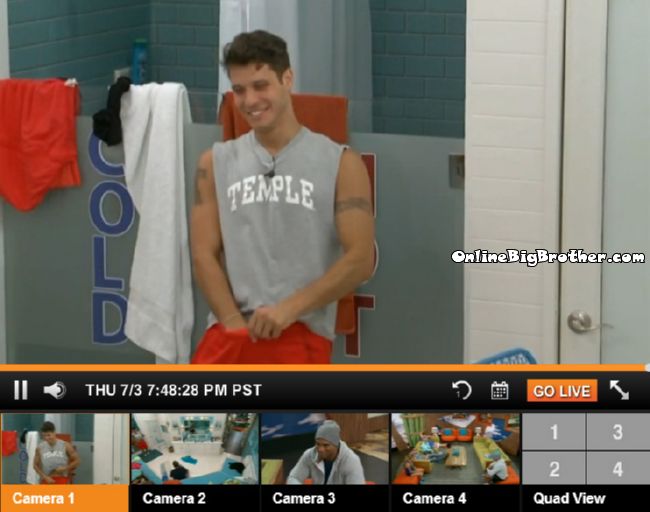 Try the feeds for free.. help out OBB and get them using one of the links on this site. You can go back and watch everything we showed on this site. A live feed subscription comes with access to the Big Brother Archive letting you rewatch from day one. It's a pretty sweet setup!
Live Feed subscription signup
Alliances 
Bomb Squad = Frankie, Caleb, Devin, Cody, Derrick, Zach, Amber, Christine
Fragment of bomb squad no name  = Christine, Frankie, Cody, Derrick Zach
Sub alliance of the Bomb Squad = Derrick, Cody, Zach
Double Ds = Devin, Donny
Bed buddies/nicotine = Nicole, Christine
Final 2 Deal Zankie= Frankie, Zach
Where the vote is 
?
[polldaddy poll=8164185]