POV Holder:
Donny
Next POV
?
POV Used
YES
POV Ceremony
June 29th
HOH Winner Team 1:
Frankie
HOH Winner Team 2:
Caleb (current HOH)
Battle of the Block Winner
Brittany, Victoria
Next HOH/ Next BOB
?
Original Nominations:
Caleb noms (Donny, Paola) Frankie noms (Brittany, Victoria)
Current Nominations:
Joey, Paola
Have Nots
Cody, Hayden, Joey, Brittany
POV Players
Donny, Paola, Cody, Zach, Caleb, Victoria (HOST = Jocasta)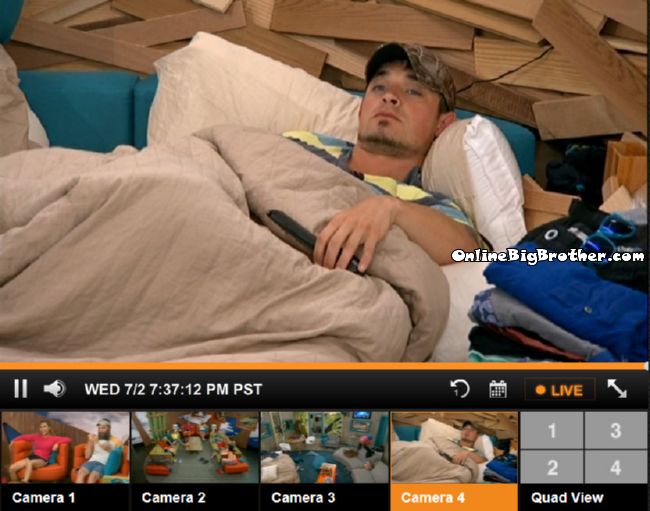 7:37pm HOH Caleb and Frankie
Caleb says Amber has spent more time time with Devin than with Caleb. Caleb thinks Devin is more selfish than him. "All the time he cooks he basically cooks for himself"
"Maybe when she said that about the whole .. you know when you get to know somebody they end uip being all about themselves .. and only care about themselves.. Maybe she was talking about Devin and Devin misconstrue it saying she was talking about me" ( Ohh gezz)
Frankie is sure the truth will come out and they will find out what Amber is talking about.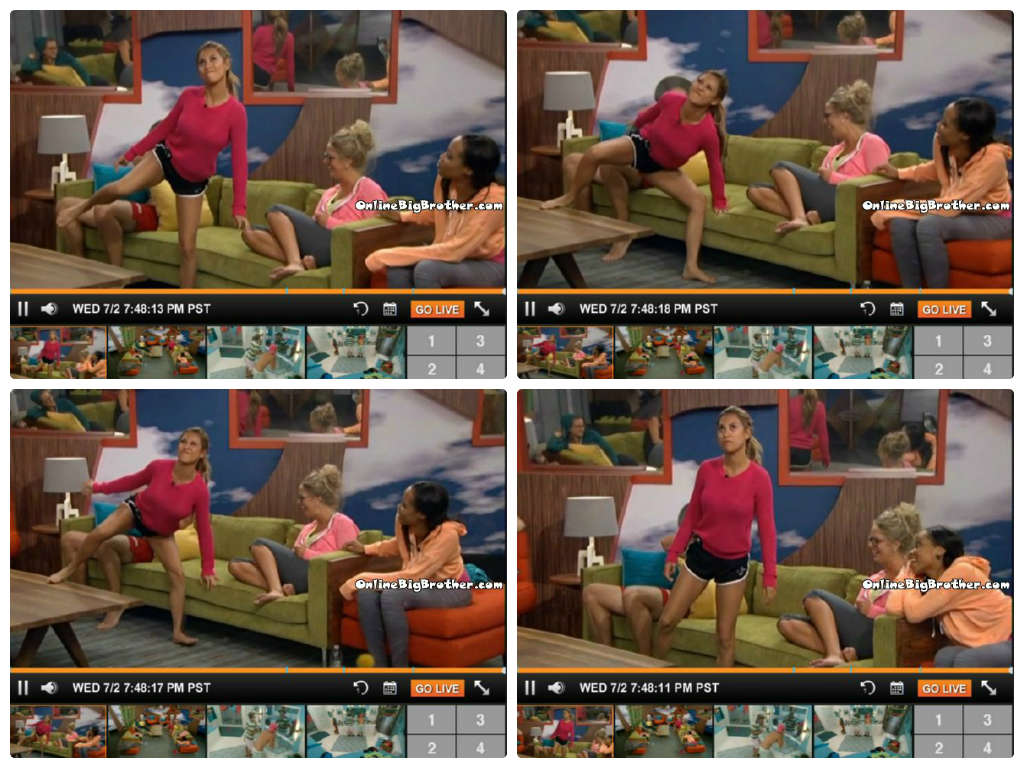 Hayden makes farts sounds POWPOW capitalizes on this.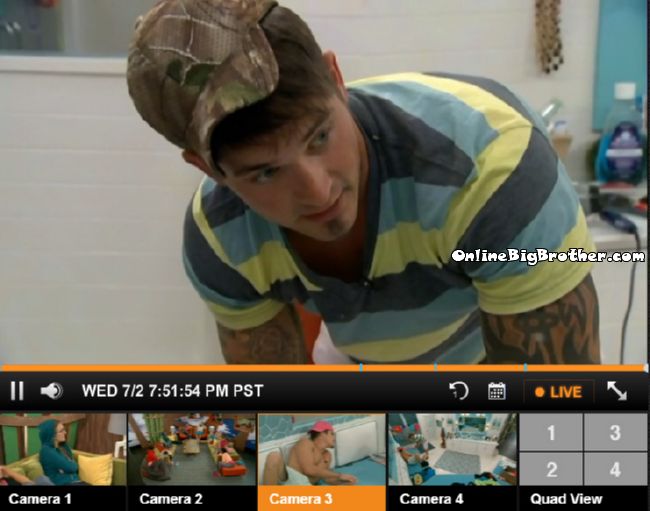 7:52pm Caleb and Zach
Caleb saying he's been nothing but a sweet nice guy so he's thinking Amber was talking about Devin not him. (Explained more above)  Caleb "Maybe she was talking about Devin and maybe Devin thought she was talking about me"
Caleb brings up how Devin only cooks for himself but Caleb on the second day made dinner for everyone and made Amber the Cookie Dough Ice Cream.
Zach asks him if he's talked to Amber about this. Caleb hasn't because Amber will freak on Devin about telling Caleb anything. Caleb brings up Frankie talking to Amber for him in a couple days.
Caleb goes on and on about how he thinks Amber was meaning Devin picking up on every to support his theory. "At the end of the day I really don't care" (5/6 of what Caleb says is about Amber/Devin love triangle)
Caleb says he's going to go to Amber and tell her he will carry her to a certain point then he's going to cut her loose. Zach doesn't think whats coming from Devin makes sense. He thinks Caleb needs to find out exactly what Amber said before he does anything.  Caleb "For 2 straight weeks I've treated her like a queen .. You wanted ice cream with cookie dough couldn't find the cookie dough and gave up so I took time out to get the cookie dough.. on paper we looks good.. I've been nothing but sweet and nice to everyone in this house"
Devin rolls in..
(I think Caleb has lost it)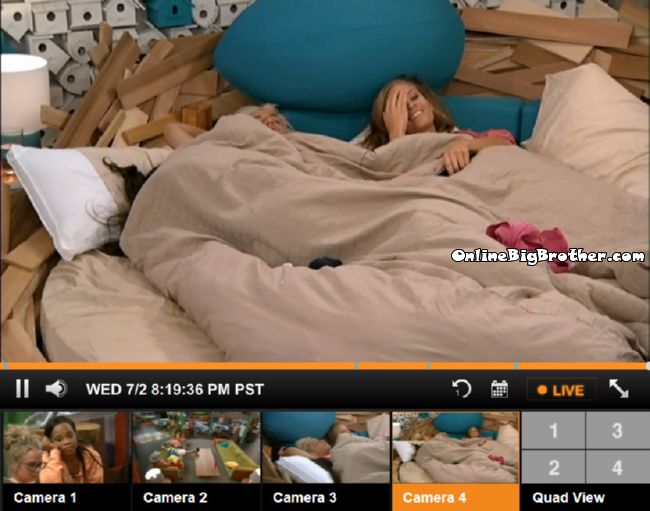 8:18pm Amber, Victoria and Frankie HOH
Amber is going to give up her bed to one of the Have nots Girls
Victoria – "WHAT.. Amber where are you planning on sleeping"
Amber – "Obviously the have nots room"
Frankie tells her to just add another girl to the regular bed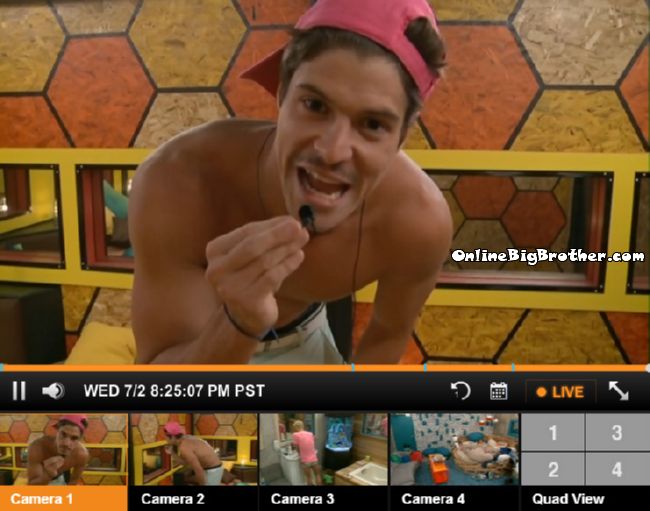 8:25pm Zach Beehive
Zach talking to the camera about Victoria
"I kinda want to keep her in the house as long as possible just to keep me entertained all my energy is going toward ruining Victoria's Life.. I Hate her with a passion.. everytime I turn around she's f*** staring at me with these ugly disgusting eyes.. I know she talks shit about me thats fine talk shit about me whatever.. She's as rude as f*** I hate her She acts like she's so deserving "
"I grew up in in the south of FLorida with richest most snotest girls every live.. None of them compare to Victoria She is the most rude girl in the world I hate her right now I'm planning on how I can ruin her life"
Go back and watch any moment of teh BB16 Live Feeds -> It's all archived! <- TRY IT FREE: Live, 24/7 Big Brother house feeds, subscriber-only voting and more — don't miss out on all the behind-the-scenes action!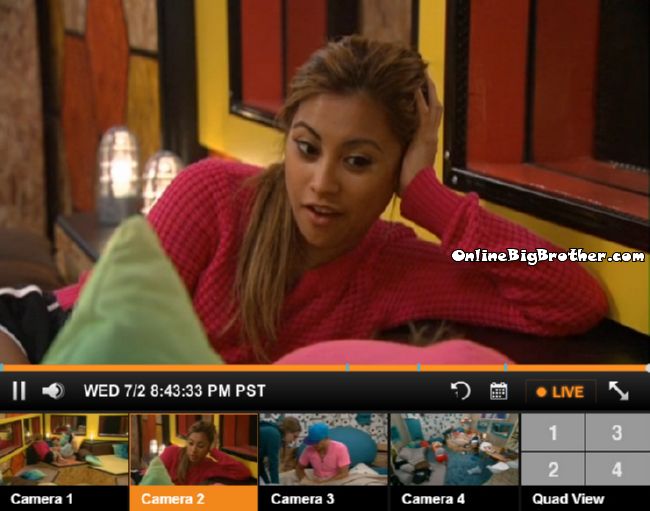 8:44pm POWPOW and Zach Beehive POWPOW saying she wouldn't put up Amber ,Frankie or Zach. Zach wonders who Donny would put up, Zach thinks he would up him up.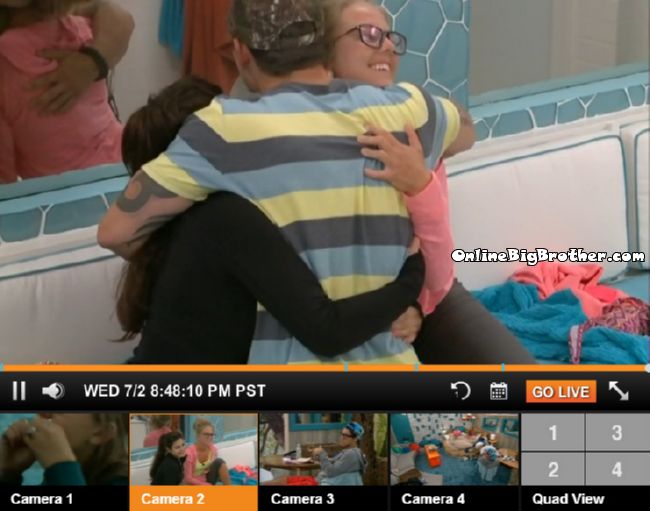 Caleb comes in hugs the girls then lifts POWPOW up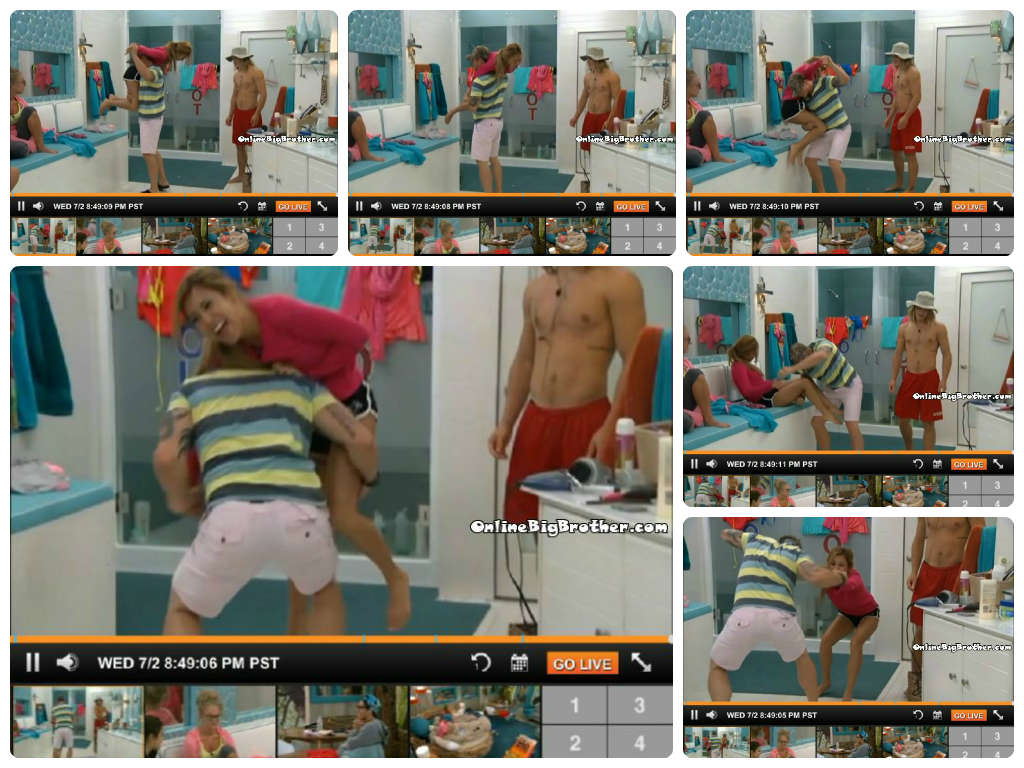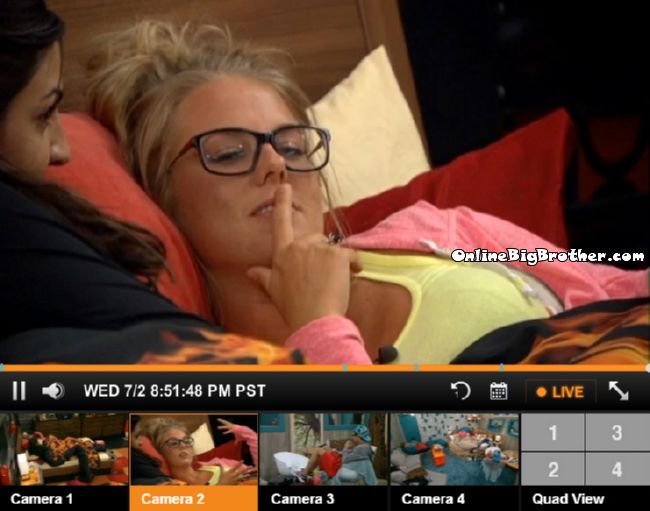 8:52pm Nicole and Victoria
Nicole says she likes to cuddle and theres a bunch of gorgeous guys in the house, "Hayden is funny and Cody is gorgeous"
Victoria – I have to tell you something that made me really mad today.. Devin call Cody stupid and a little kid
Nicole – I have cody's back .. i'm not here for a showmance
Victoria says they asked her at the airport what she thought about Cody.. Cody is not her type
Nicole is going to stop cuddling with Cody because she doesn't want it to look like anything and hurt her game.
Victoria and Nicole both agree that Caleb is being so nice, Nicole "I like him" Victoria "mmmhh hmmm"
Nicole just wants to make sure Victoria was mad about her cuddling Cody. Victoria says it's no problem at all.
Alliances 
Bomb Squad = Frankie, Caleb, Devin, Cody, Derrick, Zach, Amber, Christine
Fragment of bomb squad no name  = Christine, Frankie, Cody, Derrick Zach
Sub alliance of the Bomb Squad = Derrick, Cody, Zach
Double Ds = Devin, Donny
Bed buddies = Nicole, Christine
Final 2 Deal Zankie= Frankie, Zach
Defunct alliances
TheCrazy8s = Frankie, Donny, Joey, Paola, Devin, Amber, Nicole, Cody
El Cuatro = Paola, Amber, Joey, Nicole
Where the vote is 
As of now Joey is going home..