POV Holder:
Donny
Next POV
?
POV Used
YES
POV Ceremony
June 29th
HOH Winner Team 1:
Frankie
HOH Winner Team 2:
Caleb (current HOH)
Battle of the Block Winner
Brittany, Victoria
Next HOH/ Next BOB
?
Original Nominations:
Caleb noms (Donny, Paola) Frankie noms (Brittany, Victoria)
Current Nominations:
Joey, Paola
Have Nots
Cody, Hayden, Joey, Brittany
POV Players
Donny, Paola, Cody, Zach, Caleb, Victoria (HOST = Jocasta)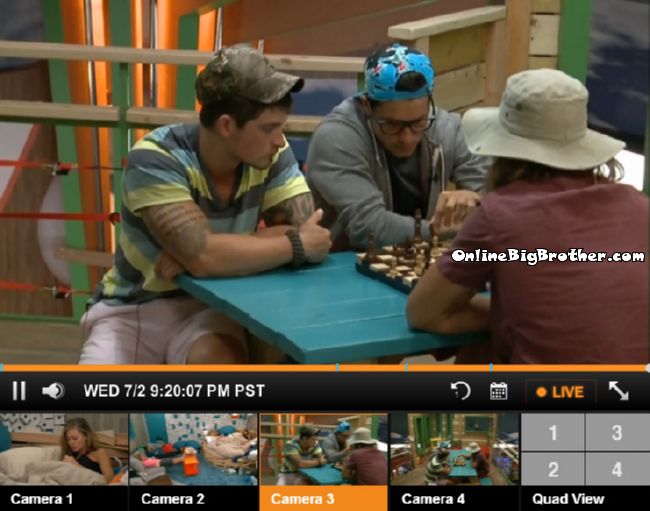 9:20pm Chess Hayden, Cody and Caleb
Caleb is talking about Amber.. Saying the same thing he's been saying for the last bit. about Amber really liking him and not saying he's selfish.. Read here if you don't know.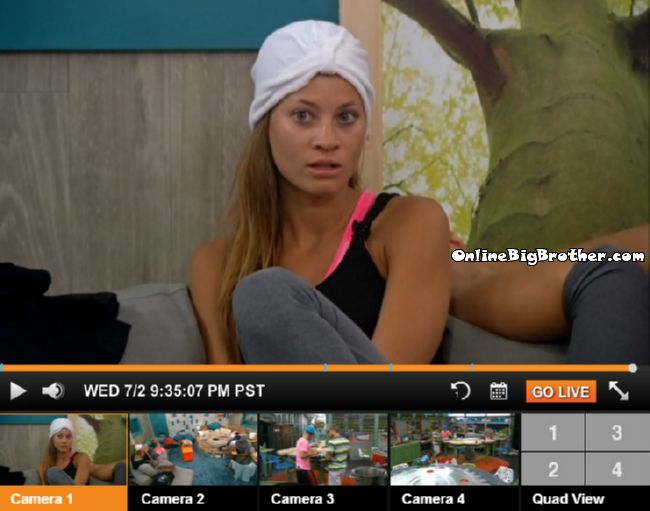 9:29pm Amber, Christine and NIcole
Talking about how awkward it's going to be with Joey going. Amber mentions Joey thinks she's saying thats whats making it so hard. Christine – "It's going to be awkward and unanimous.. I don't know what Brittany is doing though"
Nicole and Amber think she's voting out Joey. Amber mentions Zach was thinking about keeping Joey too. Christine says Brittany would put a HUGE target on her if she voted against the house.
Amber leaves
Nicole gets up "She Lingers way too much she's gotta go" (Amber)
Amber and Devin come back up. CHristine escapes.
Devin to Amber "What's up with you why you begin grumpy not talking to anybody"
Amber – "I was just myself now that is why I am so confused"
Amber says she's talking to everyone. Devin says she doesn't talk to Caleb. Amber says she's just being herself.
Devin says she told other people about how she felt and didn't tell him directly and now Caleb feels bad. Devin brings up on the green chair what she said to POW 'When I Said Stop Stop"
Devin "He had his hopes up.. and it's totally fine you feel the way you feel.. I'm just trying to relay how he feels.. I feel bad for him because you guys haven't had a chance to talk privately"
Amber – "I made it clear to the whole house and him.. and it was POW that made it a big deal"
Devin explains when she say things like Clab is selfish to POWPOW it makes Caleb look bad and it's upset him. Sure he flexes and looks in the mirror but he competes that's what he does.
Nicole tries to get out says she doesn't want to be in the middle of the love triangle. Devin says there is no middle it's all good.
Nicole leaves
Devin says he doesn't want to hear Amber going around talking about Caleb because it's almost like bad mouthing him. Amber – "Ok fine.. I don't appreciate you talking to me like that when that's not the case"
Devin says it sounds like it to him.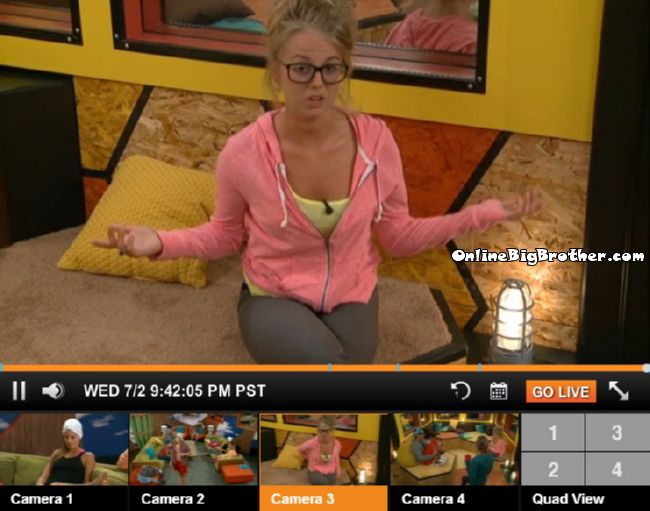 9:38pm Beehive Room Christine and Cody
Cody filling Christine in on Devin saying to Caleb that Amber was going around saying he only cares about himself. It really hurt Caleb. Christine calls Devin a liar and a manipulator says she was just in the HOH with Devin, Amber and Nicole and he was being aggressive, poor Nicole is still up there. Cody thinks Caleb should talk to Amber because he doesn't trust Devin. They both want Devin to leave next week.
Nicole comes in.. "I tried to get out and Devin was like SIT DOWN.. no no he was more like stay stay I was like I don't want to be in the middle"
Christine – He's such a bully he's mean
Nicole says he's trying to make it look like POW told Caleb.
Cody – I f***g hate him with a passion
Nicole about Devin "If I'm HOH you're (Devin) going to be a Have Not" (See image above)
9:46pm HOH Devin and Caleb 
Devin telling him about his conversation with Amber how she was trying to say POW was going around saying all this stuff.
Devin told Amber she can't say things like that to POW because it makes Caleb look bad. Devin explains he called her out for badmouthing Caleb, "I just wanted to say something on your behalf"
Devin – "There's plenty of fish in the sea all you gotta do is put the rod in "
(I think Devin is trying to make it look like POW told Caleb what Amber said not Devin)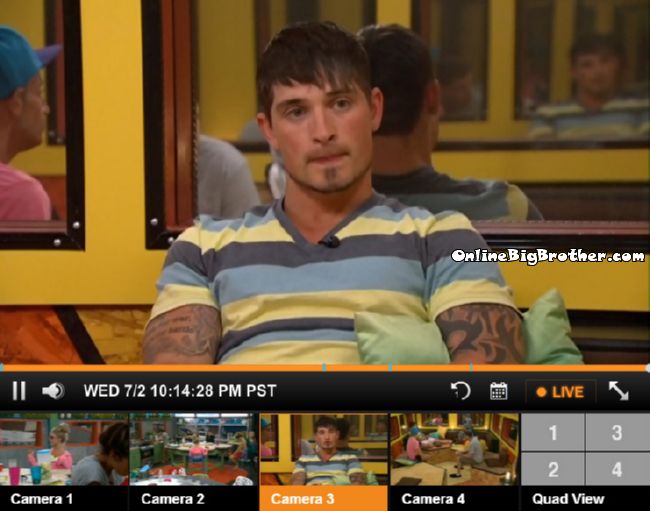 10:18pm Beehive Frankie, Derrick, Caleb and Cody
Talking about Amber. Caleb says he's waiting for an apology
Caleb – "In my heart I don't think she meant it"
Derrick – "I don't think so"
Caleb – "She still said it and she can apologise.."
Caleb tells them he has a forgiving heart and if she apologizes she will forgive her "When will she have the balls to do it"
Derek doesn't know if she will now, she's a bit pissed after talking to Devin. Caleb says Devin went up to the HOH and stuck up for him said Caleb is his friend and those things Amber said are not true.
Caleb – "In my mind I'm thinking WOW I have to protect this girls that's running her mouth about me"
Caleb – "I think she doesn't know she did anything wrong"
Derrick says she knows now after talking to Devin.
Derrick says it was his perception that she was into Caleb but he never was hanging around them. Caleb says it was everyone's perception but then people start talking and making jokes it rubbed her the wrong way.
CAleb – "I'm going to be on the Bachelor next"
Caleb – "Wouldn't it be something else if I was on the Bachelor and she ended up being one of the girls on there.. just cut the show theres the one right there"
(LOL)
Caleb "After she apologizes we can go back the way we were, you wearing my hat & me spinning you" @bigbspoilers #bb16 pic.twitter.com/tBTbIWBxl4

— Dawg (@DawgsBigBrother) July 3, 2014
10:40pm Fire Room Victoria, Amber, Nicole and Frankie
Going over her conversation with Devin. Amber explains what happened when she was talking to POW She wasn't talking about Caleb. Devin was listening in "If he would have not came into the conversation and not overheard everything he would have known what we were talking about"
Frankie says Amber really needs to talk to Caleb because right now all his information is coming from Devin.
Nicole thinks Devin is eventually going to start yelling and they will all be sacred.
Victoria brings up what Devin said to her after she won the BOB "I wanted to slap him he said thank you for winning you made this so much easier for me now"
Frankie – "Who is this person"
Victoria- " he talks nonsense all day "
they all think Devin is a horrible person Victoria – I want him to get mad.. what are you scared of if he touches anyone he leaves"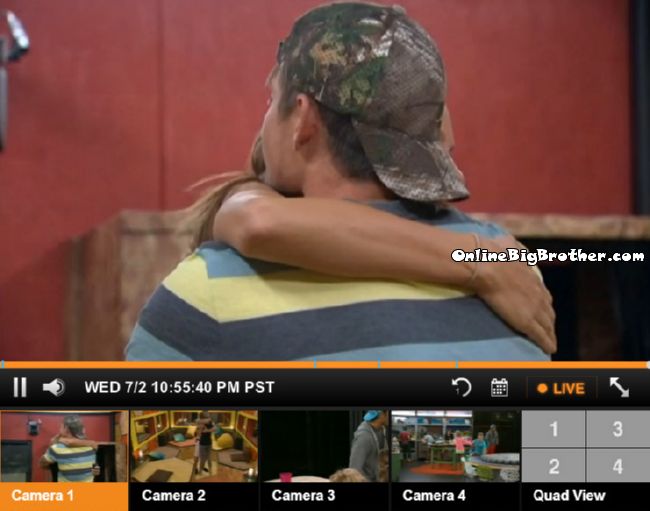 10:58pm Amber and Caleb Beehive
Amber says Devin is making things up, "No names were mentioned.. it wasn't even about you" Caleb – "I felt like it wasn't about me" She says her comments were towards all guys not to anyone specifically and she said she didn't like guys that were all about themselves.
Caleb – everything was going was great
Amber – Ya ya
Caleb – It was so great for it all to fall apart
Amber – Ya.. next time come to me..
Caleb – "I didn't want to make you upset and you go to Devin
Amber says Devin was putting words in her mouth and twisting things around.
Caleb says Devin is going to call a house meeting Amber knows she won't be attending.
Amber says in her eyes she never said anything bad about Caleb
Caleb say in his eye he never did anything self centred. Caleb brings up the cookie dough ice cream
Amber – "You've been my best guy friend in the house"
I don't want to do or say anything that will hurt the bomb squad. Amber agrees.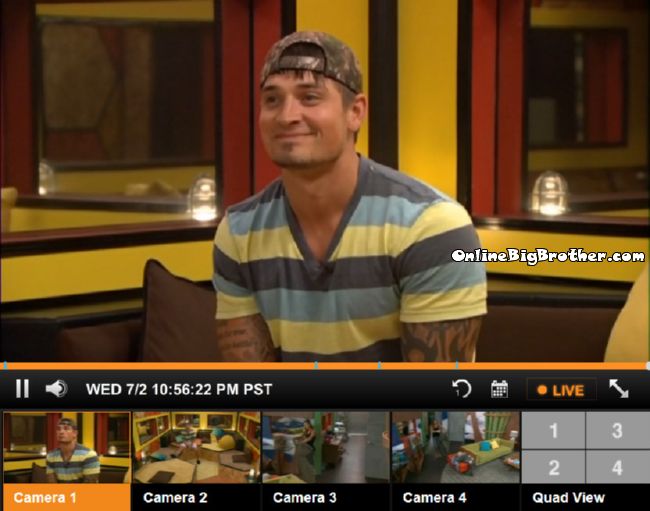 11:18pm Devin's house meeting
(Basically says he got Donny put on the block last week and he wants everyone to know he's playing the game with honesty. The problem is he's been stirring up sh!t that has nothing to do with Donny and people are pissed )
Devin is very emotional during this talk just a collection of things he said.
"I want to get things off my chest sorry if I get emotional "
"Coming to this house I wanted to revolutionize the way I played big brother I wanted to play the most honest game"
"A lot of you guys have heard me say the most important thing is my daughter when I walked through the door I knew you can't win this game that way"
"The greats never got this far in the game by not being dishonest and deceitful "
"When it came to the first nominations I got Caleb to put Donny up"
"I know this is just a game but still this is just a game."
"I want to come clean"
"I want you to know from here on out I'm going to be the most honest person"
"I want my little daughter to know I never compromised my integrity for anybody that is why he's coming clean with Donny"
Everyone thanks Devin, He goes up to the HOH room where he cries.