POV Holder:
Donny
Next POV
?
POV Used
YES
POV Ceremony
June 29th
HOH Winner Team 1:
Frankie
HOH Winner Team 2:
Caleb (current HOH)
Battle of the Block Winner
Brittany, Victoria
Next HOH/ Next BOB
?
Original Nominations:
Caleb noms (Donny, Paola) Frankie noms (Brittany, Victoria)
Current Nominations:
Joey, Paola
Have Nots
Cody, Hayden, Joey, Brittany
POV Players
Donny, Paola, Cody, Zach, Caleb, Victoria (HOST = Jocasta)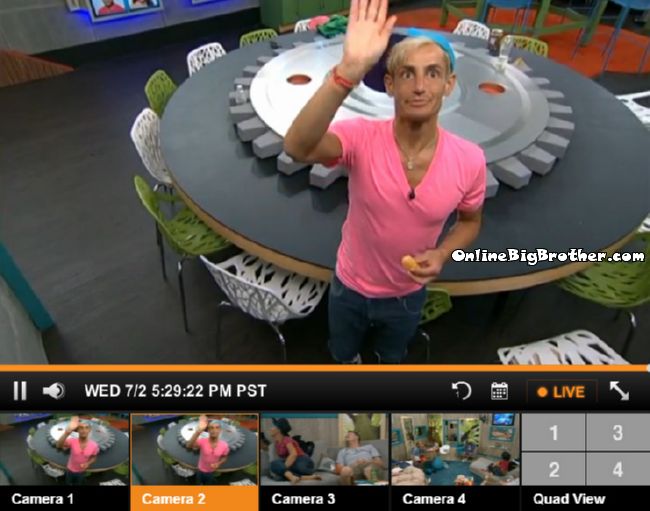 5:28pm Zach and Frankie Kitchen
ZAch – "I'm so going to make out with Nicole once.. just cause I'm bored no other reason.. I'm going to shave my mustache and make out with her"
Zach wonders how many people watch the live feeds.. Frankie doesn't know looks at the camera "What up live feeders love you" He starts to dance.
5:41pm HOH Joey asks Caleb if Brittany and her can sleep in the HOH tonight. HE doesn;t reply. Joey – "I'll take that as a no" Caleb says they'll figure it all out tonight. (The havenots expire tonight. Brittnay and Joey don't' want to sleep in the icebox room any more than they have to)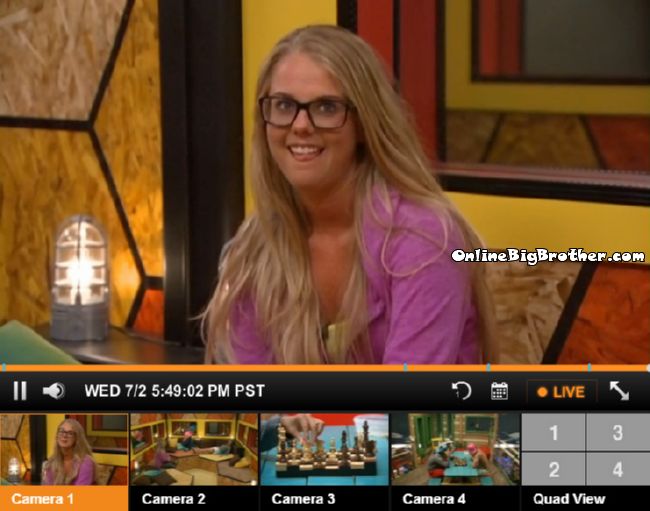 5:46pm Beehive Christine and Frankie
He tells her they have to play hard tomorrow. Christine – "I'm here to win"
Frankie – "You ready to hang on for dear life"
Christine – "100%"
They both don't want it to be questions tomorrow because it's too unpredictable. Nicole joins them. Frankie – Frankie – "Did you and Zach make out"
Nicole – No
Christine – "If Cody tried to kiss you would you let him"
Nicole – "Ahh he's so hot .. Definitely"
Nicole says Zach is a great person super nice but Cody is just….
Frankie – "The most beautiful person to ever exist on the face of the earth"
Nicole – "But Zach is so funny" (With his dancing)
Nicole tells Frankie she'll let him have Zach.
Nicole – "If Cody went in for the kill. I would be like OHhhhhh . Maybe I would turn away cause everyone would see it
Christine mentions how crazy the Battle of the Block would be if they pout 4 strong guys up, "Watching POWPOW was hilarious.. imagine if they put up people that know what they're doing"
The movie version of BB
The Rock would play devein
Caleb would play Caleb
Kristen Wiig would play POWPOW
They start talking about Victoria and how she can't do anything for herself.
Victoria and Derrick roll in.
Derrick thinks the next HOH is going to be a puzzle, Frankie thinks endurance.
They're not sure how the HOH is going to work with the Battle in the Block twist. Derrick doesn;t think there will be two separate HOH competitions. He thinks it will be the same competition but two groups.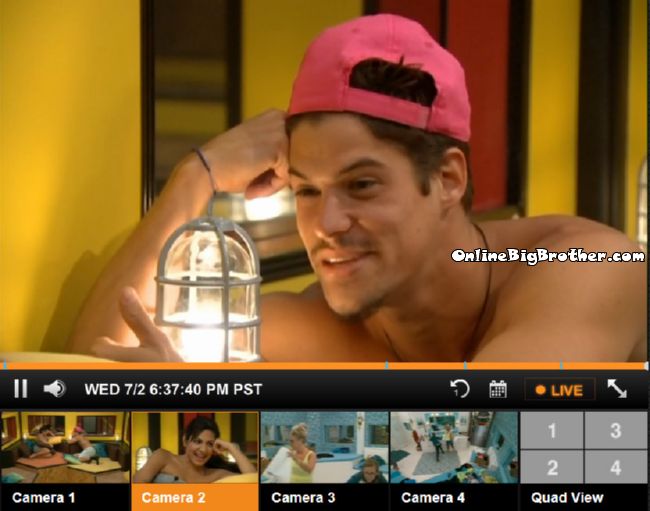 6:26pm Beehive Zach and Frankie
Zach – "I f***g hate Victoria .. she's such a snob.. I'm from Florida thats saying a lot"
Frankie – "Ya.. but we're in the Big BRother House.. she's very Boca Rotan"
Zach impersonates Victoria "I was picked to be in here.. You have to ring in just to get into my driveway "
Zach – "I want a HOH just so I can make her a hAve Nots
Nicole rolls in
Frankie asks her who she will put up.
Nicole doesn't know
Frankie wonders if the twist is they play for one of the HOH's and America gets to pick the other HOH
Nicole thinks that would put a huge target on the favorite.
Victoria rolls in Frankie and Nicole leave.
Talking about Working abs, Zach says she has a good body, flat stomach. She thinks she's been eating a lot lately.
Zach – What are you thinking
Victoria – fun
Zach – you like everyone
Victoria – yup
Zach – me to, there's three people i'm indifferent about
Victoria – tell me
Zach no I don't' fully trust you
Victoria – what really
Zach I haven't told anyone that's something i'm keeping to myself
Zach says he would not put up ???? (Can't hear who it is either Jocasta, Brittany, POWPOW) "because she's weird". He adds the second nominee would have to be a person he didn't want to go maybe a guy.. Feeds cut.. when they come back he's saying "… Christine for sure, you three would never go up"
Victoria wants to know who he would back door. He won't tell her Zach points out she's not telling him anything why should he tell her more.
Victoria asks him if the Diary room have been asking him specifically about one person.
Zach says they have been
Feeds cut..
Zach says if she wants to build a relationship with him she better start telling him the truth, "If you won HOH who would you put up"
Victoria doesn't know she'll tell him after she wins it.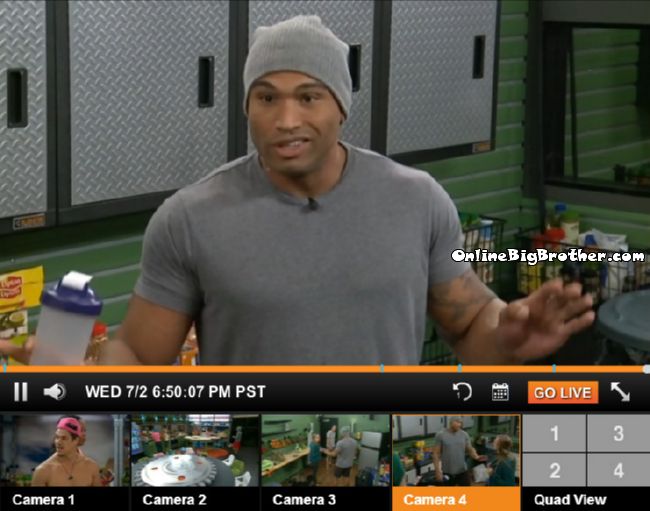 6:50pm Storage room Devin, Christine and Derrick
Devin – "Hey do you guys feel it in the house.. you feel how everyone is starting to lose it a little bit.. everyone is starting to get wound up and stuff"
Devin tells them he likes what everyone is doing he tells them to keep doing it, "Stay quiet and let other people self destruct because people are starting to lose it one by one by one by one.. just breath and let it happen"
Devin tells them to not say anything don't talk any game just know their alliance trusts each other. Let the other people lose it.
After Devin leaves Derrick and Christine start laughing at, Derrick impersonates Devin "Don't freak out.. I love you.. keep doing what you're doing.. don't freak out.. I'll take you to the end.. I've played this game before"

Alliances 
Bomb Squad = Frankie, Caleb, Devin, Cody, Derrick, Zach, Amber, Christine
Fragment of bomb squad no name  = Christine, Frankie, Cody, Derrick Zach
Sub alliance of the Bomb Squad = Derrick, Cody, Zach
Double Ds = Devin, Donny
Bed buddies = Nicole, Christine
Final 2 Deal Zankie= Frankie, Zach
Defunct alliances
TheCrazy8s = Frankie, Donny, Joey, Paola, Devin, Amber, Nicole, Cody
El Cuatro = Paola, Amber, Joey, Nicole
Where the vote is 
As of now Joey is going home..