POV Holder:
Jessie
Next POV
Aug 10th
POV Used
YES
POV Ceremony
Aug 12th
HOH Winner:
GM
Next HOH:
Aug 8th
MVP:
AMERICA
Original Nominations:
Candice, Jessie and Amanda (MVP Nom)
Current Nominations:
Candice, Spencer and Amanda (MVP Nom)
Last Evicted Houseguest
David, Nick, Jeremy, Kaitlin, Howard
Have Nots
no have nots this week
7:35pm Backyard Helen, Jessie and Candice.
Jessie is saying it's bullsh!t that Amanda can say all this sh!t about Elissa and get away with it but everyone else gets raked over the coals by Amanda.
Jessie points out the name of the game is how far you can stick you head up Amanda's a$$. Candice agrees. Candice seems more occupied with geting Spencer out but Jessie wants Amanda out. Helen says she's already tried to get the votes and can't. Helen tells her they do not have the votes. Jessie says they did but they're flip flopping has lost them the one vote they needed.
Jessie says they only need 4 votes and they can get that fourth vote.
Helen calls Candice out for going against her and Elissa last week.
Helen: 'You know you know .. You guys say that Amanda runs the house I think you guys run the house You know You know "
(For 3 normal words Helen says she says 1 "you knows" .. i'm not exaggerating)
Helen says she was really hurt by Candice last week because she was working so hard to keep Howard and they knew Howard was coming after them. Helen: "Then why did you tell us you were playing a independent game.. You know.. you were working with Howard"
Candice says Howard was her person just like Elissa is Helen's person. Jessie jumps in and reminds Helen how hard she fought to save Elissa the first 2 weeks.
Candice says Howard wanted to work with Helen and Elissa and she was able to keep them safe from Howard. Helen: "Why didn't you tell us that"
Candice: "I TRIED"
Candice: "You People are CRAZY for letting this showmance in the house she can sell a coffin to a dead man and he is a mastermind.. You guys are all crazy keeping her in this game.. she's a Evil d!ck.. every week she gets stronger"
Helen: "why don't you tell this to the other people in the house"
Jessie: "There's no point unless you are on board'
Helen: 'Oh my gosh you know.. I tried to get the votes you know.. OK"
Helen: "I really appreciate you guys thinking I have the clout to get the votes but I don't.. I don't.. I don't' I can't get the votes."
Candice mentions that lesson one in Big Brother is always get rid of the shomances. Helen says they have been getting rid of them.
Jessie: 'If I can get JUDD can we do this 100% "
Helen says she will only agree if Candice has Andy and JUDD's vote but they have to agree first.
Candice says she cannot get votes unless she has the support of some core people.. she needs Elissa, Jessie and HElen confirmed before she tries.
Helen: 'You know I can't, I just can't go against the house.. I'm sorry I just can't.. after last week I just can't go against the house.. you know"
Jessie: 'If you are going with the house and that is your mentality then you will be sending me home next week cause that is what the house wants"
Helen: 'Thats not my mentally every week"
Jessie: 'Where is that gusto and initiative you had for the first 3 weeks"
Helen: 'I've tried to talk to some people I can't get the votes.."
Candice: 'You obviously have some loyalty with Amanda it's clear so I guess I have to work on getting spencer out"
Helen brings up Jessie telling Candice about the deal she made with Aaryn. Jessie says she didn't mean to tell Candice. Candice was able to piece it together based on the conversation her and Jessie had. Candice mentions if she was supposedly so close to Helen and Elissa why did they try to hide this deal from her.
Helen: 'Because you weren't with us then"
Candice: 'OHH"
Helen says she doesn't agree with Amanda being mean to the girls and if she votes out Amanda it will because of what Amanda has said and done to Jessie and Candice.
Jessie: 'NO she's a dangerous target in this house that is why you vote her out"
Jessie: 'I'm not playing the what the house wants game I am going home next week.. I know a lot of people that will benefit by getting Amanda out"
Helen: 'Why can't they vote her out"
Jessie: "We'll we would be"
Helen leave to rant with Elissa in the cockpit
8:12pm Candice and Jessie
Candice: "I know I am disposable waste to Helen so why wouldn't I work with Howard"
Jessie: "I know I'm disposable waste to people since day one.. f**** everybody"
Jessie: "Amanda is a b1tch and a bully"
Candice says if she goes this week then Jessie has to win HOH otherwise no move will be made otherwise.
8:09pm Helen and Elissa Cockpit
Helen says Candice has been bad for her Helen's game except for recently when she was on the block. Helen is liking GM now more so she's not going to go through with their plan even if they get the votes. Helen says if they get out Spencer they will have the entire house against them. They agree getting rid of Candice make them nobody's target.
You can re-watch ever second on the feeds using the flashback feature.. It's just like a DVR and is super easy to use. click this link for a Free Trial —> Subscribe to the Big Brother Live Feeds
8:30pm HOH Helen, Aaryn and GM
Helen is saying that Jessie is pissed off at her. Jessie thinks she is the next one out and is freaking out. Helen begins pouring scorn on Jessie saying she is a flip flopper and two faced. Helen adds two days ago Jessie was saying she didn't need the Big Brother money.
Helen: "She's reaching for straws you know reaching for straws you know .. you know if she hadn't broken our trust you know 2 millions times you know "
Helen: 'She cannot win the HOH next week.. you know.. you know.. I'm ready for her to go you know.. I'm ready you know"
Aaryn: "me to"
Helen: "I'm not trying to talk bad about her.. but I'm tired of her bringing us all down"
Helen: 'I want her out.. I hate the fact she said I didn't need the money.. you know"
Aaryn: 'She spreads so many lies and it disgusts me"
Helen says Jessie never did anything for her. Brings up that Jessie never tried to save Elissa, Helen and tried to flip the house on them. (actually Jessie did help to save Elissa)
Helen points out JEssie want her to figure out how to save Candice but Helen won't do it she will honour GM's HOH.
Gm mentions how Jessie is walking around like the POV she won still has power, "Honey you had your 15 minutes said your little speech" Helen: 'If she wins HOH I will self evict"
(I honesly cannot listen to Helen anymore.. she says "You know" ever second word it's making my ears bleed)
8:56pm Andy, Jessie and Spencer Talking about Howard and how lacking his Big Brother Game was. Andy says he really thought Howard was a mastermind behind some scheme. He remembers going into the cockpit late at night and Amanda was there telling him over and over that Howard was up to something. Andy would stay up late at night thinking. (Spencer impersonates him see image above)
Spencer says Howard offered to contact his family and tell them he's missing them and he thinks about them all the time. Andy: 'Ahh that's sweet"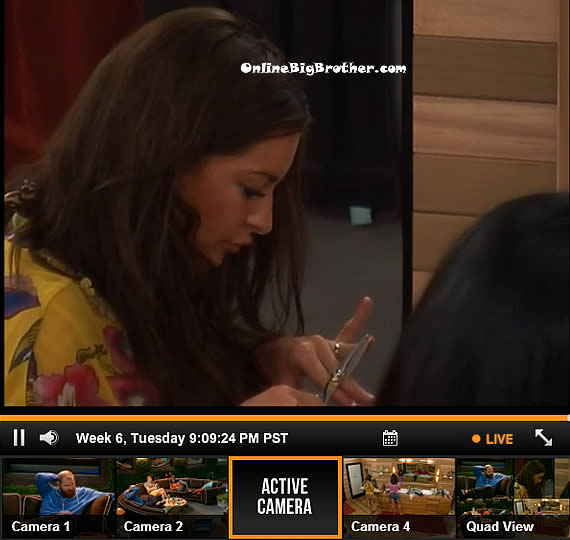 9:08pm Bathroom Helen and Elissa
Helen: "This whole Candice things makes me sad"
Elissa: "Me to"
Helen: "She puts so much pressure on me"
Helen wants them to start talking about their business plan so when they leave the house they can start implementing things. She wants to do it when nobody is listening (feed watchers) Helen wants to build out their social media from what they gain on Big Brother and drive those people to their website.. Helen: "maybe next season we could costumer one of the veto competitions" (Not sure what they are selling)
Amanda starts screaming for joy they got wine for their Bachelorette party.
Amanda's vale #BB15 #PleaseMakeItStop pic.twitter.com/HEOx6JLu5M

— OnlineBigBrother.com (@bigbspoilers) August 7, 2013