POV Holder:
Jessie
Next POV
Aug 10th
POV Used
YES
POV Ceremony
Aug 12th
HOH Winner:
GM
Next HOH:
Aug 8th
MVP:
AMERICA
Original Nominations:
Candice, Jessie and Amanda (MVP Nom)
Current Nominations:
Candice, Spencer and Amanda (MVP Nom)
Last Evicted Houseguest
David, Nick, Jeremy, Kaitlin, Howard
Have Nots
no have nots this week
9:41pm Storage room Herlen and JUDD
Helen going off about Jessie wanting Amanda out. Helen says if she wants Amanda out so bad then let her win HOH and get her out.
Helen says Jessie came to her and said JUDD will vote out Amanda if Helen will do it.
JUDD: 'She's miscommunication"
Helen: 'She's using us against each other.. It's a no.. We may need Aaryn and GM we don't need Candice"
JUDD: 'And Jessie"
H: "Jessie is crazy.. "
Helen says getting Amanda out right now would break them all up they would go crazy. She thinks there still 2 people to get out before they worry about Amanda.
9:45pm Backyard They are now allowed to use the grill.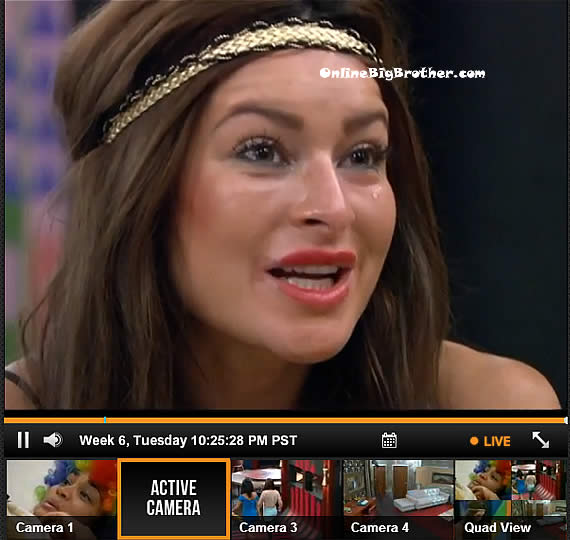 10:17pm bedroom Elissa and Candice
Elissa is inviting her to the party. Candice doesn't think she's up for it.
Elissa says she doesn't like sangria she told Amanda and all they saved her was a little bit of wine. Elissa offers to get her a beer. Candice says she's just going to go to sleep.
Elissa says she wants Candice to be able to enjoy her time here. Elissa is worried that she's going to start picking up on the bad habits of the house. She says she prays every day to god that she doesn't start acting like Amanda, Aaryn and GM.
Elissa "Please god don't let me be like these people.. Every day I pray.. You know how you can pick up bad habits being around people right"
Jessie rolls in .. "It's a bit nippy in here" Jessie offers to Candice alcohol Candice says she just want to stay in bed.
Jessie leaves.
Elissa says the behaviour of the other houseguests is disgusting and it's Embarrassing being around them, "I feel trashy you know"
Candice says she knows "They" talk about her when she leaves the room, she doesn't want to be around people like that anymore. Elissa doesn't want to be part of the bachelorette party but she's already committed to it. Candice tells her not to mess up her game she should go.
Elissa: "Theres no one in my circle that acts like them … the things she (Amanda) said to you… "
They talk about Amanda saying Howard wanting his Black C**** in her mouth instead of Howards. THey are disgusted by her.
Elissa says the people she creates friendship with are cultured and diverse nothing like the people in the Big brother house.
Elissa starts to cry.
Elissa brings up the derogatory comments says it sucks that Candice has to deal with those on top of the game.
Candice starts to cry says she's OK but keeps sobbing
Candice starts to bash Ginamarie for crying about not being able to write her HOH blog. Elissa tells her to stop she understand why GM wants to say those things but say it private when the camera isn't on them.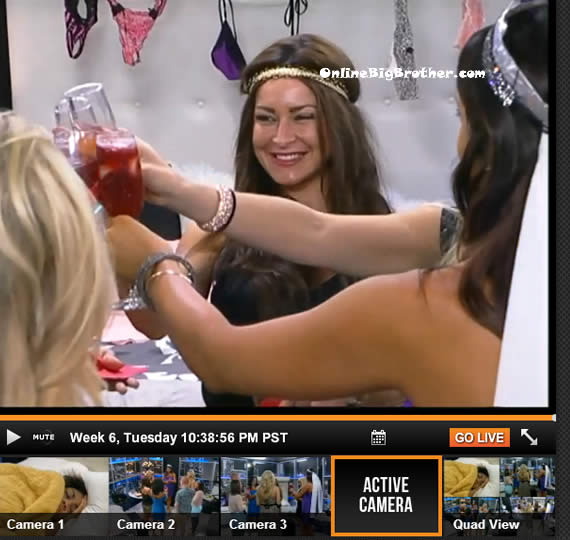 10:37pm Bachelorette party
Elissa: "to the most beautiful big brother bride and the most wonderful groom and to the most amazing season because Amanda is amazing"
10:40pm JUDD and Spencer Backyard
JUDD says Helen was told by Jessie that he would vote out Amanda if Helen is on board.
JUDD: 'Jessie's just causing chaos.. I never said that she thinks if I kiss her I will do what she wants.. "
Specner: 'You fine with her going home next weeK"
JUDD: 'Hell ya.. hell ya"
Spencer thinks she's very dangerous for JUDD when she's throwing his name out there.
"I hate beer I just want to get drunk" Amanda #BB15 pic.twitter.com/dcclZoEJyM

— OnlineBigBrother.com (@bigbspoilers) August 7, 2013
10:50pm The guys are invited to the party to have some cake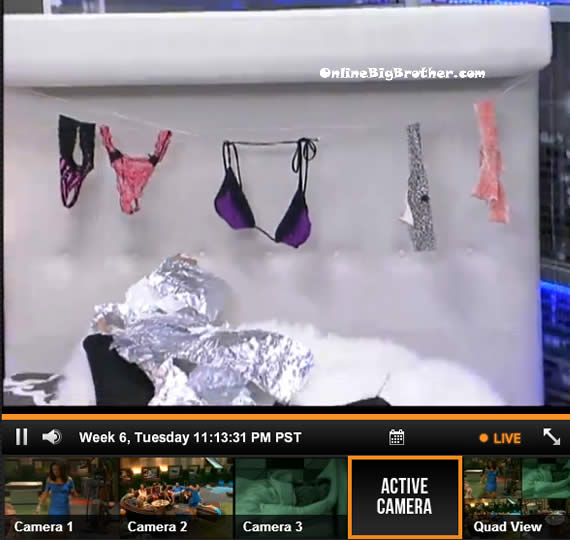 The decorations for the party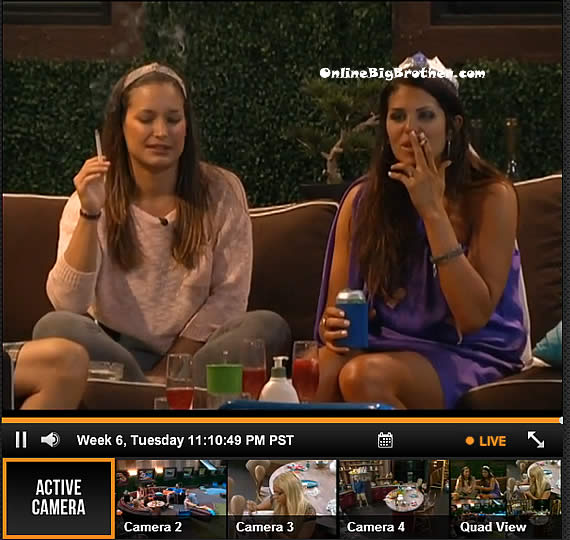 11:10pm Backyard everyone but Candice
Amanda telling them a story about having a edible a couple days before they did drug testing. She says she never smokes weed but had 1/2 a cookie from her boyfriend. She got so high. They all start talking about casting and the drug screening. Andy says they told him if he smokes week he should stop because they didn't want him to have a 'Pot Freak out" Andy: 'Is that a thing.. a pot freak out?"
Aaryn says it happened in Big Brother 7 with Diane. Spencer: "She was so hot"
They give Specner a hard time for picking Howard over Elissa as being who the public would think is the hottest
11:22pm Jessie asks JUDD when she gets her ring.
JUDD give her a beer tab. Jessie: "Amanda gets a hand crafted ring and I get a beer tab"
11:28pm Backyard
Spencer asks GM if she will drink the hydrogen peroxide. She says she'll drink it if it doesn't kill her.
GM says that on the bottle it says: "contact the prison control "
People start to correct her "you mean poison control"
GM: "The psychic lady is going to talk to me again"
Elissa asks if the Psychologist has to come into the house this year.
GM: "Ya.. "
Elissa: "Ohh really"
GM says something about after Nick left.. GM "Keep the knifes and forks away from Ginamarie"
11:43pm Drunken backyard games They are playing telephone.
one line was "Spencer's d!ck tastes like old man farts and 4 inch Doritos" and it ended up being Spencer's beard is covered in butterscotch form l!cking Jessie's p*$$y
Midnight Still playing telephone
Aaryn at the end of a message says "Helen wants to be la!id by a dirt bag called Spencer"
Specner says the message Andy gave him was "Helen once got f*** by a d!*k so big it struck her in the brain and gave her short term memory lose"
They are all blaming Andy on making up messed up messages.
JUDD: "Spencer has Candice's clownie p*$$y juice in his beard and he's saving it for later to bake a cake"
Again they blame it on Andy.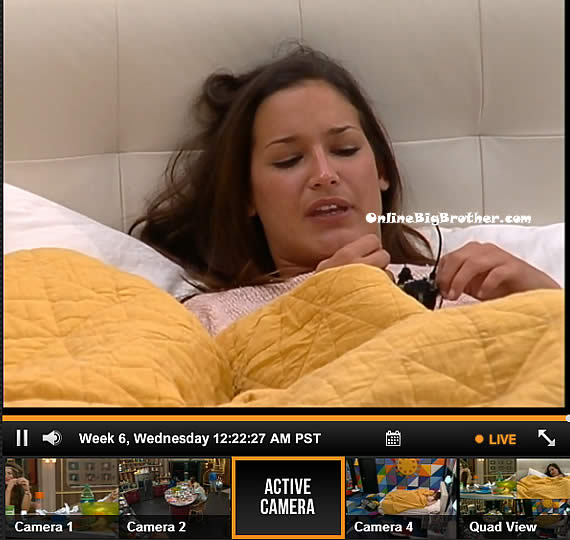 12:20AM Jessie and Candice
Jessie saying that a lot of the messages here about JUDD and Aaryn. Jessie is certain JUDD is being f**** around by Aaryn. She's wondering if she should cut him loose. Candice says Jessie needs to talk to JUDD straight up and ask him who's he with.
Jessie: "Aaryn and GM were being b!tches.. in the telephone game "
Jessie says JUDD doesn't have a chance with her outside this game. She's only been flirting with him for game.
Jessie adds that JUDD has been super sketchy, "Sometimes he throws me under the bus"
Jessie says JUDD has a small D**** because he didn't want her to feel once when they were cuddling.
Jessie: "He doesn't even deserve this at all"
Jessie is now claiming that JUDD is the one coming after her she says he does it every day.
Jessie mentions how Aaryn has been flirty with JUDD, "Aaryn is such a sneaky snake"
Candice: 'I'm going to be laughing when Amanda, McCrae, Elissa and HElen boot them out of this house"
Candice tells her she needs to win the next HOH. They start studying the dates of events, nominations, competition orders… etc etc
12:35AM Kitchen Gm, Helen and Elissa
They are asking GM if she will take the Diamond power of veto over 1 week with Nick. GM says she'll take the DPOV. Helen asks if she will take dating Nick outside the house or the DPOV.
GM: "I'm going to date Nick anyways so DPOV"
Ginamarie: "I'm going to marry him you'll see.. I also said In my blog that I met all these wonderful people and I met the man of my dreams.. and he's never going to get away from me"
[polldaddy poll=7304429]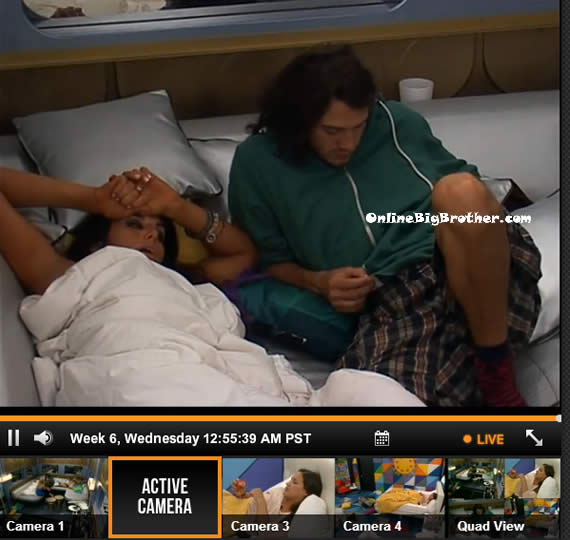 12:50AM Cockpit Amanda, McCrae and Aaryn
Aaryn saying that JUDD is playing both sides Jessie is stupid enough to fall for it but she's not. Aaryn doesn't know about JUDD anymore. Aaryn says that Jessie is trying to get Amanda out hardcore.
Amanda: "I'm not going anywhere this week"
Aaryn brings up how JUDD told her he's getting close to Jessie so he can get information but now Aaryn is thinking he's playing both sides.
Amanda thinks JUDD wants Helen and Elissa out next week and they cannot have than happen. Amanda pushes the point Helen and Elissa must be left in the game.
Amanda: 'JUDD isn't on our side .. he's on his own side""
Aaryn: 'I know"
Amanda: "You can't trust him.. he had a final four with us and he lied to us"
Aaryn: 'JUDD told me he would go to the end with me"
1:03AM Bedroom Helen and Jessie Jessie saying that JUDD has something going on with Aaryn.
Jessie asks Helen "What does the house consist of"
Helen says it's the majority of the people that are not on the block.
1:14Am Andy and Aaryn
They are talking about how much they trust Helen. Andy says for some reason JUDD doesn't want Helen in Jury.
Aaryn: 'Do you think Amanda and MCCrae are trustworthy"
Andy says they are he trust Helen, Aaryn, Amanda and McCrea more than anyone.
Aaryn: "for a while I was really trusting Judd but now I'm not sure"
1:26AM Cockpit JUDD, McCrae, Amanda, Spencer
McCrae says he never wore a condom with his two one night stands. Amanda is shocked by tells him he needs to get tested.
Spencer: 'Dude I had s$x with 30 random girls and never wore a condom"
1:36AM Hammock GM and Spencer Spencer is haring what he plans on doing with the Big Brother 15 winnings. He's taking Marilyn to the Bahamas and spanking her booty.
Gm "I hope Nick spanks my booty"