POV Holder:
Jessie
Next POV
Aug 10th
POV Used
YES
POV Ceremony
Aug 12th
HOH Winner:
GM
Next HOH:
Aug 8th
MVP:
AMERICA
Original Nominations:
Candice, Jessie and Amanda (MVP Nom)
Current Nominations:
Candice, Spencer and Amanda (MVP Nom)
Last Evicted Houseguest
David, Nick, Jeremy, Kaitlin, Howard
Have Nots
no have nots this week
5:30pm Bedroom Amanda, Andy and McCrae hiding under the covers while Creepy uncle Spencer flips ths sheets up to get them. Elissa comes by tells them the bachelorette party is at 9 and Andy is the stripper for the night.
You can re-watch ever second on the feeds using the flashback feature.. It's just like a DVR and is super easy to use. click this link for a Free Trial —> Subscribe to the Big Brother Live Feeds
5:32pm Backyard JUDD and Helen
JUDD is telling them how the first season of Big BRother was. The entire house voted two people and then America voted the person out.
JUDD: "I think that is how BBUK still is"
Helen: "Thats crazy"
JUDD: "Anything happening game wise"
Helen says nothing new going one she still thinks Candice is still going home.. "If jessie wins HOH things are going to go crazy"
Andy joins them (Drink) He agrees that next week is "Scary"
After Andy leaves they talk about jury votes. THey both want Spencer in jury. Helen says she doesn't want Jessie in jury because her final 2 vote would be unpredictable.
5:56pm bedroom Amanda and McCrae
Amanda: "I'm excited We get to cuddle in HOH tonight"
McCrea: "you pretty much have to win HOH next week"
Amanda: "no not true"
McCrae: "ya "
Amanda: "It's a dangerous week for whoever wins it"
Gm joins them and talks about her hairs. Apparently her weave costs 2000 but she got a deal and it only was 700. Gm says this is why she is so @nal about her hair because "This sh!tr costs money" After Ginamarie leaves Amanda tells McCrae she spend nothing on her hair all she uses is the boxes of hair dye you buy at the store.,
6:18pm Backyard JUDD and Aaryn
Aaryn: "Nick is legitimately going to be too scared to come to the finale"
A: "I would be .. it's going to ruin it for him.. Like I'm serious he's not even going to enjoy the f*** finale because he will be scared.. I'm f** scared JUDD"
JUDD: "You think she's going to jump in him"
Aaryn: "YES 110%"
6:21pm Spencer and Aaryn
Spencer: "things are really going to turn in the next two weeks"
Aaryn: "I hope so"
Spencer: "me to"
Aaryn: "everyone is too scared "
Spencer ya .. well I really want to focus on being cool this week.. and just pray that I'm HOH or someone I trust or feel comfortable with is."
Aaryn says she's not doing anyones dirty work any more ..
Aaryn says Candice is campaigning for Spencer To leave no amanda. Spencer: " Oh I'm sure"
6:55pm Hammock Spencer and Jessie
She's was working on something but Helen shut it down. Jessie doesn't understand because it was Helen's idea to start with. Jessie says she stuck her neck out and nothing happened she feels like she's the main target in the house noe.
Jessie isn't going to give up on trying to make a big move. Spencer tells her to get HOH.
Spencer says it's going to be hard for them to do anything until MVP is gone. Jessie agrees says MVP is annoying as F*** "If they don't get rid of it this week they're handing them the game"
Jessie: "Dude.. JUDD has such a short fuse.. it's hard because we're supposed to be so close but sometimes he directs it at me"
Spencer: "It's a tough game"
Jessie says it feel like everyone is so solid in their groups now. Spencer just hopes to stick around long enough to be relevant again.
Jessie doesn't want to go to the bachelorette party because it's just going to be a group of girls ki$$ing Amanda's a$$. She says the name of the game is "Who can Stick their head the furthest up Amanda's A$$"
Spencer: "Ya that seems to be the name of the game"
She pleads with him not to tell anyone else in the house she's talked to him about Amanda. Spencer swears he won't 'I'm ready for some big moves to happen that doesn't include me going home or going up on the block"
They agree the MVP was a shitty twist that wrecked their games. Jessie is second guessing herself making a big move in the beginning and keeping Elissa. She thinks If Elissa had gone home and Nick was still around he could be "Duking" it out with Amanda and McCrae and she would sit on the side lines.
Jessie asks him to promise her if they are both on the block together to not throw each other under the bus. Spencer says he'll promise her that.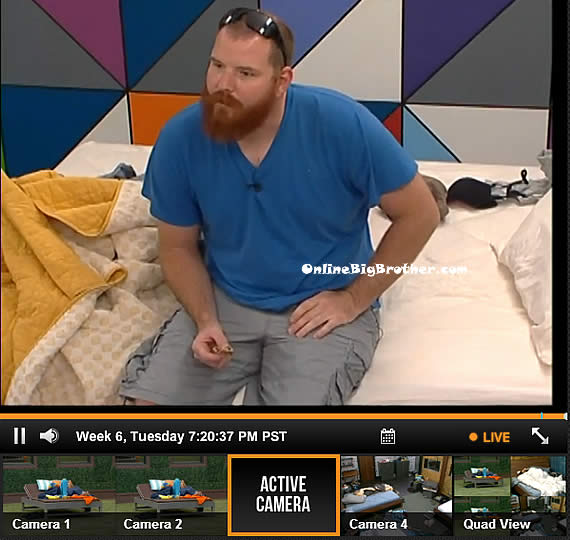 7:20pm Bedroom Spencer, Andy and JUDD Spencer says he just talked to JEssie.. She really worried about going up next week and she just wanted to make sure he wouldn't campaigning against her if they are both nominated.
Andy says Elissa would put up Aaryn and Jessie..
Specner says Aaryn ad Jessie
JUDD says he wishes this week was double eviction so they can get it over with all in one night, 'I'm f***ing nervous about Double eviction.. I get nervous watching it on the TV.. I'l telling you"
Specner: 'This week or next week is double eviction" Andy and JUDD both hope that this week is double eviction. They all hope MVP is done this week.