Head of Household Winner – Tyler
Have nots – Bay, Janelle and Enzo
Nominations – Janelle & Kaysar
Power of Veto Players are -Janelle, Tyler, Kaysar, Cody, Bayleigh, Memphis
POV Host: Christmas
Power of Veto holder – Cody
Power of Veto Ceremony – Cody Doesn't use the power of veto Nominations stay the same.
Safety Suite – Enzo wins Christmas is his plus one.
Live feeds —-> Grab your Live feeds here. Try it free.
Rank the houseguests —-> Big Brother 22 Ranking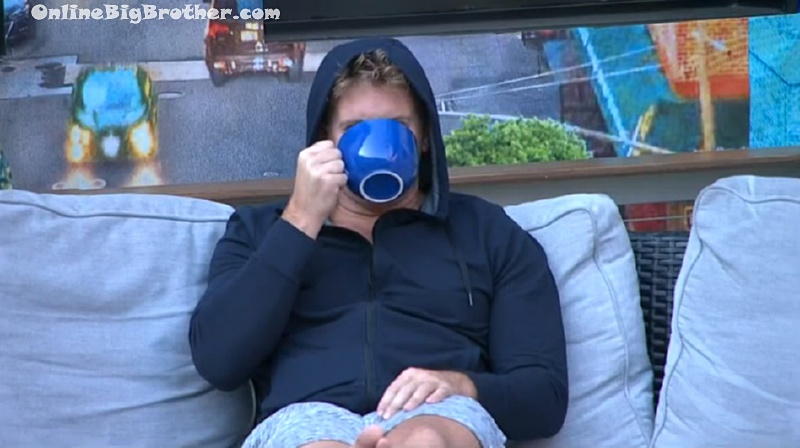 8:16 am Memphis first one up..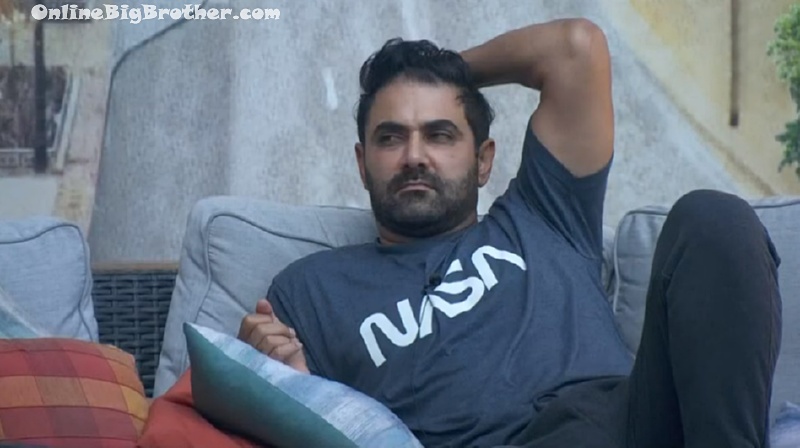 At 8:47 am Kaysar meets him.
Kaysar says he would be shocked if people didn't team up already in this house. Memphis still going on about how everyone is fending for themselves. Memphis says forming alliance this early is too risky.
Memphis brings up Dani telling him her first season was like that
Memphis – there wasn't this clear cut alliance or group.. she was like it was stressful because you constantly didn't know
Memphis – my gut says you'll see another week
Kaysar – if everyone is playing their own game I"m really bummed Janelle is going
Memphis asks if he's talked to anyone about their vote
Kaysar – had I been up against anyone I would have asked.. they put me up against Janelle. that was the only move they could have made to stop me from campaigning.
Kaysar – it was well played.. they beat us fair and square.. my back is against the wall
Memphis says Tyler will probably come to Kaysar to be set up for next week because Tyler can't play in the HOH.
9:17 am David and Kaysar
Kaysar – lemme ask you something I don't know what is happening this week if I stay or go I'm not going to campaign Janelle is my friend. You mentioned you want to work together I would be a free agent I have no friends in this house. The question is you and I are good. If we were to work together are the people you work with would they be down for that are they cool with me or is this it.
David – I dunno
Kaysar – how do we get there..
David – I dunno.. we'll have to see what happens this week.
Kaysar – alright, Guess we'll have to figure that out. I guess you'll let me know. we'll pick up after this week
Kaysar – do you have any sway with them?
David – I dunno.. I don't think I had sway with anyone
Kaysar – seriously
David – yeah
David – I like you more than Janelle.. you know that
Kaysar – my worry is not about this week.
Kaysar – if I stay I just don't want to be floating out
David – you're trying to move chess pieces..
Kaysar – I'm trying to figure out who I can trust once I lose my friends. I know I can trust you. I don't know what that means to me
David – if you try to game too hard it works again you.
Kaysar – I'm just going to chill the hell out. I'm just going to chill and sit back..
David – let other people create their own tension and go after each other
Kaysar – At the same time you don't want to be in this house feeling like.. it's for your own peace of mind you don't know who you can trust.. you go crazy every word comes out of your mouth holy crap 10 seconds later it's somewhere else and it gets twisted
David – focus on what you can control and be slow and methodical with everything else.
David says he doesn't have a problem with Kaysar personally he's a little hurt that he campaigned against him and he hung out with Memphis when he went him up.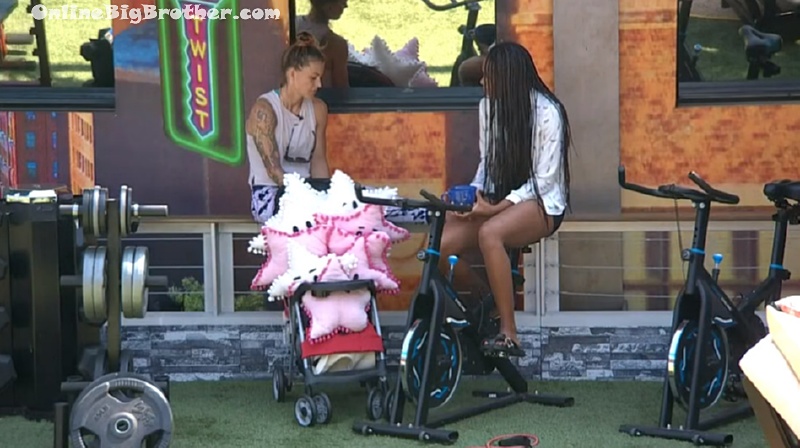 11:00 am Christmas and Bayleigh
Christmas says Cody isn't using the veto adds that neither of them has come to talk to her
Bayleigh thinks they will campaign after the veto ceremony. Bayleigh mentions her con ern is it loo slike Janelle is going this week which is the 3rd girl in a row.
Bayleigh says she's gunning for the HOH this week.
Christmas – you are in such good standing with everyone in the house.
Christmas wasn't sure if Bayleigh would bother trying to get the HOH.
Christmas goes on about the "huge Divdi" in the house that J/K tried to start. says it was too early
Christmas – Janelle has talked game to me twice.. I think she's super smart in this game. It's weel three..
11:16 am People waking up workouts starting..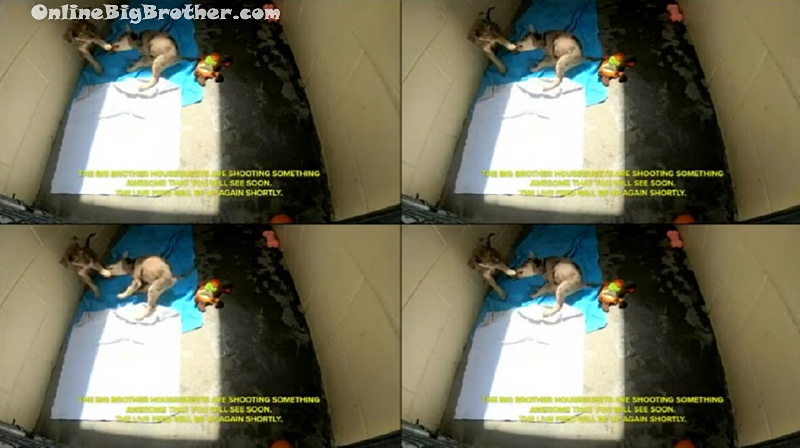 12:09 pm Feeds cut to pound puppies for the Power of Veto Ceremony.
(Cody won't use the veto the nominations will stay the same there's no hope for BB22)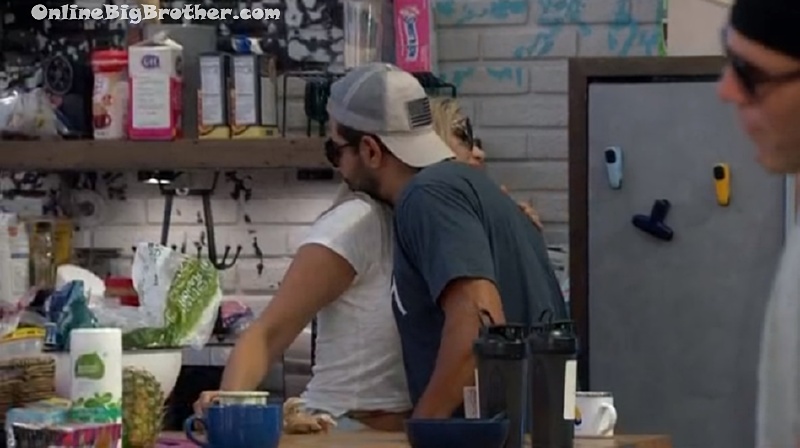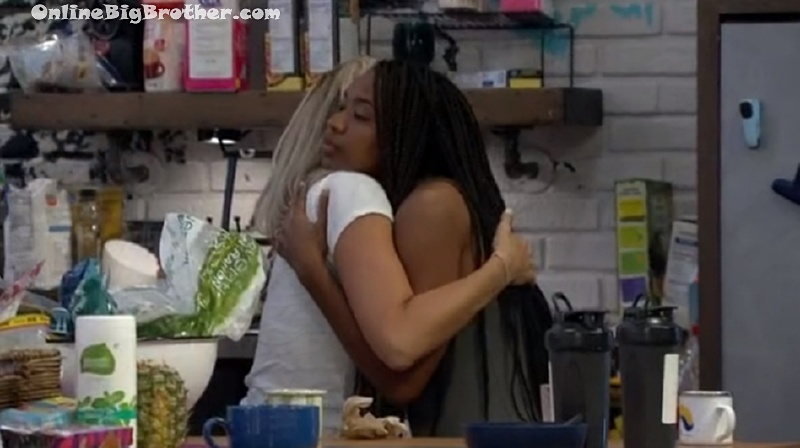 1:03 pm Feeds return
Kaysar – You okay
Janelle – I'm totally fine. I feel like I've done this a million times this isn't my first rodeo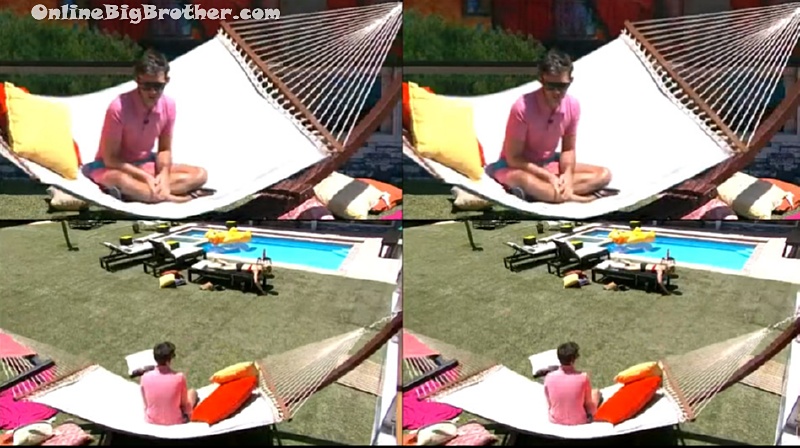 1:10 pm Ian and NicF
Chit chat..