Head of Household Winner – Tyler
Have nots – Bay, Janelle and Enzo
Nominations – Janelle & Kaysar
Power of Veto Players are -Janelle, Tyler, Kaysar, Cody, Bayleigh, Memphis
POV Host: Christmas
Power of Veto holder – Cody
Power of Veto Ceremony – Cody Doesn't use the power of veto Nominations stay the same.
Safety Suite – Enzo wins Christmas is his plus one.
Live feeds —-> Grab your Live feeds here. Try it free.
Rank the houseguests —-> Big Brother 22 Ranking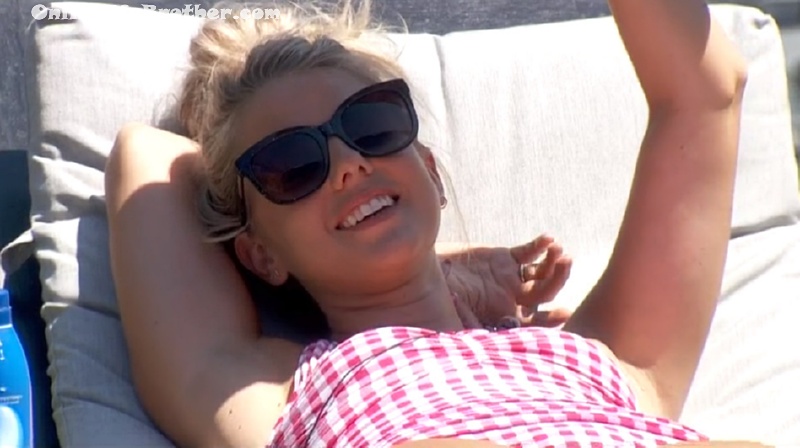 1:30 pm Nicole says Victor is really vulnerable and emotional with her and she likes it..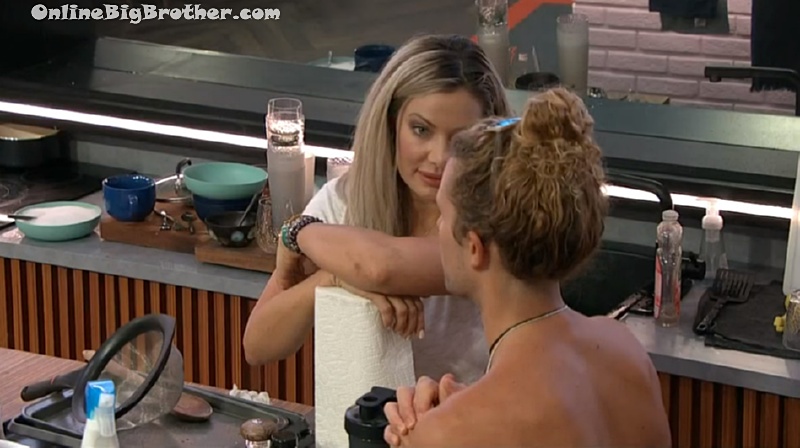 1:32 pm Tyler and Janelle
Tyler – I'm sorry
Janelle – oh my gosh don't be
Tyler – I'll be following you soon anyways.. if you go, one of you guys
Janelle – I told Cody the same thing I'm literally the biggest target in the house and I can't win anything I'm going up on the block every week
Tyler – I don't know about that
Janelle – I think everyone will put me up .. that's what I'm saying
Tyler – yeah everyone threw you both under the bus
Janelle – I know I hate it I'm so F***ing pissed
2:00 pm Janelle and Kaysar
Kaysar – whos it going
Janelle – I'ts going.
They talk about not trying to form a group out of whoever is left. Janelle tells him to sink into the shadows.
At one point feeds cut when we're back..
Janelle – there's only one person I talked sh1t about in this house it's the one with the bad fashion sense..
Kaysar – I want to make the most out of special situations and this is a very special one it's a very unique one..
Janelle says they have a special relasjtopnshiop[
Kaysar – a very unique relationship turned out pretty awesome
Kaysar – when we see each other we pick up where we left off. it's weird. it's pretty awesome
Janelle – yeah
Kaysar – I want to try to be a better friend
Janelle – we're best friends in the biG bRother house and whenever we're together we can be best friends in real life
Kaysar – how many best friends do you have
Janelle – about 20
they laugh ..
Kaysar – are they all best friends
Janelle – they're best friends for certain things..
Janelle lists off all the kinds of Best friends she has.. there's pretty much 20 categories.
Kaysar – so you have categories based on location and lifestyle
They start talking about work. they both say they really like their jobs and are looking forward to getting back.
Janelle talks about going on vacation to Ibiza for 2 weeks.. Brings up a really good friend of hers was dating a Russian billionaire.
Feeds flip to Bayleigh boiling water.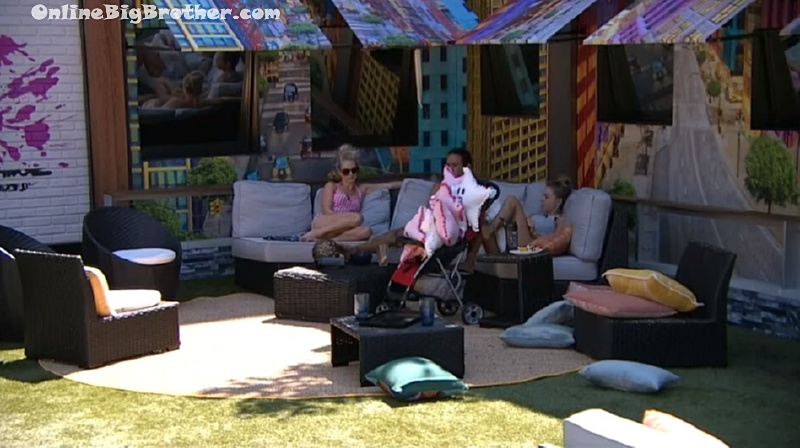 2:15 pm Kevin, Nicole and Sh1tmas
Feeds flip to Nicole talking about Janelle saying she said things about her before they came into the house.
Nicole – she didn't want me to be here so she was trying to ruin my reputation .. (ruin?)
Christmas – I'm so sorry ..
Nicolle explains about the rumor she's saying Janelle started where Nicole cried to the producers to be on the show
Nicole – there's something deep down and I can't get deep down I don't have time for that
Christmas – that's not really about you
Nicole – when she brings up the Rachel thing it's a cover it just doesn't mase.
Nicole tells them both not to bring up the Rumour that Janelle started outside the house Nicole doesn't want any drama this week.
2:30 pm Nicole and Christmas
Christmas – I'm really looking forward to your wedding.. I'm going to go down there for a week
Nicole leaves to talk about Janelle with another houseguest.
Enzo joins her.
Christmas mentions that the backyard is getting shut down at 5AM tomorrow morning.
They agree it must be something big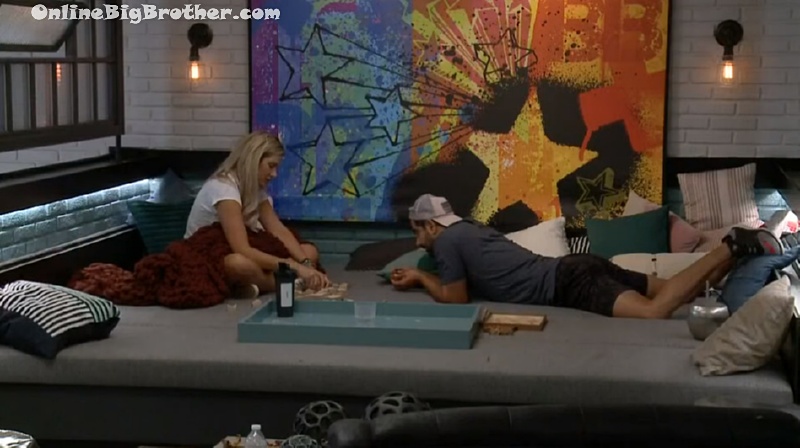 3:25 pm JAenlle and Kasyar
Kaysar – NicoleF, Ian. Cody is a wildcard.. I think Memphis will keep you
Janelle – do you want to stay do you have it in you to win.
Kaysar – depends on the day. I'm not going to keel over a die if I'm here .. I'll get myself together and fight like hell. But I'm probably like you If I was sent out I'm not going to feel like my work is coming crashing down.
Janelle – you want to go home or you don't care either way
Kaysar – I don't care either way
Kaysar – the question is do we even have the ability to change those votes..
Kaysar – how badly do you want to stay
Janelle – I definitely want to stay
Kaysar – who is goign to vote for you
Janelle – Bayleigh
Kaysar – Memphis
Janelle – I don't know if I have Christmas
Kaysar – what about Da'Vonne
Janelle – I hope she would, I need Dani. She's pissed off at me right now.. like really pissed.
Kaysar – you should talk to her and smooth those things over.
Janelle says she's certain she's getting evicted this week, "Tyler's alliance wants me out"
Kaysar – the one that doesn't exist
Janelle – yeah
Kasyar – Cody, Dani, Tyler, Enzo… Nicole..
Kaysar says he sees them talking at the hammock in plain sight, "they don't even care.. in plain sight"
Kaysar – or I can tell them I just need to get the hell outta here.
Janelle – that might be advantageous for them if you're heads not in it.. You will have to say I'm coming after you I don't give a f*** .. for me to stay.
Janelle says they will see Kaysar as easier to get out because he's not liked up like she is.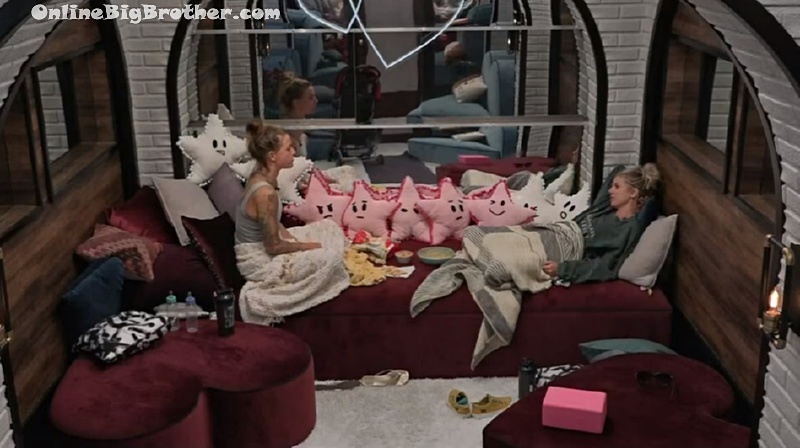 3:30 This nightmare continues…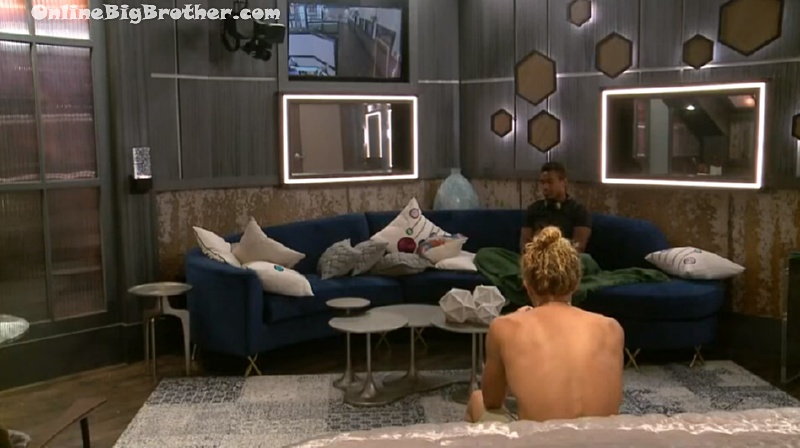 3:43 pm Tyler and David
Tyler says most of the house wants Janelle out
David – I want Janelle, I think Isan wants Janelle.
Tyler – it's sh1tty because it bumps me up on the target list but I had no other move. Every single person was throwing them under the bus but for me, I needed them to stay as my shield.
Tyler – Now everyone has this me and Cody sh1t burning in their brains.
David – you feel tight with Dani
Tyler – I'm tight with Dani but Dani likes to plant a seed then walk away .. I can't stand it
David – she does that
Tyler says Dani is playing the best game nobody will put her up
David – Christmas is playing a good game.. Bayleigh is playing a good game I feel secure with her.
Tyler – that's good as long as she doesn't let the slop get to her
David – between you and Cody she prefers you. I didn't even plant that seed.
Tyle r- Enzo and Cody wish you were a little more tighter with them I know there's that all guys thing floating around.. you don't want anything to do with hat.
David – I need to spend more time with enzo.
Tyler – he's talking about team freeze all the time
David – I have my moments tell Enzo I want to chop heads.
Tyler- It's an unspoken thing us three
David – no one see it no one has linked anything between the three of us .
Tyler – you're playing a good a$$ game I want to see you go far I'm going to make it happen.
Tyler – you can win this sh1t you just have to keep your mind focused.
David says he feels tension with Memphis still even though he has warmed up.
Tyler – that would be crazy if you and Memphis had a final two deal that would be legendary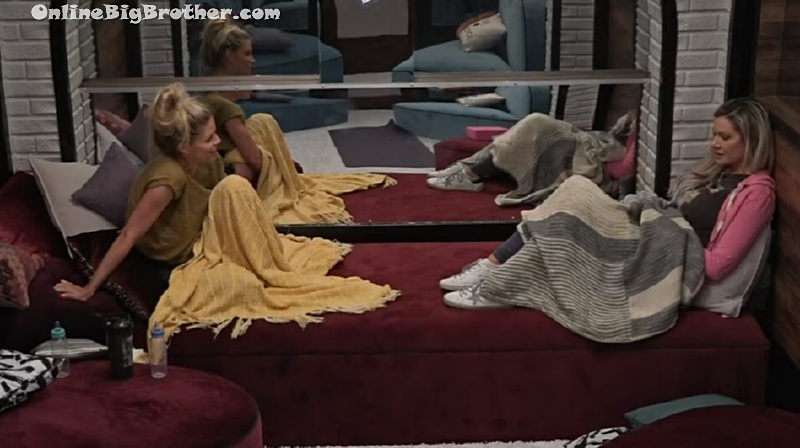 4:15 pm Janelle and Dani
Dani saying that the house wants Janelle gone.
Jaenlle – I have your back in this game
dani – if you stay 100% I will work with you
Jaenlle – Ian, Dave, and Nicole are voting for Kaysar to stay
Dani – I don't know what David is close at all… David doesn't know what he's doing here.. In the game. He doesn't know how to play so he's just here
Janelle – if I can get 5 votes will you be my 6th
Dani – how many do you have now
Janelle one fore sure Bayleigh she's my only friend in the house, I would have to be Da'vonne, Kevin… Christmas she's such a wildcard I have not a relationship with her
Dani – I feel like she has to talk to Memphis right? maybe Ian because she saved him
Dani says Tyler's nominations were a "cope out"
When asked again "If I can get 5 will you be 6"
Dani – I'll have to think about it I don't want to be left in a really bad spot. I'm not saying no to you like I really want to work with you
Janelle says Christmas and Nicole hang out all the time she's not planning on getting her vote.
Janelle – I'm really pissed off at the people that threw me under the bus. I'm so annoyed.. it's really upsetting.
Janelle – I would need Memphis, you, Da'Vonne, Bayleigh.. I would have to make a deal with David..
Janelle tells her David came to her last week and said that he was gunning for Memphis and when she asked him where she sits in that plan and he told her "Guilty by association"
Janelle – he was like ohh alright than I'll give you a one week pass
Dani – thanks.
THey agree that Kevin and Jaenlle are big fans of each other
Janelle – apparently NicoleA told the entire hose she was coming for me.. I never said one bad thing to the girl I told her I wanted her to stay that she will have my vote no matter what
Dani – she brought in too much from her past season in here
Janelle – she honestly believed that it was my master plan to get her on the block. I was like do you honestly believe this and she saidYES.. she was like pissed really pissed at me
Dani – she told everyone she was coming after you
Janelle – so weird and disappointing.. I was so nice to her I never said a bad thing about the girl. I think that is why Kevin doesn't like me they blamed everything on me.
Janelle – they were pissed they both looked at me WHY aren't you nominated.. they were like it should be you up there..
Janelle – she was pissed off I wasn't nominated. LIke mad at me
Janelle says the yeller yesterday said her name, "We heard it three times we both looked at each other sand said why are they saying your name"
Janelle can't understand why Kevin hates her "it's so random"
Dani – it was NicA
Janelle – no one is throwing Kasyar on the block next week I'm going on the block.
Dani – this is going to be a tough one though.
Dani now saying that she's leaning yes if Janelle gets 5 votes but can't promise anything "I'll be honest with you. go work some magic and see what you can do"
4:42 pm Janelle – wait are the feeds are on us? I was told that we get a one-week phone call..
Feeds cut
4:48 pm the backyard gets closed at 6pm today.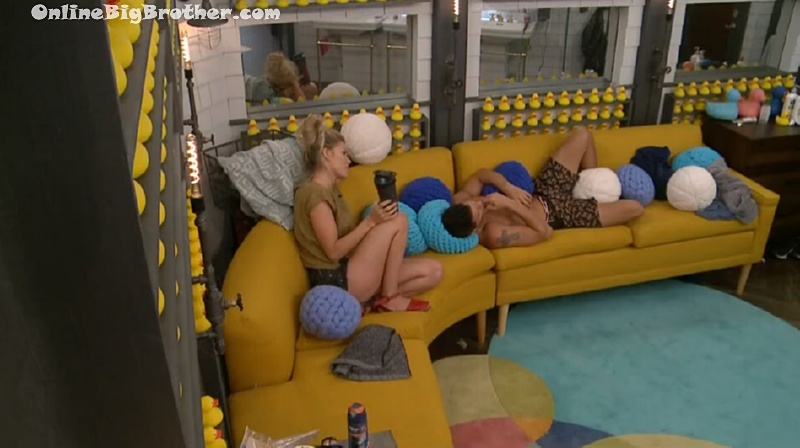 4:55 pm Dani telling Cody about Janelle's campaigning attempt. Basically tells him everything.
They bring up hearing Janelle's name last night. Dani says she never heard it
Cody says he heard it clear as day.
Dani says a lot of people are going to try to win if they don't win they can hide in the background. They won't out any of their alliances this way.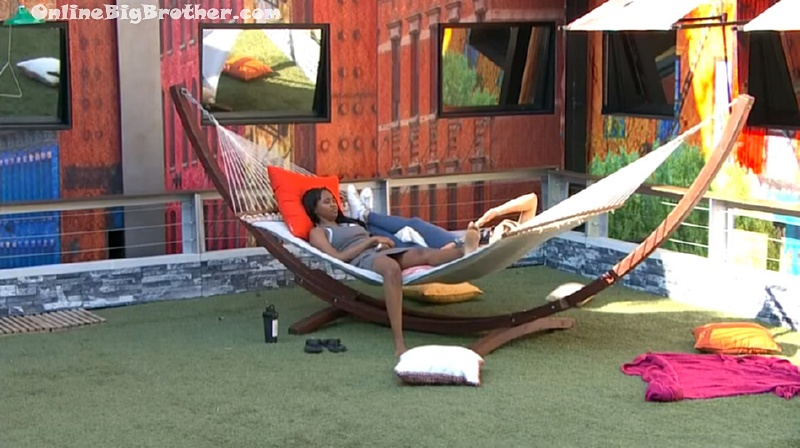 5:02 pm Janelle and Bayleigh
Janelle gives bayleigh the debrief on her conversation with Dani.
Janelle – the other side is completely ominating this house someone will have to make a stand.
Janelle says a woman has not one a competition yet except for Christmas she won a safety suite.. I don't want two alpha males winning competitions.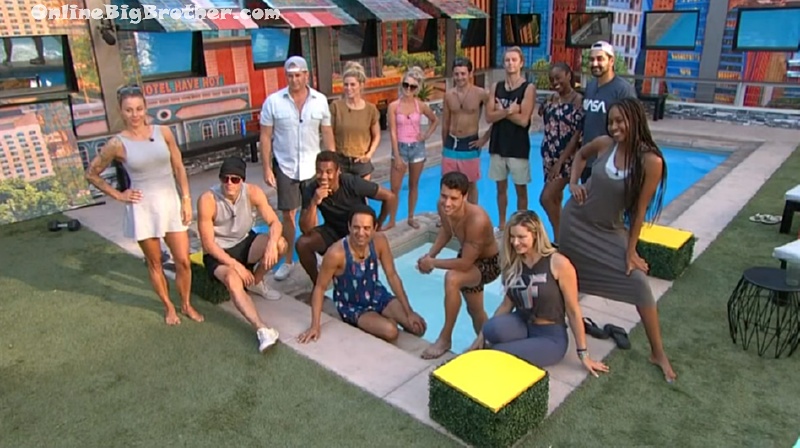 5:22 pm group photo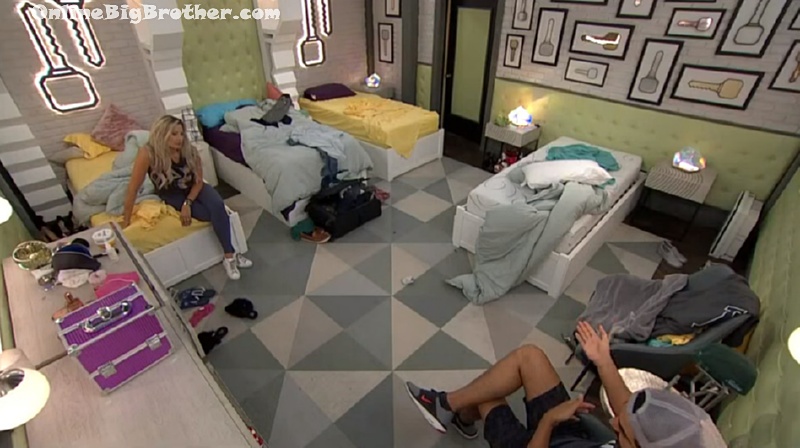 5:40 pm Kaysar and Janelle
Kaysar – you get a chance to talk with anybody
Janelle – I talk ed to Bayleihg.. she wants me to stay
Kaysar – that's good. we already knew that.
Kaysar – you talked to Dani
Janelle – talked to Dani. Apologized about my behavour.. she's better than she was last week
Janelle says she's now realizing that it was NicoleA, "remember how we thought it was Da'Vonne, it's not the case" (it was both)
Kaysar – damn, man the irony. The Girl that trusted us the most messed us up the most.
Janelle – yup, but for what we were trying to get her votes, trying to get her to stay
Kaysar – it's so crazy if you think about it.
Janelle – I'm trying to put myself in her shoes.. it's like if Bayleigh and I are close friends and I trust Bayleihg. Then David puts us on the block.
Janell e- would I be mad at Bayleigh and trash her game? F*** no
Kaysar – NicoleA was in a really bad headspace.
Janelle – why go after us and hurt us
Kaysar – either she came to the conclusion alone or someone pushed her over the edge and told her we were really bad people that pretend to be good. We had some diabolical plan to screw her over
Janelle – why would I spend time..
Kaysar – she convinced herself.
j – she spent all the time with us
Kaysar – she thought we were getting a laugh from mentally screwing her over
J – WOW
Kaysar – I'm telling you it got really sad and twisted near the end. she went on a rampage.
J – that's too bad
Kaysar – minus the fact that maybe we didn't go out and try to put together a squad and didn't put Tyler's name out there minus that the reality was I'm almost certain Cody was coming after me .
Kaysar – Tyler says 'well you guys put yourself up there as soon as you played for the power the safety suite"
Kaysar – I would have gone home then.. So that changes nothing. then Memphis wins HOH out of our hands.
Kaysar – NicoleA losses it trashes our names.. out of our hands.
J – What a diester 3 weeks it's been
Kaysar – what the hell were we supposed to do differently
J – One of us is leaving.
J – let's go over a hit list cause I love it
J – If I stay I'm not putting up Cody or Tyler, I don't give a F**. They're after me anyways. I'll go after Kevin.
Kaysar – what about Nicole
J – I'll put them both up
Kaysar – that doesn't send Kevin home. Who do you put up against him to send him home.. nobody
J – David.. that sucks
Kaysar – that would be the only one.
Feeds cut.. when we're back Kaysar is saying he wouldn't put up Tyler or Cody first.
J – what would you do
Kaysar – Nicole or Kevin
J – that's my same nomination. I think Nicole would go.
J – no way David votes Kevin out over Nicole
Kaysar – depends on how tight the clique is, depends on how much leverage Tyler and Cody have. Dani has leverage. Ian, that might be enough
Kaysar – Cody, Tyler, Ian, Dani, and David
J – that would be very special
Kaysar – if you broke the tie who would you send home
Kaysar – I would give a speech and make it sounds like something super random… when I was nominated you didn't hug me so I'm putting you on the block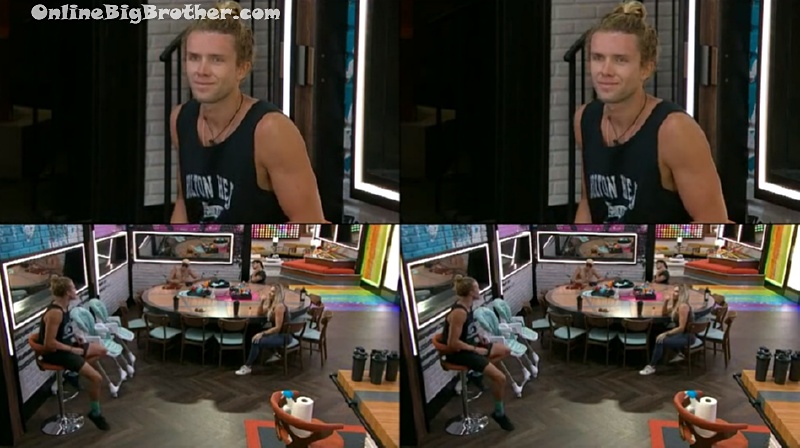 6:35 pm Tyler, Kevin and Janelle Chit chat about past seasons
Feeds cut a lot.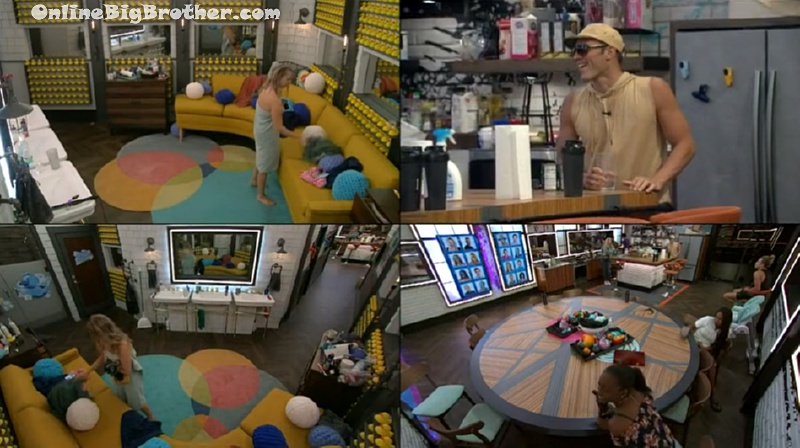 6:55 pm Nothing really going on… (It's allstars hurray)