Head of Household Winner – Tyler
Have nots – Bay, Janelle and Enzo
Nominations – Janelle & Kaysar
Power of Veto Players are -Janelle, Tyler, Kaysar, Cody, Bayleigh, Memphis
POV Host: Christmas
Power of Veto holder –
Power of Veto Ceremony – Cody
Safety Suite – Enzo wins Christmas is his plus one.
Live feeds —-> Grab your Live feeds here. Try it free.
Rank the houseguests —-> Big Brother 22 Ranking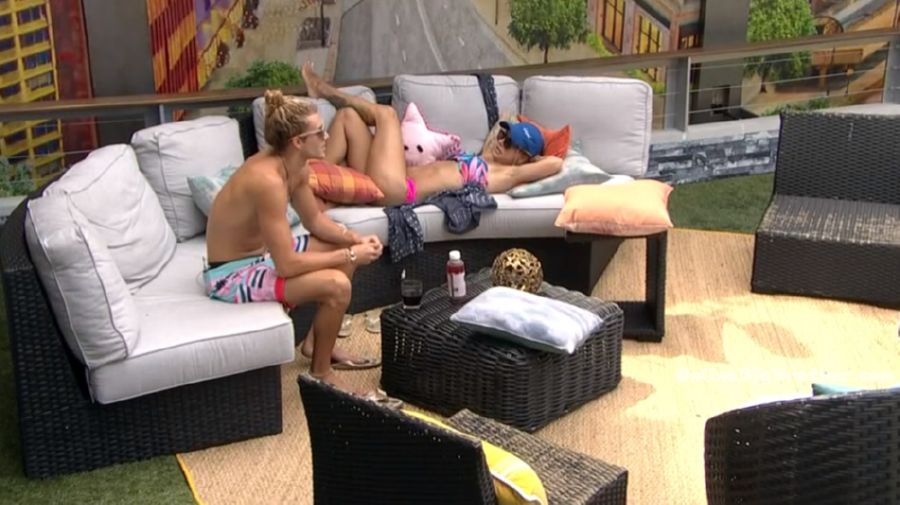 1:45pm The house guests are relaxing and suntanning in the backyard. On the backyard couch Tyler and Christmas are talking. Christmas – You get to see your girl every day. Tyler – yeah that is the only thing getting me by. Next week is going to be rough ..I'll be a havenot. I'm one of the only ones that has to do it. Christmas – I feel like I did it right .. doing it first. Tyler – being a havenot with you is the best because you know what you're doing. Christmas – I think they're figuring it out. Do you think they have an idea of who is going to go? Tyler – no. Christmas – that's good. Just think of when you do get out of here .. you're going to be a lot richer and you're going to.. Big Brother blocks the feeds. Christmas – just think when you're in the military you go on a minimum of 4 month deployment. Tyler – She says that now DaVonne is trying to flip and keep Janelle. Christmas – I hadn't heard. Tyler – because apparently it would be too tough for Bay to vote out Janelle because Janelle and Bay are.. Christmas – tight. Tyler – in an alliance. Christmas – well I guess she will have one vote. Just my perspective Janelle has caused more issues and honestly she just complains. And I think that attack on NicoleF was pretty bad too. Tyler – yeah. Christmas – its funny because Dani doesn't tell me a lot of game. Tyler – all she does is spit out paranoia. She just puts little seeds and walks away. But no one would put her up right now. You know what I mean. Christmas – well we kind of can't with our alliance. Tyler – yeah I wouldn't either but no one else would. She is playing a really great game. Christmas – I am curious what she would do when she actually has to play a comp. Tyler – she wouldn't be winning anything right now. Neither would Day or Bay. Bay and Memphis threw that yesterday. I think I am going to be backdoored next week. Day was going around planting seeds. Me and Cody are the next Kaysar and Janelle. Christmas – I caught Day and Kevin on the hammock last night at 1:35am. And neither of them have talked to me so that tells me they're just not including me. Tyler – I think David, Day, Bay, Janelle, Kevin are working together. That's five and that could cause a tie next week. Christmas – well if there are any type of physical .. I got that. Tyler – you have to win. Christmas – Don't underplay your comp because I want to terrorize them before they go. I might be holding on for dear life but if they think that .. and if they know that they're all suffering .. they know I will just keep going. Tyler – you should try and make deals while you're up there but then never fall. Get them to say out loud who they're going to put up so that everyone hears. If they do it then they're straight forward and if they don't then they're lying. And still beat them. Christmas – I think there should be some negotiating. Hopefully this week they don't continue to keep me up all night.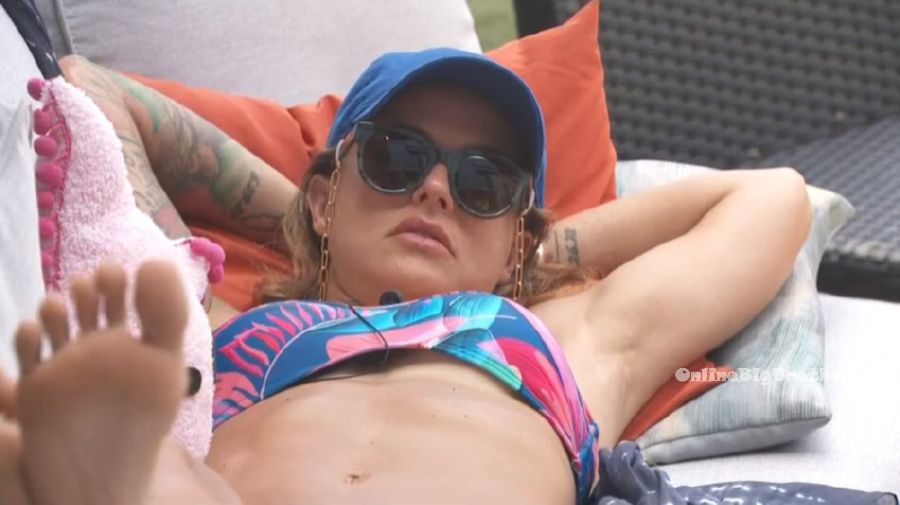 2:15pm Bedroom. Kaysar and Janelle.
Kaysar – talking to Tyler.. I think there is a slim chance to none that we are both going to stay in the house. Janelle – I know. Kaysar – so I figured we should start talking about next steps.. putting something on the table and see if he is interested in working together. So if you stay he works with you and if I stay he works with me. Janelle – yeah here is what I think you should do.. do whatever you need to do to save yourself. Kaysar – I am not going to do that. Janelle – I am telling you to. Kaysar – why? Janelle – because that's what you need to do. You can't save us both. Kaysar – I am not going to campaign. I will just see where the votes fall. Janelle – how about .. I am going to go up and give them the pitch as to why I should stay and you do the same. That's it, its the same pitch. Kaysar – okay. It is the same pitch. Janelle – I just don't think you can save us both. Kaysar – what do you think it is going to be the impact on the people that are friends with us. Janelle – not good.. that's why we should just tell Bay to stop hanging out with us. Kaysar – I am thinking we tell Bay what deal we tell Tyler. Janelle – no.. you're doing too much. It doesn't have to be we tell this person and that person. Kaysar – okay.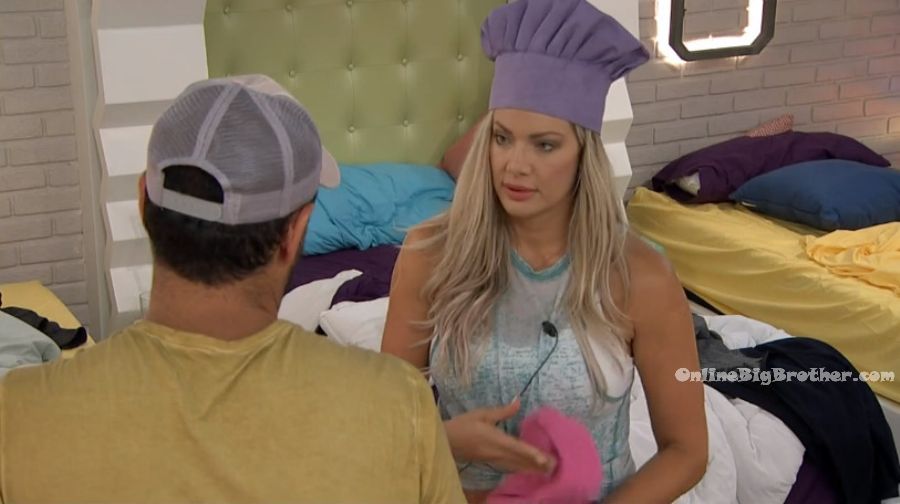 2:37pm By the pool. Nicole and Dani.
Nicole – so if you win HOH what are you going to do? Are you going to try and win? Dani says something we can't hear. Nicole – yes you can throw it to me.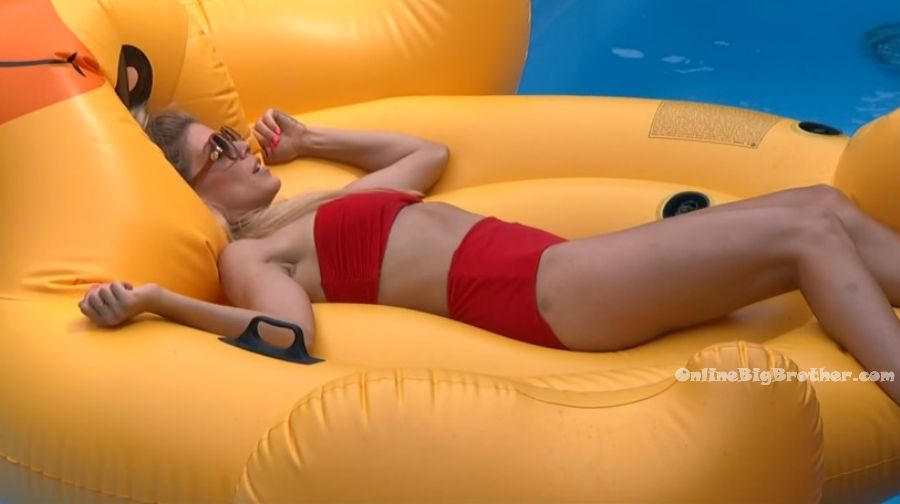 2:50pm – 3:10pm HOH room. Enzo and Christmas.
Enzo – I caught people be like why did Enzo use it on Chrsitmas? Christmas – I was questioned for using it on Ian. Enzo – like what the f**k! That's my business! Like I wanted to use it on Christmas. You know what I mean like what the f**K man! Like if you wanna ..then you win something! You win something and do something! You know what I'm saying .. that's it! Don't f**king question my motives. I like Christmas, I like her company .. she cooks.. she's a really good cook. She cooked for me. Christmas – and then we had a baby (baby star). Enzo – that's it! Get the f**k out of here! You're in my good graces. I like you. I think you and me could do a lot of damage in this house. I think Christmas and I could do some sh*t whether its in private or in the open. Christmas – I like that too. Enzo – if I win HOH you're safe. Who do you think should go this week. Christmas – I think Janelle. Enzo – that's what I think. She is all over the place. Christmas – Kaysar only has a connection to me and Janelle. I am just buying my time. I know Janelle is old school. She wants to divide the house. No one wants to play in a toxic environment .. and that's what she thrives in. And she was invited to NicoleF's wedding. She burned the bridge with NicoleF and Dani.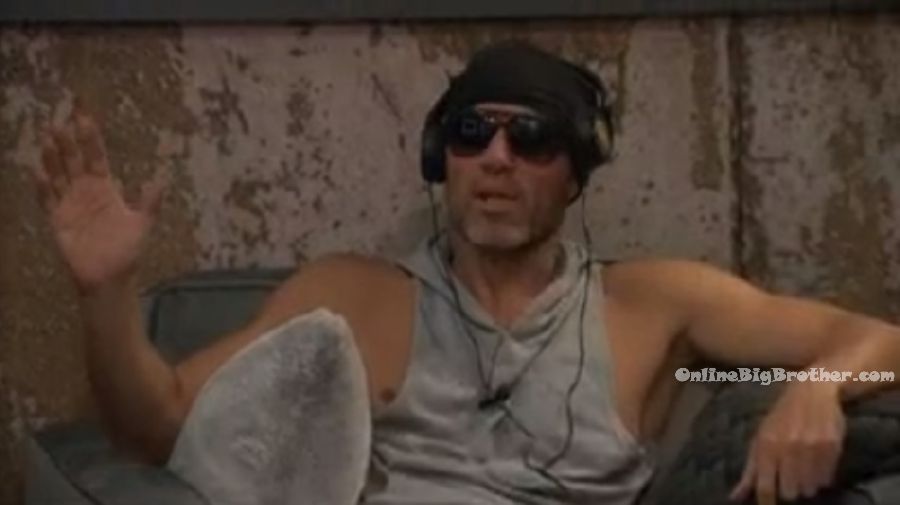 3:37pm – 4pm Backyard. Kaysar and Cody.
Kaysar – What happens after .. I if I do stay I am trying to figure out is there any possibility of something perhaps working. Cody – Yeah.. its tough you know depending on who stays and that other person is probably going to feel super alone. Kaysar – I don't have any friends in this house. I don't have any connections or alliances. Janelle is my only friend. She goes and I am solo. Cody – and that is such a tough spot to be in. For me a lot of the stuff that was stirred up I don't take it any way.. its the game. I don't care. Kaysar – is there any possibility that we can reset? Cody – 100%! Kaysar – and then rebuild the trust. You guys are playing a great game. Mad props. Cody – when we had conversations in the beginning I would have loved to link up. Kaysar – if you think not only in your social game but your strategic game that I could be an essential asset and that we could work together in some capacity, I would be down. Cody – yeah for sure. Christmas joins them and the conversation ends.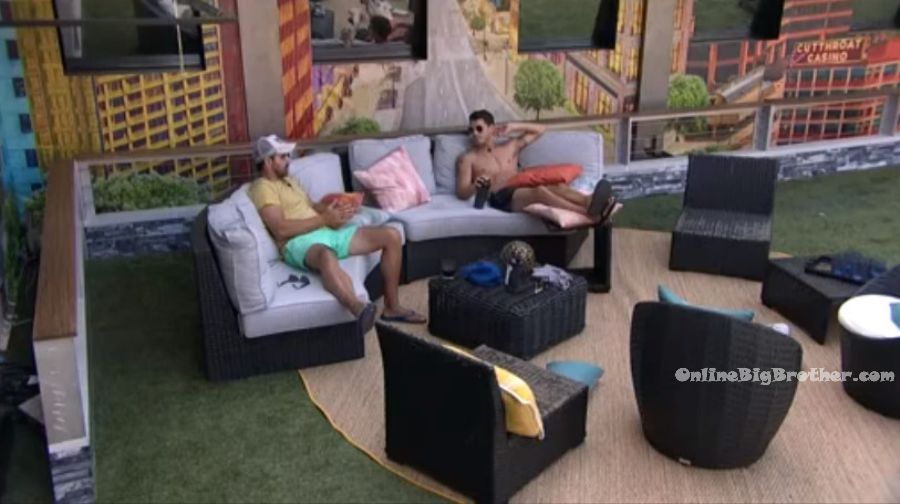 4:15pm Backyard couches. Kaysar and Memphis.
Kaysar – I am not going to campaign against Janelle. Memphis – well I don't think he is going to use it, is he? Kaysar – not a chance in hell. Memphis – I do think .. well we'll see but I think the house will unanimously vote out Janelle. Kaysar – you think so? Memphis – yes. That is my gut feeling. Kaysar – because? Memphis – because they look at her as more of a threat. Kaysar – well I find that deeply offensive. Memphis laughs – well you shouldn't. Kaysar – well I am. Memphis – well be offended next week.
4:30pm Backyard. Dani, Enzo and Nicole.
Enzo – yo were in good shape us four. We're in good f**king shape us four. Day asked me .. you used it on Christmas and not me. Dani – so f**king stupid. So!? Enzo – what the f**k?! I had to apologize. Nicole – she's not in trouble this week so why does she care. Its just a very weird thing to get mad about. Enzo – I don't know that's fishy to me .. I was like yo I'm sorry. I apologize that I won and that I get to decide. I apologize that I won and that I didn't suck.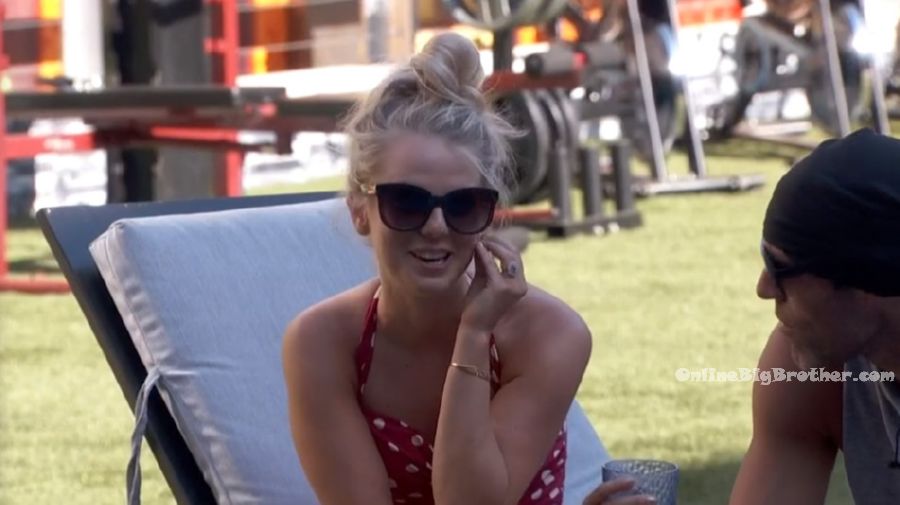 HOH room. Christmas and Tyler.
Christmas – Bay and Day have been inseparable. Tyler – I just want to ask everyone .. what do you want to happen this week. I feel like they've been in a freakin alliance this whole time with Janelle. Christmas – its getting more obvious. I just don't know what happened between Dani and Janelle… like why they split. Because Dani offered her safety in exchange to come into the alliance. I just know that whole group is using each other for numbers but they're unstable. Tyler – they would have five and go down to four. They would have Bay, Day, David we can only assume, Kaysar, Janelle.. that's it ..they don't have Ian. Not at all. So they would go down to five.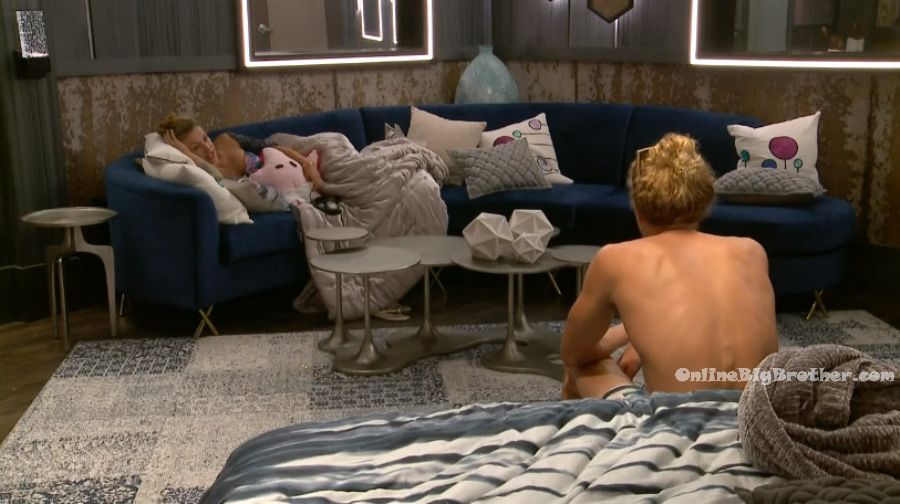 4:50pm Living room. Dani and Janelle.
Janelle – so first of all I really want to apologize about last week.. it was super crazy. I feel like there were so many people spreading so much information .. I was so overwhelmed with what was coming my way and what I was feeling. What do you think? Dani – completely blunt.. I am just confused. You know I like you. I have no issues with you. I would never go after you. I have verbally confessed that to you multiple times. Janelle – but I also though that you wanted me to tell those girls that I hated you and I was to stay away from you. Do you not remember that?! Dani – no I do remember the conversation. I would never come after you. I am very confused what happened. I thought we were working together. Janelle – we were.. I think was we said got spun into hate. I just said that I was staying away from you. Maybe we should have reconnected more. I have a pretty good relationship with you outside this house and I trust you. Dani – I like you and you're one of my top three big brother players of all time. I would never go after you and still would never. Janelle – I would never do that to you. I mean yeah I don't like NicoleF. I don't trust her. At this point I don't think Cody is using the veto but I feel like you and I could still work together. I think I could help you out in a pivotal way. Dani – this game sucks. Is Kaysar campaigning. Janelle – I don't know. I told him to save himself. I don't know but I feel like you would rather work with me than Kaysar. I feel like we could really do a lot of damage later on in the game. Dani – there are so many lies going around this house ..its crazy. Janelle – I am so fed up and pissed off .. you guys would love it if I won HOH. There have been enough people dragging my name through the mud. From this point till the next two weeks I would be gunning for whoever was dragging my name through the mud.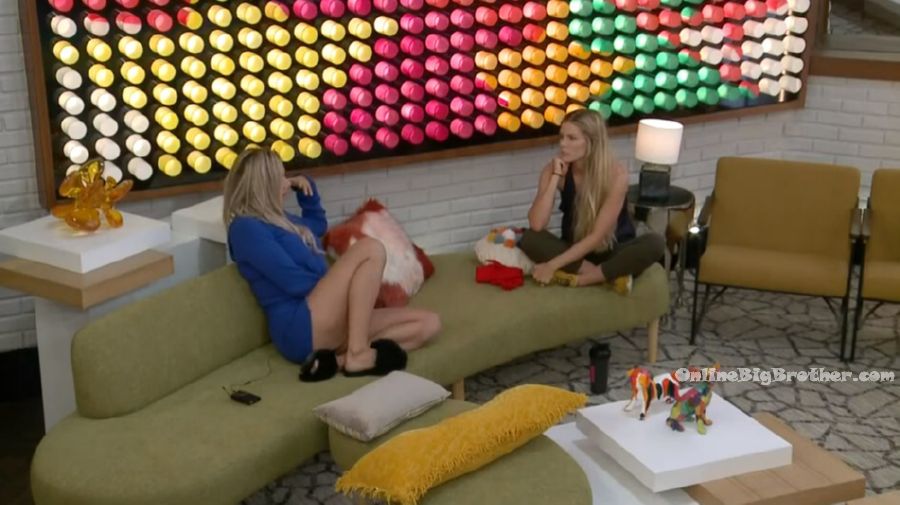 5:33pm – 5:50pm Hammock. Dani and Cody.
Dani – so she (Janelle) basically told me that she denied saying anything at all. She said she is going to give you and Tyler the same pitch that she gave me. Which is that she is not coming after me, you or Tyler and that which .. hello you're still grouping us together. And that you don't like Nicole. And I already know you're lying so this is a waste of time. And she was also acting like she was going to go after other people that she said are damaging her name. I think she was eluding to Christmas. She doesn't have the votes at all… like at all.. at all.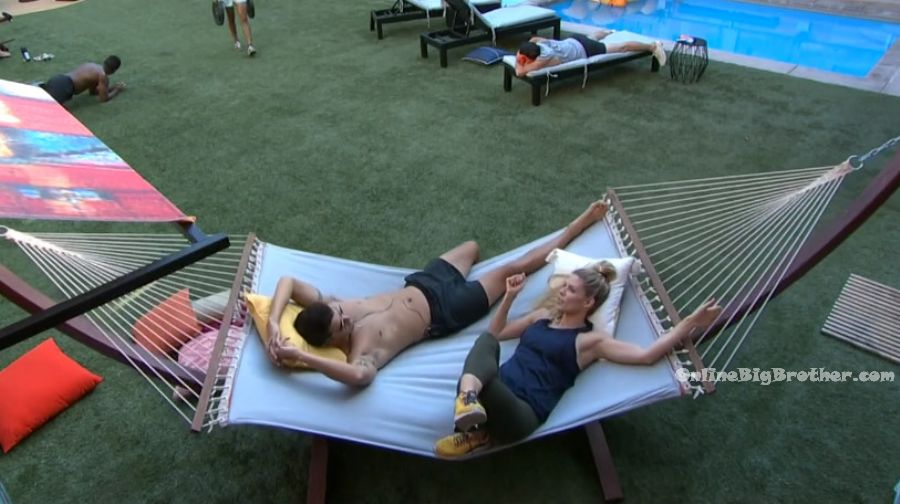 6:25pm Backyard. Enzo and Janelle.
Enzo – what is up with Boogie? Janelle – Boogie and I have this love hate relationship … and a year ago .. two years ago Britney and I got invited to do the amazing race. So we're talking to Dan and Boogie so we kind of knew who was getting calls for the amazing race. Boogie tells us that Dr.Will f**ked him over and backed out at the last minute.. Big Brother switches the feeds. Feeds return.. Janelle – its public record. I saw it all and then read the text messages. The text messages were bad. It was Boogie threatening him .. big brother switches the feeds again.
Christmas now has two star babies..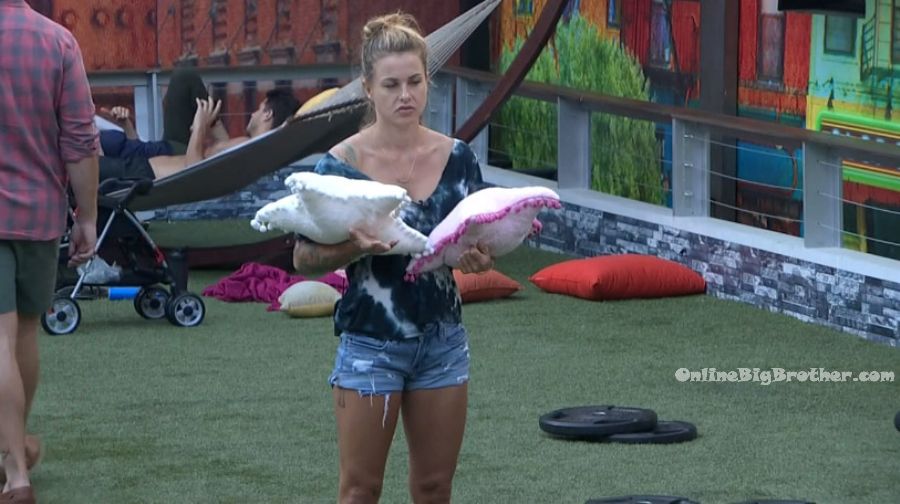 6:43pm Havenot room. Bay and Day.
Day – we need to talk. There is some smoke in the city! Bay – lets see if your smoke is the same as what I've been noticing. Day – I don't think Janelle was lying about the four! Bay claps her hands. Bay – that is what I've been witnessing for three days. I even caught all four talking today. Day – she was wrong in the fact that is was Tyler.. Enzo is in some sh*t. There is a bunch of sh*t going all over the place and Enzo is all over it. Bay – we knew that .. but you know what he is doing he is making himself a huge target. Bay – he is everywhere. So much to the point where he can't win HOH. He can't because he is in everything. I caught him talking to Dani in the hammock the majority of the day. Then I come back out and its Nicole, Dani, Cody and Ian. I feel like Ian is being sent into rooms. I think he is trying to pull Christmas into some other sh*t. I think this is the Derrick/Cody duo. But this and Tyler is also a Derrick/Cody duo. I could be way off but sh*t is just not. He is smart enough to know. Bay – what are we going to do about it? David lives in Lala land. The only thing he is focused on is Derrick and getting to know people. Then I talk to Kevin and Kevin doesn't want to win HOH at all. Once Janelle and Kaysar are gone no one is coming after them. Day – this is becoming a cluster f**k! One of us need to win the next HOH. I need some tea in my cut. I need people to start spilling.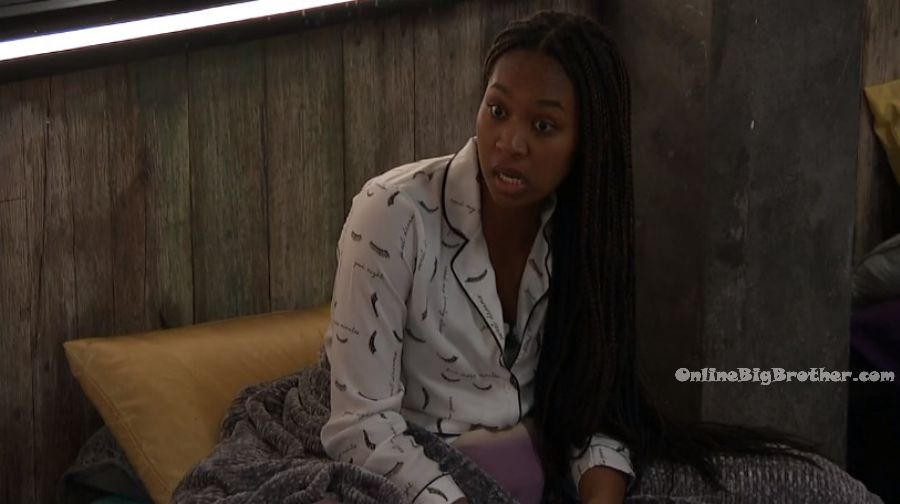 6:50pm – 7:15pm Christmas is told to go get the third star baby.. Cody – what number do you think they will cap out at? Christmas – seven. Christmas goes to get her new star baby. She then takes them for a walk around the yard to show everyone.
8pm Bedroom. Bay and David.
Bay – all I am saying is that there are definitely alliances being made and lines being drawn and if you haven't been asked to be in an alliance yet 9 times out of 10 you won't .. those are done. David – so you feel like Kaysar would be a good person to hold onto? Bay – I don't know if he is going to stay David. David – I don't trust Janelle. Bay – this is the thing .. its more about game-wise which one would be better for you. Who are Kaysar's targets, who are Janelle's targets and which one are going to be better for you. And who is more likely to take out their targets. And who is going to keep a target off your back. David – If Kaysar is here I feel like he has a thing against Cody and Tyler but he is sloppy when he plays. Bay – yes his nerves get the best of him. Its hard to compete when people have connections outside the house. Bay – if you win HOH .. if you put Memphis up and he takes himself down .. what would you do? Who would you put up next to him? David – I would have to figure it out at the time.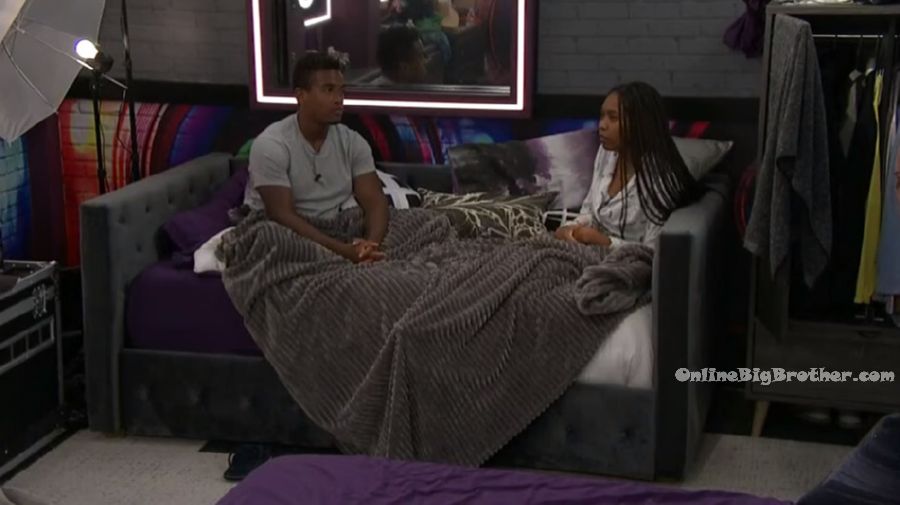 8:10pm Big Brother blocks the feeds..
9:15pm Still blocked..
9:35pm Still nothing..
9:53pm The live feeds return.
Nicole & Cody are in the hammock talking. Nicole – why wouldn't he want to right? What are you going to start to attack your own people? Cody – once a line in the sand gets drawn. That's what we did on our season.. that's what Derrick and I did. Christmas joins them.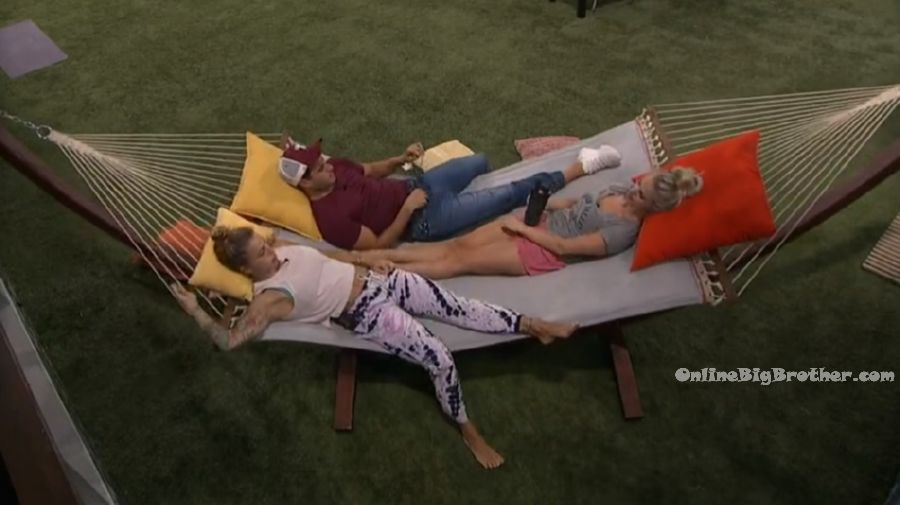 9:57pm Havenot room. Janelle and Bay.
Bay – alright mama, what's the plan? Janelle – for what? Bay – for you. Janelle – I don't see Cody using the power of veto. Bay – you don't think so? Janelle – hell no! Do you? Bay – no but I never know what peoples motives are. Janelle – there is no way! Why would they do that?! Bay – what about you targeting Memphis because he's a bigger target to get out. Janelle – I don't like to play like that. I wouldn't want to be like save me and throw Memphis out. That is not how I am.. It makes me feel.. Yeah, I am not doing that. Bay – what is your campaign to stay over Kaysar? Janelle – in order for me to get the votes I have to reconnect with Dani .. you know what I am saying? Bay – if Dani and Nicole are so close and she thinks you're coming after Nicole ..would that be ..like will she do it? Janelle – if its better for her game, yeah! She would! If its better for her game she would. I would love to tell other women in the house that this is the third woman leaving .. like this is a no brainer. Bay – that's how I feel.. so communicate it to Day. She is on the same page. The problem with Christmas, I don't think she is threatened by anything else. And I know that her and Kaysar are close. Janelle – I would have to get you girls, Enzo and Dani. Which it is doable. Bay – how can I help? Janelle – if you could get David that would help me out. Bay – yeah that shouldn't be a problem. The problem is that he has no clue what is happening. Bay – your job is to work on. Janelle I am here to play. Janelle and NicoleF probably have an agreement to work together.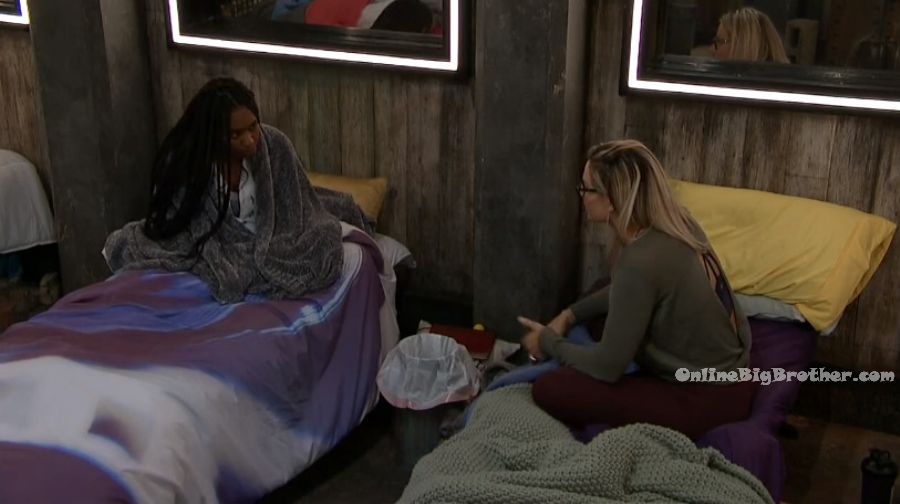 11:05pm – 12am HOH room. Enzo, Tyler and Cody.
Enzo – quick before Christmas comes up here. She'll be up here in two minutes. Bay – no she won't be because they gave her triplets. Enzo – she has four now? Bay – Nine! Bay – we just all have to make sure page. Bay – Who's going home? are we for sure its Janelle? Bay – the only thing is that is three girls.. there is more pressure for the next to be a guy. Cody – I see whoever doesn't go this time, goes next week. Day – I don't care which goes as neither one contributes or takes away from my game. Bay – and we can't all forget about how last week we were all saying Memphis is big deal. Enzo – what would Ian do if he won HOH? Dani – I was thinking he would go after Kaysar. Tyler – we just have to trust each other. Dani – and help each other when people are after each other. Nicole – okay so you really want Kaysar out next? Cody – if Janelle goes and Kaysar is still here and there is a battle back ..its better if Kaysar goes next so if Janelle comes back ..then they're not together.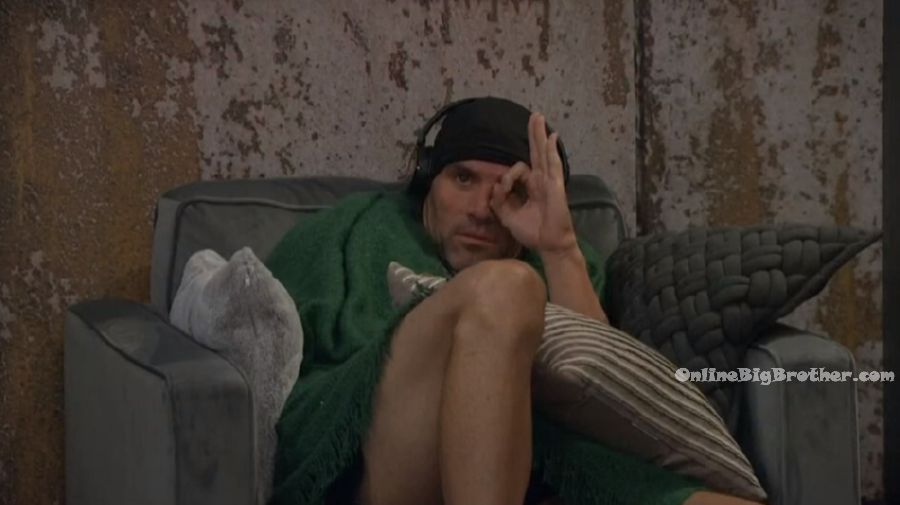 12:30am Backyard pool.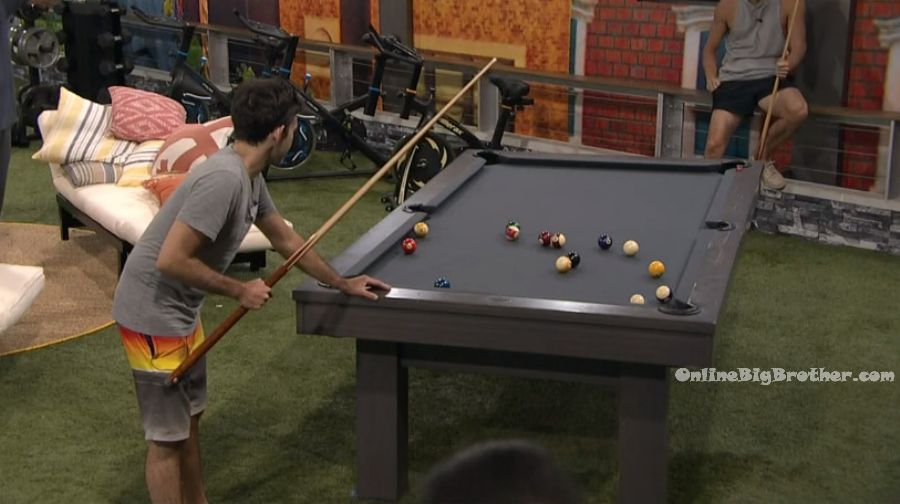 12:37am – 1am HOH room. Kaysar and Tyler.
Kaysar – you know how much I like you right? I want to try and appeal to you in someway. I have no leverage. Backs against the corner. Honestly you're playing a phenomenal game. You crushed it. This is the fruits of your labor. I've always wanted to work with you. There maybe circumstances where you might want to keep a bigger target in the house. It will never be personal and I will never play dirty. It might be better for your game to keep us together. And in return I would be willing to not go after you or anyone you're working with. Tyler – you and I .. you were probably my best friend in this house. Kaysar – dude are you serious.. I am going to have so many regrets right now. Is there anyway you can change your mind on that and we can stay. I promise you we can fix this. Tyler – I don't think you're going to go home. Kaysar – I let things get out of hand. Tyler – asking Cody to take someone off the block so that I can put someone else up would cause a trickle affect. This was not only my safest move but my only move. I can't keep you both in this house. That would just cause so much distrust in me. Kaysar – if I am here .. I know you're just doing what the house decides. I will not put you up because I want to build some trust with you. Tyler – If you don't put me up, then that will build trust with me .. but if you need to then do it and I'll understand it. Its up to you because I am powerless next week.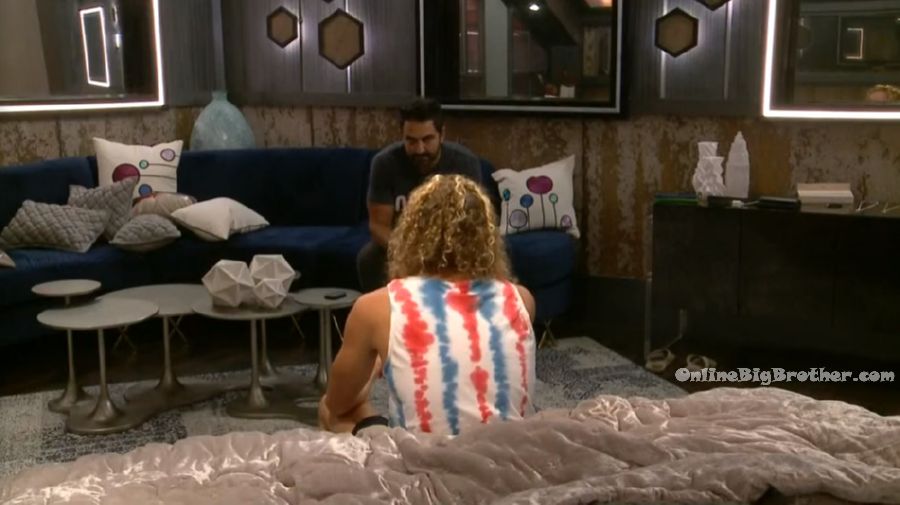 7:08am They're all sleeping
Show your support by making a donation.
If you're enjoying our live feed updates this season, please consider donating.
Any amount is greatly appreciated! Your donations go directly to paying the fees required to run this site.