| | | | |
| --- | --- | --- | --- |
| POV: | ? | Next POV: | July 21st |
| POV Used | ? | POV Ceremony | July 23rd |
| HOH: | Sam | Next HOH: | July 26th |
| Noms: | Kaitlyn and Haleigh | Have Nots | |
Big Brother Spoilers What can I say it's a Sam HOH…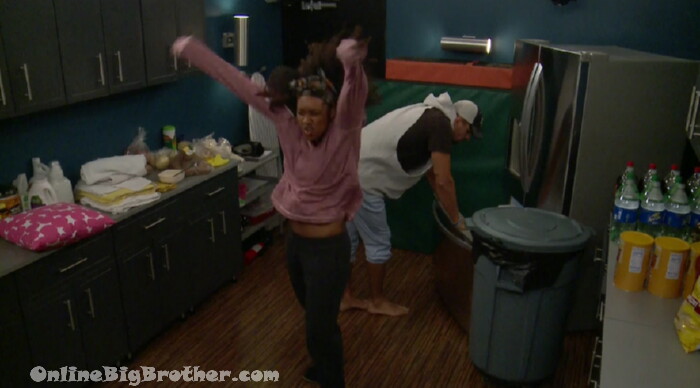 12:35am Bayleigh and Fes.
FEs is laughing that they have done an entire episode on his hair..
Bayleigh starts to get down
Fes – why are you so happy
Bay – I'm not happy i'm hyper
Fes says if Haleigh get houseguest choice she's going to pick him
FEs – even though we vote against Sam I don't know about you but I've had good conversation with Sam and that goes a long way with her
Bay points out that Sam has had good conversations with ROCKSTAR before and she's yelled at rockstar
Bay – Rockstar was attacking last night and Sam was like you need to chill and Rockstar was like I don't need to chill
Bay brings up final 2 says if it's the two of them people both like them it wouldn't be a popularity content
Fes – honestly I'm not worried about that right now.. I'm not going to worry about us getting top 2 when we still have 13 people in the house
Bay – you're just playing for it.. what strategic moves do you have to make
Fes – I have to win HOH to make a strategic move
Bay – it was supposed to be this week ..
Bay – we can't play in advance because we don't know who will win
BAy – neither one of us know the game.. Swaaggy was my source of information
FEs – I would rather let everybody tear themselves apart.. eventually they will have to come to us for a numbers situation
Bayleigh says with ehr power she doesn't want to be obvious she has it with who she puts up
bay – I'm trying not to make any enemies trying to not make any of this personal I want people to really be shocked who goes up.. I'm going to want the HOH to want to have noms stay the same.
Fes says that at firs tthe HOH will eb like what the f* but after a couple days they'll be like you know what..
Feeds cut
Fes asks her who she is putting up
Bayleigh has to think about it because who she puts up she doesn't want them to come after her
fes says she can't play like that
bay – I have to it's a safe game if someone comes after me then I'm out
Bay – my game is not like come at me bro.. that is not who I am so I am not going to piss people off unti lthey want me out.. you know what I'm saying
Fes – so who would you pt up
Bay – either Brett or Tyler … or Kailtyn and Tyler .. or Brett and Angela
fes – I like Rachel a lot but those three are just skating along.. Kaycee.. Angela.. Rachel
Bay thinks Angela is throwing competitions.
Fes thinks Angela knew she wasn't going to win the wall comp so why stay on longer, "I saw her she was shaking"
Fes – it wasn't the worst thing for me falling second
Bay – yes and no
Fes – I wasn't going to win that comp .. it wasn't mine to win..
FEs – I'm not hated in the house
bay – but you're not liked either
Fes – why not!
Bay – you have't gotten to know anyone
FEs – who doesn't like me
Bay – i'm just saying right now you haven't gotten to know everyone
Fes points out that Kailtyn and Haleigh got to know everybody..
Bay – not Sam
Bay tells him it doesn't have to be fake.. just get to know people
Bay says fes is sensitive
Fes says he's not but people have been saying it in the house so he's been playing that roll
Bayleigh says that Kaitlyn has been going around saying the power was used first week
Fes – it wasn't
Bay – I know
Fes – she got played into saving
Bay – no she didn't.. you are so naive when it comes to her .. she made up that shit about Sam's power
bayleigh explains that KAitlyn was going around telling you what Sam's power does but Sam is saying that is not correct
Bayleigh – Kailtyn made it up to save herself yo are completely brain washed..
Bayleigh says Kaitlyn will pick Tyler to compete in the POV
Bayleigh – Tyler told me the other day my priority is Kaitlyn
FEs – she's going to look like a idiot..
Fes goes on about Haleigh picking him Kaitlyn picking Tyler and fes wins the veto
FEs – the DR was like do you even want to play in it
Fes – if I win what the hell do I do
Bay – those your girls
Fes – honesty I would rather be in that tough position than sit back and not do anything.. I feel like this is my week I have to try and make a move and save Haleigh
Bay – that is so cute.. knight in shinning armour
FEs- she better not make me look stupid
Feeds flip
BAY – I'm not happy I'm hyper #BB20 pic.twitter.com/dxroVi0cZ7

— OnlineBigBrother.com (@bigbspoilers) July 21, 2018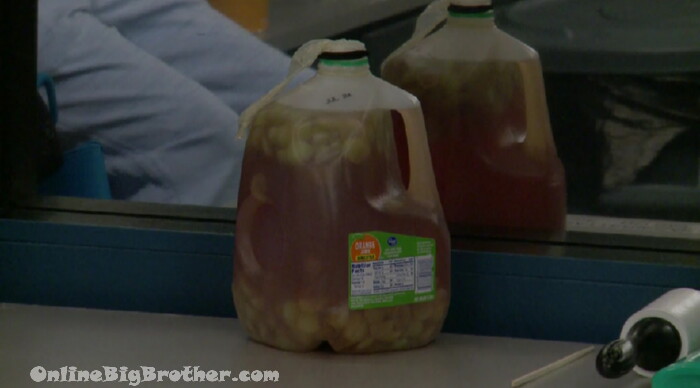 A shot of Sam's Big Brother Hooch.. .

12:42am Haleigh, RS and Kailtyn
Kailtyn – all i know is that we need at this time more than ever to stand together that';s it.. it sucks.. one of us on this side is likely going home this week..
Kaitlyn -if one of us leave and it's me you guys better f***ing come for them..
RS – I mean I have been saying that
Kaitlyn – but we don't know the details .. now the puzzle has come together
JC comes in..
RS – I told you guys he was bad you didn't listen
kaitlyn says it wasn't until this moment "I'm proud we didn't allow this to escalate any further"
RS says she knew Brett was a douchebag from the beginning.
Kailtyn – you were right.. she was right..
Feeds flip back to Bayleigh and Fes
Bayleigh – If Sawggy would call me a sister one more day I would have annihilated the boy
Fes starts shaking up the Sprite 2L of pop
Bay – I need you to get your head in the game… start to focus.. start coming up with Strategic plans
Fes – number 1 is to win the HOH
Bay – channel swaggy
Fes – Swaggy didn't even win sh1t
Bay – swaggy had all the information he should have won everything .. (LOL)
Bay – Swaggy fell in love with me and i'm very very happy about it.. . he told me .. I love you.. My heart.. I was like I love you to
Fes – Eww I farted..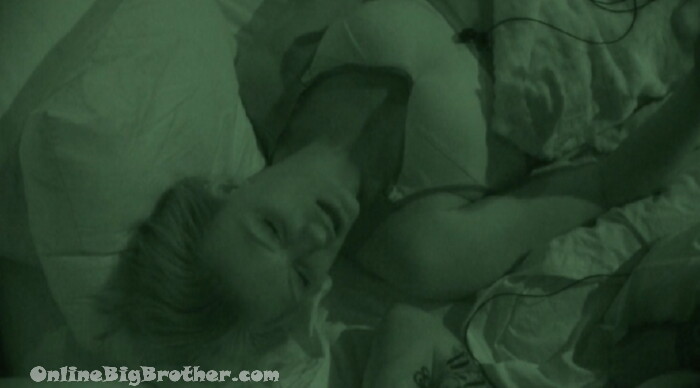 12:50am Rachel and Kaycee
Rachel is talking about finding the right person..
Kaycee – just do you the right person will come..
Rachel – I want Brett to see me for who I am I want everyone to
Rachel says she's a very sexual person she embraces that side of her she loves it.
Kaycee – as you should
Rachel – I love being sexy.. That's something I enjoy and embrace
Rachel – I'm not sitting here saying i'm a f***ing whore..
Rachel goes on to explain how with some guys it comes off wrong. "He thinks I'm easy or.. If I have a connection with him.. and I don't believe in the whole waiting" (OMG don't tell Sam you'll get nominated)
So Rachel has a crush on Brett… Which we already kinda knew. It's pretty sweat to listen to.. ahhahah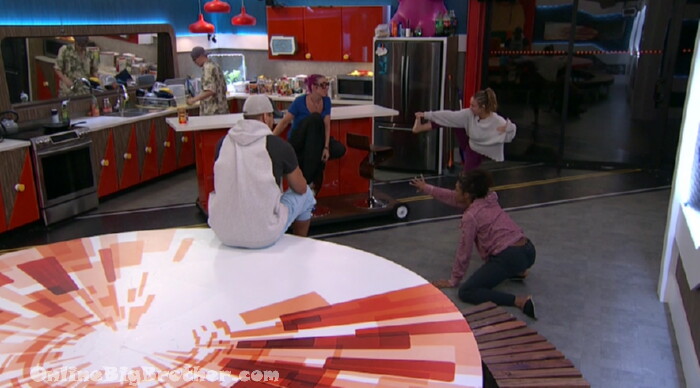 1:09am Rockstar, Scottie, Kailtym Bay, Fes
RS – when Sam yelled and Called everyone upstairs.. I stood up with ma A$$ out on the live feeds.
Kaitlyn – don't worry everyone has seen my full v@g!na when I was changing into today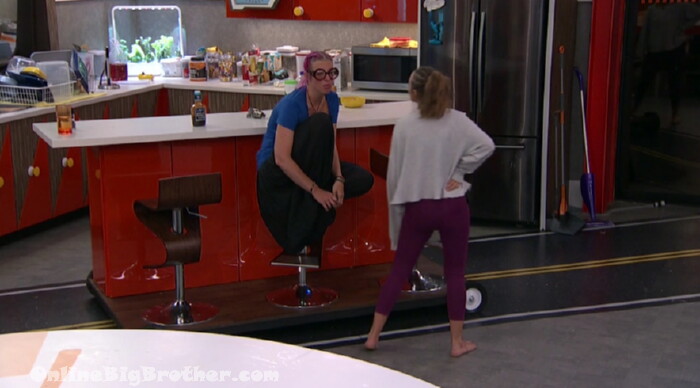 1:11am Kaitlyn and Rockstar
Kailtyn swears to god she doesn't have the power "Which is alarming.. " I also flipped the vote the first week.. i thought I was in the running
RS – I thought you have one..
Kaitlyn – nope I don't have one.. If I have one I would use it for myself.
RS – does n Brett have a power
Kailtyn – dunnno..
RS – Brett is stupid I don't like him
Kaitlyn – I agree
Rs – I thought this from the Beginning and I told everybody.. (Just stop Rockclub)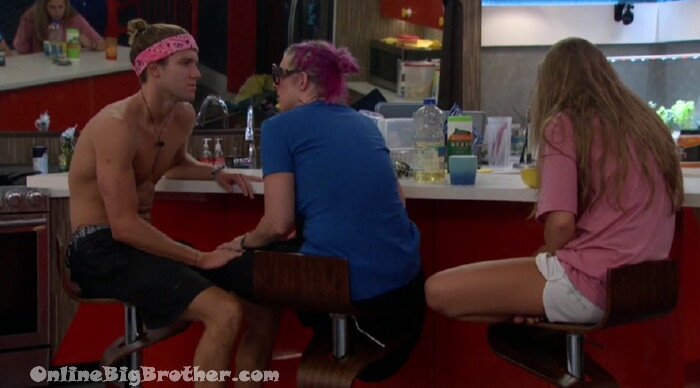 1:15am RS and Tyler
RS – did you vote to evict BRett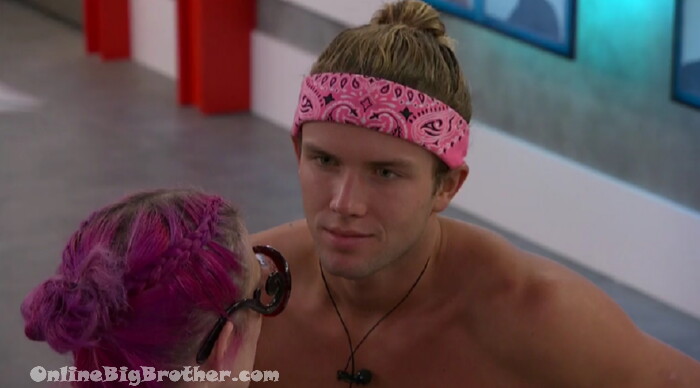 Tyler – mmmmhmmm
RS – you talk to Kaitlyn abnou ther Doctor visit (diary room)
Tyler- mmmmhmmm
Tyler – did you vote to evict Brett
RS – yes I did
Tyler asks Haleigh… "was there a power used.. "
RS says "according to this new revelation from our little friend from the Doctor":
Tyler- that there was a power used..
RS – that's why they are acting all crazy..
RS – why was Brett cheering you on so hard a the f**ing thing
RS – you don't know…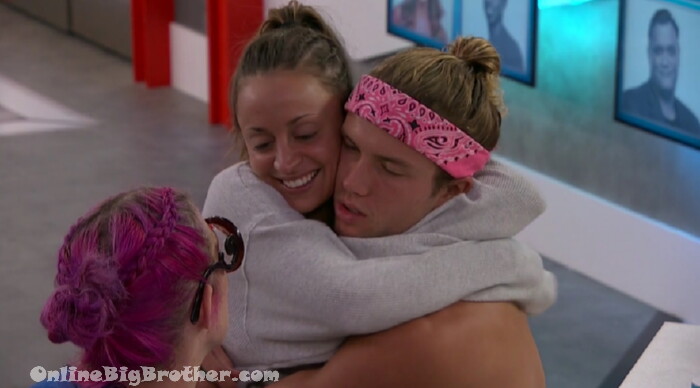 Kaitlyn joins them and climbs on Tyler..
Kaitlyn – a power was used.. BRett
Kaitlyn rattles on some power that was played on Thursday that cause Brett to stay. When haleigh asks if Tyler voted to evict BRett Kaitlyn jumps in saying she knows he did. RS asks him if he made a final 3 with the bros. Tyler laughs says no.. "Is that a thing now". Rockstar – "that's been a thing in my head.. listen I don't trust any of you b1tches.. I have a lot of theories here.. Rockstar says the bros were d1ck heads. Tyler says they weren't d1ck heads to him at that point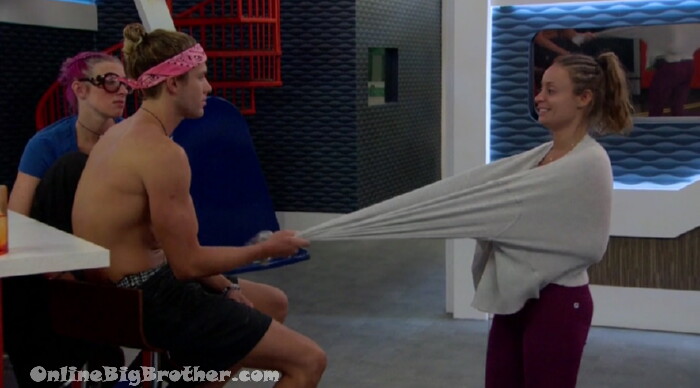 Kaitlyn asks him to do them all a soild favor and stop trusting the bros..  (how about you stop trusting Tyler)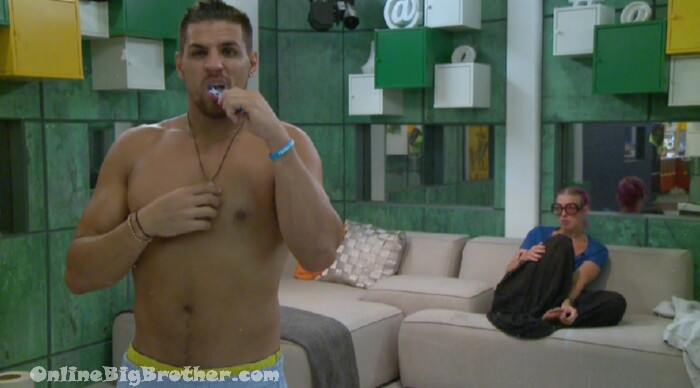 1:27am Rockstar and Fes
Rockstar is hinting at Sam putting her up if the veto is played saying that Sam said to her "it's just a game on a tv show"
Fes – if that's true it's sucks they really got us
RS – they have been getting us. that guy has got to go (Brett)
FEs – we'll get past it this week.
RS – if we win the veto who does she put up .. not someone from the other side
RS – apparently Kaitlyn doesn't have a power I think JC has a power but he's only using that on himself. ..
RS – this game is stressing me out.. I can't sleep I just want to win a dam HOH
RS – we never figured out who flipped on swaggy.. maybe… I hope it's not Haleigh
RS – do you think everything is going right for them because they backed Sam and we Backed Steve because he was loyal
Fes says htey convinced Kailtyn
Rs – they've convinced Kaitlyn a lot
RS – this f**ing game
Rs shocks us all says "I'll put Brett up next to Sam"
RS – I love Sam i know she'll say.. that guys got some super powers in this damn house to convince people"
RS – I think he's a d1ck.. (you don't say)
RS – I'm livid that he called me out like that.. if Sam knew about that it's very upsetting..
RS – it's a game that's great.. but like.. really
RS – they are doing a good job on that other side… it's highly upsetting.. I don't know who they are doing so good..
Fes says they just have to win 2 HOH's back to back "how sick will that be.. then they will flip on each other" (the other side is goign to crack next week anyways)
RS – that's the trick.. somehow we pull off getting them on the block.. who goes up
Fes – you do you think..
Fes says JC told him he's got a good relationship with Sam, "I didn't know he did"
RS – Kaitlyn just kept trusting Brett and I told her to stop.. she kept talking to him.. these past few weeks I've been telling her..
RS – she put Swaggy up Brett was up there telling her what a great move that was.. no sh1t.. for him..
RS – i was so excited when Brett dropped though.. I was so ignorant.. he's just such a jerk.. all our problems stem from him.. (RS you gotta let this rest man )
RS – we have to figure out how to beat him.. JC I think has a power.. but he won't use it on anybody but himself..
Fes says if Kailtyn has a power they'll see this week.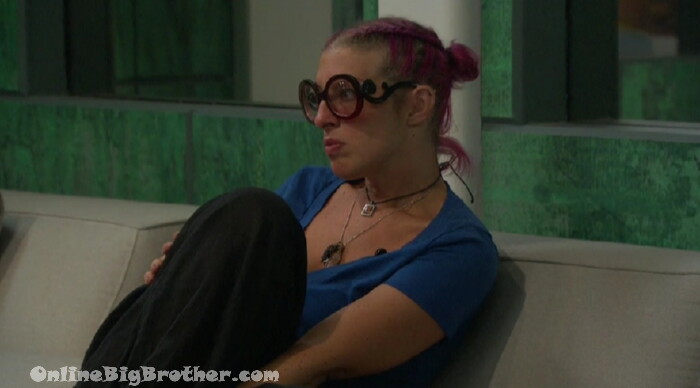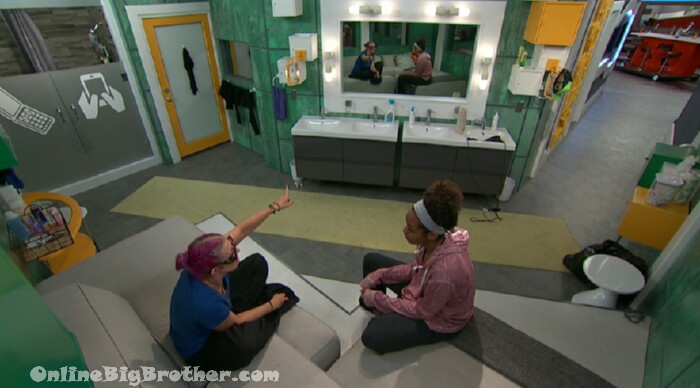 1:44am Bayleigh and Rockstar
RS is claiming that Kailtyn believed Brett and that is why she put Swaggy on the block. She believed Brett after his speech.
Bayleigh – I didn't need more reason but thanks for adding another one
Bayleigh says they have all given KAitlyn second chances she did not so this is on them, "If you all want to decide to make up and kiss later on 3 or 4 times.. that's cool.. that's not me"
RS – I'm not being anymore friends with her than you are I'm just talking to her when she's in the room I've kept her at a arm's length
Bay – you've been friends with her for a WHOLE week more than I was
Bay – I'll be damned if Haleigh goes home
RS – I know
RS doesn't understand why Sam would support such a "D1ck headed a$$hole"
RS – Sam is Winston to
Bay nods, "more brett.. brett reminds her of her brothers friends" (it's scottie that reminds her of her brother.. lol she told Rockclub that)
Bay says Brett has everybody wrapped around his fingers
RS calls him a douchebag "why does Kaycee like hiM"
Bayleigh says at the beginning nobody talked game to Kaycee but that other side. (Kaycee said this it was becuase Swaggy built his 1/2 of the house started the seperation)
RS says she's always been nice to Kaycee "I never talk game with her"
Bay – we never talked game with her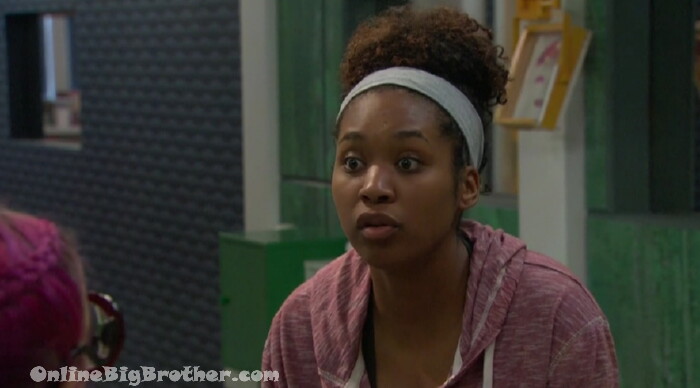 Bay says that Swaggy was jealous of kaycee .. before he left.. he was like Don't Embarrass me don't go pushing up on her (WOW)
Bay – I was like WHAT
RS – that is why i never talked game with her I was allied with Swaggy
RS – Rachel also does not like Brett
Bay tells Rockclub when she first met her she was an evil manipulating "little thing" now she's let thing feelings get in the way. bay wants Rockwall to return to that evil manipulating "little thing"
Bay – step on some people..
Bay mentions how when Kailtyn was HOH they had to chase her down she spent all her time with the other side. And now that Kaitlyn is on the block she's coming to them tell them they have to come together.. no.
Bay says that Brett was telling her that I flipped and she was asking bay this, 'Are yo stupid"
Bay – this is something my mom tells me.. when someone tells you who they are believe them the first time (That's a bad way to look at things.. just saying)
Bay gets ready for bed says she has a morning swaggy cologne and a night swaggy cologne. Explains that swaggy had different colognes for different times of the day.
2am called into the DR #BB20 pic.twitter.com/PH3NieiEZl

— OnlineBigBrother.com (@bigbspoilers) July 21, 2018
2:20am Sam is rocking out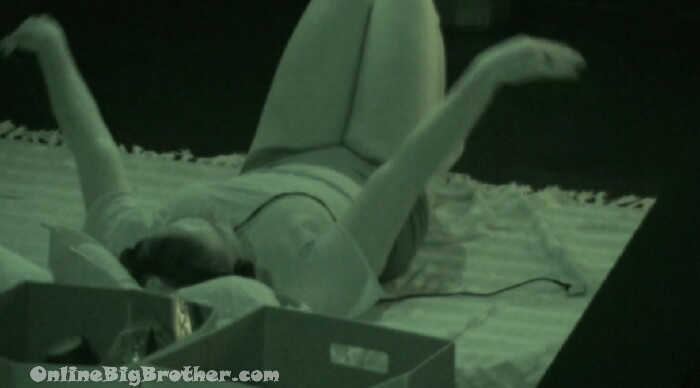 Sam tonight .. #BB20 @DawgsBigBrother pic.twitter.com/wEql6TDexc

— OnlineBigBrother.com (@bigbspoilers) July 21, 2018
For all you folks that need a VPN I use this one
Rank the houseguests!
Easiest way to Rank the house guests use link below