| | | | |
| --- | --- | --- | --- |
| POV: | ? | Next POV: | July 21st |
| POV Used | ? | POV Ceremony | July 23rd |
| HOH: | Sam | Next HOH: | July 26th |
| Noms: | Kaitlyn and Haleigh | Have Nots | |
Big Brother Spoilers Power of Veto Players are Kaitlyn, Sam, Haleigh, JC, Fes, ROCKSTAR- Rachel is the host . Fes is torn about this veto as both the girls nominated are his "friends"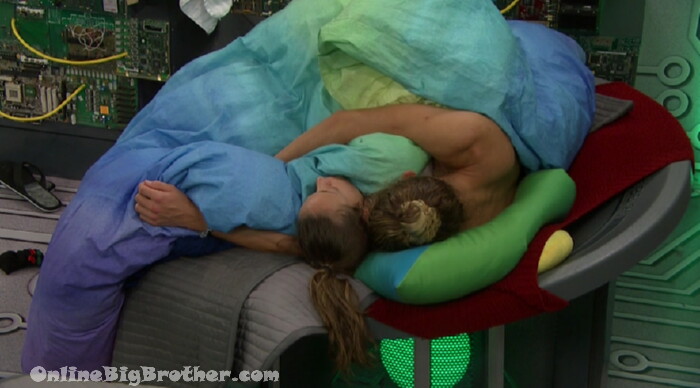 8:16am Houseguests woken up…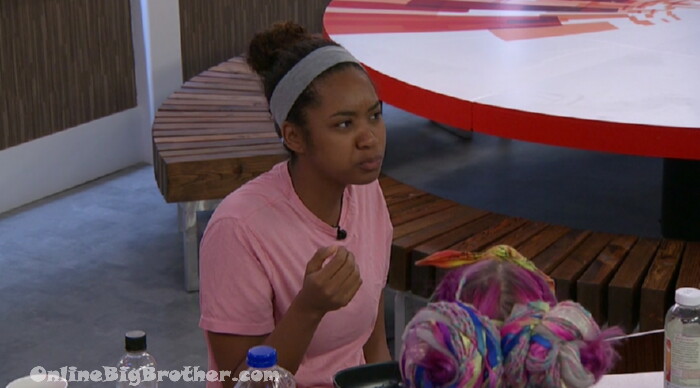 10:06am Feeds return
Bay – I wish I would have known If I was going to get picked I would have straighten my hair yesterday (did she not think she was eligible?)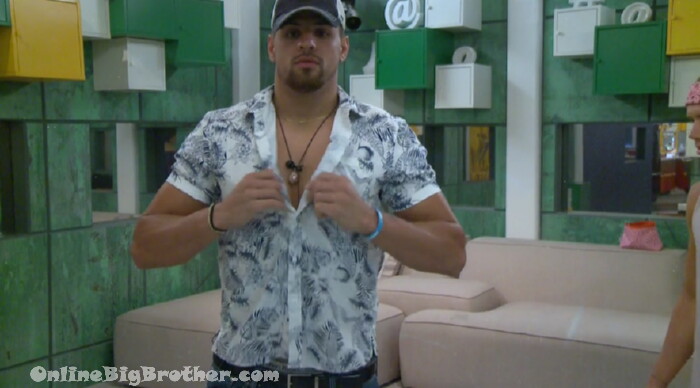 Fes – I'm going HAM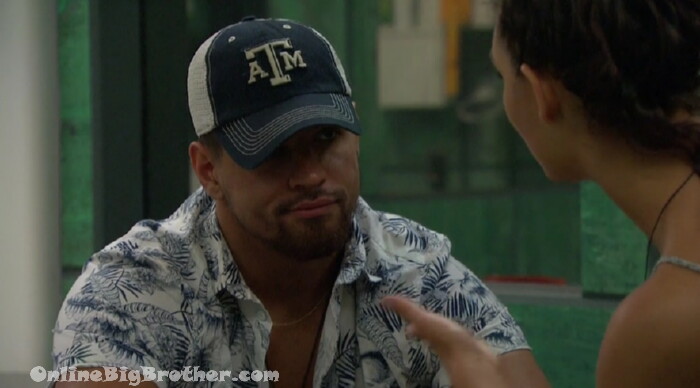 10:16am Fes and Rachel in the bathroom . Fes tells her if he doesn't win the veto he thinks he's going up.
Rachel tells him if he wins the veto it puts him in a really shitty position.
Rachel – it would make more sense to keep Haleigh she's done less.. personally I enjoy Kaitlyn .. I enjoy both equally..
Rachel says her and Kaitlyn have more inside jokes, "i want that to stay between us"
Rachel – I wouldn't think you go up as a replacement if there was..
Fes – it's a game who knows what she will do..
Fes asks what if she wants to put him up to make sure the other person goes.
Rachel says Sam is the Straight shooter he should just go yup top her and ask her if he's a possible replacement nominee.. She'll tell him the truth.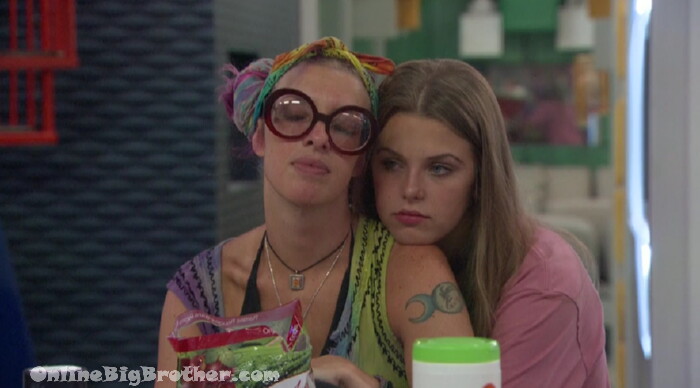 10:25am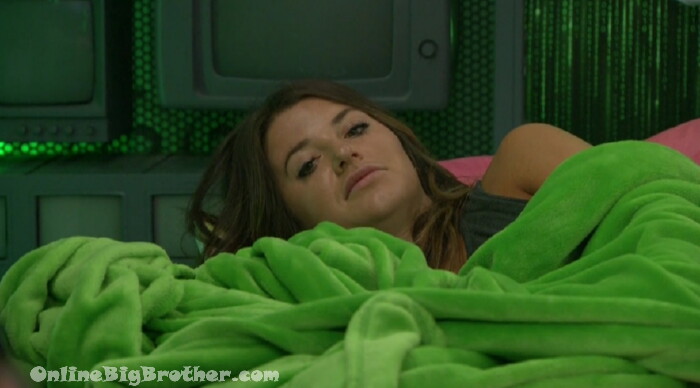 10:28am Angela and Brett
Angela says as long as ROCKSTAR doesn't win the veto they will be okay..
Brett says RS and her crew are positioning against Sam. Tyler came in last night and was telling me about.. you let Sam know she'll have no problems straightening them all out.
Brett says rs and all them think that him and Sam are "In on it" (using the power to save him etc etc.. it's really a crazy)
Brett – not likely .. I think JC will leave it..
Angela – I think he'll throw it
Angela – I think it will be Kailtyn vs Haleigh
Brett – would be beautiful
They agree Rockstar is a easiest target. Angela wants KAitlyn to go right now.
Brett mentions he doesn't want ROCKSTAR in jury
Angela – same ..
Brett – Kaitlyn is whatever at the end of the day
Angela – you can tolerate her
Angela – oh my god ROCKSTAR in jury
Brett – it would be
They say together – Hell
Brett – hell.. worst case Scenario
Brett – literally hell .. I would like out this week because I know everyone will want more of a threat next week
Angela – me too
Brett – I really want it to happen this week..
Brett brings up last night people thinking there was a power used a
Brett – what could have happened in the DR to change anything
Brett – she's like (Kaitlyn) I had an epiphany and it just came together I released what really happened
Brett – I was like you're a idiot, You're a idiot thats fine whatever .. I was like tell Sam.. tell her to call a house meeting let her explain how she didn't use it
Brett – I don't really care either way
Brett – ohh my god and then I just sit next to that troll (not sure who he means .. RS?)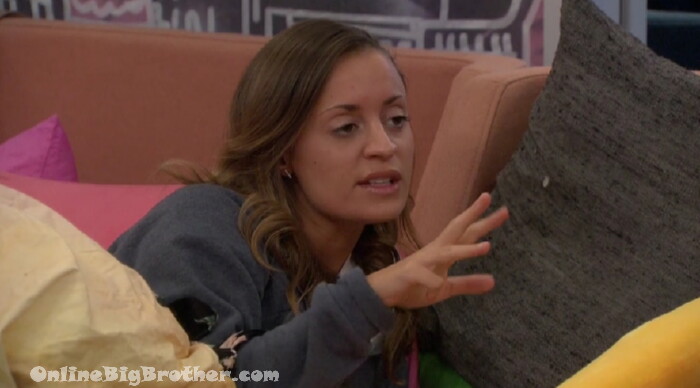 10:39am Kaitlyn , Haleigh, Bayleigh
Kaitlyn – if we get Brett on the block how many votes do I need to stay..
RS – six
Haleigh – you need six
Kaitlyn – lets say you save yourself so you can vote.. you three, fes, Tyler and JC..
Kaitlyn – you don't think JC would… I know he would
Bayeligh doesn't think she can say for sure
Kaitlyn – he voted with Fess he voted with Tyler .. it's who he votes with..
K – I really think it will work.. this is Sam's chance if she does this.. it's actually like beyond good graces with the rest of the people in the house.. like the women.
Bayleigh says she's not upset with Sam
RS says she was but she's had a long talk with Sam
Kaitlyn tells Bayleigh she should be upset after what Sam did
Kaitlyn – I understand not this week because she's in charge but next week.. (ZOMG)
Haleigh – the only thing I didn't like was the speech and I talked to her about that.. on a game Level it was the easiest move she could have made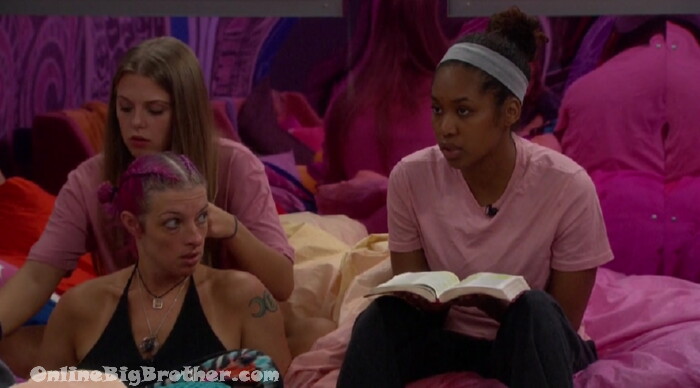 Kailtyn – that is why if we win HOH the easiest move will be putting her back up
RS yup
Bayleigh – no I agree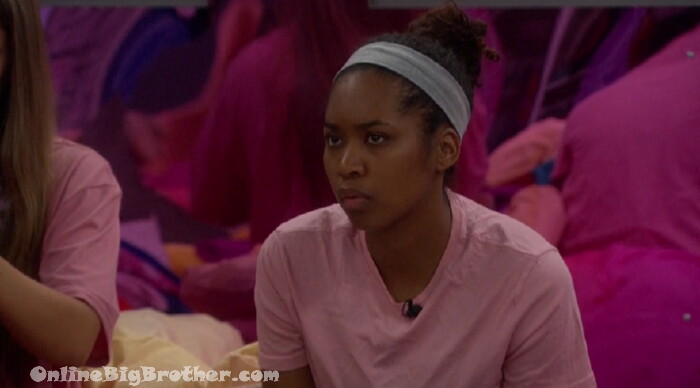 Kaitlyn – she used that power.. that is the main thing that makes me angry how can you use that and see a group of friends literally fall apart
Bayleigh – at the same time she can totally do that because that is the same group of friends that didn't vote for her to stay (I'm starting to like Bay.. like 4 star ranking )
Kaitlyn – but it's still gross
bayeligh – it's just getting even
Haleigh – that's the game.. she's also playing very personal..
Bayleigh – there's still a chance.. a big chance..
Haleigh – I chose Fes because I knew he would use it on one of us..
They go through possible replacement nominations. Bayleigh, Fes and Rockstar
RS – we've lost a lot of people..
Bayleigh – way too many
Bay leaves
THey agree worst case scenario is if Sam wins it.
Haleigh – it stays the same
Kailtyn start quoting "the secret" says thoughts manifest events.. it's about controlling your thoughts and only thing what will happen what you intend to happen.. you have to believe it too
Kailtyn – ask and you'll receive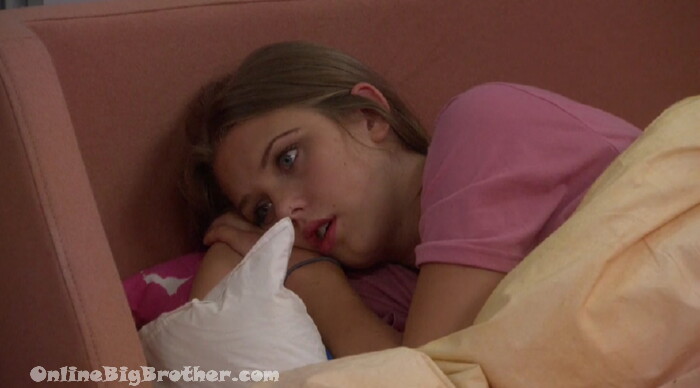 Just Kailtyn and Haleigh now whispering
Kasiltyn wants to try and get Brett on the block. She's trying to9 think of a way they can convince Sam
Haleigh – she might if RS fgoes up there and talks to her
Kailtyn rolls over tells Rockstar that it's a big play and she's the only one that can do it
Kaitlyn – she's actively showing America that she's keeping ..
RS interrupts says she's already start before the nominations pushing Sam to put up Brett.
Kaitlyn – I would love to be on the block against Brett..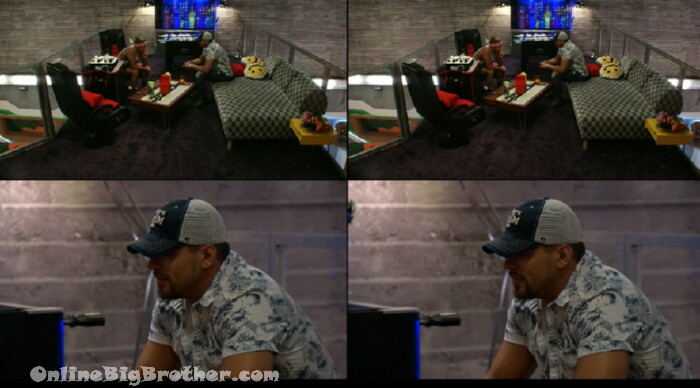 10:55am Fes and Tyler
They are suspecting the girls are working together or have some sort of side alliance.
Tyler – if JC finds out he's going to go nuts.. (JC wants all bro summer)
Tyler – I feel like if I talked to Sam she wouldn't put us up
Fes – I feel like a lot of people talk to her (Sam)
Fes says he's talked to her when she was a robot he thinks he's good with her but on the flip side there's not a lot of options for replacement nominee.
Fes – I don't think she's picking Angela, Kaycee or Rachel … you think she would pick Rachel
Tyler – maybe
Fes – you are on board if we win HOH two girls go up
Tyler nods..
Tyler – I'm trying to build relationships with the other side now so I can keep Kaitlyn safe
FEs starts going on about how hard his POV decision is..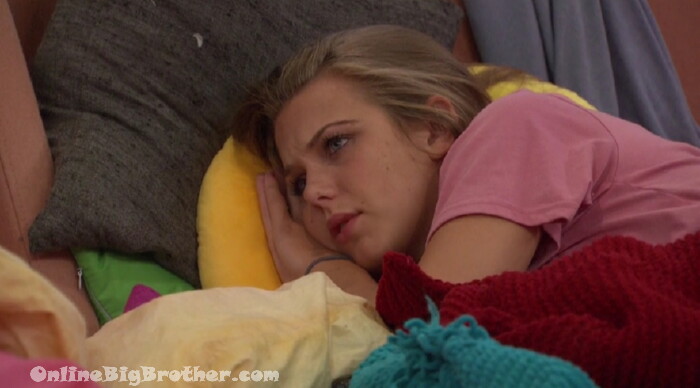 11:14am Haleigh and ROCKSALTS
Haleigh – you're going the f** up.. I just want to get poast this week.. I feel sick in my ches.t. like consistancy every day.. what is teh cost of me using it.,.
Haleigh says Kailtyn's decisions to change the tragectory of this game hurt all of them.
H – she wasn't thinking strategically she wasn't thinking
RS – every time she gets mad saying Sam is emotional i'm thinking…
H – yeah yeah .. you made an entire emotional move
Haleigh says if she get the chance she's backdooring Kailtyn and her speech will be "I'm taking a pay cut out of your BOOK Kaitlyn for flipping on one of my friends becuase she needs to go sooner than later..
Haleigh – I don't want people to see that I am associated with her like this..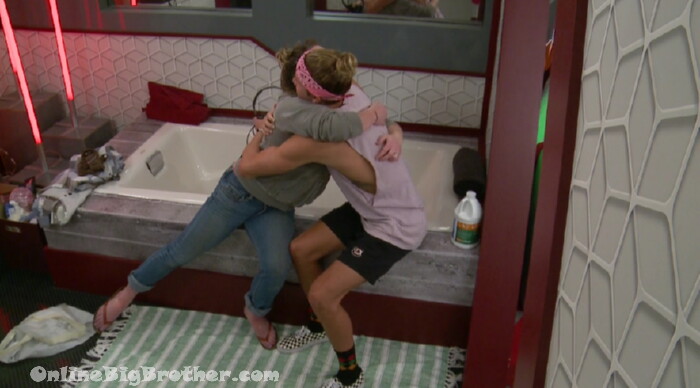 11:21am Tyler and Sam
Tyler is telling her about the Sam used the power rumour.. He's going to get to the bottom of it..
THey hug.. it out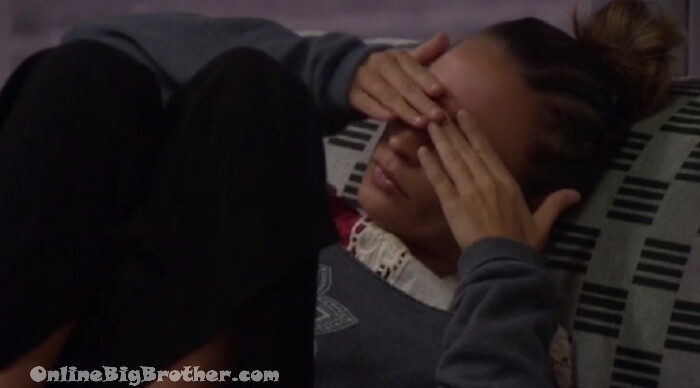 11:27am Kailtyn and Fes 
Kailtyn – you told her to pick you.. whats wrong with you.. .. DON'T make me feel like I'm the one..
Fes – this is a shitty situation
Kaitlyn – you told her the same thing you told me.. why would you do that to me.. you told Haleigh..
they start to argue..
(I'm not going to bother to listen to this crazy  )
(ok i'm back)
Fes – just go out and try and win it
Kaitlyn – love you..
fes – love you too… stop acting so paranoid..
(see nothing missed.. 🙂 )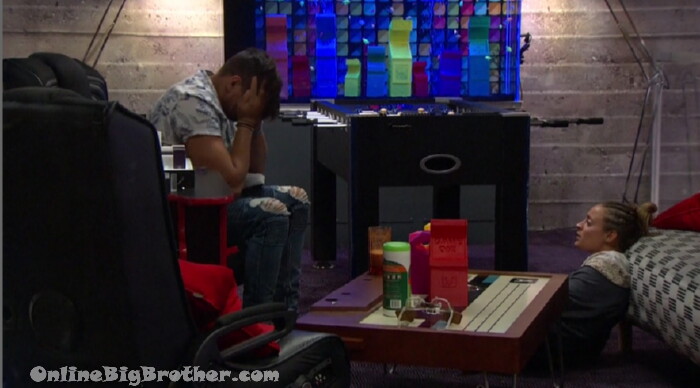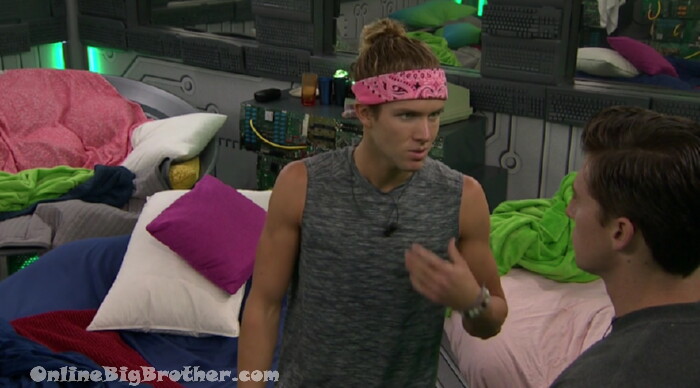 12:01pm Tyler and Last Bro Standing are exchanging stories leading them to believe there's an all girls alliance.
Fes has come to both of them now with this.
Brett – three guys have gone home so far. . he's picking up on it to
Tyler – he was like you and me next week we need to win pout two girls on the block
Brett – yeah yeah I agree..
Brett says everyone is being weird in the house.
Tyler – they all think they have it figured out.. they think you and Sam are in on this.. the entire house thinks that.. I told Sam that..
Tyler tells him they think Sam used her power last week to save Brett.
Brett – does Rachel think that
Tyler – no no just that other side (aka the superstars)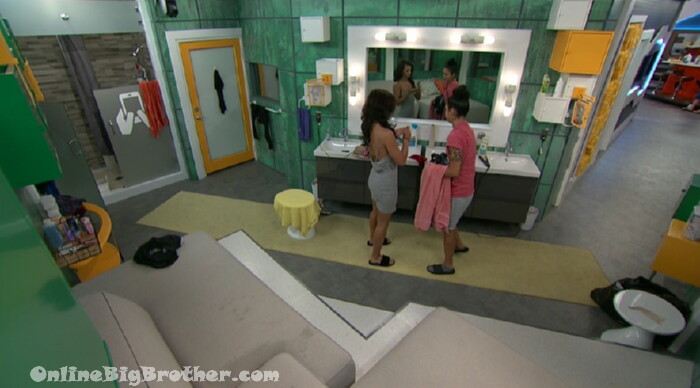 12:05pm Rachel and KAycee talking about how Fes is going around about an all girls alliance (Kaycee brings this to Rachel). They laugh, "that's why there's two girls on the block"
They are targeting Scottie next week.. Rachel says if Scottie wins HOH it's her and Brett on the block.
Kaycee – who told you
Rachel – Tyler
Rachel – now I have to compose myself and act like i'm his best friend
Kaycee – yup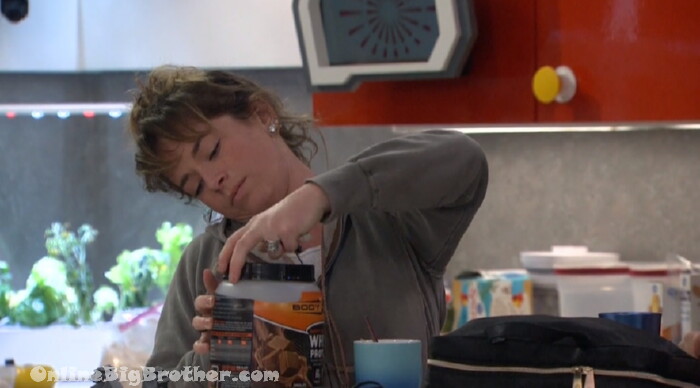 12:23pm Sam staying on Slop
Sam – I hate this sh1t… I'm just done with slop..
JC – it's done tonight
Sam – I know i'm so excited
JC you're not really a have not
Sam – I'm kinda still a have not and I kinda still hate it.. . I'm on slop..
Sam staying on the slop "I'm kinda still a have not and I kinda still hate it… I'm on slop."#BB20 pic.twitter.com/oHtRaKkEds

— OnlineBigBrother.com (@bigbspoilers) July 21, 2018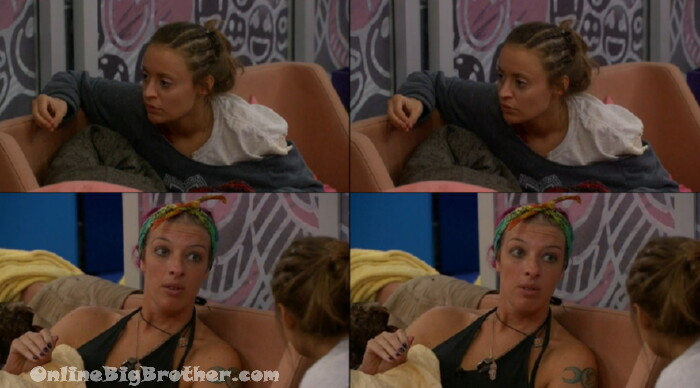 12:45pm Rockstar and Kaitlyn are hashing things out..
Rockstar giving Kaitlyn the "I know that kid" speech about Brett.. he comes in the clubs harasses the servers says he can buy the place.. etc ..etc
Kaitlyn says the two biggest targets in this house is Sam and Brett.
RS – there is a third person and that would be Tyler
K – I agree… I believe Tyler is less of a threat than Brett and Sam
RS – I agree
RS – it's not like she's putting up Angela, Rachel and Kaycee.. she's putting up someone on this side.. probably me..
K – she's putting you up but you guys had such a nice conversation..
RS – we had nice conversation how we'll be friends outside of here.. we don't live far from each other..
Kaitlyn pours scorn on Sam says "I saved her f***ing a$$ week one"
RS goes on about Brett being a bully.. says Sam really didn't buy it.
Kaitlyn – I wonder if she feels like a idiot (hmm…)
RS thinks that a power was used last week.. she can't understand why things happened the FOUTTE alliance had a clear path with jury to be with people that like each other. (nobody likes that)
Kaitlyn says Sam came out of the Diary crying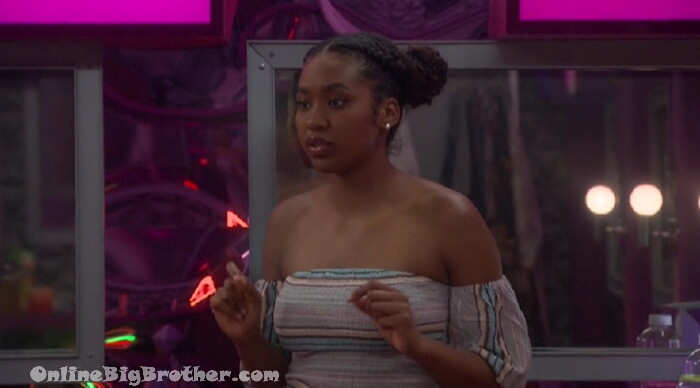 1:03pm ROCKSTAR and Bayleigh talking about Kailtyn f*ing their alliance and hurting their chances in this game. Now she's coming to them looking for help. RS mentions how Kailtyn told her she's probably going to stay. (LOL)
Bay – you literally threw us under the bus twice nad now you are asking us to bail you out.. and everybody is considering it.. please..
Bay adds that KAiltyn had no trouble talking shit about her to the fouttes.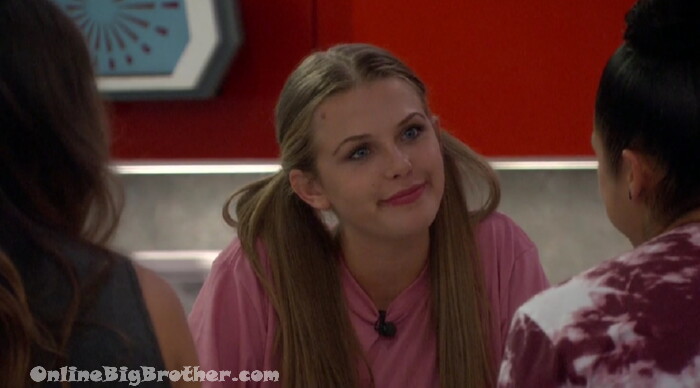 1:15pm We're all waiting for the POV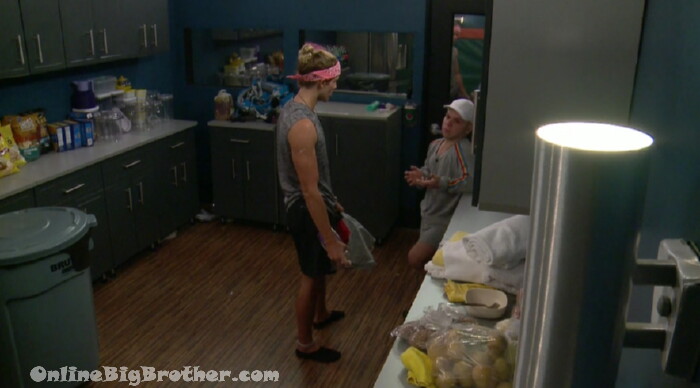 1:22pm JC and Tyler 
JC – I'm worried about Brett.. I don't know what kind of game he's playing.. he threw my name to Bayeligh
Tyler – no he didn't
JC says he knows what everybody else is doing but Brett is his blindspot, "I don't know where his head is at"
Tyler – Right now he's fine..
JC – what if he wins HOH
Tyler – he won't put you up.. if he does (win HOH) he's going for them (Other side)
Fes joins them… they talk about how they are gong to fight for the veto.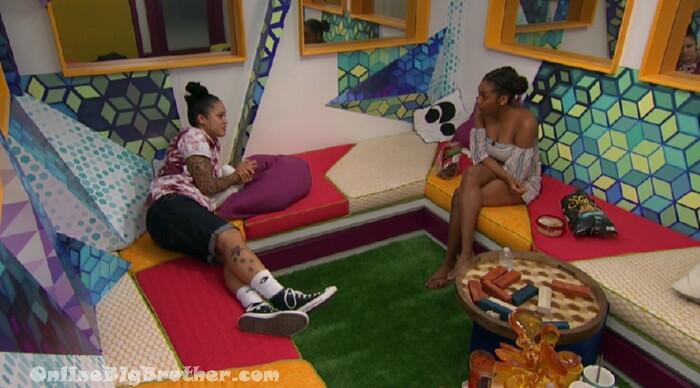 1:42pm Kaycee and Bayleigh
Talking about Kaitlyn coming up to Kaycee about the all girls alliance. "It just felt weird.. like it was just to save their behinds.."
KAyceee says they never talk game with that side, "it's a cool idea…"
bayleigh – at this time for them.. the only boy they have now is fes..
Kaycee – out of your side I trust you and Scottie..
Bayleigh says Rachel told her "there's people I love that I can't beat"
Bayleigh says Fes has a crush on Haleigh.
Bayleigh says in the beginning FEs hit on Angela but she shot him down.
Tells her that fes would go after Tyler.
Bayleigh says that Fes brought in Kaitlyn and Rockstar and Swaggy brought in haleigh and her.
For all you folks that need a VPN I use this one
Rank the houseguests!
Easiest way to Rank the house guests use link below