| | | | |
| --- | --- | --- | --- |
| POV: | ? | Next POV: | July 21st |
| POV Used | ? | POV Ceremony | July 23rd |
| HOH: | Sam | Next HOH: | July 26th |
| Noms: | Kaitlyn and Haleigh | Have Nots | |
Big Brother Spoilers Kaitlyn and Haleigh were nominated
7:55pm HOH bathroom. Sam and Tyler. Sam – this is the last opportunity to be HOH and not do something really f**ked up. Tyler – for sure. I am just glad to have this time and enjoy this before it gets nasty. Tyler – the best moment I have had in this game was in the HOH when Kaitlyn fell and it was me, you and Kaycee on those trees. That was single handedly the happiest moment I have had in this game. Sam – if one of the girls stays or goes or whatever I think that Fes will keep being himself and doing a great job. And listen to me if that happens. The person that wins the POV, I will tell them that they can do whatever they want. If you want to do one on ones .. they're not doing it in my room. Tyler – the thing with Fes right now is that he is most loyal to Haleigh, Kaitlyn and Bayleigh and Rockstar and them. I feel like he is scrambling a bit. Sam – its because he is lost. He's asked me for advice many times. Tyler – if you could like reel him in. Sam – I've already got him. Tyler – but a lot of people say that they have Fes. Sam – in the sweetest, nicest way its not like I've got Fessie like he's my dog. All I have to say is Fessie, everyone really likes you, I want to stand up for yourself. I don't care who goes or who stays. `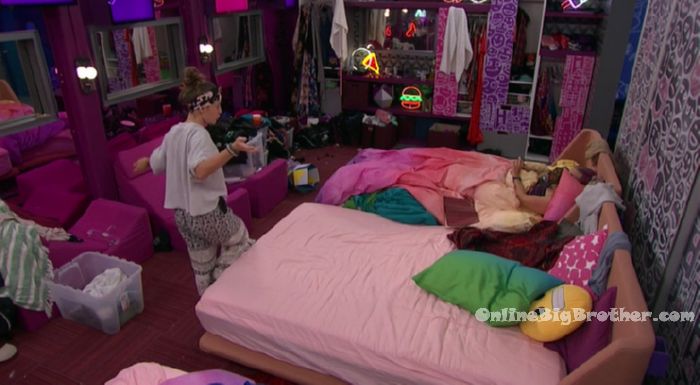 Kaitlyn – tells Rockstar – I walked into the room and there was like an imaginary .. like there was a wall or something. It was like a different dimension. And for me the miracle is the shift in perception and in that moment I didn't even care what she said. I said you are my sister and I forgive you for what you've said. I just wanted to make sure her and I were good. At the end of it I just feel better even though nothing is going to change.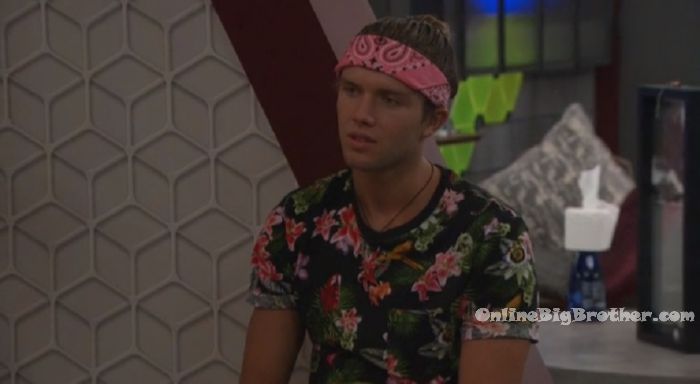 8:10pm HOH room. JC joins Tyler and Sam. JC – Brett is in a really weird mood today. Sam – like he is trying to make people feel bad about him because of Rockstar the other day. I cannot talk to Rockstar today. I got too much of a dose the other day. Anything you need to tell me, you can tell me in front of Tyler. JC – I don't have anything to say. Would you pick me if you got house guest choice for the veto? Sam – I have already decided whoever wins the veto gets to decide what they want to do with it. What would you do with it if you won it? JC – just leave it like it is. Less blood in your hands. I wouldn't want to f**k you over. Sam – okay I will pick you to play. JC – if I ever get HOH then I would want whoever wins the veto to do whatever the f**k I want. Sam laughs – whatever you want? With me whoever wins can decide what to do with it. Like if Fes wins he can decide if he uses it and if he wants to take someone down. JC – they will wake us up to pick veto players at like 9am. I am feeling this weird .. like being locked inside.
Sam – Whoever wins the veto can do whatever they want. I am going to literally say whoever wins the veto can tell me who is going up on the block instead. Tyler – lets not do that! Then you're going to put up whoever they tell you? Sam – maybe. JC – what if they put me up? Sam – you would win in votes. Whoever they put up would win in votes. Tyler – are you even HOH? The veto holder has the power to keep themselves safe, the HOH has the power to keep 12 other people safe. Sam – I would just prefer the noms stay the same.
FLASHBACK and watch everything you missed: Live Feed 7 day FREE Trial!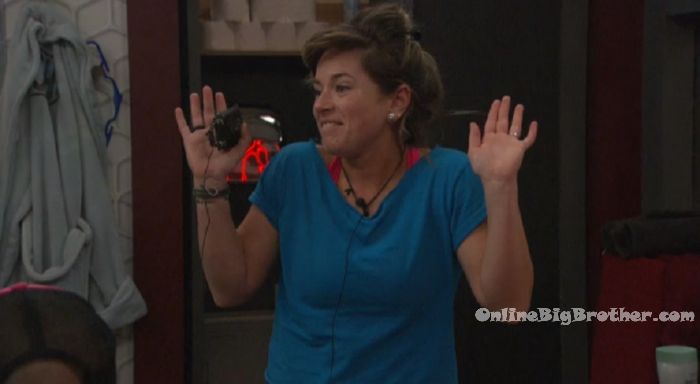 8:30pm Fes, Rockstar and Scottie. Fes – I am stressed out about this veto. She (Haleigh) hasn't even talked to me. Rockstar – she is going to talk to you. Fes – I walked past her and asked you're going to pick me right? And she didn't say anything. I feel like I've been real with her ever since I met her. I'm not going to say she doesn't trust me but I feel like I wear my emotions on my sleeve. Scottie – literally last week I told everyone exactly what I was going to do and I did what I said I was going to do and everyone still got paranoid. Rockstar – we have to win this veto and if it doesn't get won then we will go from there. Scottie – if the veto isn't won then we will vote to keep Haleigh. That's 3 votes for sure.
9pm Rockstar, Scottie, Fes and Kaitlyn. Kaitlyn tells Rockstar that she thinks Brett honestly thought he was leaving which is why he said what he said. Rockstar – so what you are saying is that he wanted to cause controversy right before he left. kaitlyn – I don't think he was trying to cause controversy, I think he was just trying to tell me something. I don't think he would ever have to face you about it. Rockstar – its fine, its fine because there is going to be some way that I get to go one on one with this motherf**ker and hopefully I win and that will be that.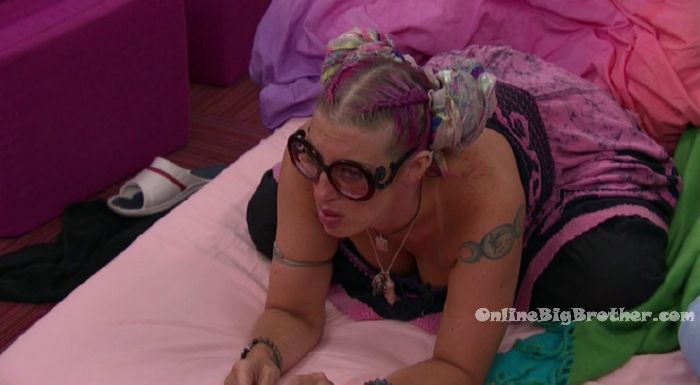 9:40pm Bedroom. Kaitlyn and Scottie are talking about possible veto competitions. They wonder if it could be the spelling veto comp. Kaitlyn thinks of words she would try to spell like underestimated. Scottie – you could use light as your root word .. then try and spell words like enlightenment.
9:50pm – 10pm Lounge room. Rachel and Kaycee. Rachel – I've had conversations with him like its just a weird situation. Like I can tell you guys have chemistry. Like Winston would say stuff like that to me. And I was like really? He likes me, I don't feel like he does. I mean I don't know. I think the bottom line is I don't feel comfortable around him. I came here to play a game. Yes was I open to a showmance. I've opened up to him. In my past when I feel like I've been judged, then its hard to get that out of my head. And I've had that a lot with me. I don't know if its them or if its me. Am I not strong enough to not say, No I don't know what that is but can you teach me. In my past I've let men do that to me. I am just over not knowing what I want. Is he trying to get to know me or is he judging me. Is he trying to get to know me as a friend or what? I've had many awkward conversations with him. Kaycee – maybe treat him like a girlfriend. Like you don't have any feelings for him. Rachel – Brett doesn't want to be with me. Its a pattern of broken relationships. Of picking the wrong guy. Kaycee – scratch all of that. You're here for the prize. Everyone is just friends. When you're trying to force it you are mind f**king yourself.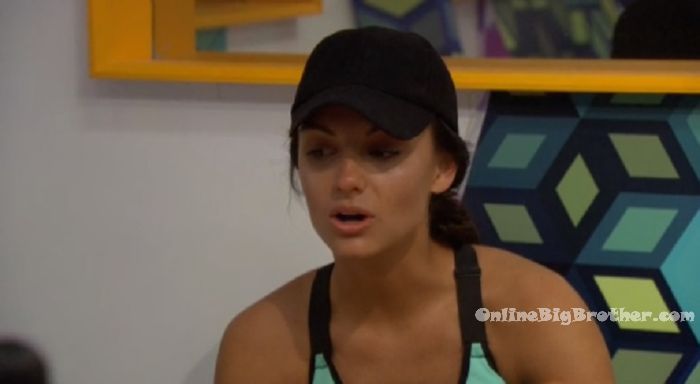 Sam – I've got you Fessie. And I believe that you will do what is best and what is right. (If he plays in the veto and wins.) They hug. Fes – thanks for being you Sam.
Bedroom. Tyler, Brett, Kaitlyn, Haleigh chatting about random things.
10:40pm – 11pm Havenot room. Angela and Rachel talk about the endurance competition and their goodbye messages to Winston. Rachel – I really want to play more. I feel like I know what's going on. I feel like I have played like an 85 – 90. Angela – I wouldn't change anything about the way I've played. Rachel – I just wish I hadn't done the first veto so fast. That's the only thing game wise. I am glad two females are stepping up for the veto. Angela – three. Sam is in it too. Tyler joins them. Rachel – its tough for Fes because its two of his friends up and if he uses it then his other friend Rockstar will go up. Angela – we need to throw it to Haleigh. Rachel – the only thing I was thinking is if you (Tyler) can throw it to Kaitlyn. Then she'll be easier to manipulate. Angela if we get Kaitlyn off and Rockstar up.. Angela – do we know she will go up? Tyler – yeah Sam's said Rockstar will be the replacement. Angela – agrees that once Rockstar is gone Kaitlyn will be easier to manipulate.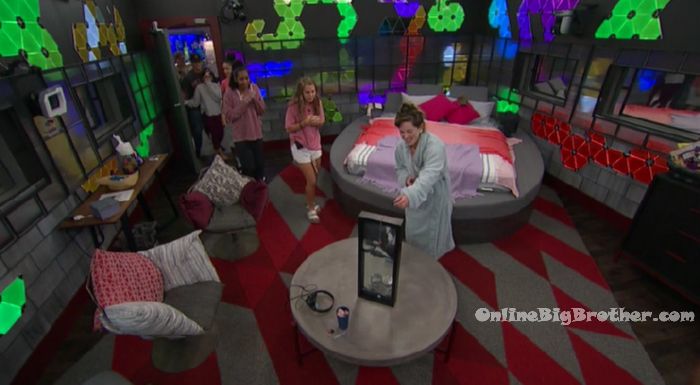 11pm Sam starts yelling that everyone that is awake needs to come up to the HOH room. Everyone runs up to the HOH room. She brings them over to her sand art. Sam – In the movie Gapfar and the parrot in Aladin. Do you see the parrot and Gaphars face?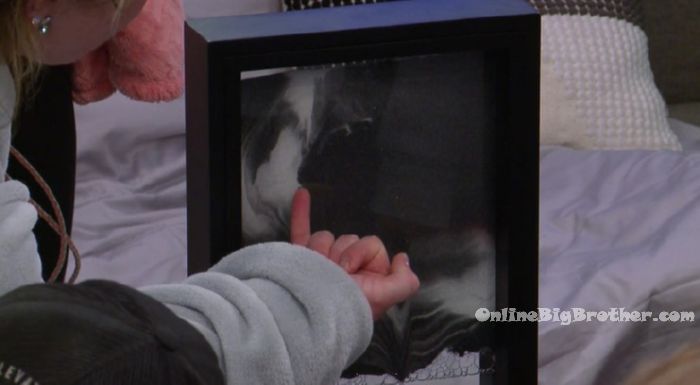 11:30pm -11:55pm Havenot room. Tyler, Brett, Angela and Rachel. Tyler tells Brett that he hopes Brett gets picked to play in the veto and wins it .. so you're the one getting Rockstar put up. Brett – My DR message – Don't let the door hit you on the way out PPRRppp! Angela – in your DR message .. you haven't said two words to me..so then start banging the pan.
Brett – I hope Rockstar doesn't get picked to play in the veto so she hosts it. Then I win and she has to congratulate me and have to do all the reels after. That would be poetic justice. Rachel brings up Sam's Nomination speech today. Brett gives his impression of the speech (see tweet below). Tyler – at one point Sam said this has nothing to do with game, it is strictly personal. She meant to say it not personal, its strictly a game move. They all laugh. Tyler – I'm going to just start saying confusing sh*t to people from now on.
Brett's thoughts about Sam's nomination speech today @bigbspoilers #BB20 pic.twitter.com/1DYdAggD4X

— Dawg (@DawgsBigBrother) July 21, 2018
11:59pm Fes and Haleigh. Fes – Your lips are amazing. Haleigh – you have big lips. Fes – do I? Haleigh – yes. Fes – I love your lips. Haleigh – I'm going to get Kylie Jenner lips, then I'm go ing to get Kim K's a$$ and then I'm going to get khloe's boobs. I'm going to be an Instagram model.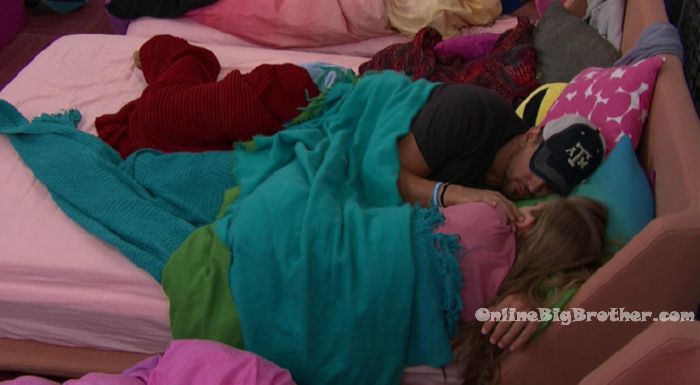 HELP keep the spoilers coming! Show your support by making a donation. ANY amount is greatly appreciated! Your donations go directly to paying the fees required to run this site.