POV Holder:
Donny
Next POV
?
POV Used
YES
POV Ceremony
June 29th
HOH Winner Team 1:
Frankie
HOH Winner Team 2:
Caleb (current HOH)
Battle of the Block Winner
Brittany, Victoria
Next HOH/ Next BOB
?
Original Nominations:
Caleb noms (Donny, Paola) Frankie noms (Brittany, Victoria)
Current Nominations:
Joey, Paola
Have Nots
Cody, Hayden, Joey, Brittany
POV Players
Donny, Paola, Cody, Zach, Caleb, Victoria (HOST = Jocasta)
3:26pm Amber, Christine and Frankie
(Before Amber joins them Frankie says he was telling Zach to chill out about christine talking to Caleb yesterday)
Amber saying people within their alliance have been acting funny. .
Frankie tells her everyone is totally solid, "We're together down with the plan"
Amber – "Everyone has been distance and hanging out upstairs.. I want everyone to get along in here and out there"
Amber says she use to talk to Devin every day now he's staying away from her.
Frankie and Christine mention to her that everyone's schedules have been mixed up lately people are up while others are sleeping.
Amber is a bit glad it's like this because nobody will suspect her and Caleb have a game alliance going on.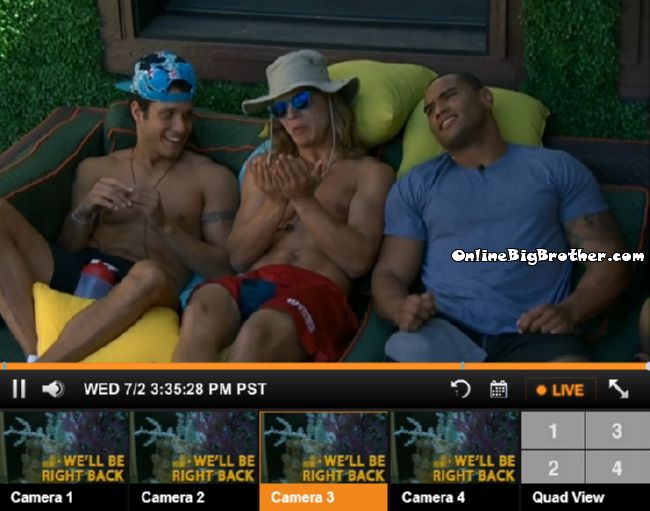 3:36pm Looks like everyone in the backyard chit chat
Hayden reading his "poems". Incase you missed it on the feeds Hayden makes up and pretends to read these overly emotional poems in a girls voice.
Hayden – "If everyone looks in front of them they would not only see a brighter future but they would also see Brittany's side boob"
Everyone howled in laughter.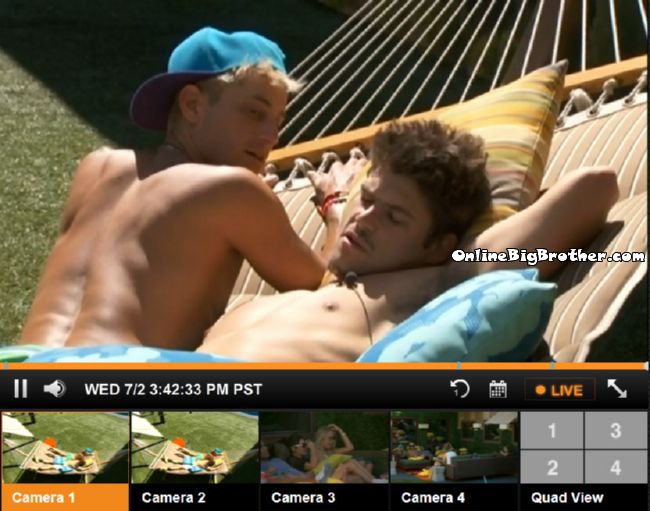 3:42pm Zach and Frankie Hammock
Frankie saying he saw Caleb and Devin talking about AMber again Zach wonders if Devin and Caleb are OK. Frankie doesn't know says everything seems to be crumbling "But thats Good"
Frankie says Caleb was saying after he wins this he's going on Survivor
Zach – "I'm not surprised he totally could"
Zach brings up the talk last night with Codey and Hayden. Hayden told him there was an unofficial alliance between all the 'Bros"
Zach was thinking of throwing Joey a vote just so Devin and Caleb would waste all their energy trying to figure it out
Frankie thought he was going to do something like that
Zach doesn't think he will though the payoff is too small he doesn't want to derail the "Love triangle" that is happening.
Frankie says something is going to blow the triangle up
Zach – "I'm throwing this HOH competition for sure unless it's me and two non bomb squad members"
Frankie – "For sure"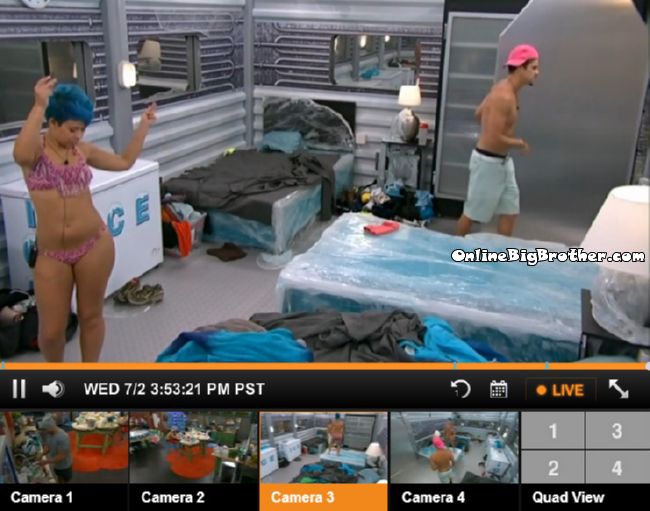 3:52pm Have Nots Joey and Zach
Joey says she's getting a good enough vibe from people that she has enough votes to stay.
Joey – "I think I have a 80 percent chance a decent chance.. I think I got 7 maybe 8"
They agree Alex was funny.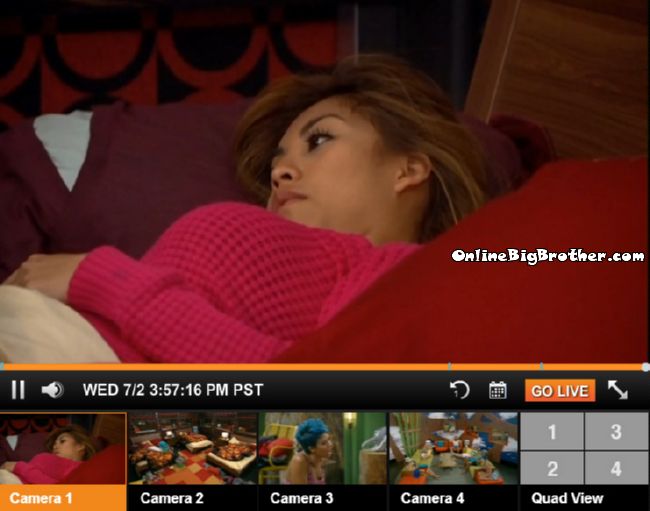 3:57pm Cam 1 POWPOW, Amber and Victoria
Sounds like Production was calling POWPOW to the Diary room but she never went just slept through it. Victoria can't understand why they let her do that cause everyone else get hauled out of bed.
POWPOW – "I don't like the Diary room.. I hate it.. I don't feel like myself in there it's weird.. I want to be myself and say what I want but I feel like I can't do that in there.. they know I don't like it I told them"
Feeds Cut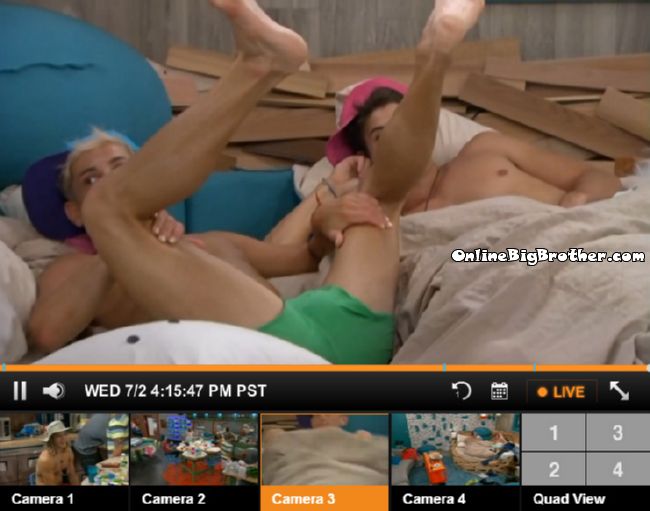 4:08pm HOH Zach and Frankie
Zach says if Brittany wins the HOH and gets Devine out will they still blow up the bomb squad. Frankie doesn't know.
Zach brings up the story about Caleb and how he saved his dog after a boar attack. Apparently the dogs artery was punctured and Caleb clamped the dogs artery with his hand until they could get to the vet. Zach and Frankie are in shock at all the things Caleb has done and can do.
Frankie brings up Devin asking him for a facial this morning, 'Ugh what a waste of good product"
Zach – He's OCD he's bipolar he's ADHD.. he told Cody to cut two hairs on his neck"
They start talking about Devin Adderall usage, Frankie calls it legalized cocaine. Zach says Devin takes 100mg a day. Frankie and Zach both think devine is messed up in the head.
Frankie says he was standing their clenched jaw saying "I just need my pills to kick in to stay calm"
When the feeds come back Nicole is knocking on the doors Frankie – "Come in i'm ready" (see image above)
Frankie goes to the bathroom.
Nicole and Zach agree they will not put each other up if they win HOH. Nicole asks him who he would put up. Zach says there's 4 people , 2 girls and 2 guys.
Zach – "Donny because he creeps me out"
Nicole says she wouldn't put up a guy.. "Not Victoria.. I like Brittany.. I like Victoria but I have to do whats best for my game.. I couldn't give you two names right now.. there's people I wouldn't put up.. I would never put up you and Cody"
Zach says he got sucker punched at the bar on his final year of college. It broke his face all up broke the occipital bone and his eye was pushed in 4mm. Cost 60 thousand dollars to repair, Zach pressed charges on the guy and he got in a lot of trouble. feeds cut..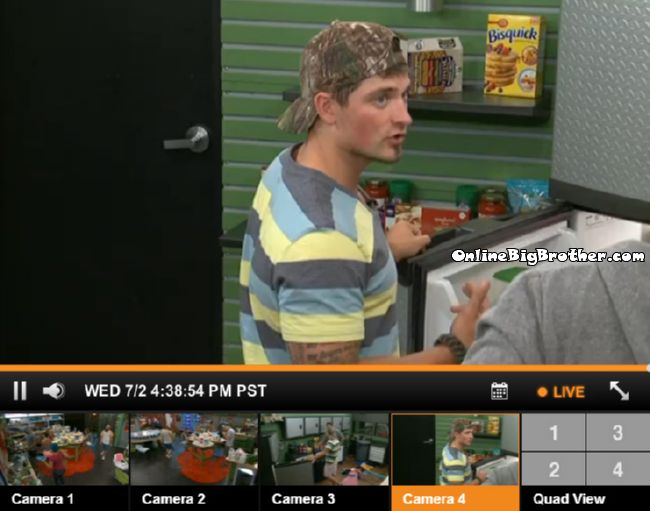 4:40pm Storage room Caleb and Cody
Caleb saying he's waiting for Amber To apologize to him. He doesn't think Amber knows he knows that is why she's been quiet. Caleba nd Cody suspect Amber may have been using Caleb to get further in the game. Caleb wonders maybe Devin embellished a bit when he told him what Amber said.
Caleb – "One night she's saying I'm super sweet.." Caleb adds the night before that Amber wanted a final 2 deal with him and the day after she's telling Devin all Caleb thinks about his himself.
Caleb brings up how Amber always sits furthest away from him even when they were close. Caleb – "I know why she does it she's wanting people to think she doesn't like me"
Caleb going on about making her ice cream with cookie dough and dinner for the house how can she go around and say he only cares about himself.
Cody thinks he should talk to Amber about what she said because a lot can be lost in translation.
Caleb can't right now because she will know Devin told him and Devin will flip a lid, "Thursday or Friday Frankie is going to talk to her"
Cody – She'll tell frankie if something's up"
Caleb doesn't understand what Amber is doing all he did was tell her he liked her and wanted to get to know her when they got out of the house. Caleb mentions he apologized to Amber about putting her in a tough position (When he told her he liked her) Caleb adds that it was that morning he asked Amber to the prom and Amber said yes.
Caleb brings up Amber telling Devin that he was her type, "She never dated a white guy before"
Cody – "You think she's saying this stuff to piss you off'
Caleb – "Maybe she's saying all this stuff to get people off her back. Maybe deep down inside she really does like me and the fact all the people making all these jokes are pissing her off"
(Caleb is still hung up on Amber but the house is starting to get wise to Amber's game)

Alliances 
Bomb Squad = Frankie, Caleb, Devin, Cody, Derrick, Zach, Amber, Christine
Fragment of bomb squad no name  = Christine, Frankie, Cody, Derrick Zach
Sub alliance of the Bomb Squad = Derrick, Cody, Zach
Double Ds = Devin, Donny
Bed buddies = Nicole, Christine
Final 2 Deal Zankie= Frankie, Zach
Old defunct alliances
TheCrazy8s = Frankie, Donny, Joey, Paola, Devin, Amber, Nicole, Cody
El Cuatro = Paola, Amber, Joey, Nicole
Where the vote is 
As of now Joey is going home..