Head of Household Winner – Cody
Have nots – Ian, Kevin, Memphis, NicoleA
Nominations -Keesha and Kevin
Power of Veto Players are – Cody, Kevin, Keesha, Enzo, Kaysar, Ian
Power of Veto holder -Enzo
Power of Veto Ceremony – Enzo doesn't use it. Nominations stay the same.
Safety Suite – Kaysar & Janelle
Live feeds —-> Grab your Live feeds here. Try it free.
Rank the houseguests —-> Big Brother 22 Ranking
7pm – 8pm The house guests are eating the tacos / burritos and chatting out in the backyard.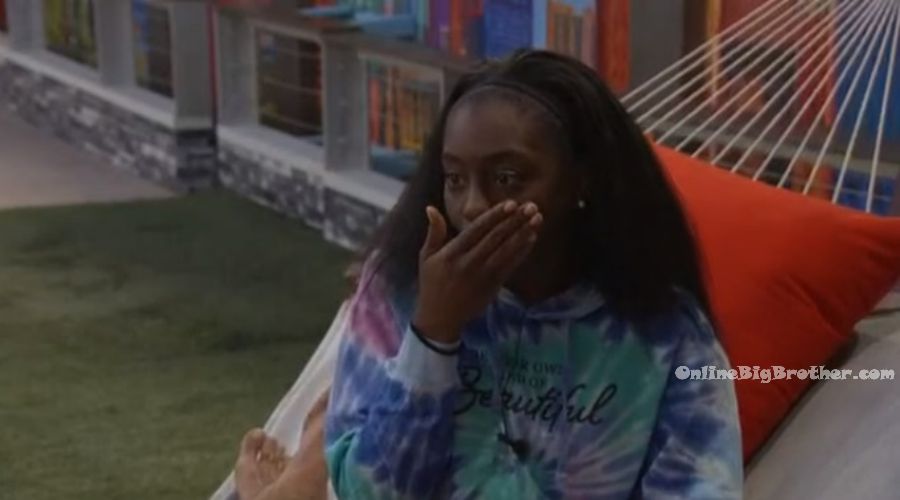 7:50pm Hammock. Kevin and DaVonne.
DaVonne – how are you doing? Kevin – good, considering I got crazy news. Nicole talked to Ian and I think its Memphis pushing Ian to do it. DaVonne – the last time I checked you were safe. Kevin – yeah because I know Janelle, Memphis, Kaysar are gunning to keep Keesha. DaVonne – I don't think Dani is. Kevin – I talked to Dani. I talked to Nicole. I talked to you. I talked to Bay. I talked to .. DaVonne – so even if those four do you still have the majority of the votes. Kevin – its going to be close girl! DaVonne – if all of your votes are locked .. she only has four. Kevin – yeah but there are probably some people that are telling them that its locked too you know what I mean? DaVonne – well I talked to her today and she asked me for my vote and I told her I can't. She told me she has 7. Kevin – with you? DaVonne – MMmmhhhmm. Kevin – that's what I am telling you.. people are telling her she has their vote when then don't. Its going to be close. I need to figure out an angle as to why I would be more beneficial to them. Are people perceiving her to be a great pawn to keep? Dani's advice to say that she (Keesha) is a comp beast is only beneficial if we want her to seem less pawn like. DaVonne – your personality makes it seem like anyone sitting next to you will go home. Kevin – who do you think is my weakest link? DaVonne – who do you know that you definitely don't have? Kevin – It is going to be close. It might be David as the swing vote. Kevin – no he's the weakest link. DaVonne – no he's locked. I talked to him today. Kevin – I need to talk to Tyler. If Keesha says that she has 6 or 7 that means that it includes Tyler. Kevin – The house is going to be split! And I am coming for whoever was behind the motive of getting me out! DaVonne – its going to cause a great divide. Kevin – whoever was behind throwing my name out .. I am coming for them! I don't give a f**k! Even if its Janelle! My idol! I am coming for that Ho! DaVonne – how do you know what was told wasn't what Cody said. Kevin – because Ian was told to keep Keesha. If that was Memphis! I am coming for Memphis .. I don't care if it jeopardizes my game. DaVonne – This is who big brother works. Say you win HOH? Kevin – then I am going to put his a$$ up. Kevin – I am going to split this house girl! I need it more black and white. DaVonne – this next HOH is going to cause people to start playing. Kevin – I am so sick of this nebulous thinking. I want it to be more ..expose yourself. Turn on the lights and let the cockroaches scramble!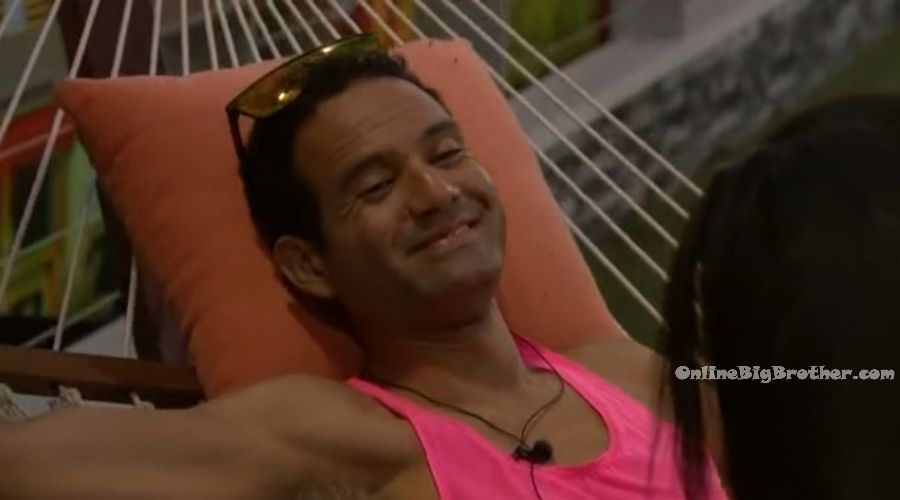 Bay and Dani talk about how they would prefer for Kevin to stay. Bay – she (KIeesha) didn't even try (to win the veto).
Ian and Dani in the hammock chatting about past seasons of big brother. Iam – I don't feel like I have compelling reasons to nominate anyone ..like if I got it (HOH) I don't know what I would do. Dani – I don't hate anyone. There are definitely people that I don't feel safe with. But there is no one that I straight up oohhh.. I don't want them here. Not yet at least! There will be! Ian – I am sure eventually. I officially survived week one on social alone and not comps.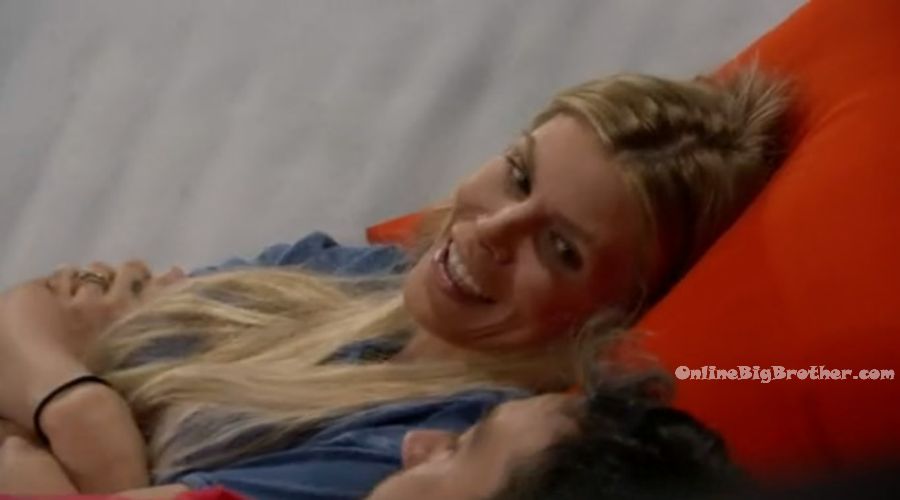 8:45pm – 9pm Backyard. DaVonne and Kaysar.
DaVonne – what are you leaning towards for your personal game? kaysar – neither of them have any impact on my personal game. My strategy does not involve either of them nor do I have anything to go off of. This does not affect me. DaVonne – yeah so its not a win or a loss. Kaysar – I would have more of an opinion if you or like Bay were up. This checks the box of no opinion. And nothing against them .. I just never got close to them. He (Cody) picked super neutral players. DaVonne – or it would be easier if he picked someone that was a problem.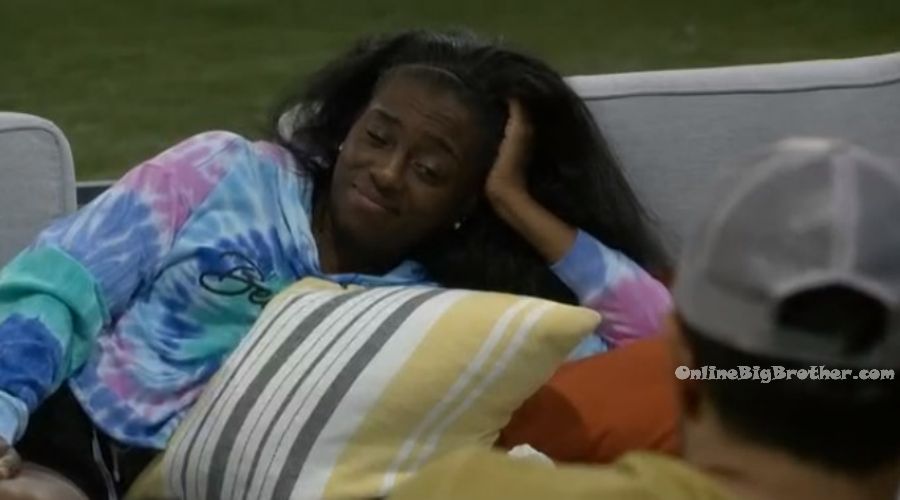 NicoleF – who do you think the house wants to stay? We need to start talking about it. Ian – I think .. my guess is 60% Keesha, 40% for Kevin to stay.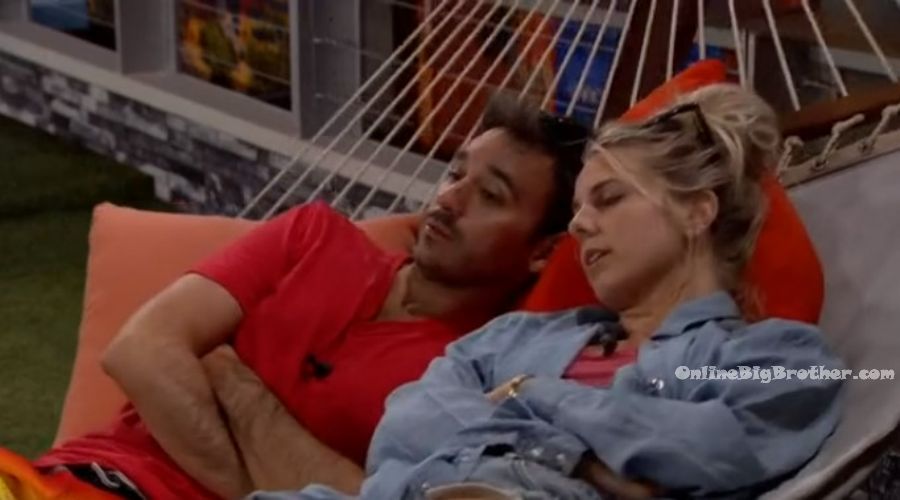 9:15pm NicoleA and Kevin.
Kevin – I have Enzo, Dani, Bay, you, NicoleF, DaVonne, David .. that is seven but it could go either way. Nicole – Memphis seemed indifferent. Kevin – I love you for it ..helping me with this situation.. I am going look out for you. I got you! No one is going to f**k with you. Nicole – I was sitting down with David and talking to him for a bit and I was like I really like Kevin. He was like I don't really know him well but I really like you, DaVonne and Bay. And I was like OMG that's a great group. And I was like I think we should bring Kevin into that. And David was like yeah I like that too. That would be a solid 5 right there. Kevin – then we can all look out for each other. Nicole – that is why I am hoping one of us gets into power. Kevin – if I win HOH .. I am going to make a division. Nicole – Just do it! F**King do it! Maybe not this early though.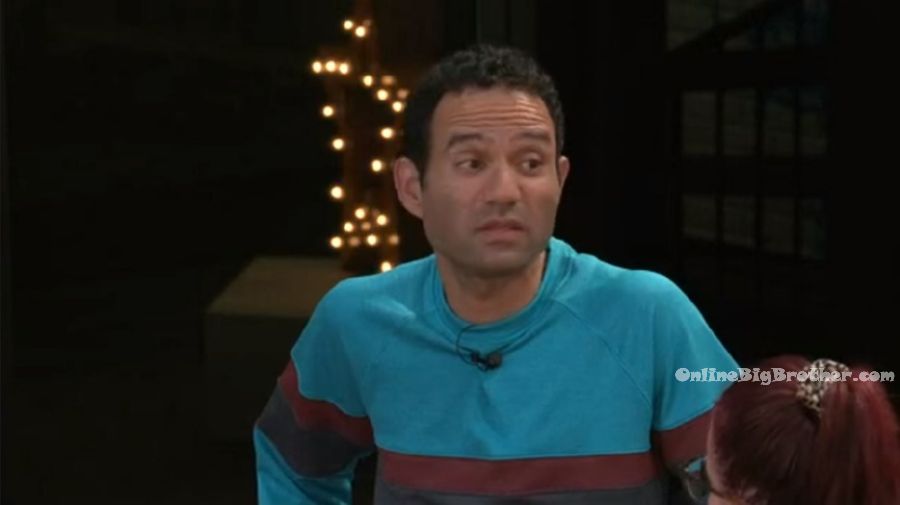 9:35pm – 9:50pm HOH room.
Christmas is crying and DaVonne is comforting her. DaVonne – you have to remember its all for him (her son Loyal). Christmas – you know you want to detach but as soon as you start thinking about them. DaVonne – I understand. Trust me. NicoleA – are you okay?! DaVonne – another day done is another day closer to him. Christmas – I've just never been this long without him. F**king Enzo was talking about his and pulled out a little lego. They calm her down. Christmas – well I just totally ugly cried. DaVonne and NicoleA leave. Christmas starts crying again. Bay and NicoleF come in and comfort her.
10:20pm Backyard. Janelle and Ian. Ian – how do you feel about this upcoming vote off. Janelle – has anyone talked to you? Ian no, people ask and I just act like I have no idea. Janelle – what do you want to do? Ian – honestly, I have no idea. I am 50/50 at this point with everyone because no one knows what they want to do. Janelle – well tell me how you're voting? I've got your back even though, I don't want people to think that we're working, working together just from the same season because there is a lot of gossip. I don't want to make myself an even bigger target. I am definitely not after you and if I hear anything I will let you know. And I would like to figure out who everyone is voting for. Ian – I don't think anyone has decided yet. Everyone knows that the best way to win this game is to take a nap for eight weeks. Janelle – yeah but not everyone can do that.
11pm – 11:35pm Backyard. Christmas and Cody are playing pool. The others are chatting about random things around the house.

DaVonne – She's been talking to me. What is your relationship with NicoleF. Dani – There was one time when she was out here with Cody and I went to lunch with her.. but that was they only time I met her. When I came here for that thing they told me I was hosting a competition. And I was like what the hell is this? How do you have 5 hosts? And I am 5 weeks postpartum. And they told me it was for Nicole's wedding. You know how you can't say no to Big Brother type things. I kind of feel like because she isn't close with girls they asked me because I lived out here and because she was on with Britney. It didn't make sense .. I had met her once. But like I am cool with her and I don't feel like she is going to come after me. DaVonne – I dunno everyone is being real like .. but when it comes to my secrets and the sh*t that I know .. I dump them on you and Bay. Dani – who else are you liking. DaVonne – I like Christmas. Dani – I thought you were tighter with Janelle. And she was trying to pull an all girls. DaVonne – is that what you think? Dani – I don't know, maybe she is on an island all by her own. DaVonne – what do you think about Kevin staying? Dani – I want Kevin to stay too. DaVonne – the fan of the games loves her (Keesha) but big brother 22 all stars needs him (Kevin) here. Dani – how do you feel about Christmas? DaVonne – I tried to talk to her about game and she wouldn't tell me anything!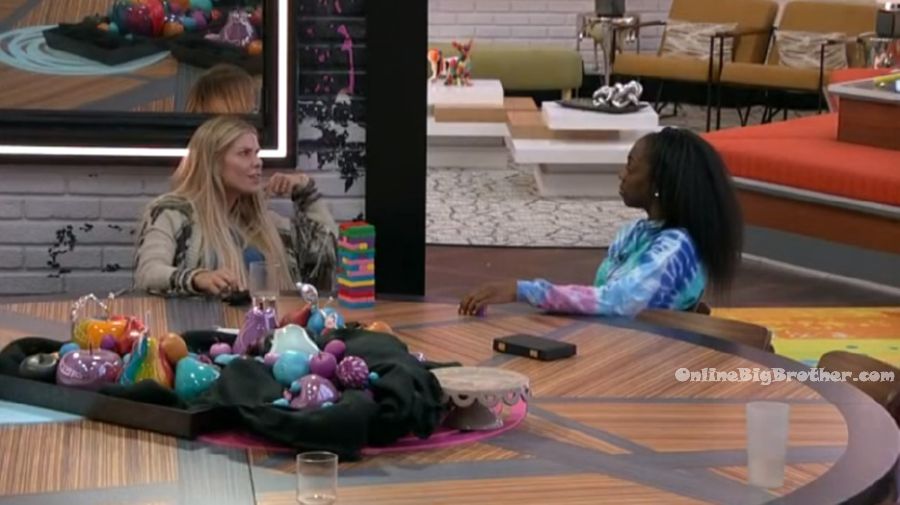 12:20am – 12:40am Hammock.
NicoleF is crying because she is tired and needs sleep. She goes over to the hammock so that no one will see her crying. Cody joins her. Nicole – did Christmas talk to you? Cody – yeah. Nicole – Memphis came to me with that today. He trusts me. Its a good group. Cody – Its a really good group. I trust Christmas. She is straight up. I trust Dani but the thing that makes me nervous about Dani is that she gets nervous .. she is always saying stuff. You know when you say stuff that is always hidden behind .. like kind of how you feel? Cody – you need to be careful with .. like Enzo walked in on you with Ian. Nicole – its not like that ..Ian is my cover. Cody – I know .. just something to be aware. Nicole – I thought we were supposed to have the four and he is already getting like that? I told Enzo ..I infiltrate over on that side and he can infiltrate. Cody – no I think its that he just really doesn't trust Ian. Nicole – Keesha isn't good at Comps. I want to know who Janelle wants gone and do the opposite. I think they have a preference but aren't saying and that is going to be the side of the house that we're against. There is going to be a line drawn. Cody – I was talking to Enzo and he said he is cool with kevin. And I was talking to DaVonne and she was cool with whatever. Nicole – she told me Kevin today. Nicole – so Kevin is cool. I am good with Kevin and he said he wouldn't put me on the block. And I think he will stay true to it. Nicole – if I win HOH who would I put up? Cody – Janelle. Nicole – no. I can't do that already. Cody – why the f**k not?! Nicole – are you serious.. that is probably the worst thing I could do. America will vote her a$$ right back in here. Cody – who would you put up to start. Nicole – exactly, I feel like I am friends with too many people. I am going to hang out with Ian all the time because if I am sitting on the block next to Ian .. thats better than sitting on the block next to you. Cody – I feel really comfortable with DaVonne. Nicole – just be really careful because everything you tell DaVonne she tells Bay and she tells Janelle. Cody – if its Kaysar (who wins HOH) I am going up on the block. Ian joins them.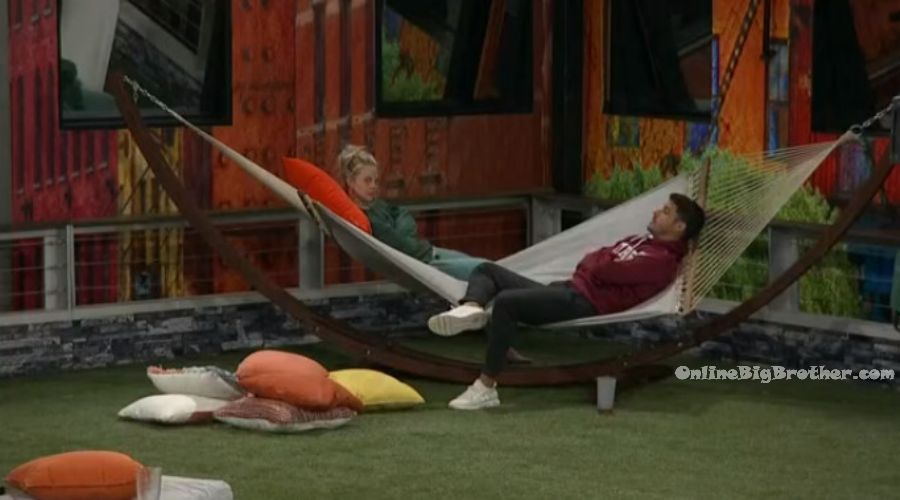 12:40am – 1am Dani, Nicole and Cody.
Nicole is worried that Janelle is going to put her up on the block and that she's coming after her. Dani – Nicole needs to go to bed. I am telling you she is not going to go after you right now. Eventually yes, 100% I think she will. She will not go after you. Cody – also think in these terms.. you've played 2 other times.. you've already won. Take the nerves of going up..you're a winner. I'm a winner that came back to all stars. I feel like you're getting nervous about going up .. what are they going to do? They're not going to send us home. One of us will either win the safety suite. Or one of us will win the veto and we'll be fine. Nicole – I am packing my bags Cody. Dani – oh my god! I want a new alliance member. Cody – I don't give a f**k if you put me on the block … and send me home pre-jury .. thank you for the favor. Dani – I HATE my alliance! Oh my god ..what did I sign up for. You literally just said you want to go home first. Cody – no ..you're misinterpreting it. I am taking out that nervousness because what the f**k is there to lose. Nicole – you won't use the safety suite? Dani – I am not using it next week. Cody – you're not using it? Gosh you're that comfortable in this house?! Maybe we need a new alliance. Dani – what if you need the next week? I think its stupid. Do you really think you have that much beef with people? Nicole – I am using it. Cody – I am doing it .. I don't get to play in the next HOH and there is a ton of people so there is a solid chance I don't get to play in the veto.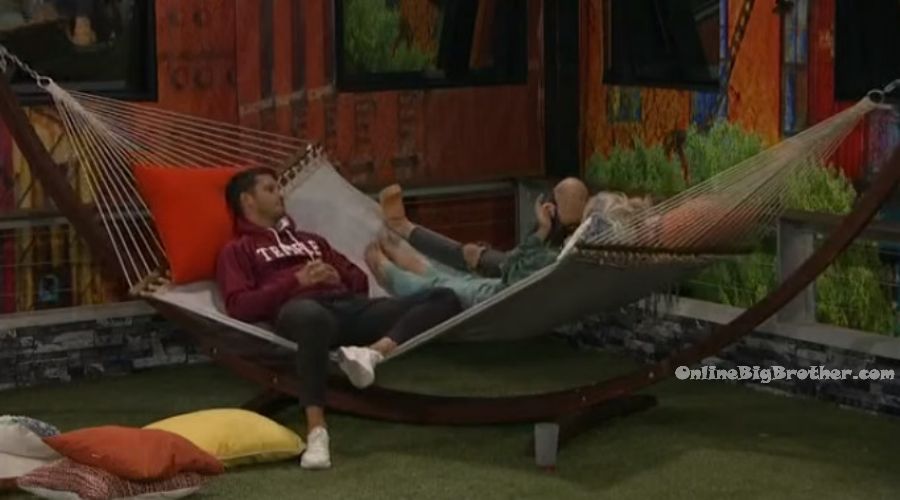 1:20am – 1:55am Kevin and Tyler. Kevin – I don't want to play against you, I want to play with you. Tyler – I didn't make preseason stuff because I wanted make not obvious connections. I got you. Kevin – I got you. We moved in together. I talked to Enzo ..the same thing. Ian I am trying to talk to too. I saw him talking to Enzo. Tyler – he doesn't seem like an open book. Dani, Ian and Cody talk about how long the season is supposed to be. Dani says that she was originally told it would go till October 21 and then she was told October 28th. Dani says that she originally signed up for 78 days and then they changed to to 85 days.

2:20am Backyard. Cody, Dani and Kevin.
Kevin tells them about how mad Memphis is that the lights are on in the havenot room. He says that Memphis got mad stormed out of the room to tell Big Brother to turn off the lights. Kevin – I don't like being in the room when he is that mad. Kevin tells Cody that he thinks he's got eight people. Cody – who are the people that haven't gotten yes's from because maybe I can steer them. Kevin – Ian. Cody – I can have a conversation with him and I think he would vote to keep you if I steer him in that direction.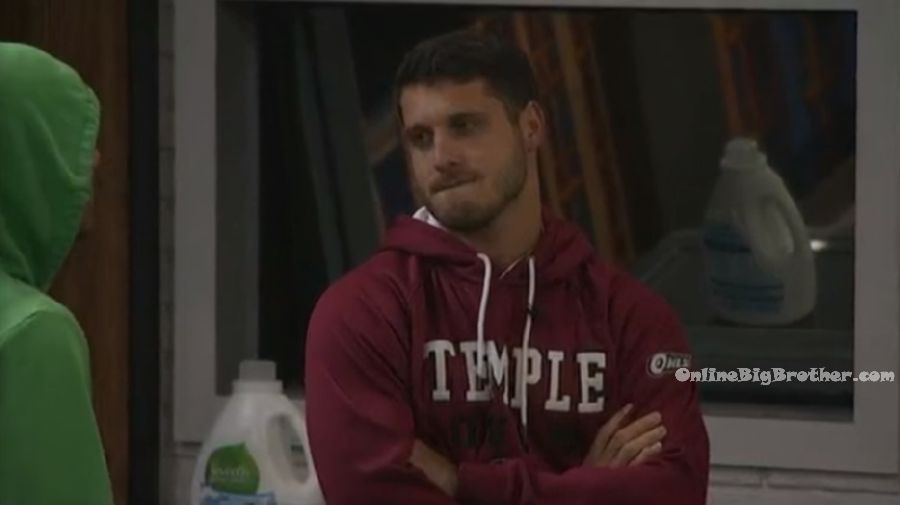 3am All the house guests are sleeping..
6:53 am Sleeping yo
9:52 am feeds down for wake up?