Head of Household Winner – Cody
Have nots – Ian, Kevin, Memphis, NicoleA
Nominations -Keesha and Kevin
Power of Veto Players are – Cody, Kevin, Keesha, Enzo, Kaysar, Ian
Power of Veto holder -Enzo
Power of Veto Ceremony – Enzo doesn't use it. Nominations stay the same.
Safety Suite – Kaysar & Janelle
Live feeds —-> Grab your Live feeds here. Try it free.
Rank the houseguests —-> Big Brother 22 Ranking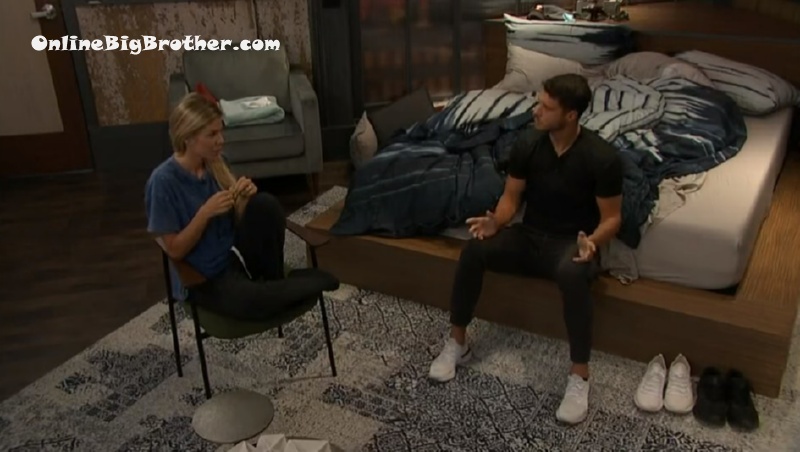 10:20 amDani and Cody
Dani – Ian is playing a good social game already. He's so nice and I really like him like.. I feel bad saying stuff. You know he uses who he is to his advantage in this game. Where like every time you talk to him you want to give him a hug
Cody – I don't think he uses it it's just who he is
Cody says Brittney was a shield for Ian on his season.
Cody says Paul got robbed twice.
Cody calls Paul "a cult leader"
Dani – 19 was bad it was the worst season ever
Cody – he was trying to get Cody's (BB19) PTSD riled up … like a f**ing insane person.
Dani is worried about Memphis "people hate him.. hate him"
Cody – I'm not worried about Memphis
Dani is worried Memphis will fig his own grave. "If something happens where he gets really mad and says something about the 5"
Cody – he won't if he's on the block he's got the numbers to stay here.
Cody goes on about how they deflected Devin outing the bomb squad in his season.
Dani calls Memphis "an angry man"
Dani – Enzo will throw the HOH, NIcoleF will try, Tyler will try.
They talk about the safety suite and how they don't want to play it because it will reveal their alliances.
Dani – so what advice did Derrick give you
Cody – It's so hard to like talk .. him and I would talk a lot in the beginning when he was going to be a yes. then when he wasn't a yes and he was like Dude I'm not going
Dani – you're on you your own
Cody – it was exhausting talking, His head goes a 100 miles an hour and he noticed I was like holy sh1t this is a lot and it was too far out
Cody – I said to him straight up my brain doesn't work like your if I got in and play the way you tell me to I will play myself out..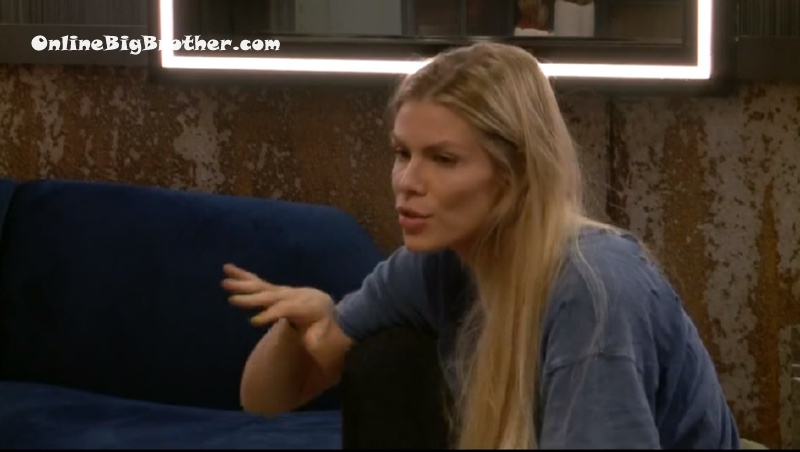 Cody is worried about his girlfriend dealing with online hate. Says that Derrick and his sister will call her to help her out.
Dani says she thinks it will be Kaysar and Janelle vs the house. "I also feel like nobody is going to go against her I'm a bit scared"
Cody – if no one is going against them who is non one. We're close to everyone outside of NicoleA so like who's no one.
Cody – if they are going against Me it's going to be you NicoleF, Enzo, Tyler, Da'Vonne, Bayleigh that is already 6 and week two you need 6 to split it. (one of the 6 Dani doesn't know about)
Cody – if they mention me it will get back to me
Dani – I feel if you were sitting next to NicoleF you would stay
Cody – yeah I would I just don't want to because I would feel really bad
Dani – if you were up against Enxo you would go
Cody – I don't think people are putting me and Enzo together
Dani – people are putting you and Tyler together that's not bad.
Cody mentions he never really had conversations with Tyler
Dani thinks after the HOH people will open up a little bit more
Cody doesn't want Kaysar to win the HOH.
Dani – he told me bad vibes.. bad vibes.
Cody – I wasn't telling him you're safe this week.. sorry, it's the f**Ing second day go kick rocks..
Cody says he likes Kevin than adds, "After going through a season with Victoria I don't want a Vicotria here. Janelle did say when we were sitting in a group she said all she wanted to do was send out the floaters"
Cody – I don't know, she's trying to talk down the fact. I'm like Janelle you went so far the only season you didn't was 14 that's cause you guys were at a monster disadvantage.
Dani says on Season 14 the cast did not like Janelle. She was talking down to everybody she was BIG dogging them all.
Cody – the girls turn on Janelle not the guys
Dani – Janelle has an issue making girls comfortable. Every girl in this house has come up to me saying I don't know where Janelle's head is at We don't have anything to talk about. No female feels comfortable about her which is weird she has so many friends in real life.
Cody – she is really hard to read.
Cody goes on about Tyler and him reassuring each other they have their backs but never giving anything else.
Cody – on my season, even the people I wasn't in the group with I would have conversations with and they would be completely open how they feel who they would put up.. They must trust me people here aren't saying sh1t.
Dani – I really like Da'Vonne I would want to bring her far.
Cody says Derick got called the third week in March he got called super early
Cody says he got called the second week of April
Before Dani can tell us when she got called the feeds cut
When we're back Cody is saying he knew Janelle was going to be on
Cody Braggs that on his season he could have had a showmance.. "It wasn't Amber I was super tight with Brittney she slept in my bed before she went home.. "
Cody says his current girlfriend told him not to do the hair playing and back rubbing on girls like he did on his season.
Dani says it's something younger people do and it's part of the game.
Kaysar shots for the fans..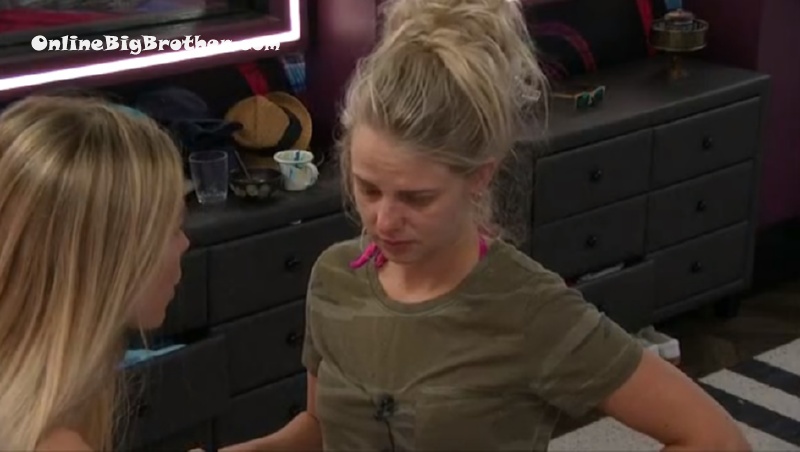 11:06 am NicoleF and Dani
NicoleF crying says it's her period…
Dani – let me start by saying you are smart, you are beautiful, you are strong, you've done this before, you've made it all the way to the top, You're beautiful inside and out
Dani – you can't be this paranoid it's too early nobody has brought you up
Dani says every day she's in the DR saying "that's my girl"
Dani – no one is talking about you don't give them a reason. We'll figure it out we'll do whatever to make the furthest we got this.
Dani – as long as we can keep winning we have all the numbers in the house we have the four then the 5
Dani – you are not alone.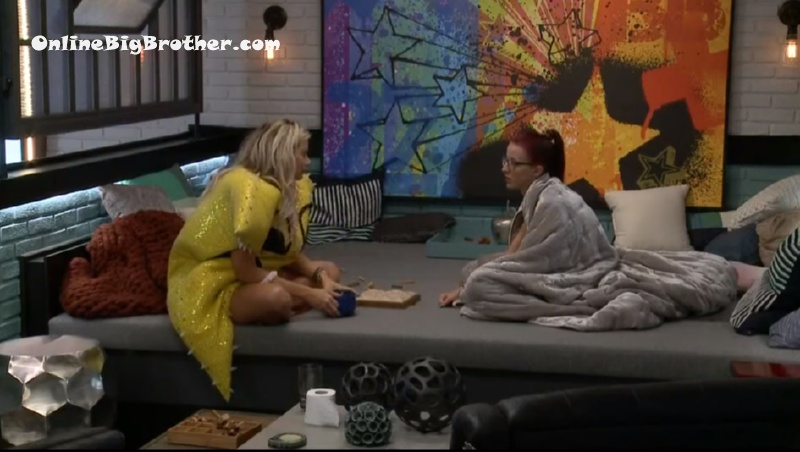 11:37 am janelle and NicoleA
Janelle says that Kevin was a backstabber o his season and Keesha was Loyal. Says that Keesha is going after the guys.
Janelle brings up the lie that Kevin made up "It got Jeff outta the house with a lie. they are different types of players"
Janelle says Kevin was like a floater.
NicoleA – Keesha won stuff, right?
Janelle – Kevin won comps, he won three or four. I do remember his lie that got Jeff outta the house. Keesha can't do something like that, I can't do something like that I don't have the skill./
NicoleA is worried about looking like an A$$ early.. ohh NicoleA is out of the loop again (Too late)
NicoleA – are you and Kaysar close to her and Memphis
Janelle – Close enough.. she will not put you
Janelle says Tyler, David, NicoleF, and Cody are working together.
NicoleA – Kevin is more moldable
Janelle says doesn't she think if the two of them agree on their vote and go to Ian.
NicA – your vote, Kaysars vote, Ian, my vote.. would you think Memphis?
Janelle – I thin so if the numbers were there people would be like OK
NicA – Christmas, Dani, Enzo
Janelle – those are question marks
Janelle says from what she gets Cody doesn't care.
They talk about the game is better when there are clearly two sides.
Janelle – people that go up the middle play both sides those are the ones that win
Janelle really pushing the angle that Kevin has no one he's going to float.
JAnelle says NicoleA has her, kaysar and kessha
NicA – I would hope I have you guys. once I have my people I am so freaking loyal to them.
NicoleA is worried that they are playing her and she thinks she's with them but then gets f**8ed the next week
Janelle – I'm not like that
Janelle says that is just paranoia she likes NicoleA and wants to work with her
NicoleA blames her paranoia on Christie from her season.
Feeds cut ..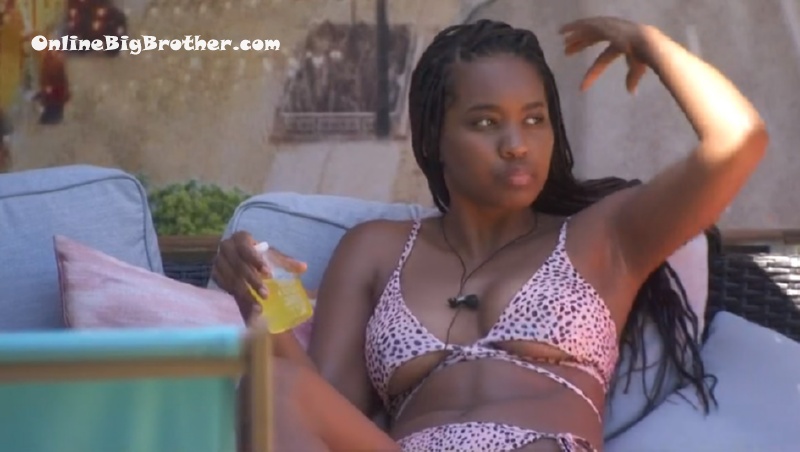 11:44 am Suns out …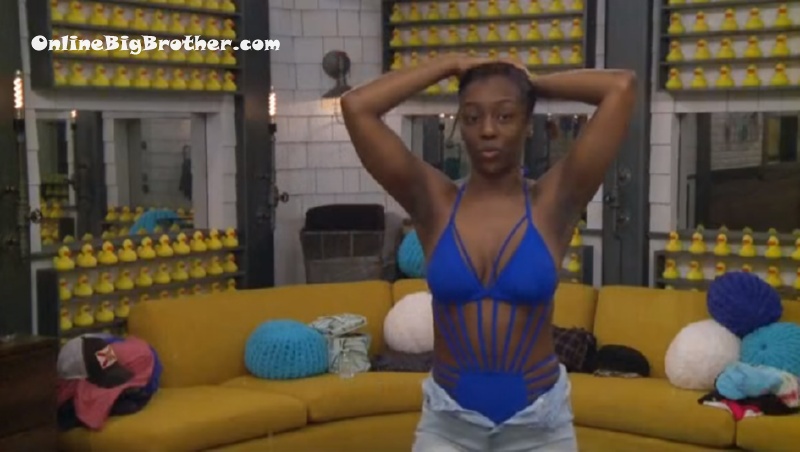 11:54 am Bam it's going to be hot in the backyard today.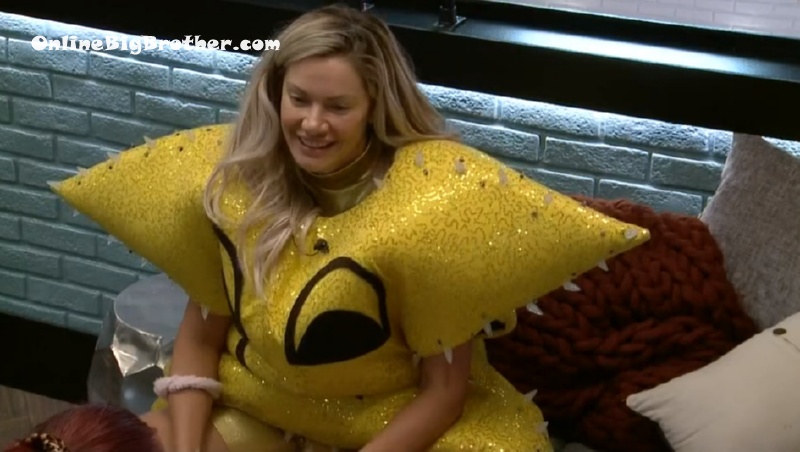 Noon
Janelle speculating that Cody's nominations were originally going to be Kaysar, Keesha "I don't know"
NicA – why not put up Memphis if you want to break up Keesha/Memphis
NicoleA says that it sounds like COdy wanted to get rid of Kaysar, Get rid of you and Keesha than all he'll keep Memphis
Janelle – those guys are going to bro out.. that's why I want to keep Keesha she is not goign to be working with them.
Janelle – She took out Jesse.. her and Libra did
NicA says she thought they had Memphis
Janelle – is he even playing thought.. that man
NicA – he's so close to Cody
Janelle – I see David, Tyler, NicoleF, and Cody talking all the time
NicA – yeah
Janelle says they need numbers to get some of the guys out.
NicA – if Tyler wins HO what is he doing
Janelle – I don't know
NicA – if NicoleF wins HOP What is she doing
Janelle – those people are all working together I don't now
NicoleA admits she "teeterd" at first she was wanting to keep Kevin now she's wanting to Keep Keesha
Janlele – Keesha is better for our game. Kevin I don't see making a stand to do anything
NicoleA – we can make it a girls thing with Kjaysar.. (YES)
Janelle – Kaysar always works with girls he never works with just guys ever
Janelle – look in this season there's no Showmance potential the guys are going to BRO up anyways they have no one to use. we have to be aware of that. They are just going to use their past relationships.
Janelle says all she sees is NicoleF and Cody talking.
Janelle says she made fun of NcioleF and she feels bad about it, "that was out of line for me and I feel horrible"
Janelle – Night three I really said some sh1t.. and Victor will be mad at me too.
NicoleA says the four core players have a lot of people.
NicoleA explains that it's Cody/Tyler, Cody has NicoleF and NicoleF has Dani and Tyler has David.
Janelle doesn't think Dani is working with them, "she's just whatever".
Janelle – the problem is She's(dani) is friends with NicoleF
NicA – that's inseparable.. it will influence.. you know
Janelle – if Tyler or David win HOh it's really bad
Janelle says Christmas wants to work with the guys
NicoleA – ohh yeah.. yes..
Janelle – that makes me very nervous
NicA – I can see that 100%
Janelle – we need a number on our side
Janelle counts the 6 votes, bayleigh, Da'Vonne, Ian, NicA, Janelle and Kasyar
Jenelle – we would just need Memphis
NicA – 7
J – that's enough
They agree NicoleF is always around Ian. "She told me last night I'm super close to Ian"
J – NicoleF is dangerous as f**
NicA – I think she likes me. I'm trying to figure out where she stands in the game with me.
NicA brings up NicF telling her "Your cohost hates me" (NicA podcast cohost)
They agree NicF never works with women "The writing is on the wall"
Janelle says NicF will never nominate two guys, 'Neither will Christmas"
J – Christmas is dangerous we don't even know how she plays.
They talk about the backyard being closed soon but then being opened later tonight.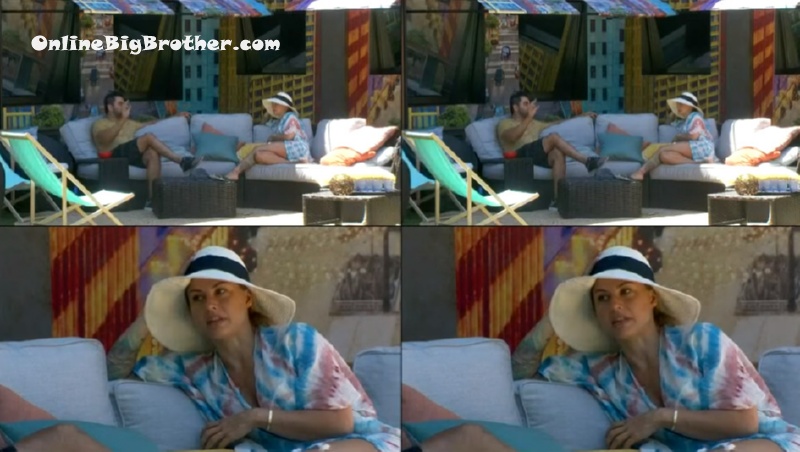 12:38 pm Kaysar and Christmas
Kaysar says he wants to vote with the house
12:44 pm Cody and NicoleA
NicoleA saying that she bounces back and forth but is more leaning towards keeping Kevin because she talks to him more.