| | | | |
| --- | --- | --- | --- |
| POV: | Angela | Next POV: | Aug 4th |
| POV Used | YES | POV Ceremony | Aug 6th |
| HOH: | Angela | Next HOH: | Aug 9nd |
| Noms: | ROCKS and Scottie Tyler Bayleigh | Have Nots | |
Big Brother Spoilers Bayleigh getting evicted another wild week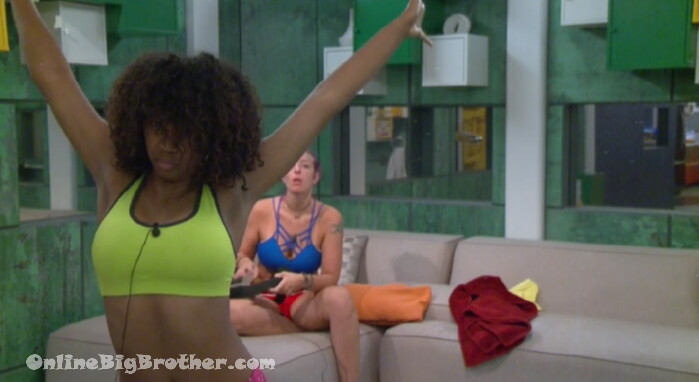 10:08am Wakeup…
morning space pecs …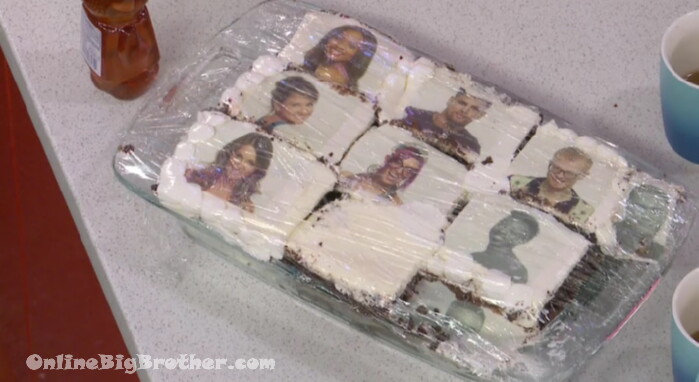 Half way party cake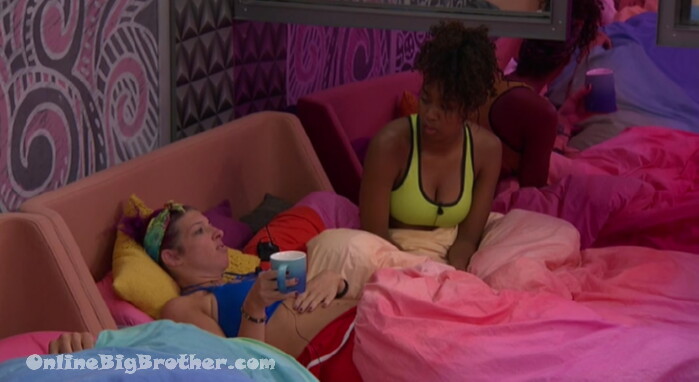 10:26am Rocks thinks that Sam is America's player because she's in the Diary room so much
10:43am Rocks and Bayleigh
Bay – are you pregnant for 9 months or 10
Rocks – for 10 i think… you don't actually know I mean it's 9 .. Conceptions.. I don't know how it works
Bay – How did you find out you were pregnant
ROCKS- I think I as 6 weeks
feeds cut..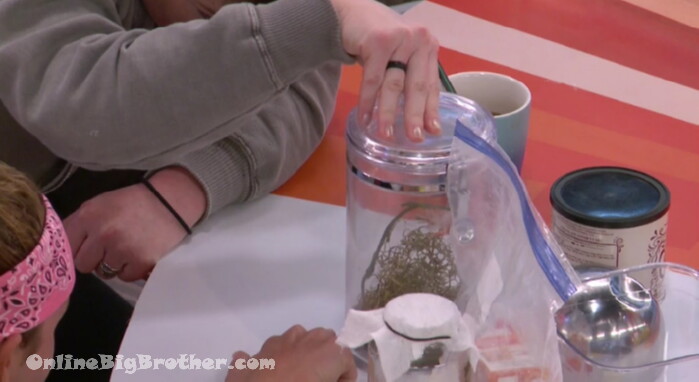 11:08am Sam and Tyler checking out Sam's spider..
Tyler – I have something to tell you
Sam – I'm scared..
T – about what
S – what do you have to tell me .. whats up..
T – I'm scared too
T – we're going to vote out Bayleigh
Sam – OK
T – If she uses her power on me I won't go up
Tyler tells her about his power.
T – I won't go up and then she will put someone up I am close to. I don't want that to happen
S – what did you pick
T – the cloud.. keep myself safe for one veto ceremony
Tyler – they (production) f * up last week they put the cloud on the TV panels I lost my mind. No one knows, no one else will know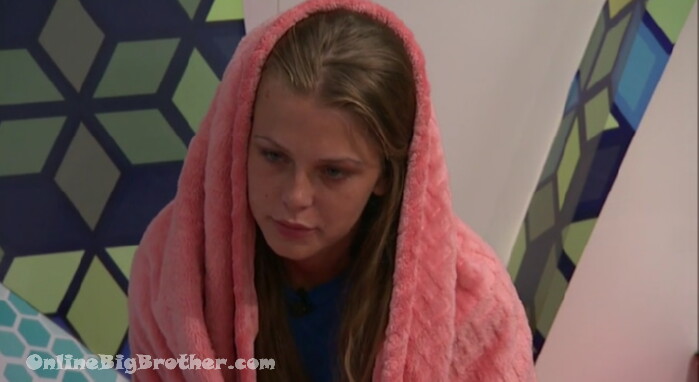 11:20am Haleigh and Tyler
H – I don't want us to leave the room until our personal relationship is fixed
T – I understand..
H – you scare me in this game and Kaitlyn told me several different alliances you are part of.. I don't even know they are true.. she also told me all the game syou talked to her..
Haleigh says they never talk game so when she had to take Scottie down she had to put someone up
Tyler brings up that haleigh was the first person to say Kailtyn was a liar.
H – do you have an alliance with Sam
T – no .. I have a friendship
H – do you have a 3 person alliance with Scottie and Sam
T – no.. I never told Kailtyn anything
h – the core
T – yeah that's not Sam . that was with Swaggy and it was openly known that is why me and Scottie voted him out because he told everyone
H – Out of everyone in this house you are the only one I don't know where your head is at and what you are doing..
haleigh says she thinks that if Tyler ever had the chance he would come after her
T – you've never done anything to me.. we were on the same page with Kaitlyn..
H – you were going back to her and telling her what I was saying
T denies it.
Tyler says he knew early on that Kailtyn was telling lies about him he wanted to vote her out from the very beginning of the week.
H – you guys were super close
T – we were close but I knew I could never trust her..
They start talking about bayleigh feeds cut in and out so portions of the conversation are missed.
Haleigh says she didn't think bayleigh was going to react the way she did during the meeting
T – I don't hate baylegih I understand she wants to save herself and stay .. when People are telling me Bayleigh is the hacker do what I can.. I did what I had the right to do because I got put up by a random person I wasn't being rude to her I saw good morning every day
H – I think she was just.. when we had the meeting she was expecting everyone to come to her an apologize
T – that meeting was instant shots at me there was no apology
T – I would have loved to apologize to her if she wasn't screaming to my face
T – I didn't make it personal I didn't throw any shots are her personally because I really like her as a person she was calling me a child.. that's what really hurt
T – you know.. because all I was trying to do was build something with Bayleigh.. build something with anybody because I was by myself..
H – you're with KAycee, you're with Angela
T – I feel good about them now because they used the veto on me.. they showed me that they've accepted me \
T – as far as I knew they were going to keep the noms the same.. (LOL)
T – She promised she would use it on me and she did
H – I don't want us to be awkward around each other any more
T – I still like you as a personal.. I'm not going to hate you it's a game..
H – I don't think you are going to work with me in this game and I see you working with everyone else..
Tyler says she just needs to ask to talk game says he doesn't approach everyone in the house and talk game they come to him.
11:30pm Feeds cut for HOH lockdown
A real easy way to support the site if you are an amazon shopper is to make your purchases through our link. You pay the exact same thing but we get a small % commission. It doesn't cost you anything and helps us out.
Amazon Canada
Amazon USA