| | | | |
| --- | --- | --- | --- |
| POV: | Angela | Next POV: | Aug 4th |
| POV Used | YES | POV Ceremony | Aug 6th |
| HOH: | Angela | Next HOH: | Aug 9nd |
| Noms: | ROCKS and Scottie Tyler Bayleigh | Have Nots | |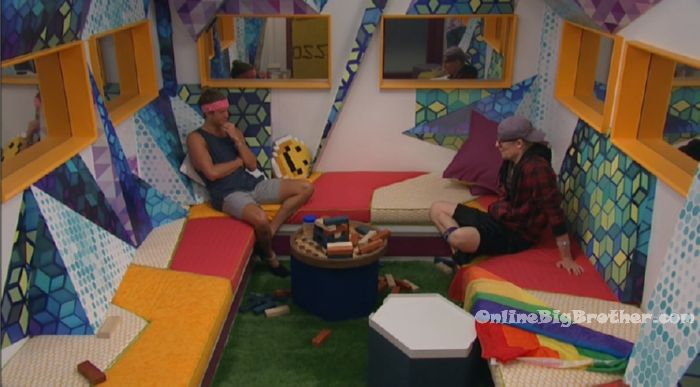 12:35pm Lounge room. Tyler and Scottie. Tyler – I asked Angela so were they really trying to get Scottie put up as the replacement nominee and she said yeah. Scottie – yeah that kind of pisses me off. Tyler – I don't know man. Scottie – this is the one useful piece of information I got out of that.. that Fes is going around saying that you went to me and him about us needing to stick together. Tyler – you know that's f**king.. Scottie – yeah I know that's bullsh*t. Tyler – he's been pitching that to me for weeks. Scottie – that's what I said. He's running around covering his bases. Tyler – I feel like that whole meeting was to just put a target on me. Scottie – that's what Haleigh is worried about now that she is a target. She might not even be the hacker. Tyler – I think Bay told her that she would use her power on her if she said she was the hacker. My vote is definitely going to be cancelled. And if Bay stays I will go up. Scottie – they keep saying to me have you gone to the dark side? Loyalty, Loyalty, Loyalty. They can only blame me for so many weeks before everyone is like one person can not be responsible for all this. Scottie – what started all of this was Bay telling Rachel about her power. Tyler – I was so surprised that Bay took it so far .. like calling me a child .. she didn't need to insult me. She was trying to pit Angela and I against each other. Are you still voting her out? Scottie – yeah. Tyler – I'm just going to have to fight like hell now.
12:36am Havenot room. Bayleigh – wasn't that that black girl that likes to cuss people out? Haleigh – you did say a lot of swear words. Bay – good. I don't even remember what I said. My eyes were just glazed. Rockstar – you were just eloquent. You just also had blood coming out. Bay – when I spit into the trash can it was so much blood. I thought I lost a tooth. (She bit her lip when she was screaming/flipping out on Tyler) Rockstar – I was sitting with Fes and JC and they were like she lost a tooth. And I was like that just does not happen .. someone does not get that angry. I bet my life that a tooth did not just come out.

Bay – I bet my mom was like oh my child .. get her off this show! There are maybe only like five times in my life that I have gotten that angry. Rockstar – its a pressure cooker. It was a long time coming. Bay – well Tyler said good night to me and I said it back. I even apologized to Angela. She didn't take it very well but she can kiss my a$$. My black a$$!! Rockstar – apologizes are for you. Bay – apologize are for her. Forgiveness is for me. Rockstar – f**k em! F**k em all! Bay – if I do leave its not like I get to talk to Swaggy. Bay – Sam said I just asked them (DR) if I could trade spaces with you and they said no. I was like Sam that's not how this works. I am sad that the whole world saw me spaz out like that. Haleigh – I spaz out like that like five times a year. Rockstar – and spit up blood? Haleigh – no.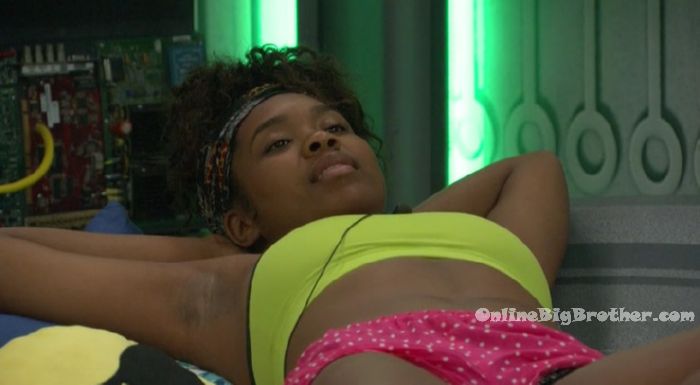 12:48am HOH room. Angela and Tyler. Tyler – I asked him (Scottie) about Brett and then Brett walked in the room so I walked up here. So hopefully Brett feels him out better. I don't know. Angela – man if Sam doesn't vote.. Tyler – she has to .. I think she will. Angela – it just sucks if she (Bay) stays we know our fate is in her hands. Tyler – that is not a good place for it to be. She is not going to stay, she is going to go and you will be fine. Don't you worry. I will win HOH and you will win hacker and she will be gone. Angela – Sam has said it a few times now that she will vote how I want her to. Tyler – it will be a close one but maybe Scottie will to. Angela – I think that Scottie wants bto work on that side if Bay stays and this side if she goes. We just have to make him think she is going. Angela – its all on Sam. Tyler – I hate this game. What are they doing to us. Tyler hugs Angela and tells her he's got her back. Its all my fault, blame it all on me. Tyler heads to bed.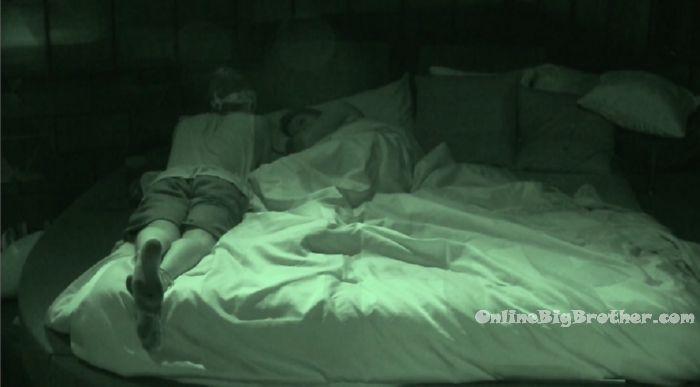 1:11am – 1:30am Havenot room. Fes, Rockstar, Bay and Haleigh. Bay – I can't believe Fessie called himself white the other day. Fes – I did? Bay – that's what I said and he was so mad about it. You were talking about going home to Haleigh's family and you said I am white why would they care. Bay – you're not white. You have white in you. But you're not white! Fes – I'm half white. Bay – do you know that in America if you have an ounce of anything else in you .. you are publicly considered for the census.. other. Fes – I used to get teased for being black and not that I'm here I'm not black enough. Rockstar – what Obama? Fes – half black / half white. Bay – even the kids that say their great Grampa was black .. you're considered mixed. People like you (Fes), you're not white. Fes – I know I'm nt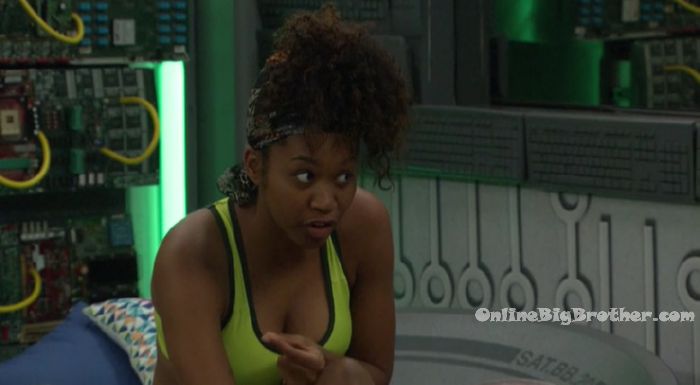 2:15am Fes and Brett chatting in the kitchen. Brett – Rockstar hasn't given me her pitch but she's been awfully nice to me. And telling me about her alliance. I feel like its tougher for you. Fes says that he is unsure who to vote for because he is thinking about jury votes.

3:30am All the house guests are sleeping…
8:41am everyone is sleeping..
A real easy way to support the site if you are an amazon shopper is to make your purchases through our link. You pay the exact same thing but we get a small % commission. It doesn't cost you anything and helps us out.
Amazon Canada
Amazon USA