9:57pm HOH Cody and Frankie
Frankie says he's been pulling up people and getting information, People are saying to put AMber up. Frankie is goign to tell Amber it was Caleb's idea he made him do it. Cody adds that Caleb told him today that you are going to tell AMber it was Caleb that wanted her put on the block.
Cody points out that Caleb thinks that Hayden is using the veto on Jocasta.
Cody is worried that Hayden is going to get a lot of heat from Caleb.
Frankie explains that HAyden is going to tell Caleb he didn't want to use the veto on Jocasta because Victoria picked him for Houseguest choice and if he used it on JOcasta people will think they are working together. Frankie adds Hayden is very good with his words he's goign to be fine.
Frankie asks him for real for real how does he feel about Zach
Cody is really worried about Zach says he's all over the place and Zach has used COdy's name twice to get out of sticky situations.
Frankie is saying to him man to man Caleb is loyal to a fault he's wants to go final 6.
Frankie says anyone but Frankie, Cody and Derrick will try to back door zach.
Cody warns if Zach goes up he will explode everything.
Frankie believes Zach when he said he won't ruin their games. Cody he can't control himself.
They agree Derrick is brilliant. Frankie comments that he loves see him play the game.
Frankie says he nervous about Zach's mouth. says he was worried at his grandfather's memorial that zach was going to say something to hurt his game"
Cody says Donny has him more worried than Caleb, They both don't think Caleb isn't as strong in competitions.
Cody says if Zach throws him under the bus again he's finished with Zach.
Frankie says nobody has come to him with Zach's name as a backdoor. Frankie thinks there's a good chance Zach is going up on the block next week. Cody warns if it's Derrick and him in the HOH room they have to be clever or they will show all their cards.
Cody says Zach is worst than Devin. Frankie points out that Devin was always trying to pull Zach out of the bombsquad and replace with Hayden now Zach wants Christine out and replaced with Hayden.
Frankie – Thank god he listened to me
Frankie says they cannot keep Zach's name out of people conversations all they can do is say he's a wildcard. Frankie explained this to Zach and he didn't care.
Derrick rolls in . Asks them if they are going to do Operation Brittany on Amber. ( Operation Brittany is when they keep the real target ignorant of their fate.They are hoping they can keep Amber in the dark right until the eviction night)
Zach rolls in.. they tell him the same exact plan with Amber than they did with Brittany.
10:30pm HOH Cody, Derrick ZachAttack and Frankie
Zach practicing his speech "there something that has been bothering me these last couple weeks there is one person who has been giving it their all and getting it spit back in his face.. Beast mode Cowboy has gone to the moon and Back 5 thousand times .. He ate a f*** pickle he almost threw up all over the frickin dining room eating a pickle. "
Zach says he's not going to say Caleb just Beast Mode Cowboy.
Caleb rolls up..
"Over the last several week there's been something grinding my gears and upsetting the entire house theres one person in particular who has given his all to another person who has taken it and spit it right back in his face and rubbed it in the dirt"
Caleb asks if it's in his face how is it in the dirt
Derick – It works
Caleb – I just don't want you to say something stupid
"Beast mode cowboy has gone to the moon and back 5 thousand times for you amber he put himself on the block for you risked 500 thousand dollars.. more money than all your previous three boyfriends have ever spent on you "
Caleb – Ouch hahahahah
Zach – "When you were cold as a have not in the icebox room he throws his big b@lls off to give you warmth he gave you his two only blankets to ensure you had a good nights sleep and was well rested for the day. Amber it breaks my heart that you as a persson showed no thanks to the one person in the house that you can trust the most. he chose 5 thousands dollars over the power of Veto to take you on a lovely cruise to atlantis how do you repay him… he ate the one piece of food that makes him throw just so he could take you on a date and when he ask you on the at date you only went on it with im because you didn't want to hurt his feelings well how do you think he feels now.. I'll tell you how he feels he doesn't give a flying fu** he is the reason you are sitting in that orange chair today he's also the reason why you could possibly wake out that door three days from now.. so amber who the F** is goign to save you now"
Derrick says he should say do you have anything to say for yourself
Zach adds more bits "what does your family think of you treating this man like trash he's the only man in this house you can trust.. Amber Beast mod cowboy is the reason you are sitting in that chair…"
11:01pm Storage room Cody and Zach
Talking about how much of joke Caleb is.
Cody says he doesn't care what Frankie says if Cody wins HOH he's taking Caleb out. Zach says he will do to they high five. They have a good laugh about Caleb being clueless about what is going on in the hose. Cody says their squad is filled with beasts. Zach – One Of us wins 500 the other 50
They start talking about the trip to Germany and how much fun they will have.,
11:18pm Hayden and Cody
HAyden wants to tell Caleb right now he's goign to use the veto on Victoria. He's got a legit reason and he thinks the sooner Caleb knows the less mad he'll be. .
Cody agrees the reason is good but he shouldn't say anything tonight wait until tomorrow. Hayden wants to tell him now so he's not mad at him tomorrow.
Cody thinks it gives Caleb time to think he may decide he doesn't want Amber up
Cody says he cannot handle Caleb anymore. Hayden wants him gone next week
11:22AM HOH Hayden and Frankie
Hayden tells Frankie that he'll tell Caleb tomorrow about the veto. Hayden thinks he'll understand his reason. Frankie agrees but thinks he needs to wait until tomorrow. Victoria comes in and Frankie leaves. Victoria asks wants to practice her speech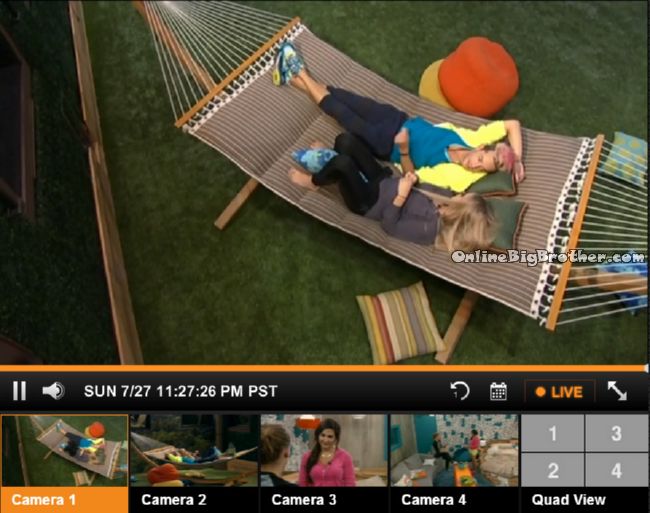 11:25pm Hammock Nicole and Frankie
Frankie says his reason to put Amber up is perfect, Caleb wants him to tell her it was all his plan. Nicole – Oh my god he's so stupid.. Frankie you are the man. Frankie thinks Amber is goign to pull Nicole aside and blow a bunch of sh!t up. They talk about Victoria Jocasta goign up next week.
Operation Brittany in effect Derrick and her in the BEEHive followed by Frankie and her on the Hammock (Make Amber feel like she's 100% safe)
11:42pm HOH Derrick and Cody
Agree Caleb has to go next week. Derrick thinks Donny will put up Zach. Cody question that he sees Zach and Dony are really close. Derrick wants him what he says around Freak in regards to Frankie.
Cody's pecking over will be caleb and Donny
They agree Caleb, Zach, Frankie and Hayden are all coming out of tomorrow's veto looking sketchy. THey mention how Caleb throwing the BOB competition will be known which will piss Jocasta off at Caleb
Caleb comes up starts talking about his swollen gland. "Feels like i have a marble on my chest a big one" Caleb says the only way he would call off his plan to put up Amber would be if she came up to him tonight and apologized for everything.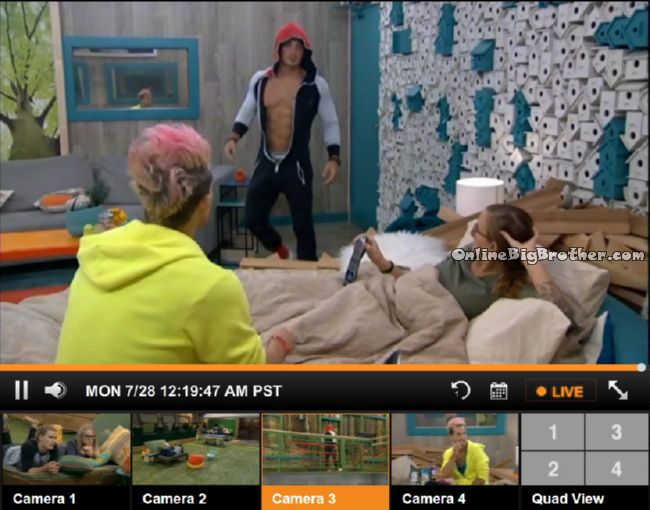 12:20AM Frankie and Christine
Frankie telling her he's thinking of saying that Caleb wanted him to nominate AMber, Christine laughs cannot believe that Caleb is agreeing to this.
Christine asks her what her role in all this after the sh1t hits the fan tomorrow
Frankie says they keep doing Operation Brittany.. be nice assure her she's not going home.
Caleb comes up Frankie tells him he's thinking about mentioning in the speech tomorrow to give Caleb credit for putting Amber up. Caleb doesn't want him to he would rather the speech be about trust issues with Amber. Caleb "This is a test i'm giving you a couple days to prove why you are here in this game"
Caleb leaves.. Hicasta come sin Frankie says he doesn't know what HAyden is going to do it. +
He tells her if Hayden doesn't use it they will campaign to keep jocasta,, if he uses it on Victoria they will put up someone who is guaranteed to go home.
Frankie wants to know if Veto is used on Vciotira who does Jocasta want him to put up. Jocasta will need to think about it she thinks she's going to have a uncomfortable time campaigning against anybody.
12:40AM Pool table Cody, Nicole and Hayden
Hayden is pretending to be a zombie. Nicole gets scared "He's getting good at this"
Alliances
Zankie = Frankie/Zach
The Detonators = Derrick, Frankie, Zach, Christine, Cody
Final 2 Deal "The HITMEN" – Cody & Derrick
Trilogy = Nicole, Christine & Hayden
Team America = Donny, Derrick, Frankie
Old timers = Jocasta/Donny
Nicotine = Christine/Nicole
(Defunct or unknown status)
Bomb squad = Caleb, Amber, Frankie, Derrick, Cody, Christine, Zach, Hayden
Not a showmance= Hayden/Nicole
Los Tres Amigos = Derrick, Cody, Zach
The bottom Feeders = Derrick/Nicole
We hate Devin = Christine and Zach
Outsiders = Brittany, Victoria, Jocasta, Donny
Stalker = Caleb/Amber
Quad Kings = Derrick, Zach, Cody and Hayden (still being built)
One way to support this site that doesn't cost you anything extra is making your Amazon purchases through the links below Amazon.com OnlineBigBrother Link
For Canada use link Amazon Canada OnlineBigBrother
More polls here https://www.onlinebigbrother.com/big-brother-compendium/big-brother-16-polls/
[polldaddy poll=8207784]
Share it YO!!
Tweet