POV Holder:
Hayden
Next POV
Aug 2nd
POV Used
?
POV Ceremony
July 28th
HOH Winner 1:
Frankie
HOH Winner 2:
 Zach
Battle of the Block Winner
 Nicole/Christine
Next HOH/ Next BOB
July 31/Aug 1
Original Nominations:
ZACH's Noms (Christine & Nicole) Frankie's Noms (JOcasta & Victoria)
Final Nominations:
?
Have Nots
Nicole, Caleb, Christine, Derrick
POV Players
Frankie, Victoria, Jocasta, Donny, Hayden & Christine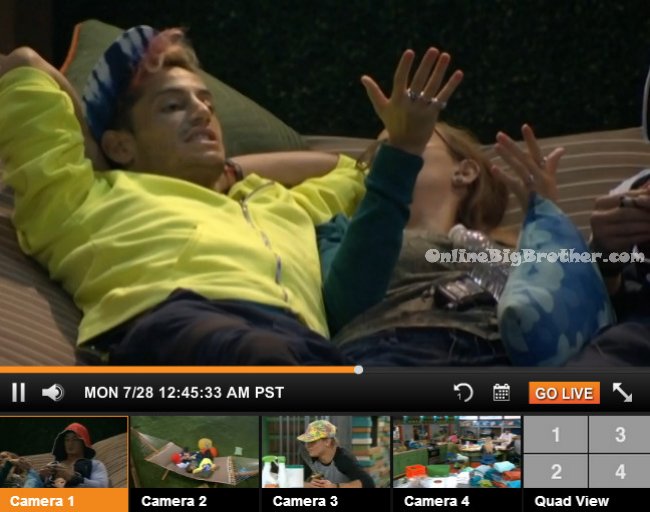 12:50am Out in the backyard – Caleb and Christine are in the hammock talking. Christine says tomorrow is going to be a crazy day. Caleb says it sure is, it sure is. Its going to be nuts because anything can happen. As far as I know smooth sailing because we already know who's going home but you never know what people have up their sleeve because jury is just around the corner. Caleb says we just can't be the 6th person gone. Victoria goes home and then the next person goes to jury. So as long as none of us go up and go home we should be fine. Christine says I am worried about Donny, that I'm a target of his. Caleb says that Donny is winning POV's because none of us beast houses are in it. Christine says I am just worried about going up against an alliance member. Frankie joins them again. Caleb says again that Victoria goes home Thursday and then we've done what we need to do, then we're all in jury. Caleb says that I have agreed that if I make it to the end whoever votes for me in jury I will give $5,000 to.
Take Advantage of the FREE 2 day Trial to watch all the drama!
1:05pm In the kitchen – Zach tells Victoria I would marry you just for your guacamole. The cameras switch to Derrick and Caleb in the havenot room. Caleb says the he might just go to the after party with the onzie on just like this. Derrick says yeah see how that works out for you. Caleb says how would it not work out for me!? Derrick says depends on what you're trying to attract. Caleb says just being me baby! Derrick says they might be like get our of you baby suit.. put on a man suit. Caleb says put on a man suit?! Ladies who want's it!? Beast Mode Cowboy is here!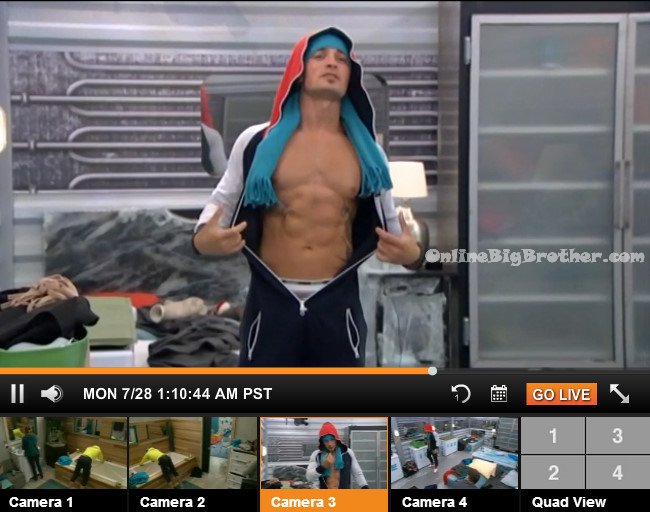 1:10am Up in the HOH Frankie is talking to Christine. Frankie says I kind of feel weird about saying that Caleb said to do this so … I think I would say that the subject of trust has been a really big deal and mentioned a lot lately.. and you know like there has been a lot of paranoia. Its hard to trust you and I just got some information right before this veto meeting from someone that I trust. I am sorry but.. I think its better than saying this person told me to do this. Christine agrees. Frankie says I told Hayden to prep him right before the veto meeting when I get called into the dairy room. Because I think if we told him tonight he would say no don't do it. Frankie says that Hayden has very good points as to why. Frankie says if Amber is sitting next to Victoria.. then she is safe. If Amber is sitting next to Jocasta then … Christine says not so much.. exactly. Frankie says we still have to guarantee him that she is safe if we want her to be safe and that's why you're so important because right at the very end.. right before the meeting you say Amber blew up everything to Nicole. Christine says right, exactly! Frankie says I love you. Christine says I am getting to the point where it is really hard to hangout with Caleb. Frankie says I was talking to Victoria .. she's a piece of work. She was like its amazing how good you are at hanging out with people you don't like. Christine asks to you she said that! Christine laughs. Frankie says isn't it! Isn't it amazing! Christine says I'm VERY GOOD AT IT! I love that! I love that she's the one that said that to you. Christine brings up how Caleb keeps says when we make it to jury .. that's what we all wanted… I'm like not that's not what I want at all!?

1:15am Out on the backyard – Zach and Cody are playing pool. Zach says he (Caleb) literally thinks he is running the game. Its funny dude. Its actually funny! Its amusing. Like he says she had the trust of the biggest beast in the house. Cody says I love how he calls himself the biggest beast in the house.. like he won an HOH week 1 and literally has been non-existent. He talks about how he protected her but really he has been protected by the alliance. That just piss me off that he thinks he is the biggest beast in the house. Zach says that Caleb is going to be easy to send out. The hardest person to send out is going to be Hayden or Frankie. Cody says I am not even thinking about sending Frankie home because it is going to be miserably bad to send him home. It's just not going to be easy. Zach says of course it is but we have no choice. Zach says another BOB this week then next week would be single HOH with double eviction. Cody says I would put up Caleb then. Zach worries that Cody is emotionally attached to people .. are you going to be able to send people home?! Cody says he will.
See what they can't show you on TV! -Try the Big Brother 16 live feeds for FREE!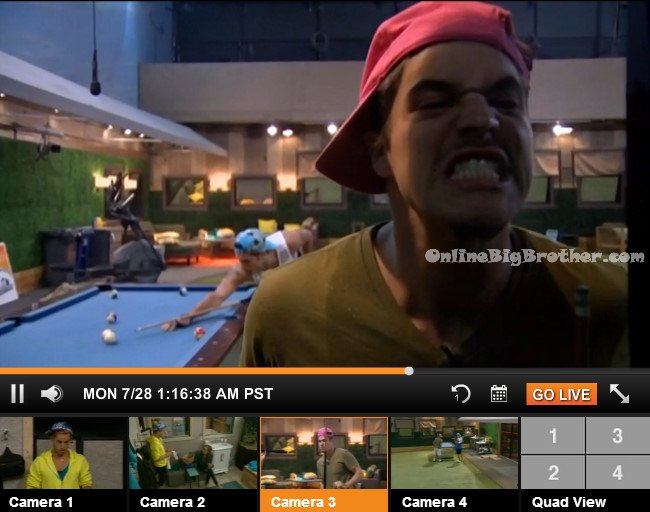 1:40am Derrick comes to talk to Frankie in the HOH room. Frankie talks about how Victoria come up to him telling him how she wants to trust him but that people are telling her not to. Derrick says the thing that scares me about Victoria is her saying I have a final 4 deal with them. If she does we just need to deny it. I just want her to go out thinking as little as possible. Frankie says I can't say in the veto meeting that Caleb told me to do this.. Derrick says yeah because then it makes you look like a puppet. Frankie says after then I can tell her that Caleb told me to do this. Derrick says lets hope Zach comes through! What if she walks away. They say that Zach's speech is literally like 2 minutes long. Frankie says I had them read me the rules it only needs to be 1 person attacking another. Derrick says that's great. Derrick leaves.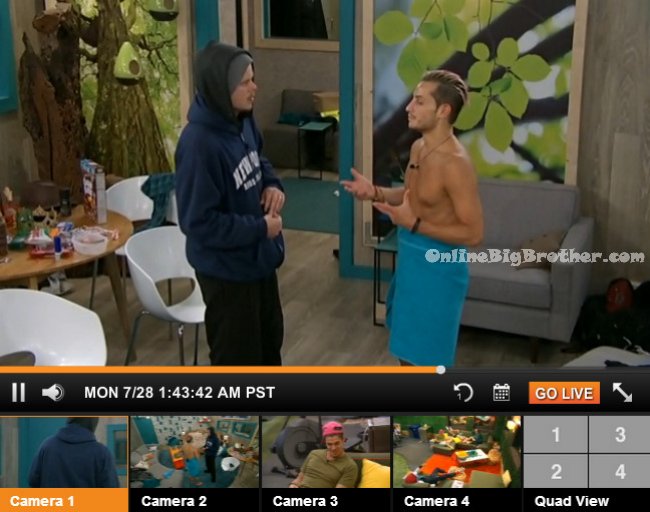 2:10am In the Hive Room – The camera's switch to Zach in the middle of practicing the speech his going to give tomorrow during the veto meeting.
Zach says:
"When we were havenots he gave you both of his blankets because you were cold and he froze his butt off just so you could sleep and stay warm. And the next day you thanked everyone .. not everyone gave you their blanket. It was Beast Mode Cowboy! And third of all in the power of veto competition he risked his safety to take $5,000 just so that he could take you on a cruise to the bahammas. Not only that! He ate a pickle! The one thing he hates most in this world and he almost threw up on the kitchen table just so you would go on a date with him. And when he asked you out on the date you were very reluctant to say yes. After the date you went around telling everyone that you only said yes because you didn't want to hurt his feelings. Beast Mode Cowboy saved you in this game more than once.. lets see if the third time is going to be the charm. Do you have anything to say!? No! I didn't think so! Because that's exactly what you've been saying to him this entire summer!"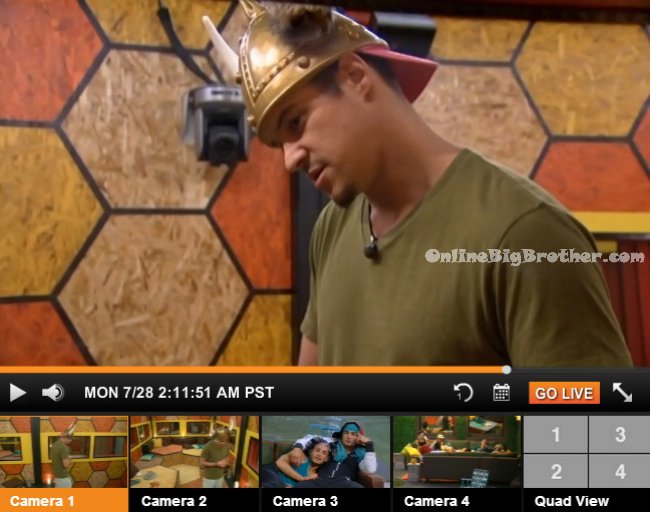 Zach leaves the hive room and heads up to the HOH room. Frankie says basically everyone will keep Amber thinking she is safe. Frankie says Nicole said she would tell Amber she hates her I don't care she's not in jury. Zach says I love her, I would date her. Frankie says I know you would. Zach asks is it a bad look that I am standing up for Caleb?! Frankie says everyone in the house wants it to happen. Everyone one but Victoria and Amber know's whats going on. Not your speech but.. Frankie says that Hayden is going to tell Caleb right before the veto meeting. Zach asks why tell him at all?! Frankie says because Hayden wants to cover his a$$. Frankie says if Caleb has an issue with it then he is protecting someone else other than the alliance. If he comes to be I will say Jocasta's not in our alliance she needs to go home.. sorry that you feel she deserves to be in jury over Victoria doesn't really f**king matter. Lets just get her out next week, calm down the plan is still a go. Zach says and then we just get out Caleb… possibly .. possibly! Frankie says if we put up Jocasta and Victoria and you win the veto you can do whatever you want with it. Zach says the kicker is that Caleb thinks its his idea that we're putting Amber on the block. Zach talks about how perfectly things have worked out and how we've controlled what has happened since the beginning.