POV Holder:
Hayden
Next POV
Aug 2nd
POV Used
?
POV Ceremony
July 28th
HOH Winner 1:
Frankie
HOH Winner 2:
 Zach
Battle of the Block Winner
 Nicole/Christine
Next HOH/ Next BOB
July 31/Aug 1
Original Nominations:
ZACH's Noms (Christine & Nicole) Frankie's Noms (JOcasta & Victoria)
Final Nominations:
?
Have Nots
Nicole, Caleb, Christine, Derrick
POV Players
Frankie, Victoria, Jocasta, Donny, Hayden & Christine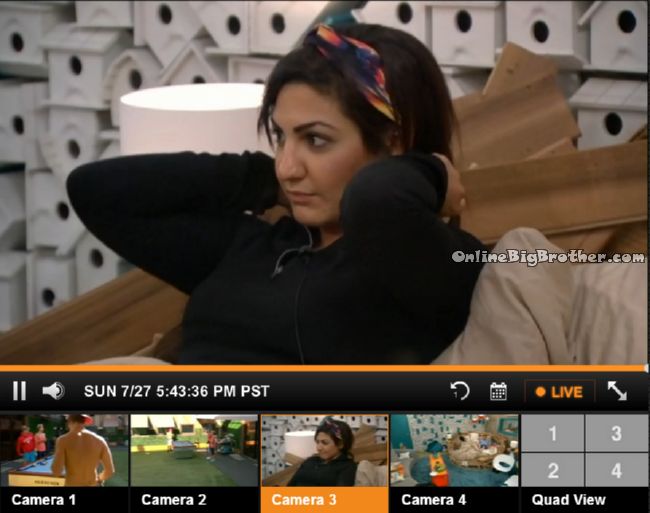 5:40 PM HOH Nicole, Derrick and Victoria
Victoria is nervous about the speech she doesn't want to bring Jocasta's name up unless she brings it up first. Derrick tells her to mention that she picked Hayden to play for the veto with her.
Derrick suggests Victoria pretends he is Hayden and tell him the speech.
Victoria – HAyden you should use the veto on me i've been up so many times and I've pulled myself off every single time this is the first time i'm sitting on these orange chairs and it sucks I fight my heart out when I go into battle and I … did use you as houseguest choice so I would like if you could consider that when making a decision for you veto"
Derrick and Nicole tell him that's perfect.
Derrick says the best thing is to not to over prepare for the speeches. Nicole agrees says she over prepared for her's and she stumbled.
Derrick – If You over think it you're going to screw it up
Victoria asks if she should mention how much she wants to be here. Derrick thinks that is a cliche line "Everyone wants to be here.. you don't think Jocasta is going to say I want to be here"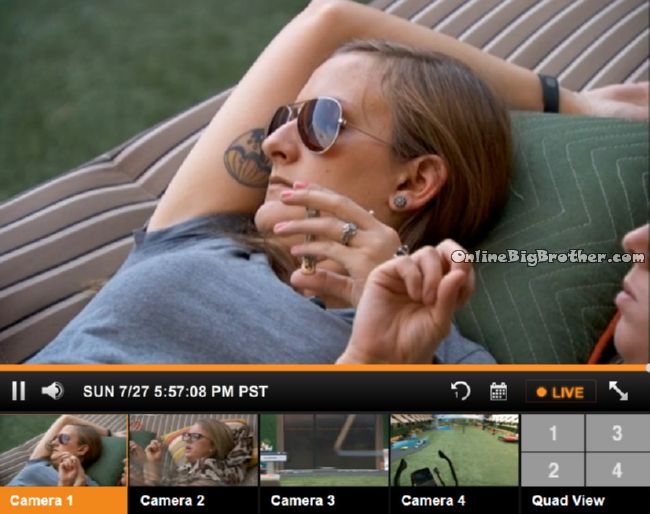 5:38pm Hammock Christine and Amber
Christine says Victoria wa practicing her speech for tomorrow. He's got a lot of valid points.
Christine says Donny just admitted that he's targeting her "We stared each other down when he said that"
Nicole brings up talking to COdy last night and how nice it was. THey didn't intend it to talk game but they did, "I love him but I didn't know where we stood in the game.. I told him I appreciate what he did with Brittany because in the end that was really good for us"
Christine says Amber leaving is horrible for her game but she's going with it. Christine says using the veto on someone is huge. "He told me everyone knows (HE's using the veto) .. everyone but Amber" They laugh.
Christine says she doesn't trust Donny at all, She claims he makes fun of everyone. Nicole tells her not to worry they have Donny under control.
Nicole goes on about Victoria floating to the end especially now that she has hayden.
Zach comes by says they need to make sure Amber and Caleb don't talk.
Rewatch any moment on the live feeds with a subscription Try It Free! Get 24/7 access to the house PLUS more for 48hrs before you decide!
6:23pm Pool Table Caleb and Cody
Caleb going over the things Amber said about him, "It's hard to take what Zach says to heart because he wants her gone but when Frankie comes in and says the same thing.. Man"
Cody thinks Amber is going to F*** sh1t her pants
Caleb "I'm not protecting her anymore if she goes up she goes up and I will vote her out"
Caleb tells him there's a epic play going down tomorrow that Caleb set up. Cody laughs
Caleb – "If you play by yourself you can fix yourself"
Caleb says Amber is getting backd**red tomorrow, "is she goign home probably not it's a test.
THey head to the couch, Caleb says they are putting Amber up to scare her. Cody hates it that every other day Amber comes up questions their loyalty.
Caleb – Hayden is going to use the veto on JOcasta and Amber is going up (He's actually going to use it on Victoria)
Caleb – If she blows us up she's going home if she doesn't she's safe.
Caleb says Zach has a little speech to say. He's sticking up for Caleb it's happening right after the ceremony.
Caleb – we know she's going to get scared to death and Frankie is going to tell her straight to her face the only person that has been keeping her safe and is loyal is Caleb.
Cody points out even if she does blow it up who is she blowing it up to.. they've already heard it.
Cody says at the end of the day Christine and Amber are not part of the original alliance. Cody says the original 6 have been the only HOH winners..
Caleb quite frankly your game is at my finger tips.. I'm wasting my breath speaking to her.. Her game is at bea
Zach cruises in Cody leaves. Zach gives him tomorrow's speech for Amber (Another version Posted here) Zach has made some changes to the original speech
"I think you are the fakest person in the house you lie through your teeth every single time you open your mouth. beast mode cowboy has had your back since day one"
Caleb – And he made it known to everyone in the world that watches this show
zach – "and you spit back in his face he put himself on the block risked 500 thousand dollars for you , when you're a have not he gave you all his blankets froze his butt off you woke up the next morning talking about how well you slept and you couldn't even thank him .. you never thanked him for anything he did for you and I don't know if it's because you don't realize it but you're the one that looks dumb because you had someone giving you his all in this game and you messed that up and that is why you are sitting here right now try to be saved again but you had your 4 strikes… You know something like that.
Zach – "He went to the moon and back 5 thousand times,. he ate a pickle for you"
Caleb says amber told him she would go on a date with him if he ate a pickle he ate the pickle almost threw up. She now tells people she really didn't want to go on the date, "It's crazy"
Zach – We got to get through the day without her knowing
Caleb says for votes Amber has Donny Jocasta and MAybe Nicole that is it. Amber thinks she has more votes.
Zach – We control the votes.. you indirectly control the votes. you need five votes me you cody ,derrick, christine, hayden we control everything whatever we want to happen will happen.. I don't understand her deal what does she think she's going to accomplish..
Zach is going to tell Amber her game is at beast modes fingertips it's going to make her feel small. Caleb – She has no Idea
Zach – She has NO IDEA.. it's going to be a surprise.. She doesn't deserve it bro
Caleb – She deserve it more than Victoria but her game play right now is stupid.. you can't go running around telling your alliance you can't trust them.
6:46pm Hammock Victoria and Christine
Christine tells her everyone but Jocasta and amber know that the Veto is being played and Amber is going up. Christine adds that
Christine says that Caleb wanted the Veto to be used on Jocasta, "Let him think whatever he wants to think"
Christine says Caleb doesn't know the veto is being used on Victoria
Victoria give me a break.. what world is he living on.
7:30pm backyard Zach is telling them hoe close he is with his little broski. Zach thinks he's the luckiest guy to have such a cool little brother. When Zach get home he's goin back to his job as a server and he's going to hang out with his little brother playing golf. Sounds like his little brother has pro golf aspirations. If he didn't have a little brother he would be in New York or Los Angeles getting a real job and start a life.
Christine wants to move out of her state she's thinking about east coast after meeting all these wonderful people in the house. Zach could never leave his family. EVER
Alliances
Zankie = Frankie/Zach
The Detonators = Derrick, Frankie, Zach, Christine, Cody
Final 2 Deal "The HITMEN" – Cody & Derrick
Trilogy = Nicole, Christine & Hayden
Team America = Donny, Derrick, Frankie
Old timers = Jocasta/Donny
Nicotine = Christine/Nicole
(Defunct or unknown status)
Bomb squad = Caleb, Amber, Frankie, Derrick, Cody, Christine, Zach, Hayden
Not a showmance= Hayden/Nicole
Los Tres Amigos = Derrick, Cody, Zach
The bottom Feeders = Derrick/Nicole
We hate Devin = Christine and Zach
Outsiders = Brittany, Victoria, Jocasta, Donny
Stalker = Caleb/Amber
Quad Kings = Derrick, Zach, Cody and Hayden (still being built)
One way to support this site that doesn't cost you anything extra is making your Amazon purchases through the links below Amazon.com OnlineBigBrother Link
For Canada use link Amazon Canada OnlineBigBrother
More polls here https://www.onlinebigbrother.com/big-brother-compendium/big-brother-16-polls/
[polldaddy poll=8207784]