POV Holder:
Hayden
Next POV
Aug 2nd
POV Used
?
POV Ceremony
July 28th
HOH Winner 1:
Frankie
HOH Winner 2:
 Zach
Battle of the Block Winner
 Nicole/Christine
Next HOH/ Next BOB
July 31/Aug 1
Original Nominations:
ZACH's Noms (Christine & Nicole) Frankie's Noms (JOcasta & Victoria)
Final Nominations:
?
Have Nots
Nicole, Caleb, Christine, Derrick
POV Players
Frankie, Victoria, Jocasta, Donny, Hayden & Christine
7:43pm Donny and Frankie HOH
Frankie tells Donny he's playing a beautiful game
Frankie says he's not putting Donny up because of Team America Frankie wants them to make it as far as they can together. Donny says he's not putting Frankie or Derrick up until there is no one left.
Derrick comes up Frankie says he was saying he's planning final 3 with Team america
Derrick – theres no reason to f** it up"
Frankie tells donny the plan is to have Zach to blow up at AMber during the veto meeting. Derrick tells Donny that Amber is going on the block.
Frankie – If Veto is played we'll put her up
Donny – I think that is a great Idea i love her and she loves me we're tight just as country folks.
Frankie says Amber is freaking everyone out her paranoia has gotten out of control.
Donny points out he's the most laid back person and she is stressing him out.
Derick chimes in that Amber is still thinking there is a 8 persona alliance.
Frankie tells him Amber is being completely blindsided so don't tell Amber she is going up.
Frankie "Zach attack.. we've already primed him and preped him he's ready to go to battle"
Derrick – He's going to really lay into her
they agree as long as Zach berates her for the required 20seconds they win.
They get pretty excited about the money they are going to make. Derick says they can win 59 grand. Frankie says 5 thousand a week is his dream salary on broadway. Derrick leaves. Donny and Frankie talk a bit of game. They agree Christine is really nervous person. Donny says he likes Victoria she's very classy and she's someone they have to compete in HEad of Household, They laugh.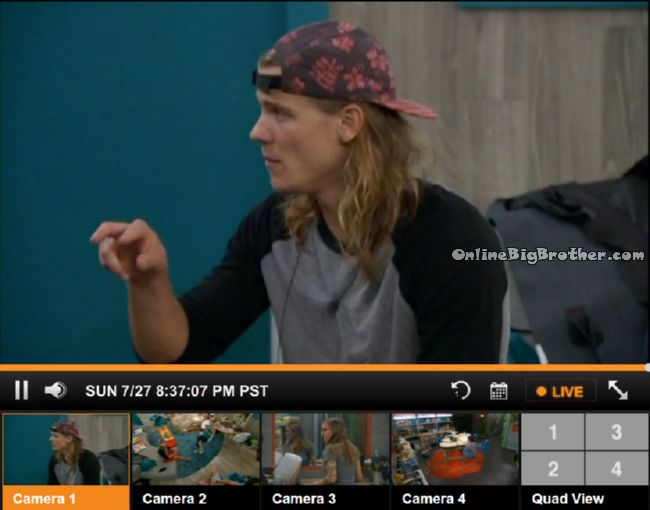 8:19pm HOH Hayden, Zach and Frankie
Hayden says it's Caleb's idea now as far as he's concerned everyone is on board. He's been telling people that he's not using the veto. Hayden thinks he will tell beast mode he's used the Veto on Victoria because it would look suspicious if he used it on Jocasta. He'll make sure Caleb thinks the plan is still to scare Amber and as long as she doesn't blow up the alliance she's safe.
Frankie is going to tell people he didn't think Hayden was going to use it. Frankie is going to blame it all on Caleb. Caleb wanted hayden to use the veto and he's telling Frankie to put Amber up to sacre her.
Frankie says Caleb wants to shoulder all the blame so let him do it. (They were planning on putting Amber up anyways and were trying to figure out how to get Caleb onboard. Zach was able get a wedge between Amber and Caleb planting the seed resulting in Caleb coming to them wanting Amber on the block to scare her. It was pretty sweet execution )
Frankie – "I'm telling everyone that Caleb made me do this"
ZaCH – THIs was his Idea and he made you do this.
They agree Amber doesn't think she's going up and if she does she thinks she has the votes.
Zach says technically Caleb was the one that came to Hayden and told him about his "master plan". Hayden adds that Caleb came to him independently before Frankie and Zach told him Caleb wanted the veto used.
Frankie – We're getting out all the people that don't know how to play this game and I love it"
Hayden talks about Caleb being ditzy "He's such an airhead"
During the Veto Ceremony Hayden is going to tell Jocasta nothing personal he really wishes he had two vetoes but he's just got one. Victoria picked him as house guest choice and he has to honour that and use the veto on her. Hayden will also mention that Jocasta was taken off the block once already he wants to give Victoria a chance.
Frankie says there isn't a single person in the house that won't put Caleb up during double eviction. Hayden says he would put up Jocasta and Victoria and hope he won the Veto to get out Caleb.
Hayden – I've been thinking using Jocasta as the backup plan until they don;t need her any more.
hayden says Jocasta can go at anytime she has no alliance but keeping her around so they can complete their plans is the best way to go. .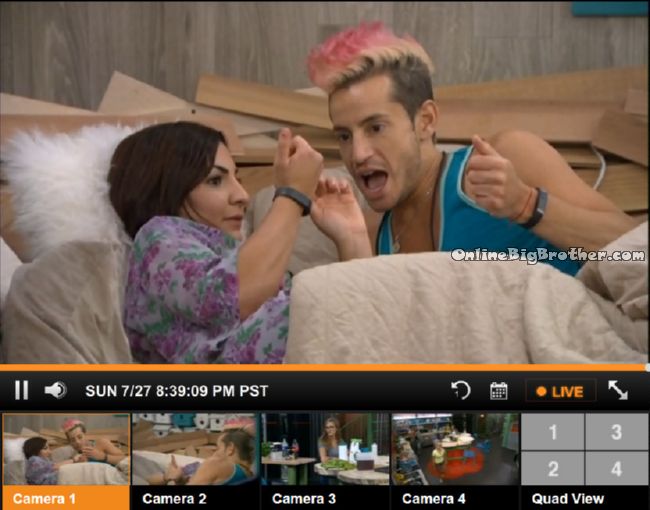 8:40pm Frankie and and Victoria
Frankie says Victoria is safe regardless of what happens. If HAyden uses the Veto he's backdooring someone and if he doesn't use it Jocasta is going home. Frankie adds Hayden can't disclose what hes going to do so nobody knows. Frankie doesn't think Victoria is in any trouble. He hugs her "YA you're staying.. done talk ..I'm so happy I love you I don't want you going anywhere ever"
Frankie says he felt awful for putting her up but in the end it all worked out for the best
Rewatch any moment on the live feeds with a subscription Try It Free! Get 24/7 access to the house PLUS more for 48hrs before you decide!
9:00pm FIREROOM Derrick and Victoria
She brings up her conversation with Frankie. Victoria says she knows who is going up she's heard it going around the house she knows the veto is being played but Frankie acts like he doesn't know. "Which is fine"
Victoria now asks if Hayden is using the veto is she safe for sure. Derrick says yes he is.
Victoria says he told her to be wishy washy.. she just spoke to frankie and acted wishy washy
Victoria – "So Amber is going up tomorrow.. ok.. " Derrick assures her she's 100% safe this week. Victoria leaves "Ok love you bye"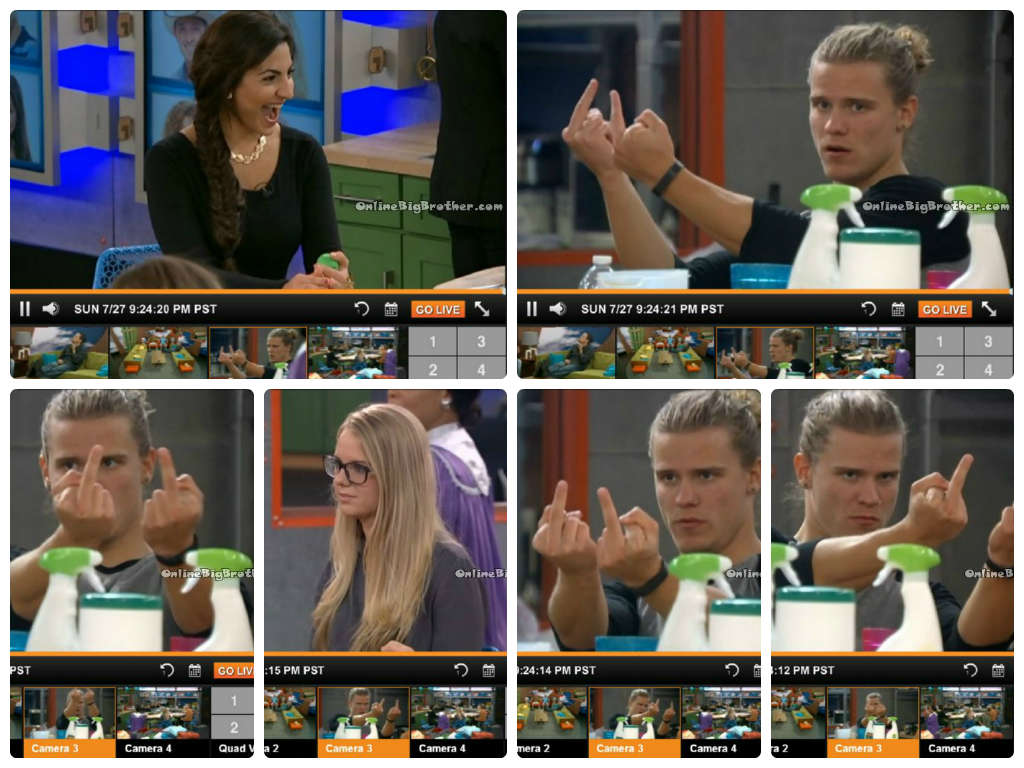 9:24pm hayden fingers Christine, Victoria and Cody and Nciole.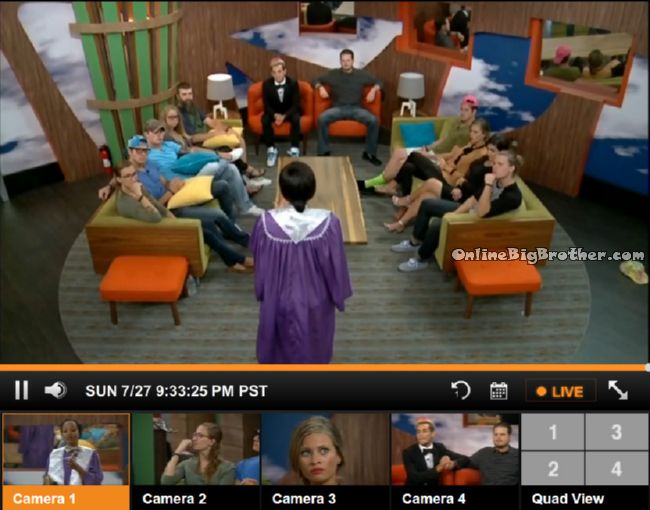 9:30pm – 9:50pm Frankie and Derrick's grandfathers celebration of life.. Be happy with the life they lived at the age of 86 and 90.
Frankie is going to give a prayer, he gives a prayer of St Jude.