POV Holder:
Chrsitne
Next POV
Aug 7th
POV Used
NO
POV Ceremony
Aug 4th
HOH Winner 1:
Donny
HOH Winner 2:
Nicole
Battle of the Block Winner
 Caleb/Victoria
Next HOH
Aug 7
Original Nominations:
Donny's Noms (Victoria & Caleb) Nicole's Noms (Zach & Jocasta)
Final Nominations:
Zach & Jocasta
Have Nots
Frankie, Cody and Hayden
POV Players
Nicole, Christine, Jocasta, ZachAttack, Caleb, Victoria,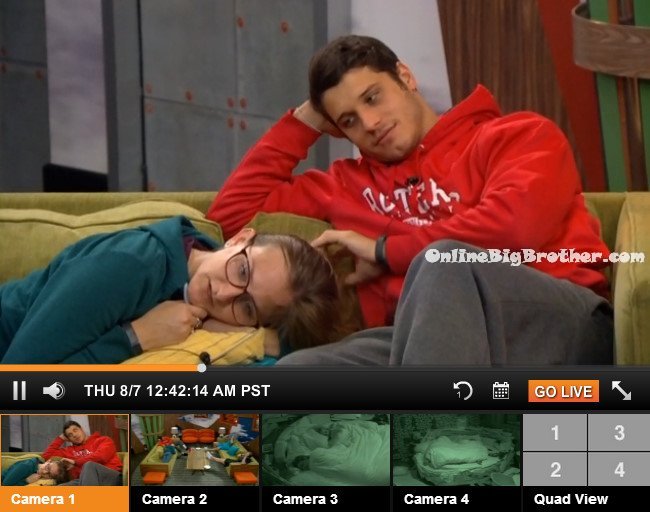 See what they can't show you on TV! -Try the Big Brother 16 live feeds for FREE!
12:45am In the living room – Caleb, Derrick, Cody, and Frankie are talking. They're talking random things. Caleb starts talking about wanting to do survivor. Frankie says I would only do it if Caleb was on my tribe. Derrich says he was mortified last season when they killed a chicken with his bare hands. Caleb says when they heard I killed that wild hog with a stick they were like… Big Brother blocks the feeds. Caleb says as soon as I get out I'm going to tell them to put me on the next season of survivor. Zach joins them and practices his speech. Derrick tells him if you freeze tomorrow after practicing that speech 100 times I am voting you out. Zach agrees and says if I freeze, then vote me out.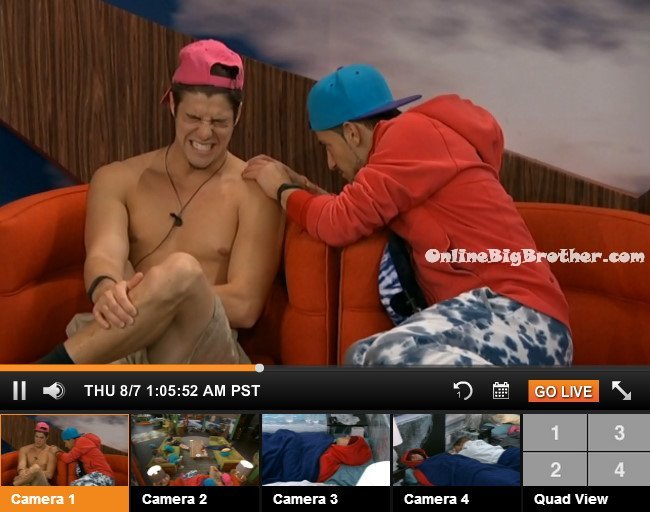 12:55am In the havenot room – Cody and Hayden are talking. Hayden says its really hard to listen to Frankie. Cody agrees. Hayden says that Frankie was trying to make it sound like the vote wasn't going to unanimous. I asked its going to be unanimous right? And Frankie said yeah hopefully. Hayden says I want to talk to Christine tomorrow and if she gives me any yeah hopefully then we'll know something's up. Its actually hard to keep track of what everyone says now. Cody says its probably obvious how I don't like being around them any more. Cody says that's whats so hard about this game, just wanting to be straight up with people.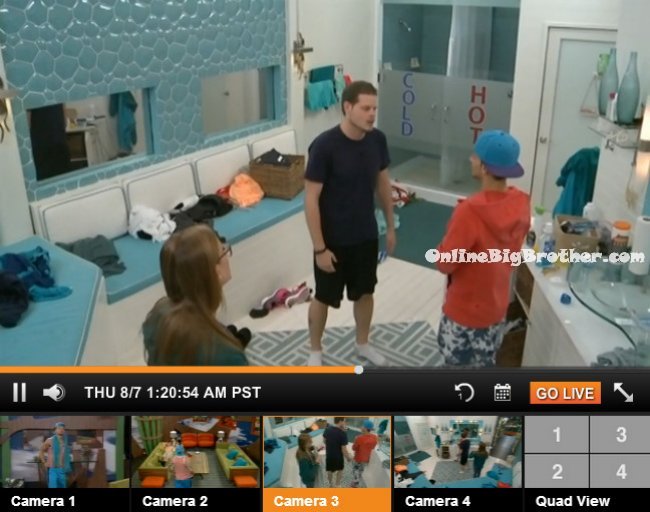 1:20am Hayden talks to Christine and tell her that he talked to Cody and its a go. Christine says good. Hayden goes to bed. Christine looks at the camera and laughs. Frankie tells her she looks like a monster when she does that. Derrick comes in and tells Frankie dude you've got to be in bed. Caleb just went to Zach and told him a lot of sh*t went down. Tomorrow's going to be glorious. Derrick says its not the end of the world but you need to be there to make sure the message gets relayed properly. Frankie says he will. Christine says he better not tell Zach that we were planning to vote him out? Derrick says no, I don't think he will. Christine says she can tell Hayden wasn't being straight with her. Derrick says I am glad you and Cody hashed it out. Hopefully you and Nicole can be friends after this. Christine says that Nicole keeps telling me you better not screwing her over. Derrick says we have the numbers right now. For all you know she could be playing you right now and end up screwing you over because you didn't include her in the bomb squad. Derrick says that Zach is going to go after Donny, Hayden, Nicole and Victoria. He isn't coming after you. You can trust him.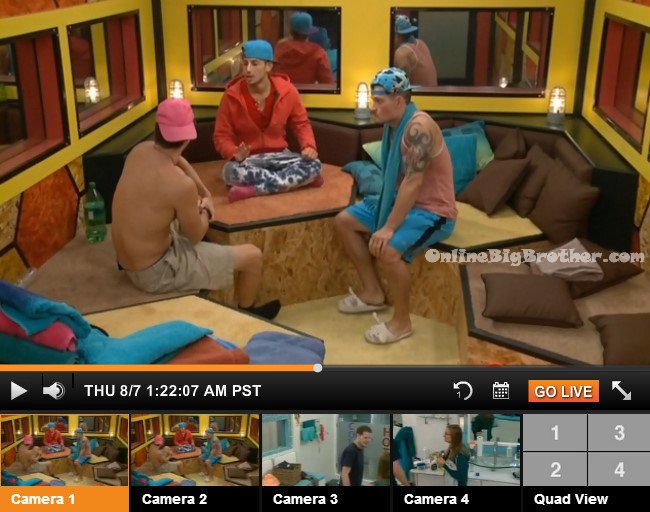 1:20am – 1:45am In the hive room – Meanwhile, Frankie and Caleb are talking to Zach. Frankie says no freaking out… Hayden and Nicole are actively work together to get you out. But you cannot, nothing! So we're all blindsiding them tomorrow. Zach says oh my god. Frankie says they all think you're going home tomorrow with a unanimous vote.. Hayden, Nicole, Donny and we don't know about Victoria she won't say anything to anyone. Caleb says they all think you're going home because we've been telling them yeah he's going home. But they're the ones that initiated everything. "We want Zach out of the house" Frankie says its definitely going to be at least 6 – 2 .. thats the majority. Caleb says Hayden and Nicole were also trying to get Frankie/Christine and Cody/ Derrick against each other. Frankie says they've been playing very hard this week and we just figured it out. They've been telling Cody and Derrick that Christine and I have been telling Nicole that we should put up Derrick. And telling us the same thing about them. Trying to turn us against each other so that we vote you out basically. If you go home they have number over us. Caleb says and that was going to draw the line. Frankie says that Hayden might be able to be saved. He is working to get you out this week but maybe we can work with him next week to get Nicole out. Zack asks so Hayden was trying to get me out. Caleb says he didn't say anything directly to me. Frankie says I don't want you to freak out we just needed to tell you so that you weren't surprised by the vote. Frankie says the Hayden and Nicole have been telling us different things all week and how you're not good for our games. We were basically yes'ing them to death. Derrick joins them. IF we beat them in the HOH one of them are going up. Zach says when I win HOH .. Derrick says you can't tell them you know everything because if they stay then they'll be back after you the next week. Derrick says Victoria won't vote you out, I will make sure of that. Zach asks you're not worried about Christine? Derrick says no we're good and Cody and Christine hashed things out tonight. Derrick says you're 100% staying you have my word. They had plans and they f**ked up. How often do you see them talking to Donny. They keep saying Donny is cool. Why is he cool he never talks to me. We're going to tell them that we had to keep Zach because he's a bigger target. And you have to stay cool like yeah I stayed. Derrick says I am going to kiss Victoira's a$$ again tomorrow. Its great that you were nice to her today. I am going to her that you're a bigger target and its better to keep you here in the game. And he doesn't want to go after you, he's after Nicole and Hayden. Derrick says its locked in! You're staying. Don't even pack your bags! Caleb says you've got Me, Frankie, Derrick, Cody, Christine.. done! Zach says I won't say anything but thank you so much! Derrick says now if you win double evic… then you know why and who.. you can pick Hayden, Nicole.. Zach goes to brush his teeth and go to sleep. Frankie and Caleb continue to talk about it. Caleb says tomorrow in the HOH competition I am going to look at Hayden and says lets go..
TEST out the Big Brother 16 Live Feeds for FREE with the 2 Day Trial!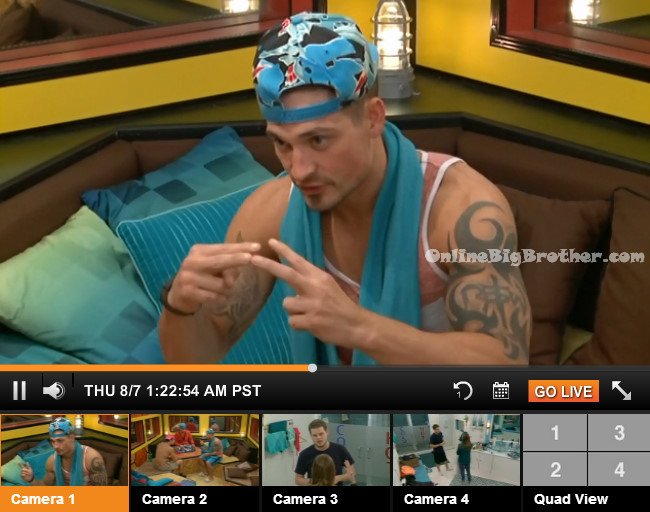 2am – 2:15am In the earth room – Caleb tells Zach not to think about it too much. Right now is when the 6 of us need the numbers and need to stick together. Caleb says that Hayden obviously show his cards by saying something and he doesn't want you to stay which is why he is at the bottom of the totem poll. Zach tells Frankie and Caleb that he is glad they he has them and that they have his back. Derrick comes through and asks if they're making out. Frankie says yes. Derrick goes back to bed. Frankie, Caleb and Zach go to bed.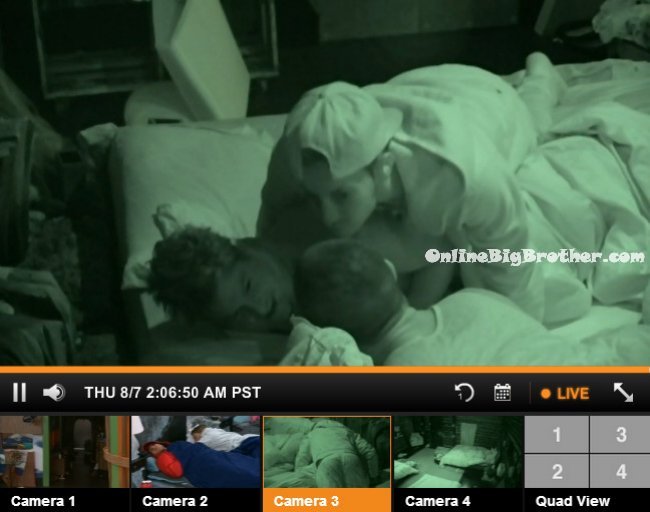 3am All the house guests are now sleeping..

9:30am – 9:55am Big Brother wakes up the house guests. When the live feeds return – Donny and Victoria are wake.
10am – 10:15am Big Brother then blocks the feeds again.. Then the live feeds switch to live feed highlights.. Everything starts earlier on a Double Eviction Live Show day.
11:35am Still blocked..
Wheres the vote
Zach staying.. LOL
Alliances 
The Rationale = Nicole, Derrick, Hayden and Cody
Zankie = Frankie/Zach
The Detonators = Derrick, Frankie, Zach, Christine, Cody
"The HITMEN" – Cody & Derrick
Trilogy = Nicole, Christine & Hayden
Team America = Donny, Derrick, Frankie
Old timers = Jocasta/Donny
Nicotine = Christine/Nicole
bottomfeeders = Derrick and Nicole
More polls here https://www.onlinebigbrother.com/big-brother-compendium/big-brother-16-polls/
[polldaddy poll=8220599]
[polldaddy poll=8231622]