POV Holder:
Christine
Next POV
Aug 7th
POV Used
NO
POV Ceremony
Aug 4th
HOH Winner 1:
Donny
HOH Winner 2:
Nicole
Battle of the Block Winner
 Caleb/Victoria
Next HOH
Aug 7
Original Nominations:
Donny's Noms (Victoria & Caleb) Nicole's Noms (Zach & Jocasta)
Final Nominations:
Zach & Jocasta
Have Nots
Frankie, Cody and Hayden
POV Players
Nicole, Christine, Jocasta, ZachAttack, Caleb, Victoria,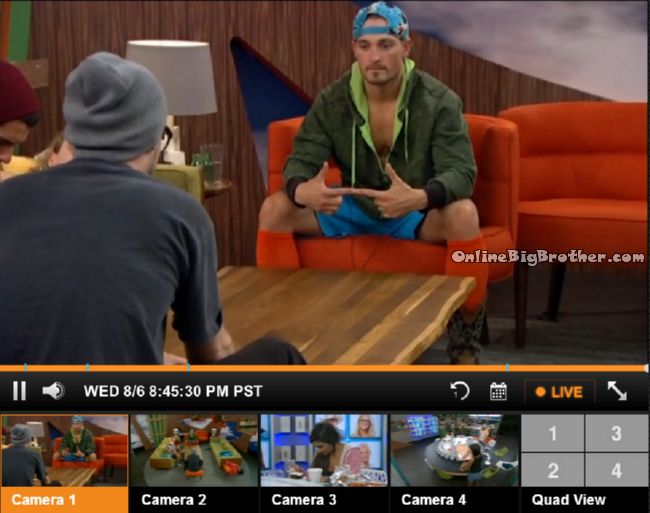 8:45pm Living room
Have tnos and Caleb got to eat a pizza and Cake. Cody is glad they got the feast now they are more prepared for tomorrow. Caebl apparently drank 6 beers. Caleb claims to be able to drink 30 beers in 5 hours.
They go back to table top football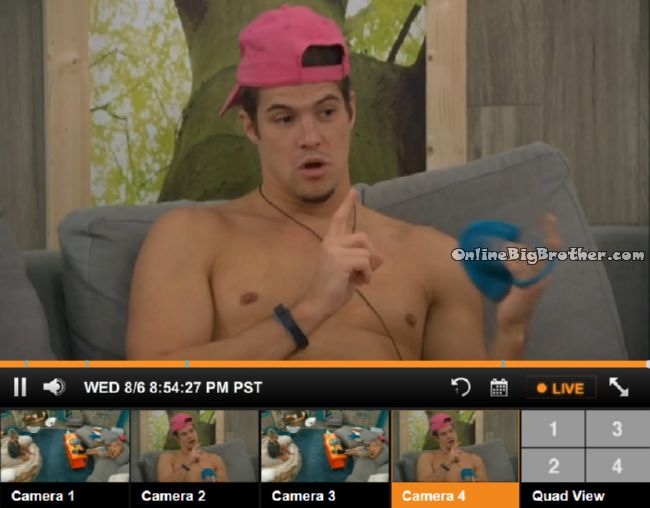 8:50pm Zach and Nicole HOH
Zach – What's up Nicole
Nicole – trying to cover up my face real quick
Zach -your room is so clean.. it's nice in here nice and cool
Nicole – ya
Zach -So you want me gone this week
Nicole – are you my target
Zach -you're not my target
Nicole – you told me i was
Zach -I wasn't serious.. really Nicole I have a crush on you
Nicole tells him he's her target
Zach – The truth came out.. you want me gone?
Nicole – I don't necessarily want you gone zach.. you told me I was your target
Zach -C'mon Nicole we are best friends
Nicole – you are my favorite person to be around in the house
Zach -but you want me gone
Nicole – you want me gone .
Zach -You think I was serious
Nicole – OH for sure.. I dunno i don't maybe you weren't serious
Zach -THats my game i'm so sarcastic you don 't know… if it comes up to a tie you will vote me out?
Nicole – you haven't talked to me yet
Zach – I'm talking to you to.. I'm a person you can be friends with .. not only friends I could have your back.
Zach – You're a strong player you almost won the veto by like 30 seconds.. what were you going to do if you had won it
Nicole – I don't know what I was going to do that's a promise
Zach tells her she's one of the last people he would want out of the house.
Nicole – you put me on the block
ZacH – I only put you on the block because I wanted Amber out of the house.. I came to you first right after I won the HOH..
Nicole- I don't appreciate you putting me on the block.. I was scared for my BB life.. I was PISSED
Zach – you are the last person I want out.. I want Victoria….
Nicole – you didn't give me any reassurance you didn't want me out.. you called me out on national TV with all these things.. I was pissed off at what you said to me.. you didn't have to say what you did.. I get why you did it i know ZachAttack..
Zach – Tell me the truth if it came to a tie would you vote me out
CHristine – maybe.. definitely before you came and talked to me.. I know it's not going to be a tie you're probably staying
Zach – Our showmance is going to blossom I know it is.. I'm here telling you I don't want you gone and if I would to win HOH next week I won't put you up..
Nicole – It's not coming to a tie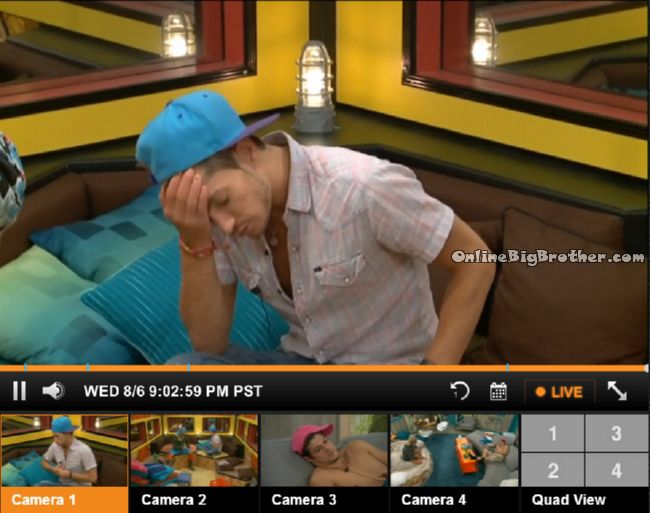 9:02pm BEEHIVE Frankie and Caleb
Caleb says if they get rid of Zach their numbers are down. Jocasta is a vote for the other side Zach is a vote for their side.
Frankie runs to get Derrick .
Caleb – What if we get rid of Zach and Christin flips.. SHe has Nicole's trust over any of us..
Derrick says theres more than just one group working in the house anything is possible but he's not worried. Derrick leaves.
Frankie tells him he's not worried, "Zach is very erratic he's throwing us all under the buys.. He's forming a group to get you and Hayden out of the house '
Caleb – At the end of the day Jocasta doesn't do anything"
Caleb – If I win i'm putting Donny up with Jocasta
Frankie is going to put Jocasta and Victoria and if POV is played he'll back door Donny if not Jocasta goes home
Caleb says Donny and Nicole are the most dangerous players in the game.
Caleb is cool with sending Zach home he just wants to them to make sure they have the numbers.
Frankie says it's safer to keep Jocasta over Zach
Caleb – what would Jocasta do..
Caleb says Hayden is close to them..
Caleb explains the other side is Jocasta, Donny, Victoria, CHristine and Nicole that's five against their side.
Frankie – you and I are probably the least affected by him staying but he's pissed a lot of people off. Frankie explains that by being close to Zach it's dragging them down with the rest of the house.
Caleb says now they have reached the jury they have to finish getting out the rest of the other side.
Caleb – At the end of the day we're all we have.. if you are on the block I will do my best to persuade people to keep you over Cody over anyone else.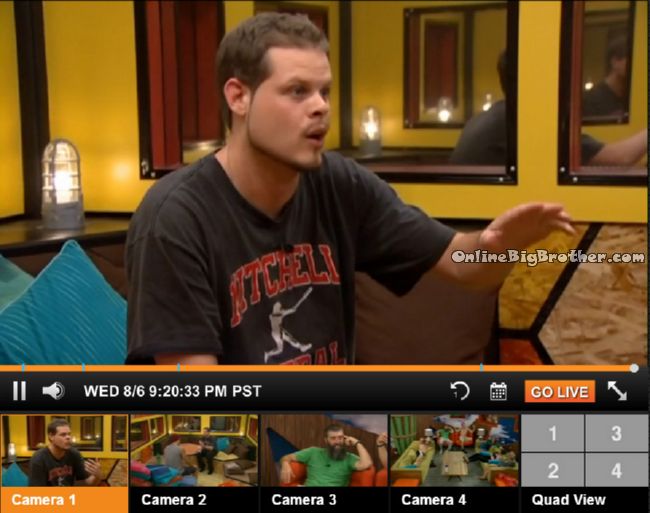 9:20pm BEEHIVE COdy and Derrick
Derick – let me ask you a question we have two options..
Derrick explains there's 3 pairs in the house Christine /Frankie, Cody/Derrick, Nicole/Hayden . He thinks if they get rid of CHristine tomorrow they are screwing themselves. He points out that Nicole and HAyden have Donny and Jocasta's vote.
Derrick – Christine and Frankie don't have anybody voting out Christine isn't a good move she doesn't have any numbers
Cody – Nicole and Hayden are playing everyone . Cody thinks if Derrick aor Cody end up on the block Christine and Hayden will flip on them.
Derrick says they vote out Zach this week but next week they don't get rid of Christine like they said they were.
Frankie comes in they start talking about Caleb being worried about not have the numbers..
Frankie tells them Christine is with them and she wants Nicole to be the sixth person in the house
Christine comes in..
Derrick leaves says with the four of them in here it doesn't look good..
Caleb joins them
They're talking about Zach.. everyone telling reasons to vote our Zach, Frankie – It comes down to trust" They all Caleb cannot be trusted anymore. Caleb is fine with voting out Zach.
Cody – Us 5 there's the five of us..
Caleb – ok
Frankie says they are good with Hayden but not Donny and Jocasta.
Caleb leaves.. Frankie – "We're moving together as a four right … with derrick "
Christine – ya ya
Frankie says Caleb and Hayden are interchangeable when they get to final 5.
Cody – caleb is 20 times more loyal
Frankie – Ultimately it's whoever wins HOH..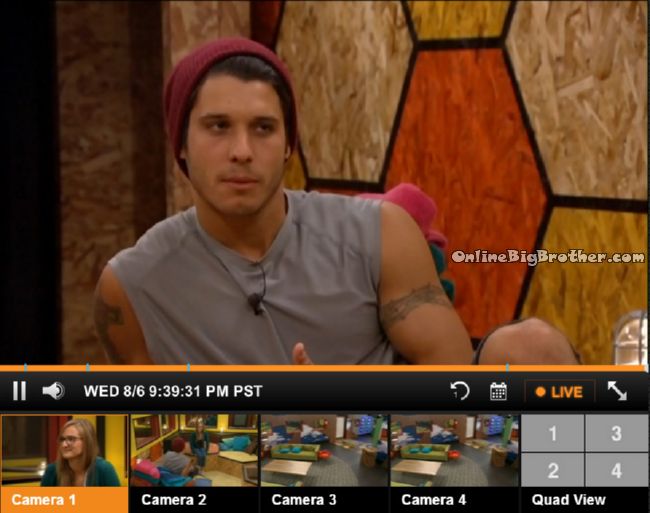 9:38pm BEEHIVE Christine and Cody
Christine says DOnny came to her wanted to form an alliance with Hayden and Nicole
Cody thinks Nicole and Donny are getting close
Christine say HAyden and Donny are very close.
Cody – When I see him there I want to rip him from the F***ing beard what are you thinking
Cody says they keep losing numbers on their side.
9:39pm Fire room Derrick talks to Camera
"I can't get two fuc***g minutes with Cody alone because Frankie is paranoid and Christine are paranoid.
We got to make a move tonight feedsters i'm going to talk to him"
"we got to stir things up in this game because we're getting played doing the dirty work for someone else.. but I gotta get him alone right now but I can't do it"' Can't get him alone.. everyone is paranoid they are running around talking paranoid and now it's all getting out
Before this night is done i'm going to talk to Cody.. Hiteman are going further in this game