| | | | |
| --- | --- | --- | --- |
| POV: | Tyler | Next POV: | Aug 4th |
| POV Used | NO | POV Ceremony | July 30th |
| HOH: | Bayleigh | Next HOH: | Aug 2nd |
| Noms: | Brett & Rachel | Have Nots | Fes, Tyler, Scottie |
Big Brother Spoilers It's been slow..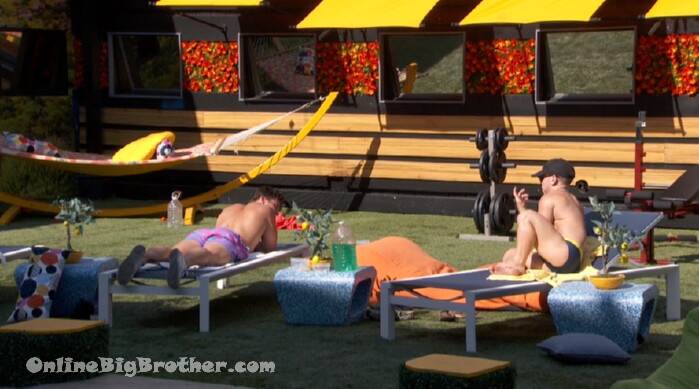 4:36pm Brett and JC
JC saying he's got a clean criminal record. JC keeps sharing drunk stories. JC asks him if he's ever been in a fight. Brett says no
JC – no ones provoked you..
BRett – 2 or 3 years ago, it's when I lived in Alabama, there's a guy behind me with a sombrero .. I kept flipping it off .. (Hiding that he was doing it)
every time the guy turns around Brett would act like it wasn't him
Brett – he's getting pissed.. and BOOM bottle in the back of the head..
BRett says a BIG brawl started
4:35pm Cornhole and Chit chat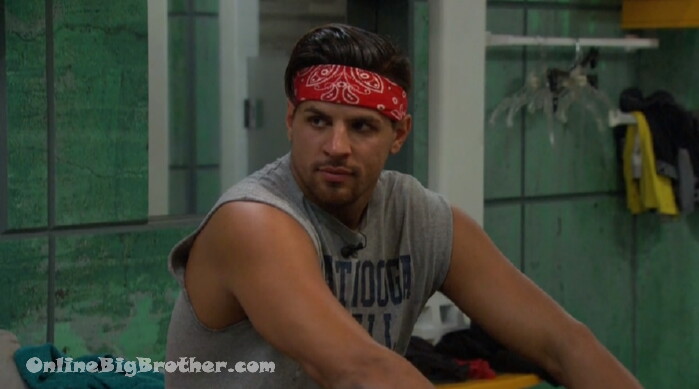 4:42pm Fes and Rockstar
Fes is talking about Haleigh and Brett on the hammock until 5am
Rockstar – do you think you guys are in the same life phase.. the right person at the wrong time is the wrong person
Fes – yeah I agree
Rockstar says Fes is in need of a baddie and settle down where haleigh is about partying..
Fes – I agree..
Rockstar stresses they need to still play the game together
Rockstar – have the sex and move forward no reason to be mad at each other
Fes – she's 2 years younger than my youngest sister who's a baby
RS – you cares if she's hanging out with Brett, brett's not staying..
Fes – if she's getting attention by him like that I don't want to be all over Haleigh
RS – you can still be friends with him
Fes – we'll be just fine.. I promise.. I got you Haleigh, Bayleigh I got You all..
Fes – I hate this game
RS – be friendly
Fes – I am friendly ..
RS – she thinks you have an attitude..
Fes – it's just weird she bounces around.. I still know we're playing the game but I'm still good..
RS – you can still be friendly
Fes – I guess..
RS -you're having a hard time drawing the line between friend or flirt..
Fes – you and I are friendly and we don't flirt..
Fes talks about Haleigh flirting with Tyler and Brett.
Fes – don't come to me after you've done and try that sh1t.. that's not me..
Fes in the outside world if a girl was chilling with another dude he would cut her off..
RS says Haleigh was in a relationship for 5 years and she's only 21.
Fes – I've been single my whole damn life..
Fes lists off his last 2 were 6 and 8 months.
RS – I had three major relationships..
Feeds switch
When the feeds come back.
FEs – we got the votes right
RS – I think so.. I think it's weird neither of them have campaigned at all .. I hate the people that don't f*ing play this game.
RS says haleigh and BRett are in the same maturity level.
5:00pm Backyard
chit chat about pregnancy .. wisdom teeth.
Bayeligh mentions her mom being pregnant with her second baby at her age.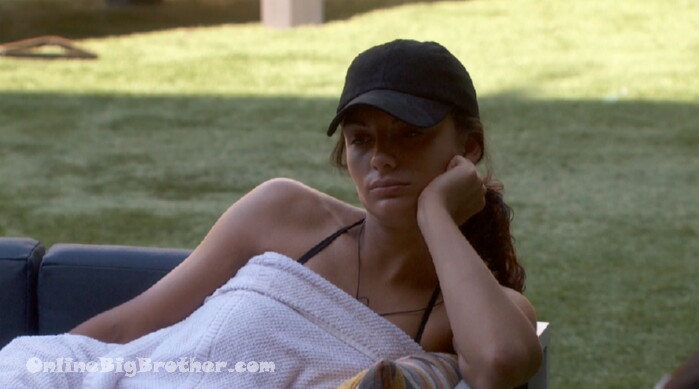 Sad…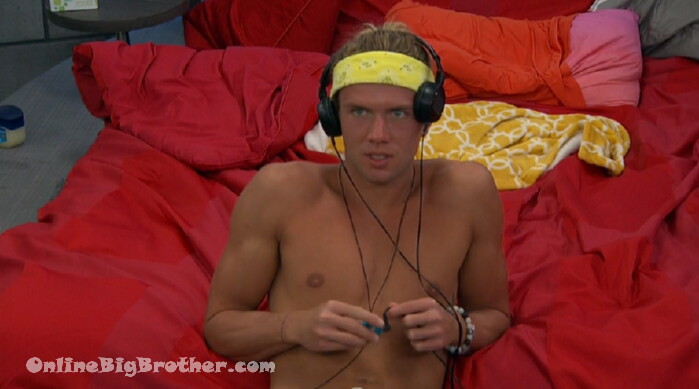 5:08pm HOH Fes and Tyler
Tyelr asks him about the girls alliance. Fes isn't sure it's a real thing
Fes – the house is voting BRett out you think?
Tyler says he hasn't really talked game much but he thinks so
FEs is talking about they are always being seen as a physical threat.
Fes – I know this game is all about bluffing and manipulating but I've been straight since the jump
Fes makes clear that they've won an assortment of comps, Memory, Puzzle, "we're just good at comps"
They dance around working with the 3 "reamining" guys in the house..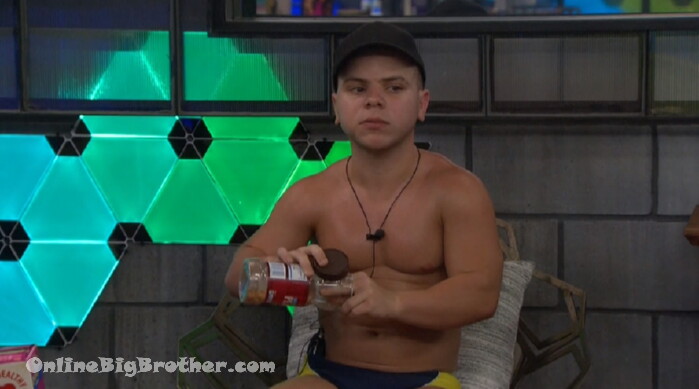 Jc comes in.. Tyler leaves..
Jc – you think it's going to be unanimous ..
JC says the people that flipped last week might do it again for fun
Fes doesn't think "They know people are starting to f*ing talk about it"
Jc – ohh makes sense..
5:17pm Bayleigh and Brett
Bay saying she's tried to get to know him but she can't say the same thing about him to her.
Bay says the only person that was friendly to her was Swaggy then everyone decided to attack him.
bay – it makes me feel like I did something to you and I want to know why we are here
Brett says he's sorry about that.. he starts explaining himself..
Bayleigh says that Rachel has brought her a lot of stress she didn't want.
Brett says he understand her game move.
Bay doesn't want anyone to hate him..
Brett – I get that.. I do appreciate you coming to me..
Brett points out that this is a pressure cooker and Rachel can't really hack it
Bayeligh – pretty soon the stress will get to her and she will break..
bay – if I do change my strategy and start advocating on your behave I need to know
She wants to make sure he's not after her
Brett brings up the island analogy how they are two islands coming together
She tells him this is serious..
Bayleigh – I don't like the idea of control the vote because you have a lot of people..
Adds the point of her HOH was to make sure there's no Sides.
BAy – I want everyone to have their own opinions..
bay – for me everything needs to be calculated for the long term..
Bayleigh tells him she's going to have a few conversations and if he ends up staying he'll know.
Bay – in my head I have a feel like I have power over people.
6:02pm Kaycee and Angela
Making a fruit loop castle.
Angela – I think Bayleigh is smarter than we think she is.. She's doing a lot more.
Kaycee – is there a front door in this thing.. Backdoor only
6:45pm chit chatsssss
Great time to give that week free live feed trial a go #BB20 @DawgsBigBrother pic.twitter.com/oB64Xho0GU

— OnlineBigBrother.com (@bigbspoilers) August 1, 2018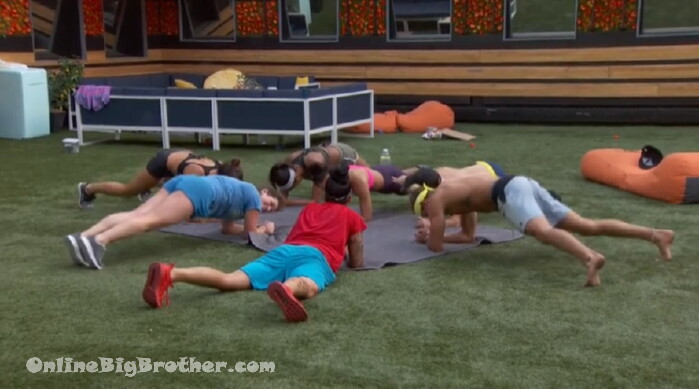 group fitness..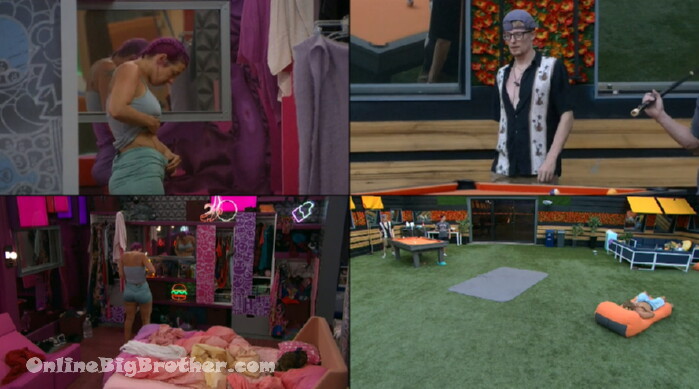 7:30pm pool and chit chat.
7:38pm
Sam trying to fuse two bikini wires and A close up of Angeala's cake.
A real easy way to support the site if you are an amazon shopper is to make your purchases through our link. You pay the exact same thing but we get a small % commission. It doesn't cost you anything and helps us out.
Amazon Canada
Amazon USA
Rank the houseguests!
Easiest way to Rank the house guests use link below