| | | | |
| --- | --- | --- | --- |
| POV: | Tyler | Next POV: | Aug 4th |
| POV Used | NO | POV Ceremony | July 30th |
| HOH: | Bayleigh | Next HOH: | Aug 2nd |
| Noms: | Brett & Rachel | Have Nots | Fes, Tyler, Scottie |
Big Brother Spoilers Rachel is going to be evicted and the HIVE is a mess
11:10am Brett securing Haleigh's vote/
A bro Campaigning #BB20 @DawgsBigBrother pic.twitter.com/LwOx48Kieb

— OnlineBigBrother.com (@bigbspoilers) July 31, 2018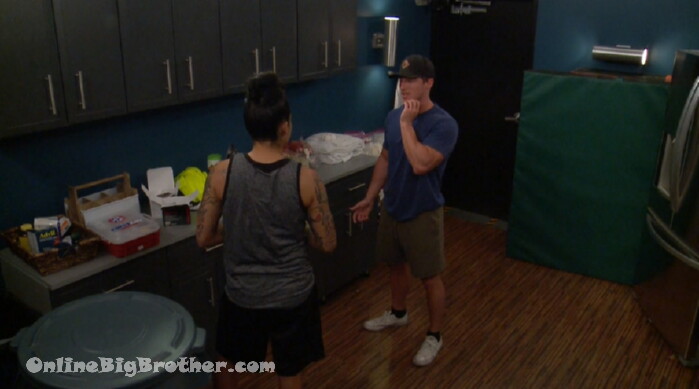 11:28am Brett and Kaycee
brett asking if getting Scottie's vote is a lost cause
Kaycee – yeah.. JC onbaord to keep you right?
Brett – he came to talk to me
Kaycee – get close to Scottie and pin it on Scottie..
Brett mentions that Haleigh and Fes are already saying things about Scottie and him. Haleigh told Tyler.
(lol the hive)
Brett – honestly I actually do enjoy Scottie's company.. he's funny as f*
Kaycee – yeah
Kaycee – we are going to tell Bayleigh after.. (the vote)
Brett – yeah
Brett – Scottie and Fes.. lost cause I know ROCKSTAR is a lost cause like I'm not getting their votes
Kaycee – we need to get HOH this week fro real this time..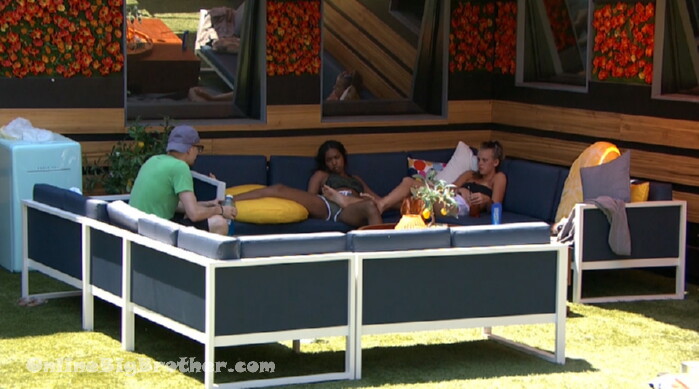 noon Bayleigh and Haleigh
Haleigh says last night she was sad missed her family.. she made herself something to eat and came outside
bay – I heard you were talking to Brett til 4 in the morning
Hayliegh – he came out here.. he was also sad .. he said he felt really isolated
Bay – he isolated himself..
Bayleigh – get over here.. don't make things awkward..
Sam says the smokes bother them so she'll move over here..
Haleigh says she just fell sad for Brett last night so they had a talk. They agree he's a nice guy
Haleigh – Fess is treating me like sh1t
Bay – yes, I told Fes today that he's really moody.. he was like in 41 days I've only had 2 moods
Haliegh says she has some points about the whole Brett vs Rachel thing, "I wasn't aware of some of the things Brett revealed to me"
HAleigh says Rachel was campaigning against her when she was on the block with Kaitlyn.
Bayleigh says Brett has never come talk to her.
Haleigh mentions that Brett told her he tries to talk to bayleigh all the time
Bayleigh – I don't want Brett in this house though.. Brett is dangerous
Haleigh – I agree
Bay – at the same time.. that's frustrating to me Haleigh.. Brett's never approaches me..
Hayleigh – between the two I know BRett better than Rachel.. but you know Rachel we;;.. you can assure me if she won HOH..
Bay – I don't know what move she would make..
Hayeligh – is she working with Angela and Kaycee
Bay says Rachel will be a problem down the line.
Haleigh says she's willing to pay money on Rachel working with Angela and Kaycee
Bay – she would put up Rockstar and JC
Scottie joins them..
They talk about giving Fes midol so he would stop being moody..
FEs comes out to run with Scottie
Hayleig – that's another thing that's pissing me off he's treating me like sh1t
Bay – he's pissed because you're flirting with another guy
Hayleigh – I'm not flirting with the other guys what does that mean
BAyleigh says she's spending more time with other guys than Fes
Haleigh – I tried to
Bay – I agree he's making it hard… I told you we know he gets jealous over this stuff
Ha – he wouldn't even let e speak to him
Bay – he irritated but at the end of the day he can't get mad
Ha – at 10 o clock in the morning
Bay – he can't get mad if he's not going to talk to you
Ha – I feel like a f*ing idiot because I walk up to him hug him he's like I'm about to run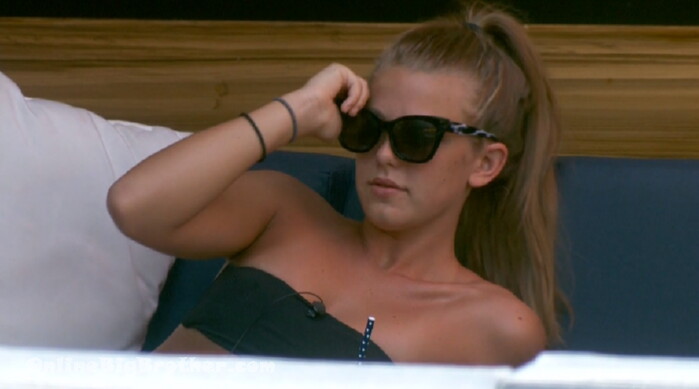 Bayleigh says Fes told her that personally him and Haleigh might not be getting along but game wise he's still in the same place
BAe – I was like of course I know you are..
Hayleigh – I'm not going to sit here and chase him around and be sad because he's not talking to me
BAey – no but I don't he excepted you to go talk to other people (WTF.. )
Hayleigh – I haven't talked to anyone..
Hayleigh – there's no reason to teat anyone like that and walk out of rooms..
Bay – it's fess
Hayleigh – F** him and his attitude.. I'm not f*ing down with it
bay – you don't have to All I ask is it doesn't affect our game..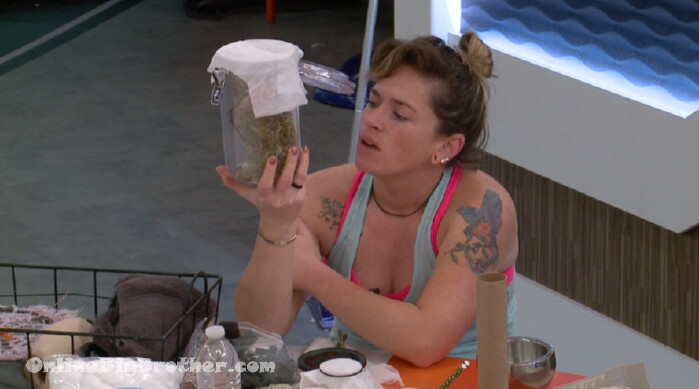 12:13pm Charolttes lair
12:20pm Kaycee and Angela.. (the new vixens?)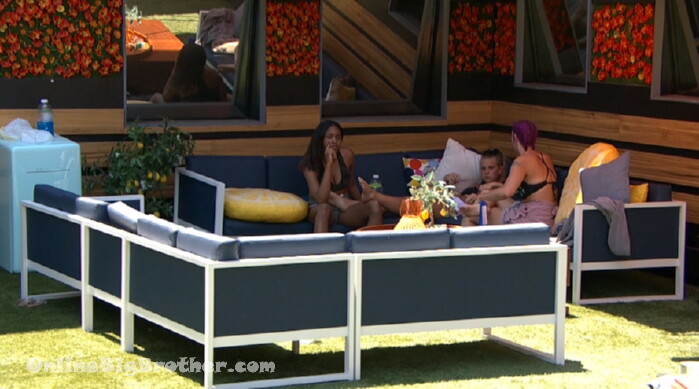 12:18pm Rocks, BAyeligh and Haleigh
Haleigh starts venting about Fes..
Bay – I need y'all to have a working relationship
ROCKS – YES ..
Bay – we have to look at Fes point of view, you spend hours on the hammock with Tyler but you don't spend hours with Fes,… that is humiliating to him
Haleigh – I TRIED
Rocks and haleigh are defending Fes for being pissed about her talking on a hammock all night with Brett. They are at least bringing up some of his point of views.
Haleigh – what .. I'm not allowed to talk to people now..
Haleigh – that's not what pissed him offf
bayelgih – it's adding up
Haleigh – I don't want to deal with it.. this is not what I came here for..
ROCKS tells her to say "I love you we will be friends for LIFE for LIFE"
Rocks "lets be friends and accomplish our girls.. "
Rocks – there's a weird tension but it's not going away if you ignoring it..
Rocks goes on about their alliance and how they need to ride or die ..
(Rocks and Bay are terrified right now)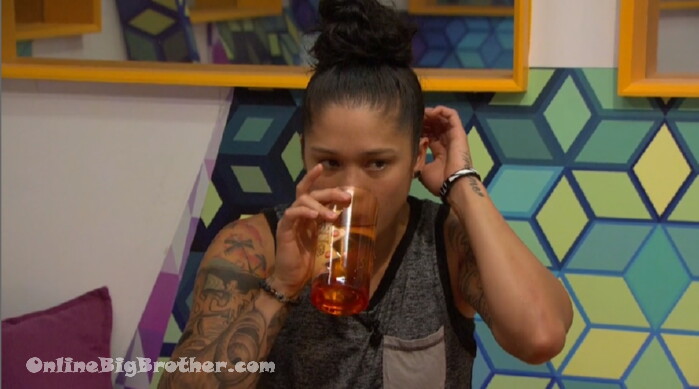 12:30pm KAycee and Tyler
Kaycee says the other side is all feeling safe. Tyler thinks the other side all know about Bayleigh's power.
T – I need to ask Rachel if she told Bayleigh that I told people what Bayleigh said about Angela being the replacement
T – I feel like she did
(when Tyler was saying that to Rachel as an excuse to not use the veto)
Tyler – Bayleigh's on a power trip..
Tyler – one of us needs to win HOH even if Bayleigh does use the app next week and change our nominations
T – we have to win Veto and BAckdoor one of them
Kaycee agrees .. we have to
Kaycee – we have to I have a good feeling about it..
Tyler – BAyeligh wouldn't put you up.. I need to make sure I'm clear with her to make syure she wouldn't put me up
Tykler says but she might put me and Brett up
Kaycee – I'm in her ear
Kaycee – do you think she was tell bayleigh we know about the power (ZOMG)
T – no
Tyler brings up trying to talk to Sam for the last 48 hours but she's been dodging conversations
Tyler – I need to tell JC that the other side is trying to reel in Rachel;.. she'll vote her out for sure
Kaycee – they really think Rachel is staying..
T – that is why they are keeping her close.. they are telling her to be quiet
Kaycee says bayelgih, Haleigh and ROCKS are sitting in the corner of the backyard like they are "ontop of the throne"
T – dude Bayleigh is so irrelevant.. (he might have said Haleigh..)
Kaycee – she is she really is ..
T – we're good.. on the right side of the vote every single week.. and we're about to do it again.. they think they run sh1t
Kaycee – they do and it's getting really irritating
Kaycee – they show it..
They talk about how they are a "BUD MANCE" "BUN MANCE"
12:41pm Tyler and Sam (we just got audio but the conversation took place in teh bathroom)
Tyler – are you OK to keep Brett
Sam – yeah, whatever you tell me ..
Tyler – taht's teh plan
Sam – ok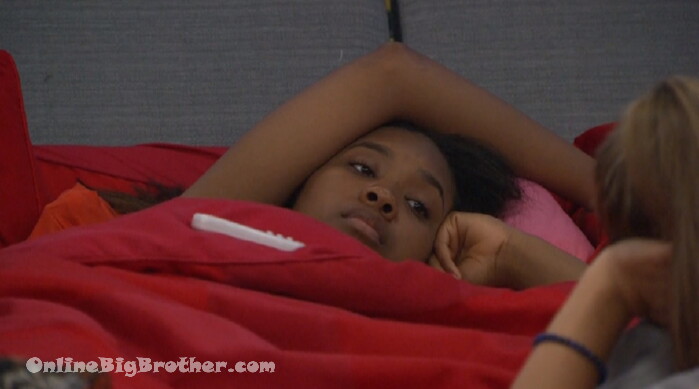 1:00pm Haleigh and Bayleigh
Bayleigh – JC needs to go we need to get him away from Fes
B – JC needs to go quick
B – I feel Scottie will take care of Tyler … those are an interesting pair to watch even though Scottie says he's watching Tyler.. Tyler is ALL for SCottie that doesn't add up
H – you don't fgee like that for somebody if it's not reciprocated
B – it doesn't add up
They agree Sam's gotta go. haleigh says she'll take the shot, "put up Sam and JC, backdoor Tyler if I have the opportunity"
H – I woujldn't tell Fes
B – I would keep that a secret or Fes will freak out..
Haleigh says she feels something weird happening on Thursday .. Bayleigh starts talking about Swaggy coming back. (her favorite thing to talk about)
A real easy way to support the site if you are an amazon shopper is to make your purchases through our link. You pay the exact same thing but we get a small % commission. It doesn't cost you anything and helps us out.
Amazon Canada
Amazon USA
Rank the houseguests!
Easiest way to Rank the house guests use link below