POV Holder:
Donny
Next POV
July 19th
POV Used
YES
POV Ceremony
July 14th
HOH Winner 1:
 Nicole
HOH Winner 2:
 Derrick
Battle of the Block Winner
Donny/Amber
Next HOH/ Next BOB
July 17/July 18
Original Nominations:
Derrick's Noms (Caleb & Jocasta) Nicole's Noms (Donny & Amber)
Final Nominations:
Caleb & Devin
Have Nots
Caleb, Amber, Devin, Hayden
POV Players
Derrick, Jocasta, Caleb, Christine, Devin, Donny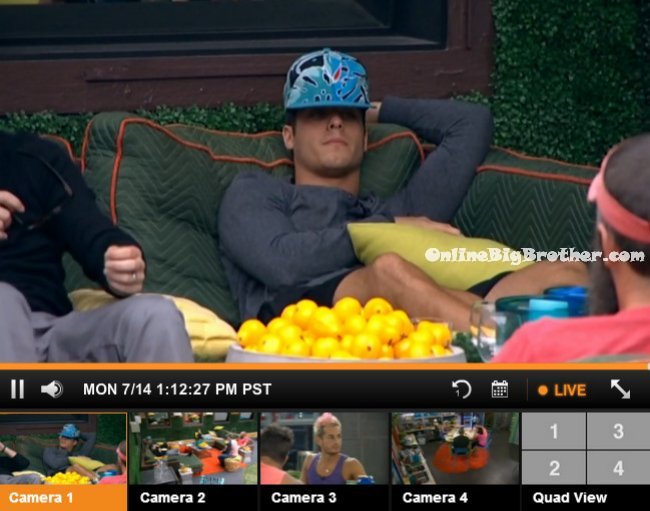 Big Brother 16 Live Feeds Season PASS = The best value at $26.99! PLUS Free 2 day Trial!
1:10pm Out in the backyard – Derrick, Cody, Victoria, Donny, Caleb and Amber are sitting on the backyard couch chatting about havenot foods they've had this season. Caleb says thank god for the tortilla shells. Derrick says that he's waiting to hear Julie Chen say good news and bad news house guests – tonight there is only one HOH and the bad new is tonight is a double eviction. He tells them that the first double eviction is usually when jury starts where the second person evicted goes to the jury house. Donny says and its usually when the lines are drawn.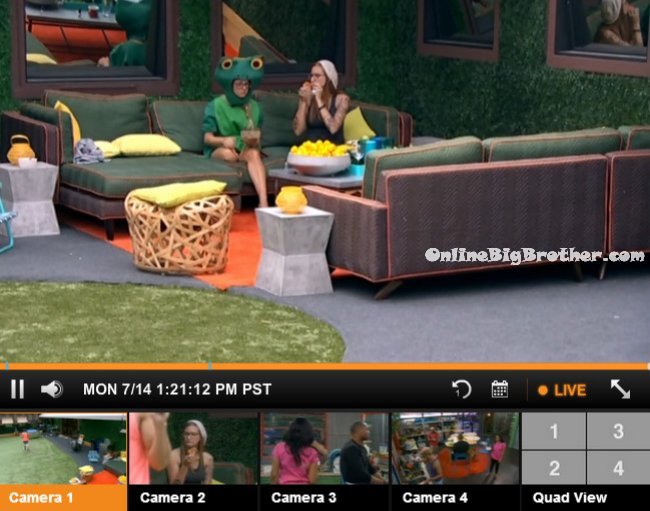 Nicole and Christine talk on the backyard couch. Nicole talks about how Cody says he has 3 really good girlfriends and I wouldn't like that because I would wonder if I'm not good enough if I was with him. Soon after Cody comes and curls up with Nicole.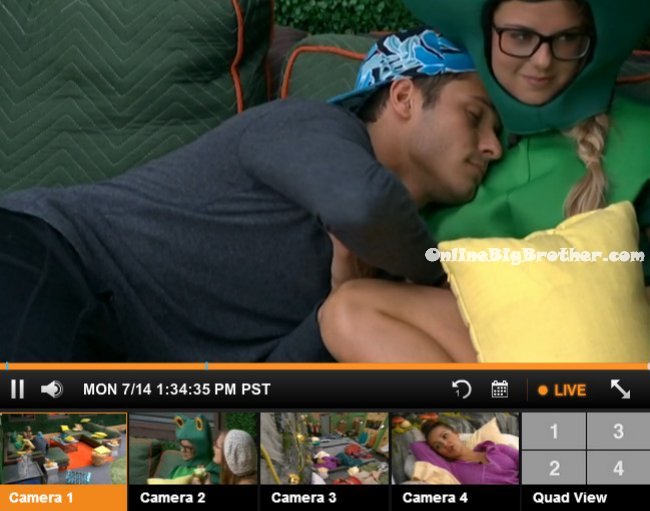 1:25pm Up in the HOH room –
Victoria is talking to Derrick says tells him how Devin hugged her and told her she better play hard for the HOH. "I wanted to stab him!" Victoria tells Derrick his speech was good. Victoria asks if he thinks Devin will get cheers? Derrick says he'll have fans just like all of us. Victoria says I hope Julie Chen slams Devin just like she did with Aaryn last season. Victoria says that Brittany is paranoid. I was in the bathroom and she was scared she was going to go on the block during the battle of the block. Derrick says she was never going to go up on the block. Victoria says that she brings it up on herself. She's paranoid about everything. Derrick comments that Donny will be America's Player. He's the underdog of the house. He's the older guy in the house and he's crushing us in competitions. Victoria doesn't think he'll get it.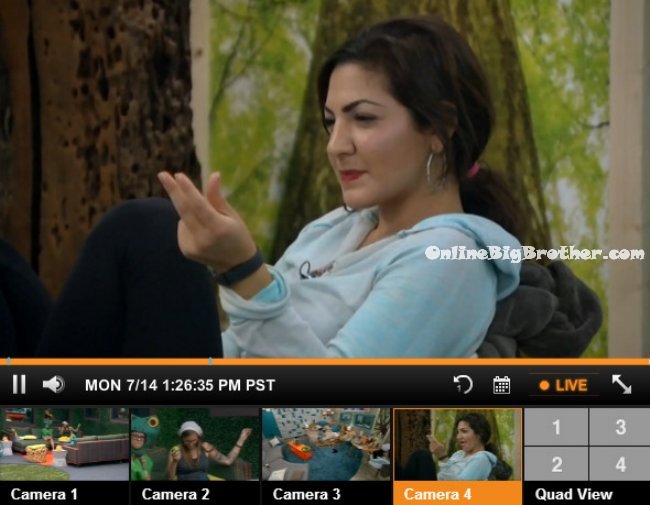 1:30pm In the earth room – Donny is talking to Brittany. Donny asks Brittany if she heard anything about Zach being Amanda Zuckerman's cousin. Brittany says oh yeah Victoria asked me about that this morning. Brittany says that Pow Pow said a lot of lies and stuff to stir the pot. Donny warns Brittany that Devin might try and smear your name on his way out the door. Brittany says I don't think it would be just me I think he would do it to everyone. Donny and Brittany agree that someone not in the 8 needs to win HOH. Brittany says that their votes are going to start going down and thats when an alliance will form. Donny says I hope we can trust Cody. Brittany says she hopes so too. She says she trusts Derrick too. Brittany says that she doesn't trust Victoria at all. She drives me nuts. That cackle … I have to sleep in here just because I cant stand her.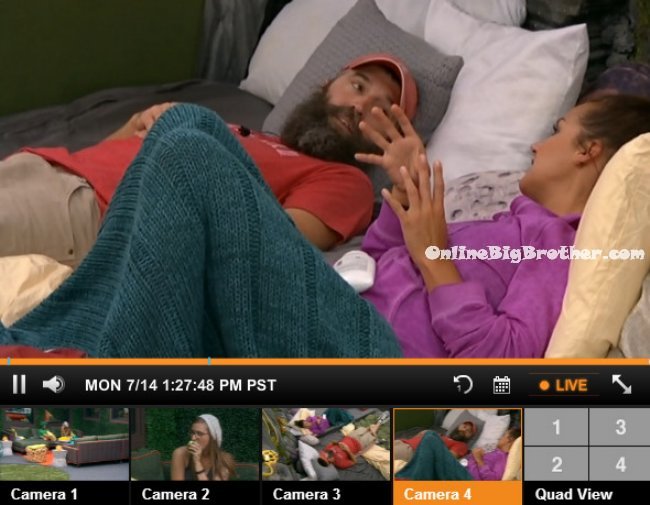 2pm Donny joins Derrick up in the HOH room – They talk about the Team America mission and who they've told. They agree that they've completed the mission and want to now tell Zach. Derrick then explains the nominations again and how Donny got nominated. Derrick says someone came up here and told Nicole .. I won't say who but you can do that math. (It was Amber who told Nicole that Donny was talking to Jocasta about how Nicole was being manipulated by Derrick.) Derrick explains how Caleb volunteered to go up on the block. Donny says that Devin getting chosen to play in the POV was great tv. Derrick goes to get Zach to bring him up to the HOH room.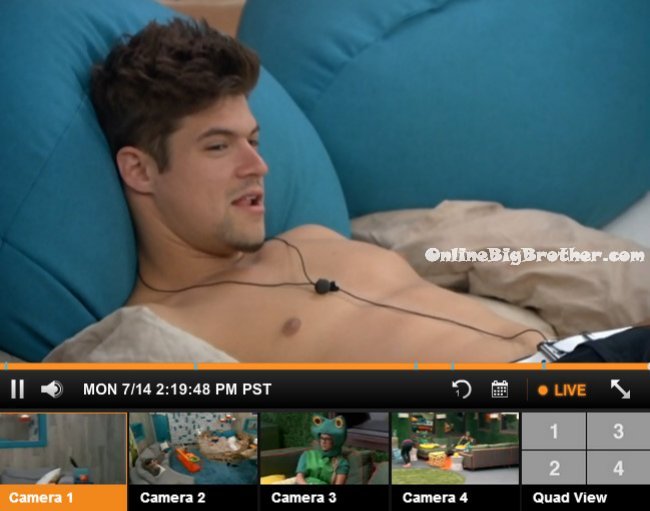 2:20pm Derrick tells Zach that Pow Pow tried to give you a little F**K you to you on the way out the door. She told Donny out the way out the door that you are Amanda Zuckerman's cousin. Zach says how did she….. Donny asks are you?! Zach says Na just kidding! They laugh. Derrick says you had me going. Zach says that is good. How do I play this. WOW Pow is smarter than she looks!! Zach says I kind of want to tell people that I am her cousin. Derrick says how ever you want to play it. Pow is watching the feeds right now saying got you Zach. I'm just trying to see if there's an upside to me telling any one. They see Caleb coming up. Derrick asks do you want to tell him? Zach says no.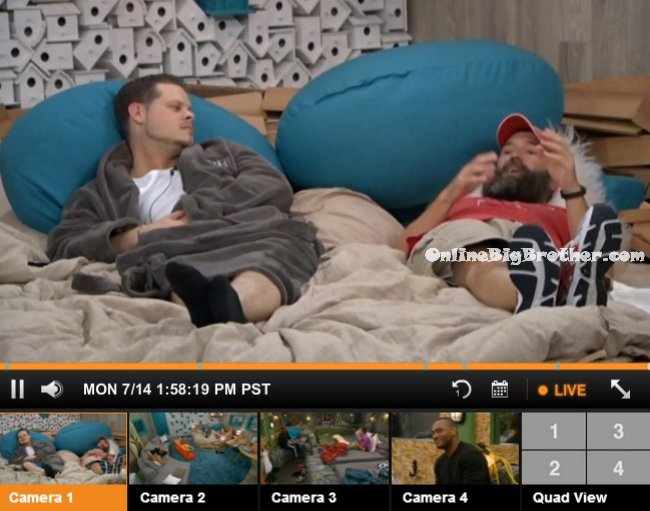 Derrick tells Caleb that Devin is campaigning. Caleb says it doesn't even matter he's going home to a 11 – 0 vote. Derrick says I want to get Victoria gone .. I know she's a vote for you but .. she just straight up lines. She tried to get Zach out of the house. She made a deal with Devin. Derrick says Victoria has no one .. her and Brittany will be votes for whoever pulls them in. Derrick says our time is coming, we're still feeling the effects of the bomb squad. Caleb says well they better not put me up for the battle of the block. Derrick says I think we have a few weeks with people putting up Jocasta, Victoria, Brittany, Nicole.. Zach tells Derrick that Victoria is asking people if she can trust you. Derrick says yeah she saying that but she up my a$$ all the time and won't leave me alone. Zach says we have to have two of us up here. Caleb comments on how Jocasta was balling on the couch. That makes for great tv. Derrick says that's the most emotional POV ceremony I've ever seen where someone gets given the veto. Derrick says I would rather you be off the block but at least you have nothing to worry about. Caleb says we have the votes to get to jury.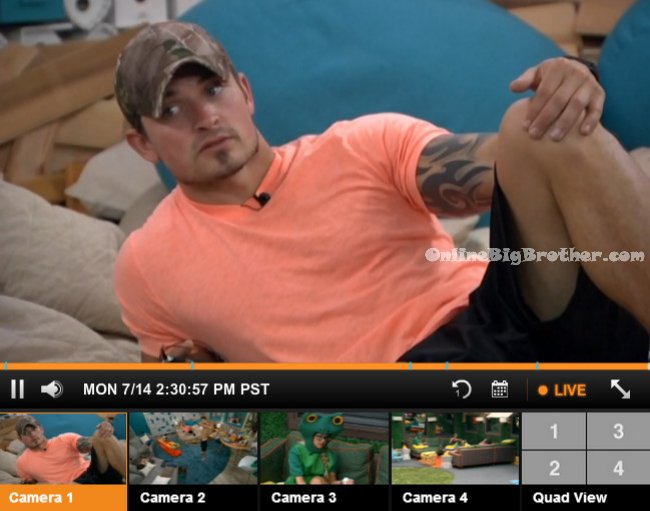 2:35pm – 2:40pm Out in the backyard – Brittany tells Victoria that there's new face wash in the storage room. Victoria goes to look and comes back. She says that's so sweet of them to do that. I don't know if it was my parents sending it or production. They ask her if she requested it. Victoria says no, I was literally in the bathroom 2 hours ago complaining about how everyone was using my face wash and its literally like $5 from Walmart. Victoria says that's so nice of them, I should go thank them.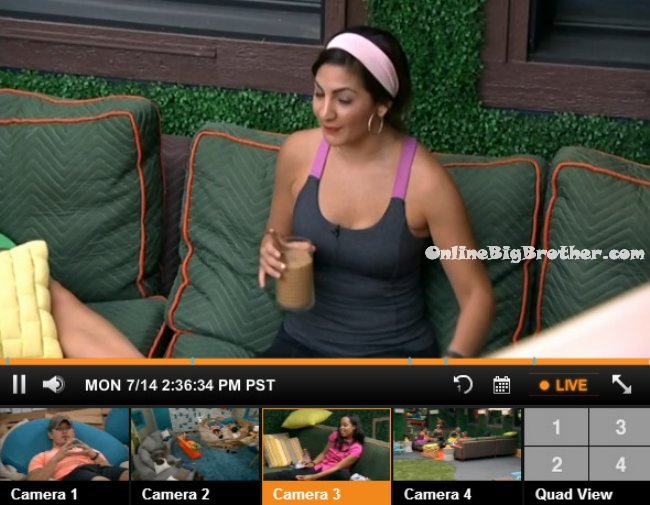 2:44pm In the storage room – Zach tells Frankie how Derrick and Donny just told him that Pow Pow said I was Amanda Zuckerman's cousin. Frankie laughs. He then asks was she America's Player she has to be. They both laugh. Victoria comes in and the conversation ends. She tells them about the face wash production or her parents got her.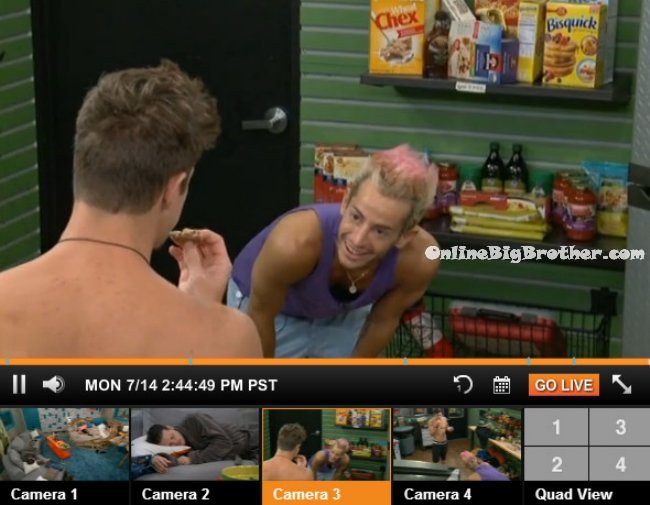 2:50pm – 3pm In the kitchen – Zach tells Nicole that Pow tried to spread a rumor about him being Amanda's cousin. Nicole says I knew, I heard the other day. Zach then tells Cody. Nicole says I didn't care any way. I wondered why I was being told because I felt like it was a set up to see if I would start a rumor. Zach tells her I really am her cousin. Nicole freaks out and says are you really!?!! Oh my god! You talk so much trash about her too. Zach says I told Pow that day 1. Victoria says that Pow told me that too on her last day. Zach then tells Nicole that he's just kidding she's not my cousin. Brittany says I heard that this morning too. Zach asks does everyone .. Nicole says I just felt like it was a rumor someone was trying to get me to spread. Zach asks if Donny told her too. Nicole asks why would you tell POW that information? Zach says because I wanted to be in an alliance with her. Nicole asks really!? Zach says no.. He laughs. Zach says its funny though. Nicole says I wish I had told you. Zach says why didn't you!? Zach smiles and says you really should have told me .. that was f**ked up. Caleb says I guess at this point its either yes or no. Zach says no its not true.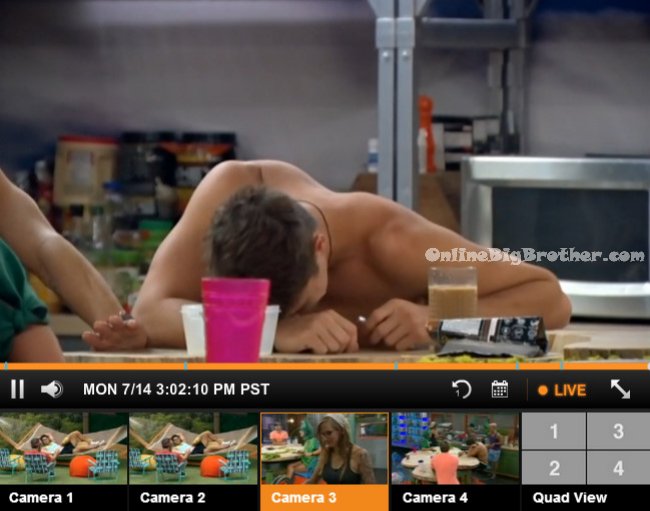 [polldaddy poll=8179403]