POV Holder:
Donny
Next POV
July 19th
POV Used
YES
POV Ceremony
July 14th
HOH Winner 1:
 Nicole
HOH Winner 2:
 Derrick
Battle of the Block Winner
Donny/Amber
Next HOH/ Next BOB
July 17/July 18
Original Nominations:
Derrick's Noms (Caleb & Jocasta) Nicole's Noms (Donny & Amber)
Final Nominations:
Caleb & Devin
Have Nots
Caleb, Amber, Devin, Hayden
POV Players
Derrick, Jocasta, Caleb, Christine, Devin, Donny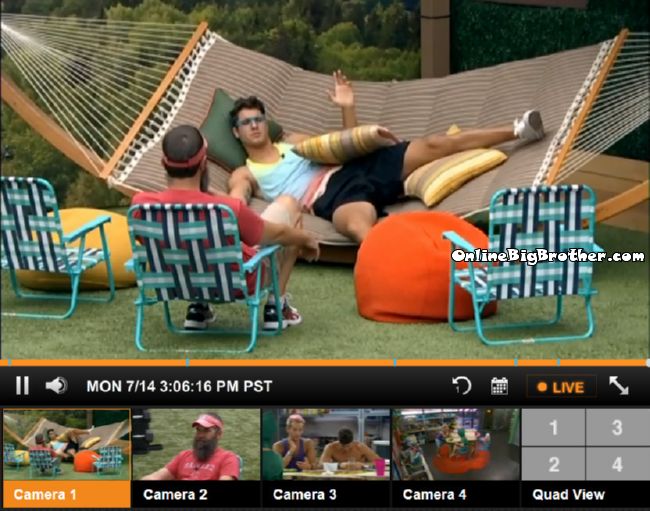 3:06pm Hammock Cody and Donny
Donny is worried if he ends up on the block on a future Thursday night he might not have the votes to stay. Cody says he's got his vote. Donny thinks people might vote him out because he's done well in competitions. Donny says the air in LA is different than north Carolina. in LA after you take a breath you don't feel satisfied but in North Carolina you take a breath and it's refreshing. Donny says he needs to take two breaths to equal one while doing the competitions.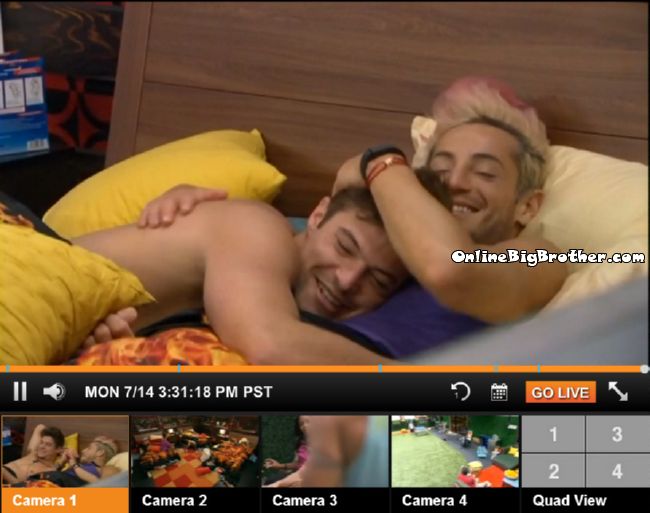 3:12pm Fireroom Frankie and Christine
Christine tells him that when it comes "down to it" Hayden will have more saw in matter than Christine when dealing with Nicole. Frankie says "They" (Zach, Cody, Derrick) are trying to lock Hayden down which makes sense Frankie would he's a beast. Frankie doesn't want Hayden to end up being the swing vote.
Frankie says everyone in their alliance wants Donny out the rest of the house has mixed emotions about Jocasta and Brittany.
Frankie points out the entire house wants Victoria out.
Christine doesn't want Britany here says they will have to get some blood on their hands.
Frog joins them they are trying to figure out where the rumour about Zach being Amanda Zuckermans Cousin. They track is down that PWOPOW told DOnny and it spread from there. Zach joins them they give him a hard time saying he looks like her. Zach is having fun with it says "Maybe" and start to laugh.
Nicole is excited if he really is Amanda cousin says she wants to talk to him about it.
Zach – "I'm not talking to you about it"
Zach plays it up that now he can't trust Nicole.. He acts like the TA task was true then jokes and say it's not .. then again says he is.. back and forth while Christine and Nicole giggle.
Zach is playing up that he's mad at Nicole for not telling him there was a rumour about his cousin.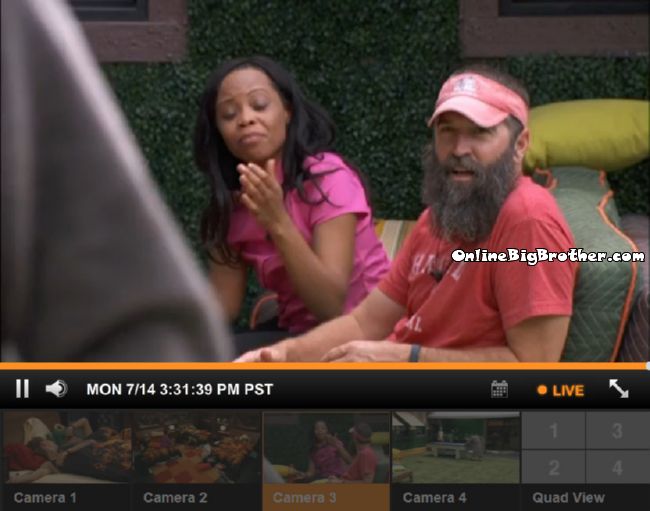 3:27pm Backyard Donny and jocasta
Donny is glad they don't force them to bed at the same time each night. Donny would never get any sleep because they younger players would be giggling all night. Jocasta mentions how Frankie is upset because Victoria got to wash her hair and there something about the string he wears around his wrist.. Feeds cut.. when they come back..
Jocasta -"I ask god I always want to go through the back door but I need a little help.. theres a song I need a little jesus" cam move to Derrick and Cody playing pool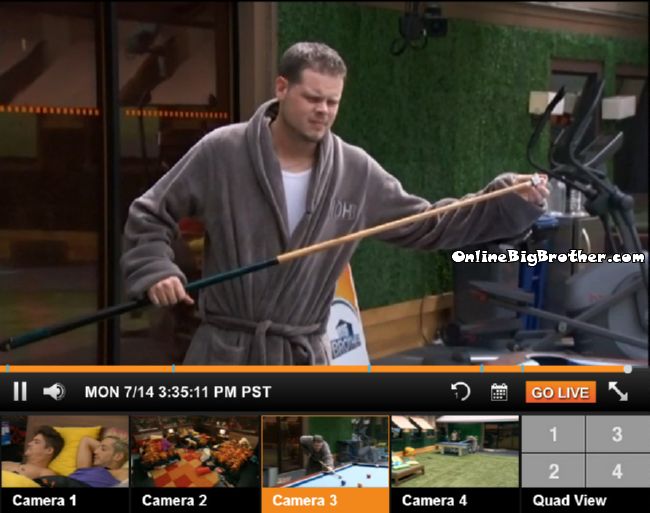 3:32pm Pool cable Derrick and Cody
Cody says Zach wanted to play it up that he really was Amanda's cousins
Derick – 'The sh!t that comes out of that kids mouth.. what about that victoria thing he said.."
Cody talked to Zach and said "dude you f** up you f** my game too"
Derrick – We're going to find out he's the saboteur.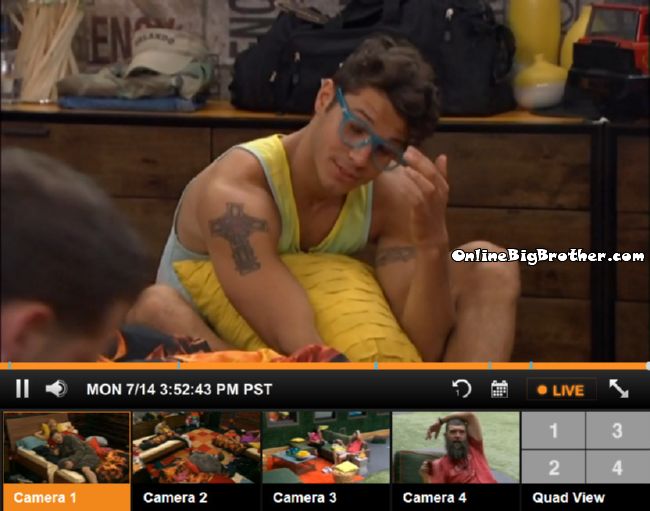 3:42pm Fire room Frankie, Brittany and CHristine
Brittany says Caleb is wearing on him.
Frankie says the only thing Caleb does is talk about Amber, Frankie stresses "OH MY GOD.. Amber Amber Amber.. how will she like this.. what do you think of this she said.. how will she perceive it if I do this.. "
Derrick and Cody join them.. They start talking about Amanda and McCrae. Derrick says they were f***ing all the time. Frankie – "THey were the oddest match up"
Derrick – "She was bl**g him in that little bathroom. "
They start joking about where Amanda and McCrae did s$xual acts. Derrick brings up the "Jack Shack" in the backyard. Cody is excited to hear about the porta potty in the backyard. Someone makes the point that wit these new "Trackers" they have they will find out that Cody is spending ll his time in the Backyard coordinates jack shack
Cody wants them to stop talking about it production might take it away.. (lol) They start talking about d$ntal d@ms. Derrick goes and grabs them from the storage room
Try It Free! Get 24/7 access to the house PLUS more for 48hrs before you decide!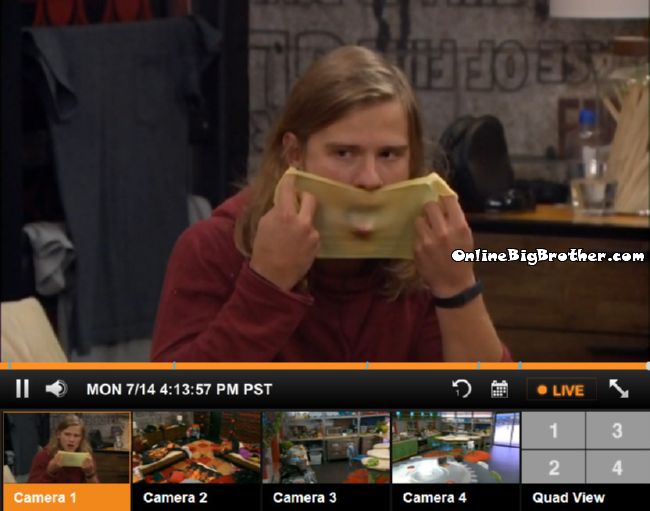 4:15pm hayden rolls in the Fireroom Cody, Christine and Frankie still in there playing around wit the dent@l d@ms. Hand tries one out says he feels like nobody would like it the girl will be like "Stop you are giving me a rash"
Frankie explains that it's only for extreme cases. Cody thinks if it's that extreme someone should go get help. Hayden says it's supposed to be banana flavoured but it tastes like rubber.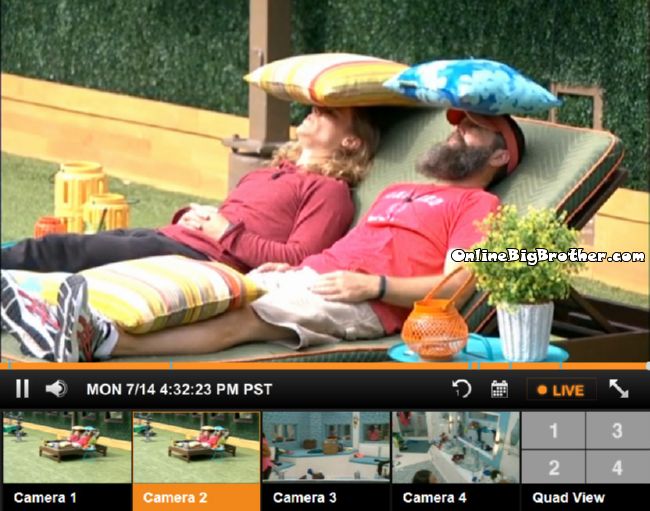 4:35pm Hayden and Donny
Donny saying he's "turnt up" from this morning he's a 5 right now maybe a 6 Brittany joins them.. hey Donny you "Turnt up"
They chat with Brittnay a bit, She goes to make them some ice cream. Donny and HAyden agree Brittany is a great girl hard working.
Donny – She sure smells good
Hayden – She has really good b**bs .. Brittany has awesome b**bs those things are good.. those things are real good"
Hayden tells him they are making it to Jury. Donny thinks he's a target now because he'd a competition beast. Hayden tells him not to worry, "Everyone likes you.. there's other people here .. you deserve it more"
Production calls Caleb to the Diary room
Donny – "Hey Caleb how does it feel to be beaten by a old man"
Hayden brings up a phrase that Donny said.. "I would like to buy him for what he's worth and sell him for what he thinks he's worth" They talk about how much the house lies.  Hayden thinks Devin is going to get a lot of cheers he's never done anything that bad. Hayden brings up how the girls think he;'s the worst person ever.. Hayden and Donny agree Devin wasn't that bad he's just playing the game. Hayden says Caleb will be easy to get out later on he's not as strong  competition beast as Devin.. Donny points out that Caleb will do whatever for Amber and they can use that to their advantage. Cody joins them. Hayden says his family lives on the other side of the country so he's going to ask Brittany if she wants to be his "California Mom" Cody – "Dude we should totally hand out with Brittany after this"
Cody agrees with them that Devin isn't going to get boos. Cody says donny he'll get America's favorite. Donny – "I better.. and if you vote me out you're going to get booed"
Alliances (Some of these only a few of the members actually think the alliance is real the bombsquad is done but some people still think it's real. * denotes a serious alliance the rest are forming, collapsing or never real to begin with)
*Zankie = Frankie/Zach
Bomb squad = Caleb, Amber, Frankie, Derrick, Cody, Christine, Zach, Hayden
*Team America = Donny, Derrick, Frankie
Nicotine = Christine/Nicole
*Not a showmance= Hayden/Nicole
*Los Tres Amigos = Derrick, Cody, Zach
Feed watchers = Derrick/Nicole
We hate Devin = Christine and Zach
Outsiders = Brittany, Victoria, Jocasta, Donny
Old timers = Jocasta/Donny
*Stalker = Caleb/Amber
Quad Kings = Derrick, Zach, Cody and hayden (still being built)
[polldaddy poll=8185492]
[polldaddy poll=8179403]
Share it YO!
Tweet