POV Holder:
Donny
Next POV
July 19th
POV Used
?
POV Ceremony
July 14th
HOH Winner 1:
 Nicole
HOH Winner 2:
 Derrick
Battle of the Block Winner
Donny/Amber
Next HOH/ Next BOB
July 17/July 18
Original Nominations:
Derrick's Noms (Caleb & Jocasta) Nicole's Noms (Donny & Amber)
Final Nominations:
Have Nots
Caleb, Amber, Devin, Hayden
POV Players
Derrick, Jocasta, Caleb, Christine, Devin, Donny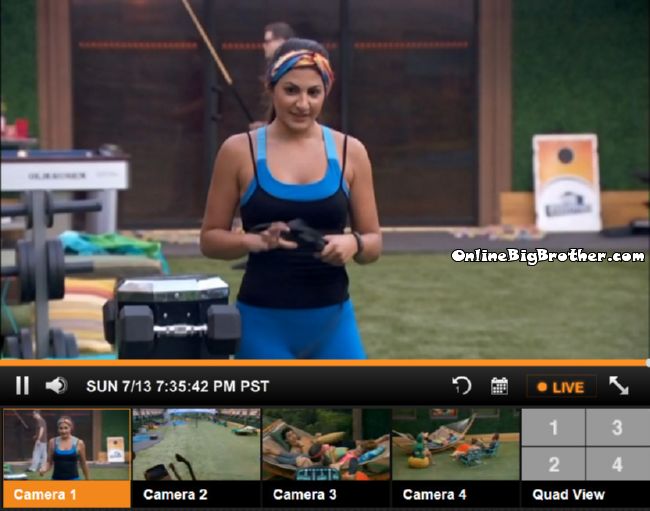 7:32pm Hammock area Victoria and Christine running Cody, Hayden, Donny, Frankie Amber around the Hammock.
Vicotira says she suclks at running "I can't breath"
Victoria – "I hate running I'm not a good runner"
As she's running laps Victoria asks how do you run and breath at the same time
Hayden – "Christine how do you run and breath at the same time"
Victoria Stops running and walks over to them at the hammock.
Nicole – Victoria – do you know what you just said
Victoria – ya do you know breathing is a very big thing when running
Donny – It's a really big thing with everything
Victoria – You're laughing but America is not laughing.
Victoria say when you run you breath in with your nose and out through your mouth so When she runs she has to think about it and it messes her up.
One great way to support this site that doesn't cost you anything extra is making your Amazon purchases through this link Amazon.com OnlineBigBrother Link
For Canada use link Amazon Canada OnlineBigBrother
8:00pm Hammock area Hayden, Nicole, Donny, Amber and Frankie
Nicole aska HAyden if he goes to the "fair"
He says no not really
Nicole sounding sad says "Ohh" (LOL)
8:10pm Amber and Donny Hammock
Amber mentions how nobody sleeps in the the house. Donny – "I try" Amber says the have nots bed is really tough to sleep in ebcuase the beds are hard. Donny is wondering if Amber could fill a sock with rice and put it in the microwave to heat it up, "Maybe place it at your feet.. cover up"  Amber wishes there was another girl in the have nots to cuddle close to for warmth. Donny mentions that Hayden sleeps on his belly and he's been getting good sleeps.
8:14pm
HOH Tub Nicole, Victoria, Christine and Frankie. Chit chat
8:17pm
Devin washes his junk because so many of you are fans ;)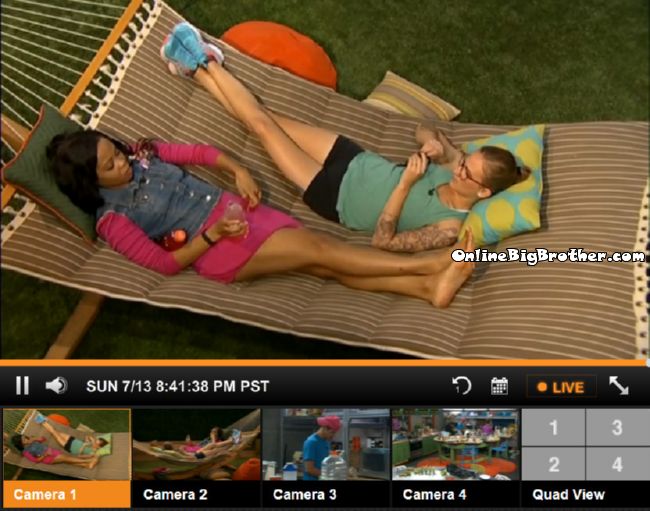 8:43pm Jocasta and Christine Hammock
Talking about Jocasta's blocked fallopian tube, "I was out for 6 weeks.. my stomach was HUGE and NASTY"
Try It Free! Subscribe now to the official BB16 Live Feeds
8:50pm HOH Frankie and Derrick
Wondering who has the leg up in the Endurance competition. Derrick thinks Caleb or Hayden will win it. Derrick thinks Caleb has the best chance he's got the "Soldier mentality"
Frankie says he hasn't done any of the Team America task maybe that's a good thing so they to arouse suspicion. Frankie suggest they alternate. Derrick think they should wait to see what it is. . Derrick has noticed Brittany seems very quiet today, "Maybe she's homesick". Derrick wonders how Brittany is so skinny she is always eating. Donny confirmed with Derrick he's using the POV on JOcasta.
Derrick is worried that Caleb might not be able to talk to amber tonight so he's thinking Frankie might have to do one of the team America tasks. Frankie says he can he's just waiting for it to spread. Derrick says he can't tell it in front of a group of friends it has to be said one on one. Derrick says they already have "one" when Donny told Nicole, Victoria will talk to Brittany tonight that will give them "Two" just this 3rd one is being trouble. Derrick thought Caleb would run off to Amber right away because he has "Privileged information"
Victoria starts walking to the HOH door. Derrick comments that she's living in the HOH now. Victoria rolls in . They talk about Caleb and going on the block for Amber. Victoria says it's obvious he's not receiving back what he's giving her.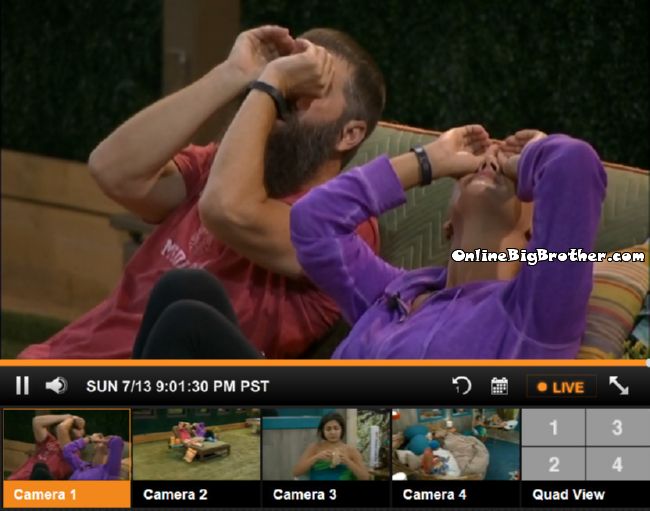 9:03pm Donny and Brittany eating icecream and looking at stars
They hear people screaming outside.. "Something.. Big Brother" Production calls a lockdown.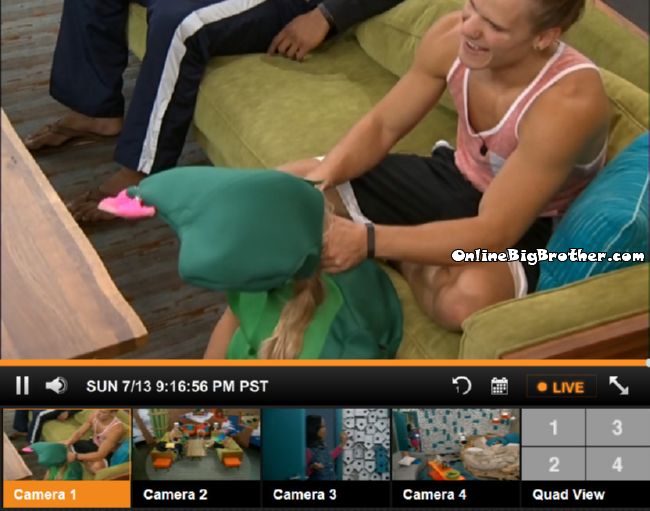 9:20pm living room Zachm Hayden, Donny, Nicole, Devin, Jocasta
Hayden and Zach mention how when Victoria describes her perfect guy being good looking is top on her list"
Devin has a sore stomach he says it feel like he's having a baby (Another daughter perhaps)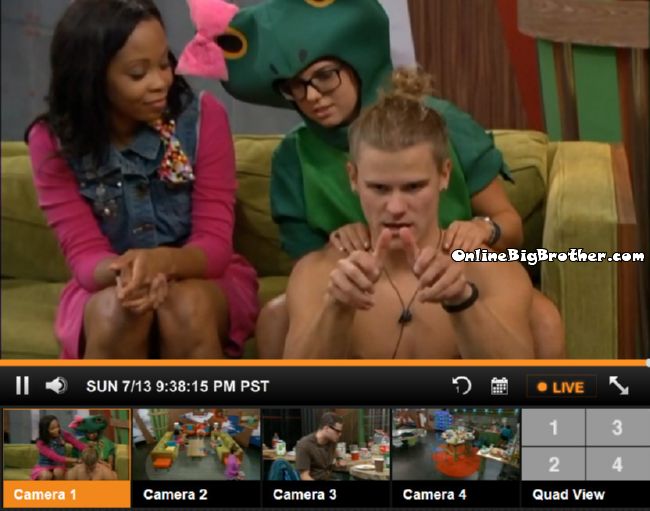 9:39pm Living room Hayden and Jocasta give Nicole some massage pointers
9:45pm Pool, Zach Cody and Derrick
Talking about Brittany. Zach tells them she has no game and isn't a huge threat like they are making her out to be. They agree they Donny is using the POV.
They agree all Brittany wants is attention in the house and that is what Cody and Zach have been giving her.
Derrick – "That's why she hates Amber"
Zach – "Because she takes all the attention"
Derick – Ya Amber is hotter than her"
Cody – "By a lot"
Zach mentions how he was talking with Brittanya dn Donny. Brittany was asking why is it that the two of them are always getting nominated. Donny answered "it's because we handle it so well" Zach says it's because she can't keep her mouth shut
Cody says he will put up Victoria and Jocasta.
Derrick – "unless Brittany steps on her d!ck even more this week"
10:07pm POol table Victoria, Zach, Donny, caleb and hayden
Victoria asks Zach if he's staying up all night.
Zach – 'Well I've been up for 17 hours"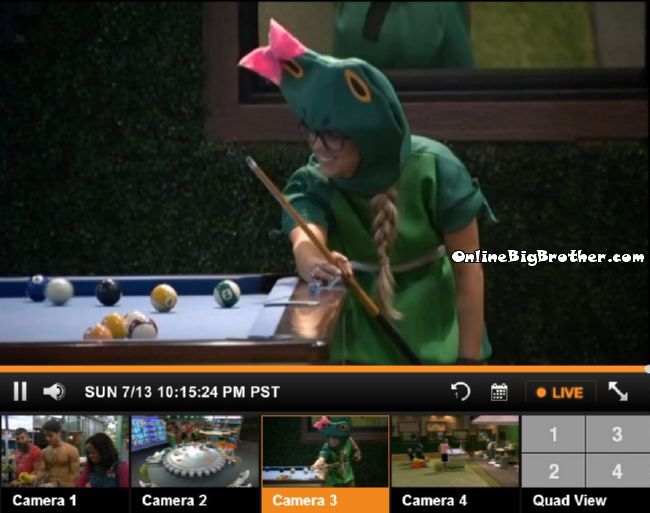 10:15pm Hayden and Nicole playing pool
Nicole says she doesn't like playing him in POol because it's so darn hard.
Gayden – "Frogs don't belong in a poll they belong in a pond."
Share it YO!
Tweet