POV Holder:
Donny
Next POV
July 19th
POV Used
?
POV Ceremony
July 14th
HOH Winner 1:
 Nicole
HOH Winner 2:
 Derrick
Battle of the Block Winner
Donny/Amber
Next HOH/ Next BOB
July 17/July 18
Original Nominations:
Derrick's Noms (Caleb & Jocasta) Nicole's Noms (Donny & Amber)
Final Nominations:
Have Nots
Caleb, Amber, Devin, Hayden
POV Players
Derrick, Jocasta, Caleb, Christine, Devin, Donny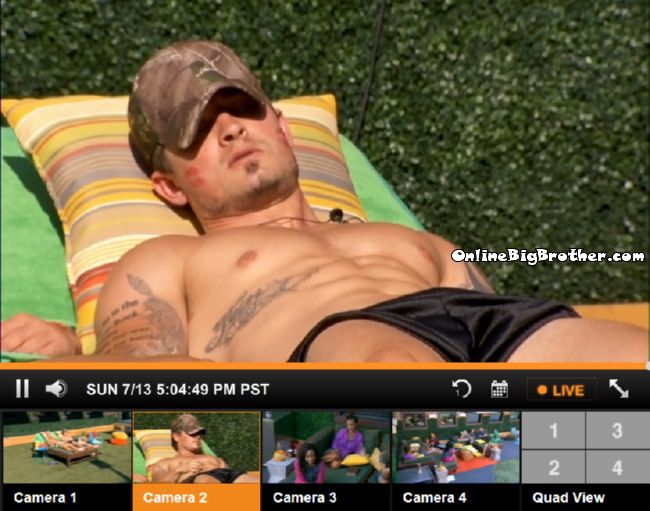 5:04pm Caleb and Frankie
Caleb saying he took the blanket off himself and put it on AMber. THe Have nots room is really cold at night. Caleb adds that she didn't even noticed said, "I was warm last night"
Frankie doesn't want him to get sick tells him to make sure to take care of himself.
Caleb – "I really want's that cold just my feet.. I should have put the mittens on my feet"
Caleb mentions how funny it was that Amber thought he was going to kiss her in the photo booth. He wasn't going to,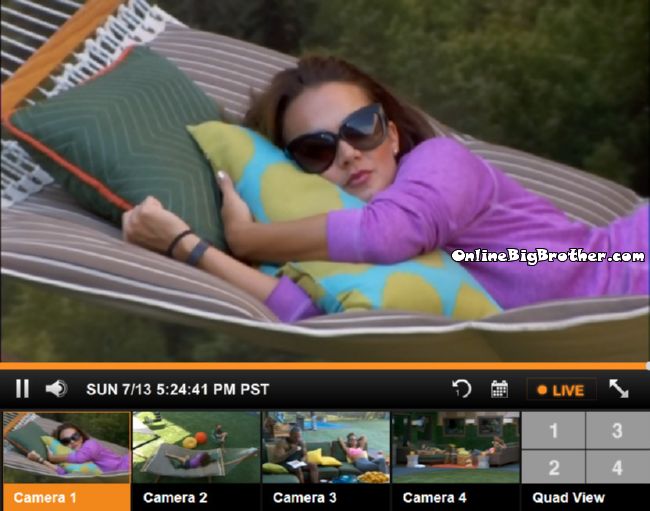 5:25pm Hammock Brittany and Donny
She's asking him what it sup. Donny says he's just hanging out.. Christine his girlfriend comes back from Mexico on the 18th. Sounds like Donny is thinking about shaving his beard off. He needs to talk to Christine or "Somebody" else. This is something he may want to do for the finale.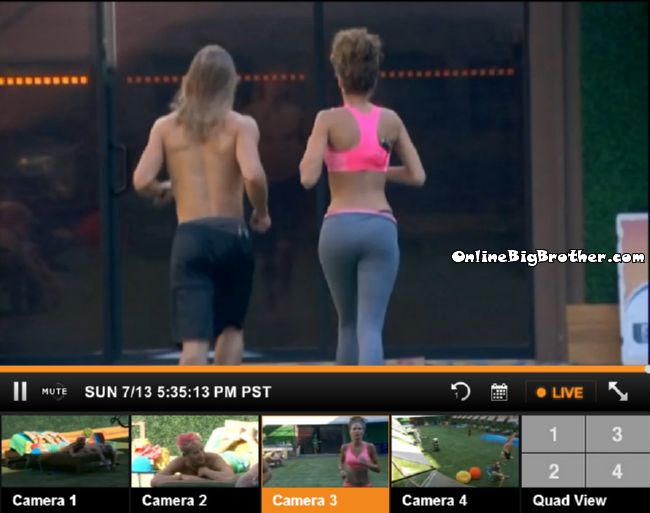 5:31p Amber and Hayden running laps
Caleb and Frankie are watching them. Frankie watching Hayden Caleb watching Amber he says you can see her black g-string when she runs.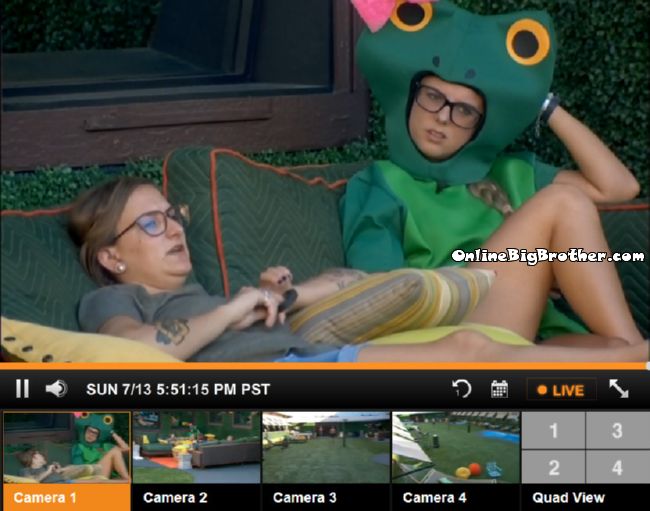 5:53pm Backyard
Frog, Christine and Devin (Watching the runners, Caleb, Hayden, Frankie , Amber)
Devin says Dan is the best player to ever play Big Brother. Nicole hopes she gets to see him he the only other person from Michigan that was on the show. Christine says Hayden (BB12) is the only other person from Arizona she knows that has played on Big Brother. Nicole says her mom bought her Dan's book when it first came out but Nicole was still too young to apply. She says the book is really small only takes a hour to read Christine says it crazy she's in the house right now when just 4 months ago she was reading his book dreaming about being on the show. The girls come up for reasons why they are not running, No music, everyone watching, Frog Costume…
Try It Free! Subscribe now to the official BB16 Live Feeds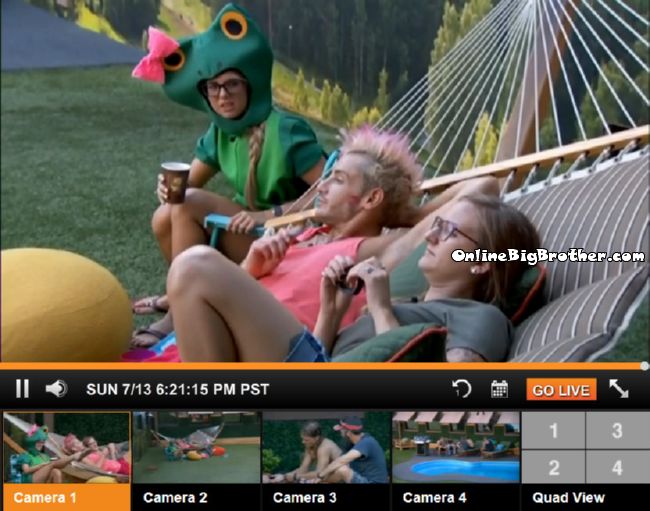 6:11pm Hammock Frankie , Amber and Christine
Frankie tells amber he talked to Donny Jocasta comes down. Amber – "Christine if I don't win HOH this week please will you win" Frankie says if it's endurance the three of them will win it. Frankie mentions Hayden might win it but he's weak being on slop.
Frankie says Zach will last 12 minutes in endurance. Frankie – "I would take Calleb over Cody hands down" Frog joins them they start watching Cody running laps and Hayden/Caleb lift weights.
Big Brother told them approximately 19 and 1/4 laps of the backyard equals
Christine Brings up when Rachel fell running.
Nicole "Oh my gosh you know what Donny asked me today.. If I peed on anybody because frogs pee on people"
They all say Ehhh.
(What really happened Donny asks Nicole in a room of people have you tried peeing on someone to see if they get warts?! They all laugh. Donny asks haven't you heard that if a hoppy toad pees on you, you'll get warts.)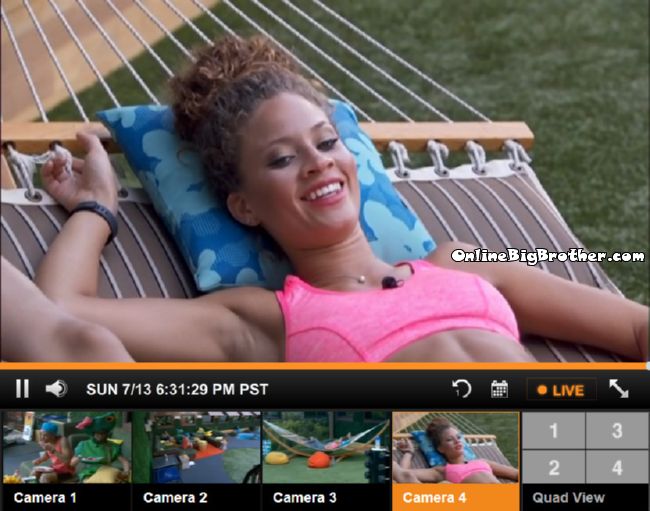 6:32pm Hammock Amber and Christine
Talking about Donny talking to everyone. Christine – "he's done for" They both had high hopes for Donny really liked him but he's running around talking way too much. Amber mentions how Donny is distancing himself from Devin. Christine – "He's so Fake"
Amber comments how much she likes Cody (as a friend). Christine likes him to says he's a good guy. Amber considers Cody a very good friends in the house. Amber wonders what Zach has to offer in their alliance doesn't think much.
Christine plays along says he sleeps all day.. what does he do.. his college was paid for.
Amber says it's so sweet that Caleb likes her, "Right here now that's not.. uhh.. I dont know thats not something I would do.. I honestly I still.. My heart's somewhere else. . until I feel the way i've felt in past relationships I'm not going to settle or waste my time.. right now I really can't do that"
Christine – your heart can't be that open in this game
Amber – it's crazy I feel bad I don't want to hurt anyones feelings… I've been straight up to him.
Amber is worried people outside are going to think she is mean, "He's a great person.. he's an awesome person"
Christine wonders what her game would be like if she wasn't married
AMber wishes she had said she was married.
Christine says that would be a great idea"
Amber – Can I add in a boyfriend
They both agree there is a lot of great looking guys with manners in the house this year.
6:56pm Hammock
Amber goes on about how much she likes Cody..
Christine says Cody is really really into Brittnay like really into her.
Amber is surprised, I don't know where he is at in the game even though he's with us"
Christine – It's odd
Cody Joins them.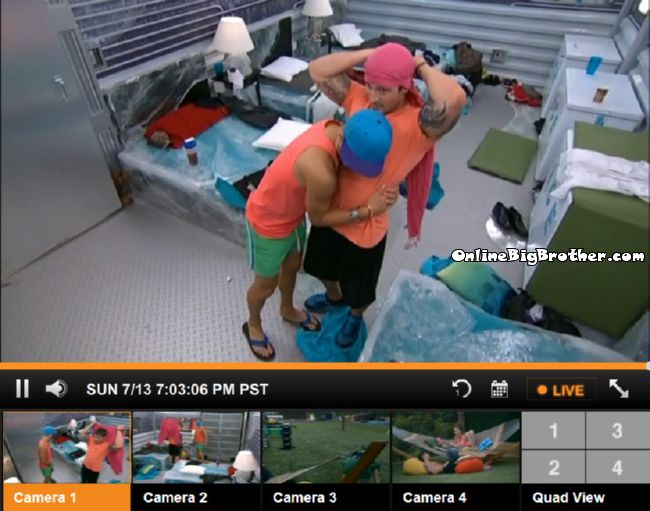 7:03pm Frankie and Caleb Have nots
Frankie says he told Amber he would take Caleb over Cody any day
Caleb – Was that all that was said
Frankie – ya that's what I said that was it .. but it's true
Caleb – "it's the man behind the skin that means more than anything.. I'm more of a man than he is"
Frankie agrees says he also more attractive. Frankie gives him a hug wishes him a good rest. Caleb hunkers down to sleep in the have nots.Frankie goes to Zach in the rock room gives him a kiss.. says good morning it's 8pm. Zach – "I'm still going to sleep for two more hours.  Frankie leaves whispers to himself Kinda I love with him for real he's the cutest.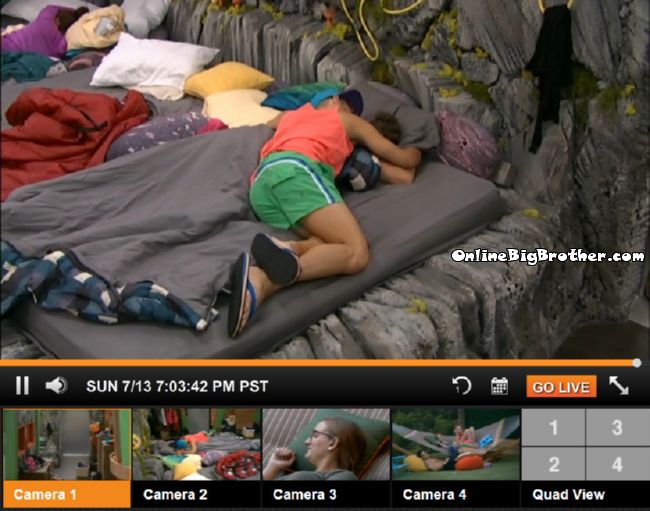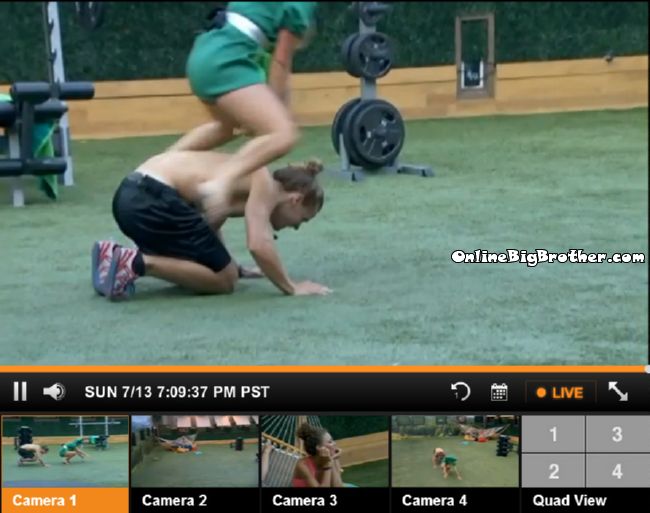 7:12pm They start leapfrog Hayden "I've never seen a frog afraid to hop"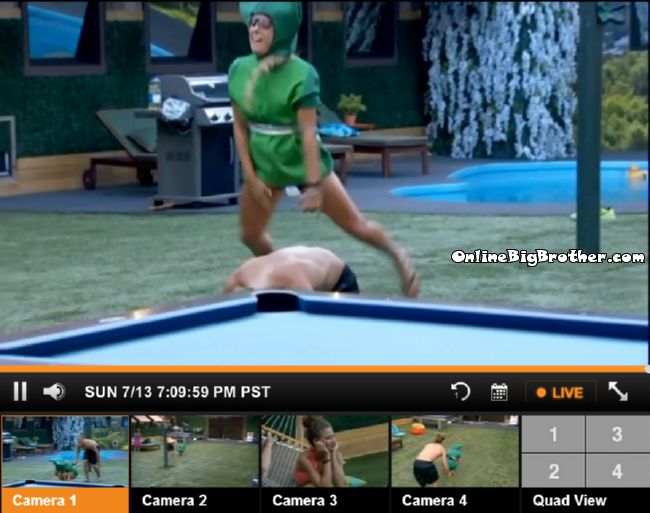 [polldaddy poll=8179403]